There is a lot more to Ibiza than its wild nightlife and partying scene will lead you to believe. If you dig beneath the surface, you'll find an exquisitely beautiful Mediterranean Island that is blessed with stunning towns and villages, as well as beautiful nature and soaring cliffs.
In fact, the Ibiza Agroturismo sector is positively booming, with more and more people seeking out alternative accommodation options when visiting this Balearic island.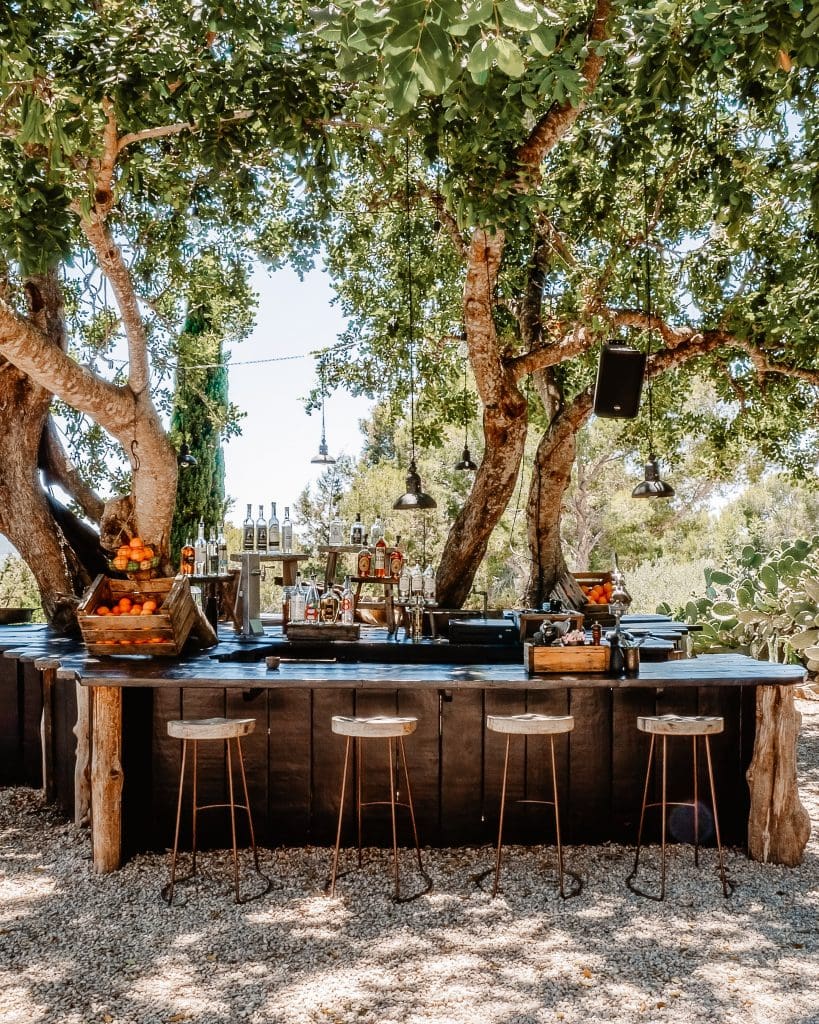 Ibiza Agroturism (also spelled agrotourism, agrotourismo, agritourism) centers around a traditional farm, or Finca, that is still either operational or has moved away from traditional farming. Over 30 years ago, agroturismo usually involved staying on a working farm and paying a small fee to cover your costs. Nowadays, you'll find incredibly that several of the Ibiza Agroturism offers stylish accommodations that are either family-run and have maintained the historic buildings and given them a 21st-century facelift.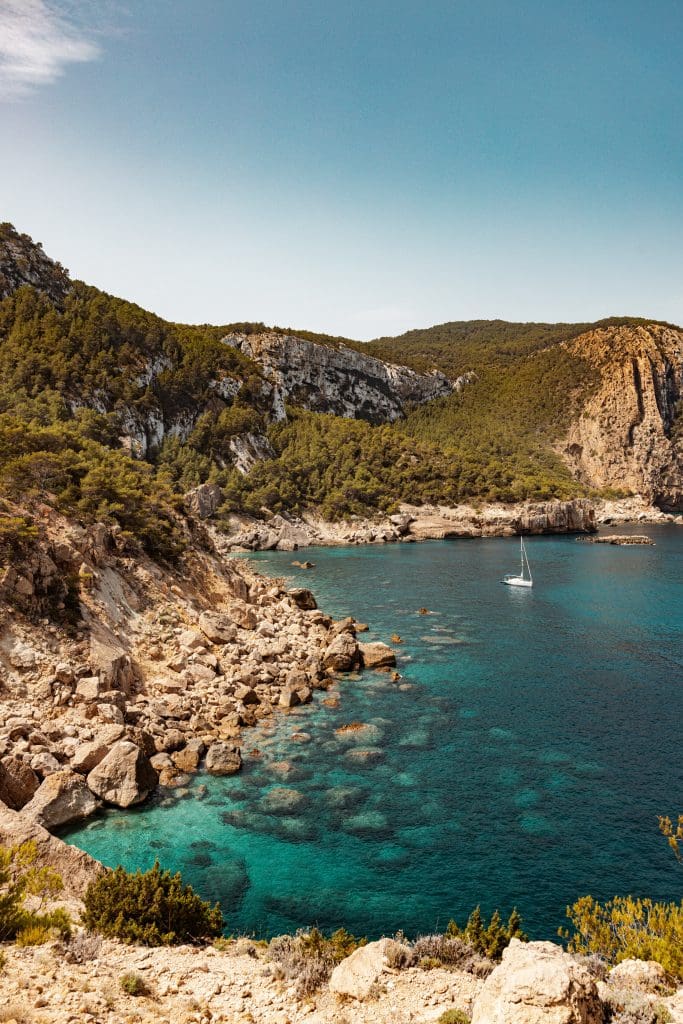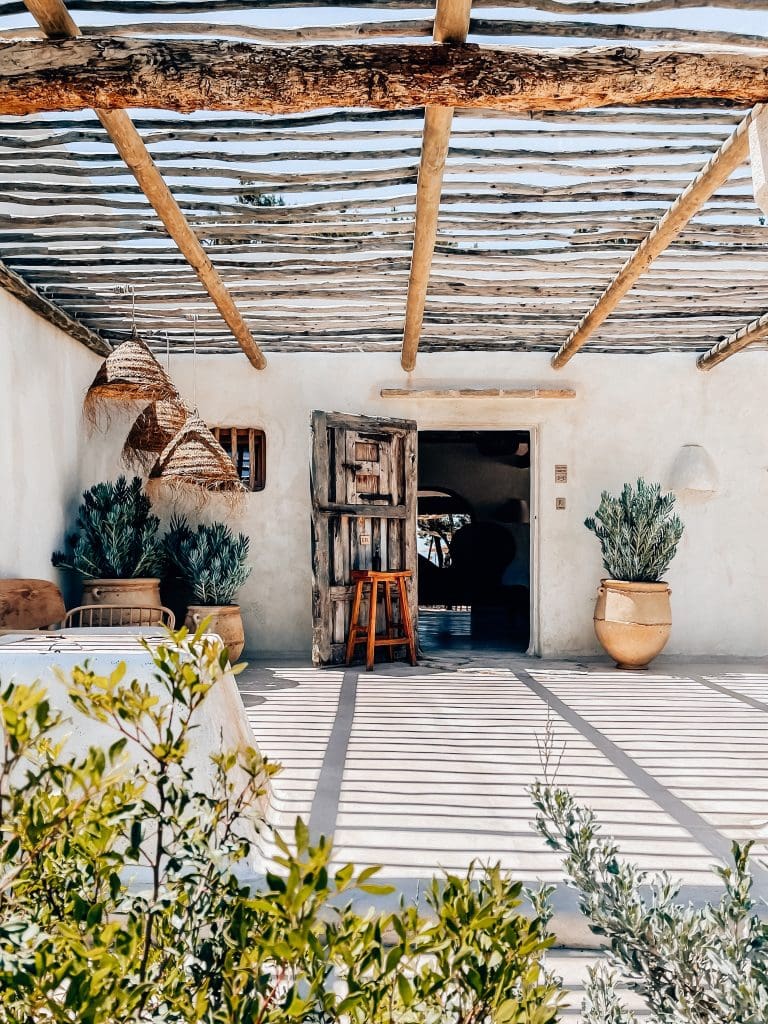 There are plenty of Agroturismo in Ibiza to choose from, offering fine dining, beautiful gardens, and olive groves. You can also expect 5-star accommodation and service and a peaceful stay. With limits on rooms available to rent, a stay at any of the agroturismo Ibiza hotels will leave guests feeling relaxed and well looked after.
Some of these may be affiliate links, which means when you buy something I may receive a small commission. There is no additional charge to you, and it really helps to support me – so thank you!
The 8 Best Agroturismo Ibiza Hotels
Atzaro Ibiza
Agroturismo Atzaro Ibiza is a luxury 5-star rural hotel located in the heart of Ibiza. One of the most well-known Agroturismo Ibiza retreats, you can find Atzaro Ibiza's sister hotel in Cape Town and throughout Ibiza, you'll come across their restaurants, villas, and spas that are equally divine.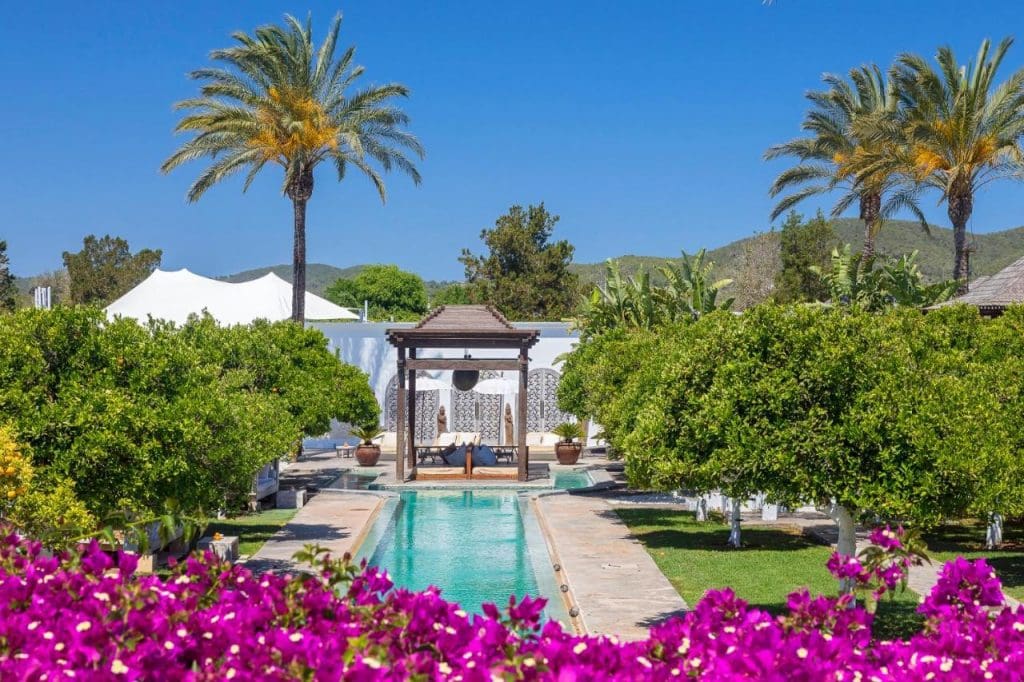 A stay at Atzaro is a once-in-a-lifetime experience and something that shouldn't be missed when visiting one of the best agroturismo hotels in Ibiza. With stunning manicured gardens and a spa that will leave guests feeling rejuvenated, a stay in Atzaro is quite unlike anywhere else.
The incredible swimming pool in Atzaro Ibiza divides the hotel into two, with enormous Bali beds inviting guests to lounge lazily by its poolside. Once you've enjoyed your day by the pool, indulge in a spa treatment or visit the hammam. Nibble on some of the delicious culinary creations from the kitchen and pool bar by ordering directly to your bed from the Pool Bar & Spa Bar.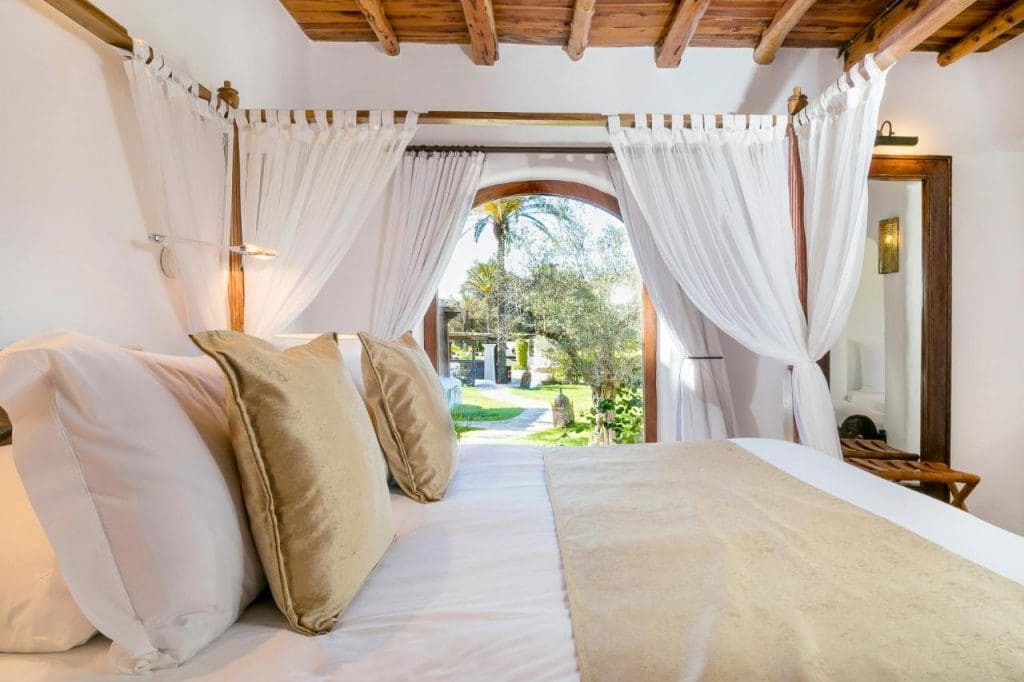 The bedrooms are exquisitely designed and are heavily influenced by the Moors who once used the island as a base in their exploration and conquest of Spain in the Middle Ages. Atzaro has created a selection of luxury bedrooms that ooze sophistication and understated glamour.
One of the biggest draws to Atzaro Ibiza is the dedication that has gone into developing a superb farm-to-fork kitchen and restaurant. The dining experience in Atzaro Ibiza is one of the most incredible experiences on offer in this Ibiza agroturismo hotel. With two superb restaurants in Atzaro Ibiza, La Veranda and The Orange Tree are something very special. The Orange Tree has one of the most romantic settings in Atzaro Ibiza and is operational between July & August each year. Dine under a canopy of stars, palm trees, and the scents of evenings in Ibiza and enjoy a unique and unforgettable experience.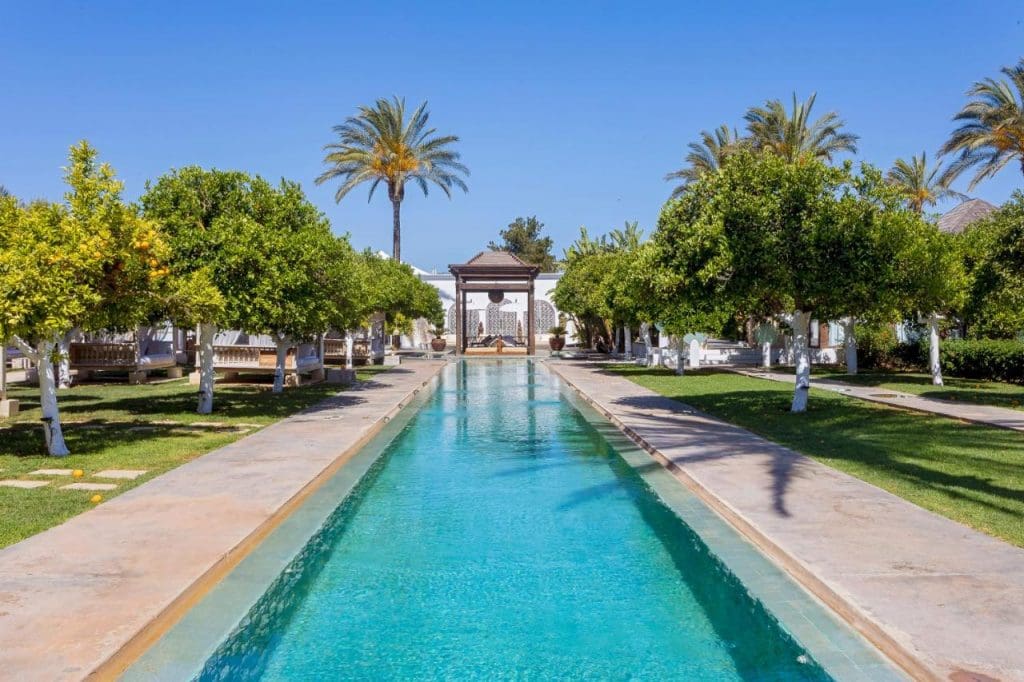 Non-Staying guests who want to sample a small sliver of what Atzaro Ibiza can offer can also experience the pool and spa experience for a small €100 per person fee. This gives guests access to the day beds around the swimming pool and includes a yoga or wellness class.
A stay at Atzaro Ibiza will leave guests feeling rejuvenated and replenished, and Atzaro Ibiza is considered one of the best Ibiza Agroturismo hotels on the island.
Location: San Lorenzo
Can Sastre
The wonderful thing about the Ibiza agroturismo hotels and boutique accommodation is that you are never too far away from a beach or a town. Because of Ibiza's small size, compared to its larger neighbor, Mallorca, you're only ever a short distance from spectacular beaches and towns.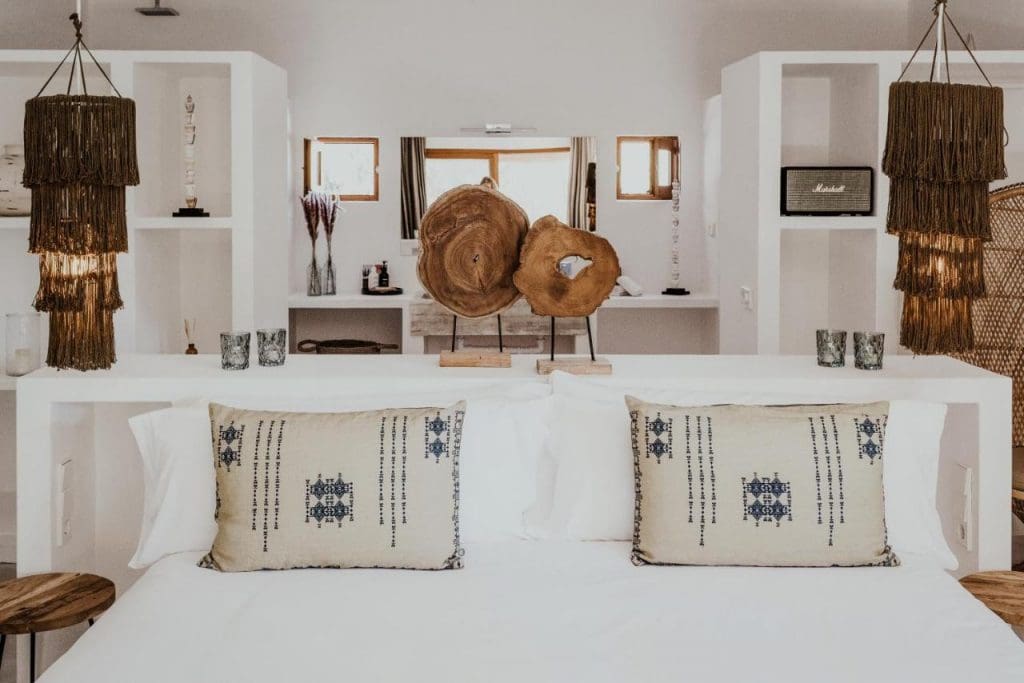 Can Sastre is located in the heart of the island and set in a beautiful grove of oranges, olive trees, and blooming bougainvillea. The former Finca is now a beautiful Ibiza agroturismo boutique hotel with some of the most stunning interiors I've ever seen. With a small selection of incredible options to choose from, guests will be overwhelmed by the beauty and the thought and care that has gone into each room.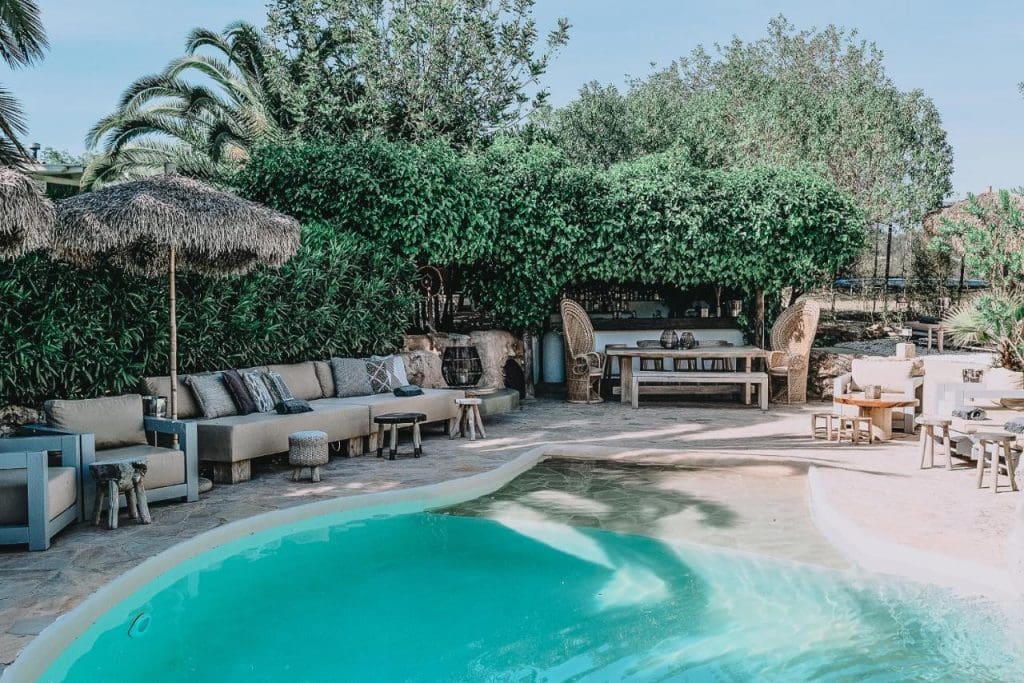 Can Sastre is a small family-run business and you can clearly see the passion throughout this boutique Ibiza agroturismo. One of the loveliest features that I've yet to see anywhere else is the 'Honesty Bar'. Guests can create their own favorite beverage with premium spirits and are open the entire day.
The swimming pool is on the small side, but that shouldn't be a deciding factor when staying at Can Sastre as you have some of the loveliest beaches a short distance away. Plus with only 5 hotel rooms on offer, the pool remains a peaceful retreat from a sometimes chaotic island.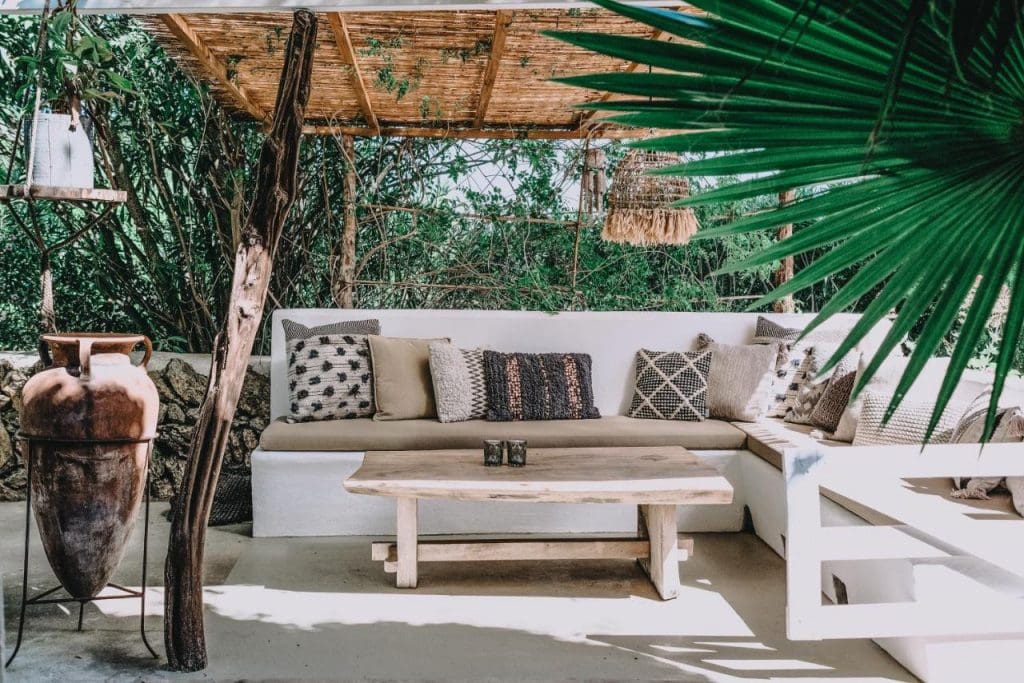 Can Sastre is the perfect Ibiza agroturismo boutique hotel to stay when visiting Ibiza and looking for tasteful decor and an incredibly relaxing trip. Guests can be reassured that a stay in Can Sastre will leave you with a hankering of packing up your bags and moving to the island for a permanent holiday.
Location: San Rafael
Agroturismo Can Pardal
Located in the charming town of Sant Miquel de Balansat, Agroturismo Can Pardal offers guests the opportunity to immerse themselves in local Ibizan life and a different view of the island than they would ordinarily see.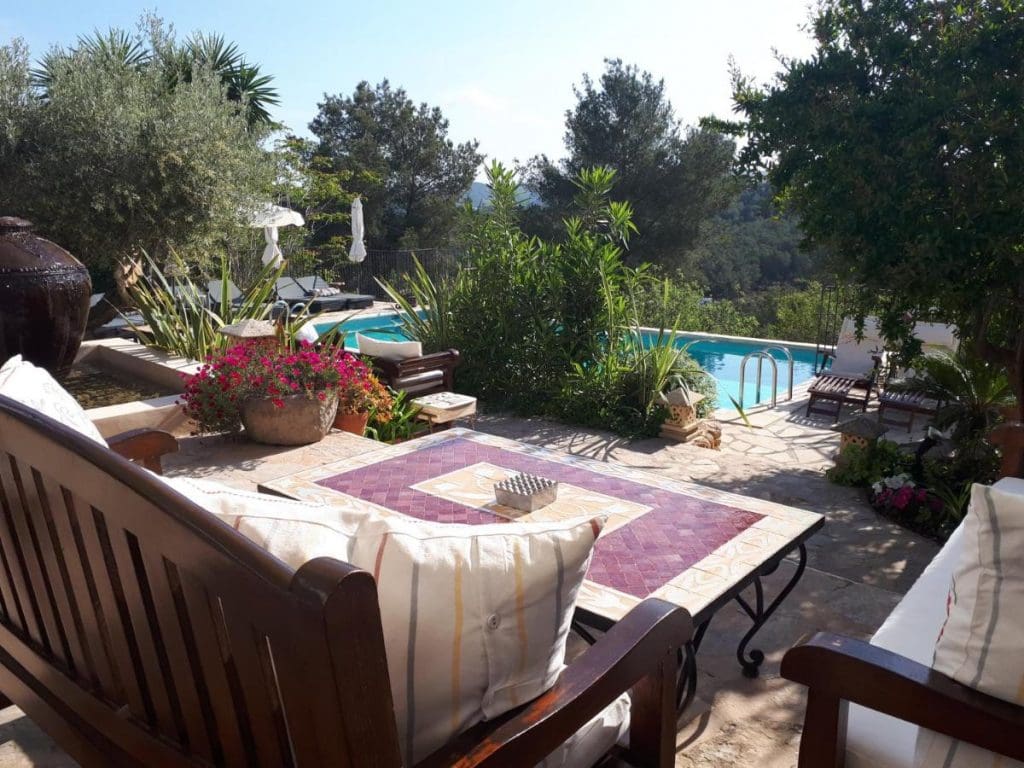 It's hard not to fall in love with Agroturismo Can Pardal with its white-washed building and bougainvillea plants that are lovingly taken care of across the entire property. The surrounding views from Can Pardal are some of the best on the entire island, with lush foliage adorning the nearby mountains and views across to the sea. Every moment spent in Can Pardal is a feast for the eyes.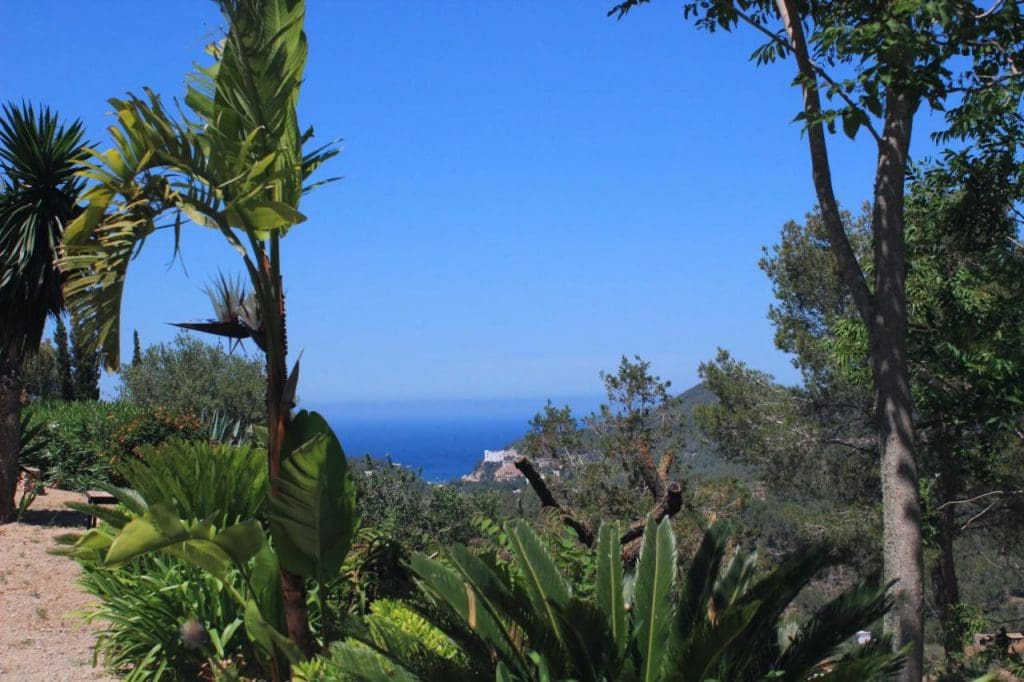 The Ibiza Agroturismo farmhouse of Can Pardal has retained a lot of authenticities, with wooden beams found in the rooms on the property and a stunning courtyard that invites guests to enjoy an aperitif. The swimming pool is an extra bonus and a welcome relief after a morning spent in the nearby markets or after a day exploring the island.
Location: San Miguel
Ca Na Xica
A former manor house that has been redesigned and is now a luxury hotel. The grounds of the hotel sit in the Ibizan countryside and the white buildings of Ca Na Xica starkly contrast with the red Ibizan soil. The luxury hotel of Ca Na Xica is an architectural dream and even those who know nothing about architecture will appreciate the elegant design of the rooms and outdoor spaces.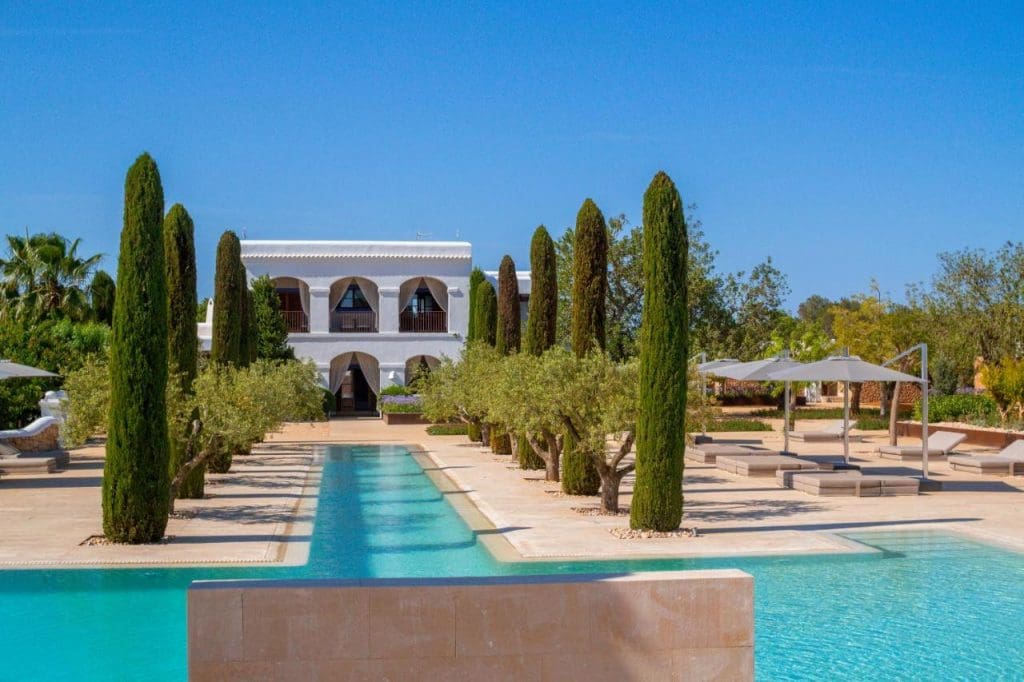 The rural setting of Ca Na Xica and its appreciation of the former Finca has now been adapted and modernized is apparent throughout the estate. The Finca is environmentally sound with solar panels and a water system that treats its own water from the well found on the property.
It's hard to pick out a standout feature in Ca Na Xica as everything is jaw-droppingly beautiful. The T-Shaped swimming pool invites guests to spend the day lounging by it. The bedrooms are another unique feature of the property, with each suite its own individual 'cabin' that overlooks the stunning countryside of Ibiza.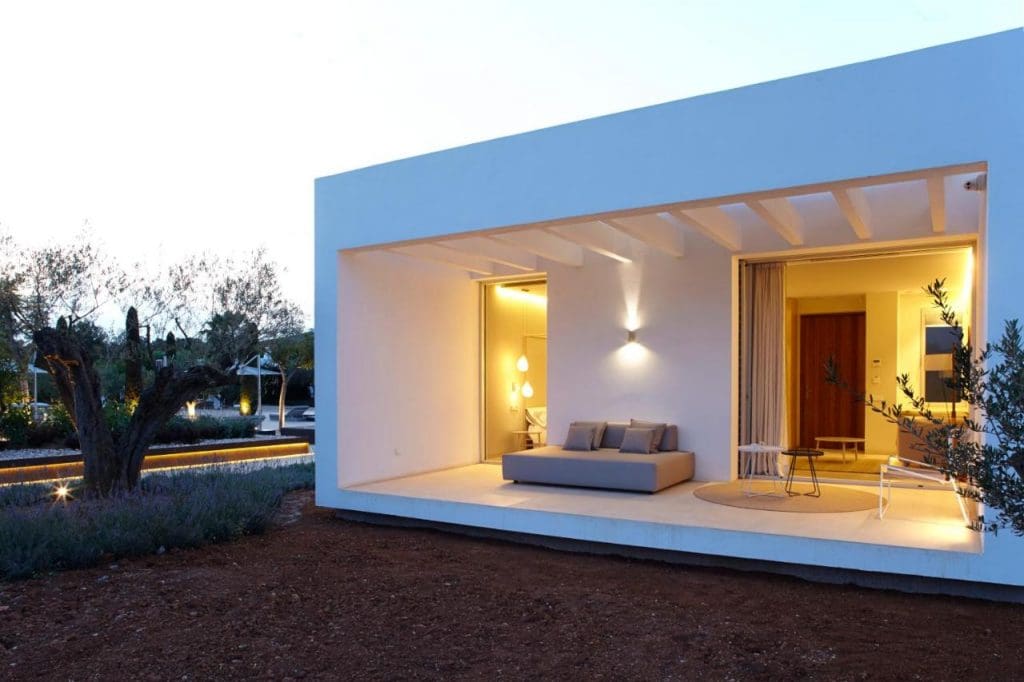 The spa and treatment area is hard to resist and pass on an opportunity to experience a massage or spend an evening in the jacuzzi. Spend your time at lunch or dinner dining in the remarkable Salvia restaurant, which serves locally sourced meat and fish from the islands of Ibiza and Formentera.
Visitors can also indulge with a day pass that allows them to experience Ca Na Xica, from the fabulous pool to massages, spa treatments, and lunch at the Salvia Restaurant. Prices start from €120 for a day pass.
Location: San Miguel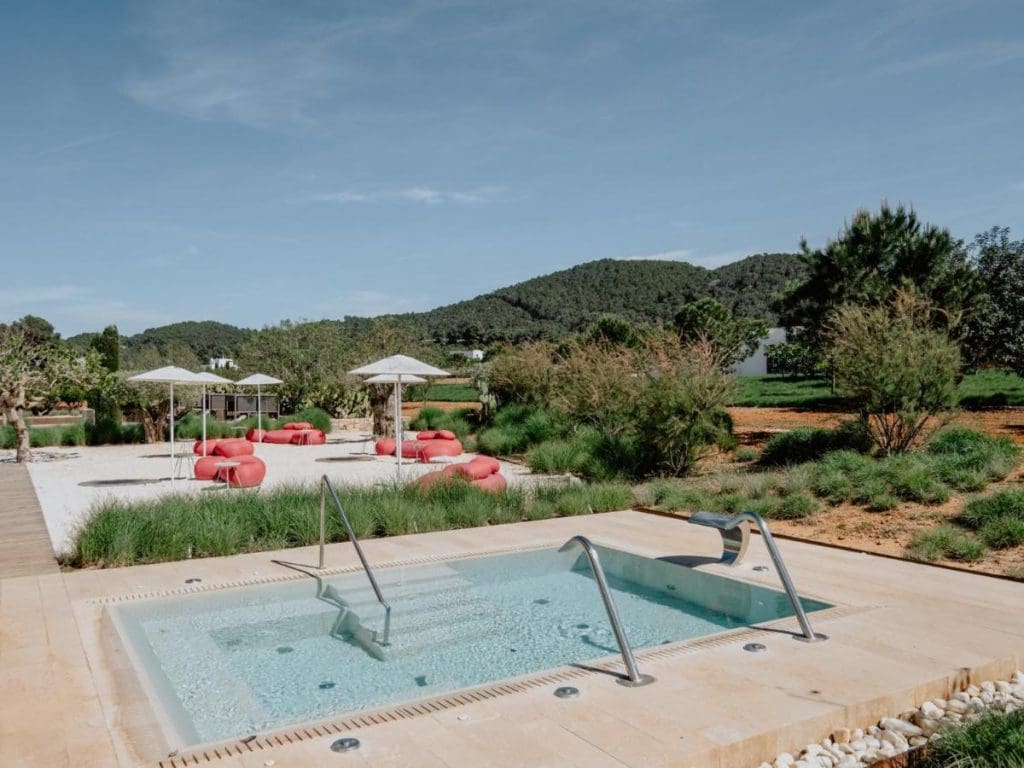 Ca Sa Vilda Marge
Ca Sa Vilda Marge is a 400 year agroturismo farm stay located in the north of Ibiza. The seven rooms of Ca Sa Vilda Marge have been transformed into smart hotel rooms. This Ibiza Agroturismo has orchards, and vegetable gardens, and the nearby terraces and forests of the mountains make a stay in Casa Vilda Marge feel miles away from the hustle and bustle of Ibiza town.
The rooms have been decorated in warm tones and some of the bedrooms have spectacular views over the Finca and the surrounding area. One of the nicest beaches in the north of Ibiza, Platja de Cala Xarraca is a short 15-minute drive away.
A stay in Casa Vilda Marge is perfect for those looking for a rural escape and seeking tranquility amongst nature and orchards.
Location: Sant Joan
Cas Gasi
Eco-conscious and sustainable Cas Gasi is a small oasis hidden in the hills of Ibiza. Dating from the late 19th century, Cas Gasi has been regularly featured in Tatler, The Times, and Harpers Baazar as a favorite for guests looking for an agroturismo in Ibiza that specializes in sustainability, comfort, elegance, and discretion.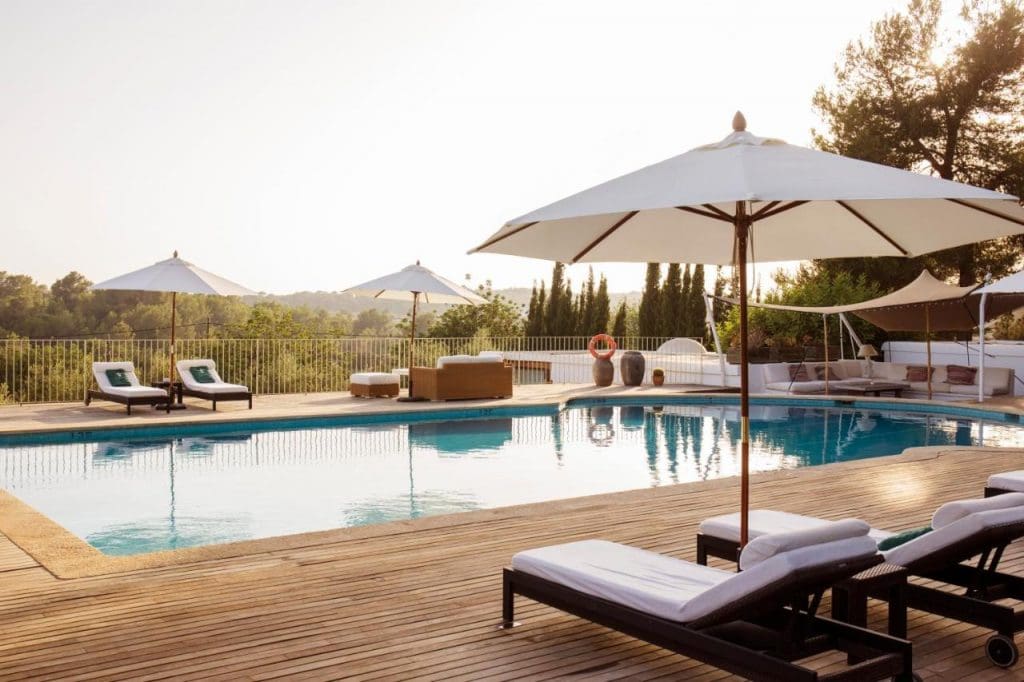 The Finca is a beautiful retreat offering a secluded 5-star experience with bonus points for the heated swimming pool. With several packages available for treatments in the spa, a stay in Cas Gasi is the ultimate gift for anyone staying. What better way to start the day than a yoga class that overlooks the mesmerizing countryside?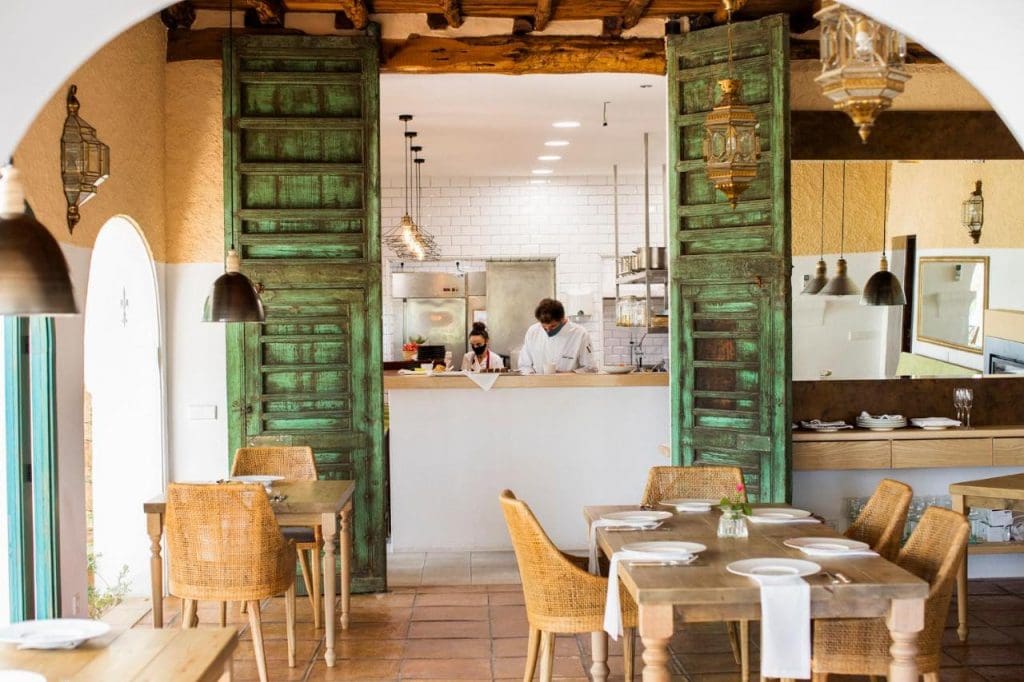 A stay in Cas Gasi is a welcome respite and a fabulous Ibiza Agroturismo experience from start to finish.

Location: Santa Gertrudis
Can Arabi
A former cattle farm, you'll be hard-pressed to find any remains of any cattle in Can Arabi. A short 5-minute drive from Ibiza town, Can Arabi is a luxury hotel that has stunning gardens that have been converted from former pastures into wonderful olive groves and a working kitchen garden. With freshly grown produce, you can be assured that everything is 100% organic that makes its way from the small garden onto your plate.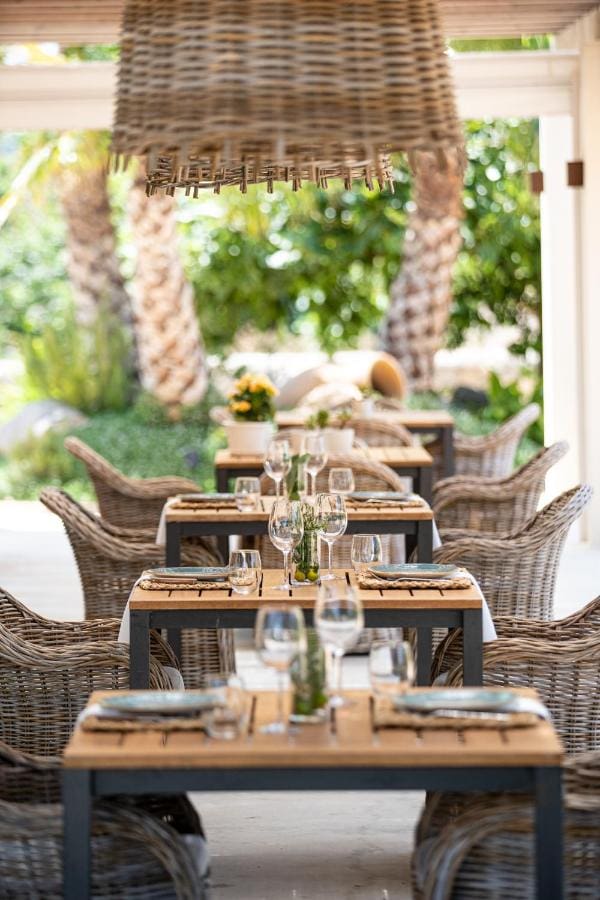 The stunning pool is surrounded by Bali beds and thanks to the small nature of this Ibiza agroturismo hotel, you'll never find the pool busy or difficult to secure a bed.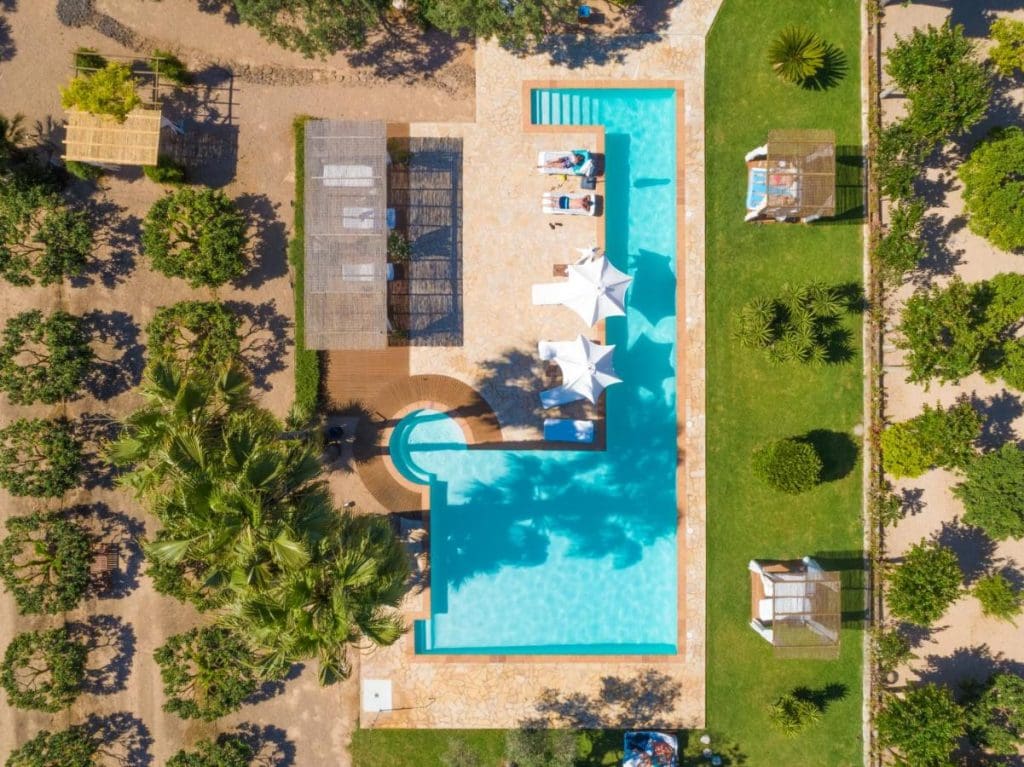 Its close proximity to the old town of Ibiza means that you can easily be within excellent restaurants and bars in less than 5 minutes.
Location: Ibiza Town
Agroturismo Can Gall
Located in the north of the island, Agroturismo Can Gall offers guests an opportunity to spend a relaxing holiday in their 200-year-old almond and orange groves. The still operational and working farm now produces local wine, and the centuries-old almond, olive, and fruit trees still produce excellent produce year after year. Can Gall has been faithfully restored to its former glory and has lovingly updated the rooms and grounds.
Guests can spend their days wandering the incredible countryside and groves that make this Ibiza agroturismo very special. The large swimming pool is a bonus to the already beautiful Finca and sits beside the magnificent orange and lemon groves and underneath the Ibizan mountains.
A stay at Agroturismo Can Gall is like a warm hug, it's inviting and you're treated like family when staying in their beautiful rooms that have been carefully restored. The beamed ceilings of the bedrooms are breathtaking and the furnishings are reminiscent of the period when Can Gall was a fully functioning farm.
Location: San Lorenzo