The Greek island of Santorini is one of those bucket list places that surpasses all expectations. It's almost too pretty? Santorini offers its visitors some of the most incredible views on the planet. Every corner you turn leaves you breathless with wonder.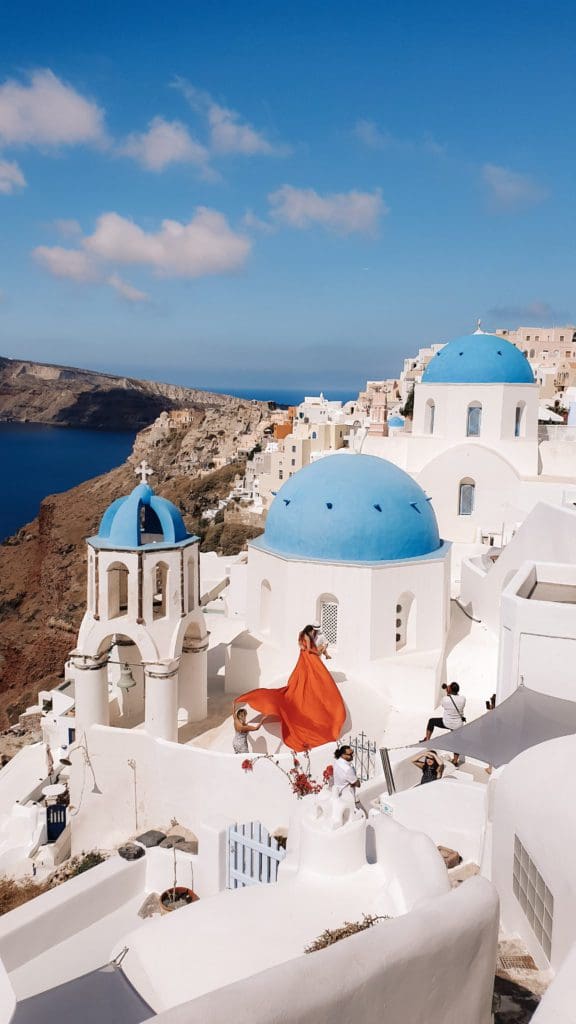 If there was one place in Greece to indulge in treating yourself to a hotel with a private pool then Santorini is the perfect place. Some of the best hotels in Santorini with a private pool have views that are sometimes so outrageous it's hard to believe it's real.
The island of Santorini was once a volcano thousands of years ago. After a large build-up of lava, an enormous eruption shattered the island into several places. What is left now is the main island of Santorini and Theresia which are both inhabited.
The iconic white buildings that cling to the caldera's edge overlook what remains of the former volcano. Bring your walking legs with you, as you will need to walk up a lot of steep stairs to and from your accommodation. The price of beauty!
With so many choices, you may be wondering which are the best Santorini hotels with a private pool? And quite simply each place offers something different and unique and perhaps most importantly, another angle to this astounding island.
Santorini is all about angles, and from each different angle, it appears completely different. Santorini never looks the same twice.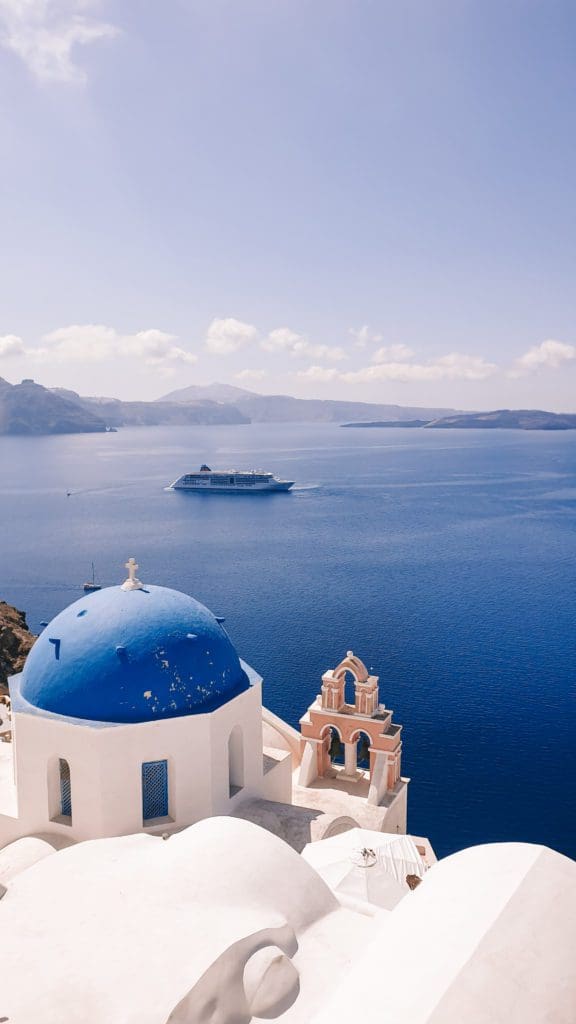 Some of these may be affiliate links, which means when you buy something I may receive a small commission. There is no additional charge to you, and it really helps to support me – so thank you!
Oia
The island of Santorini is perhaps most famous for the town of Oia. Located at the tip of the island, it is the perfect place to watch the sun set into the Aegean sea and stare incredulously at the sheer luxury of accommodations available.
Oia is essentially one main street with breathtaking and extraordinary shops, mixed with some sub-par restaurants and sublime accommodation. 
Oia is best discovered early in the morning before the throngs of visitors arrive by tour buses or cruise ships. The squeeze for watching the sunsets during the high season can leave visitors feeling a little claustrophobic.
But who needs to watch the sunset from the ruins of a Venetian castle when you can enjoy it from the comfort of your own outdoor plunge pool?
The highest volume of hotels in Oia Santorini with private pool is found in this part of the island. The 5-star hotels offer incredible service and experiences that are quite unlike anywhere else.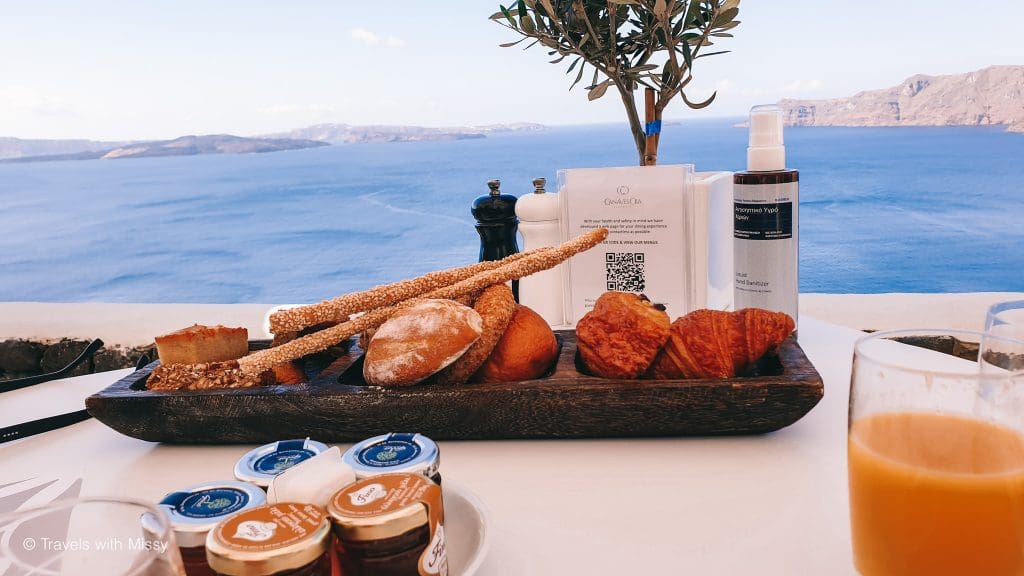 It will be difficult to pull yourself away from your Santorini private pool, but if you have to, then you may as well spend it visiting one of the island's many wineries. Or catching the sunset on a catamaran? Or scheduling a flying dress photoshoot?
Katikies Santorini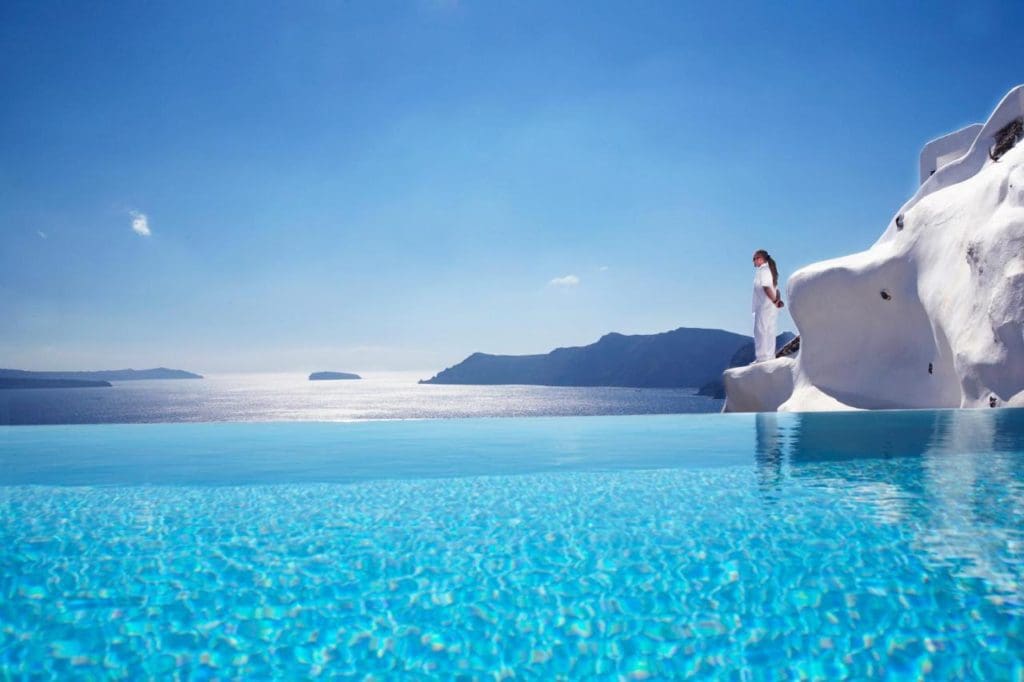 Katikies Santorini is synonymous with Santorini. Much like New York City and the Empire State building go hand in hand, so do Katikies and Oia. It is a masterclass in service and style.
Staying in Katikies Santorini will rejuvenate you, but will also make staying anywhere else feel 2nd class. The Master Suite with Plunge Pool references Santorini's Cycladic style and charm with its large cave-like feel.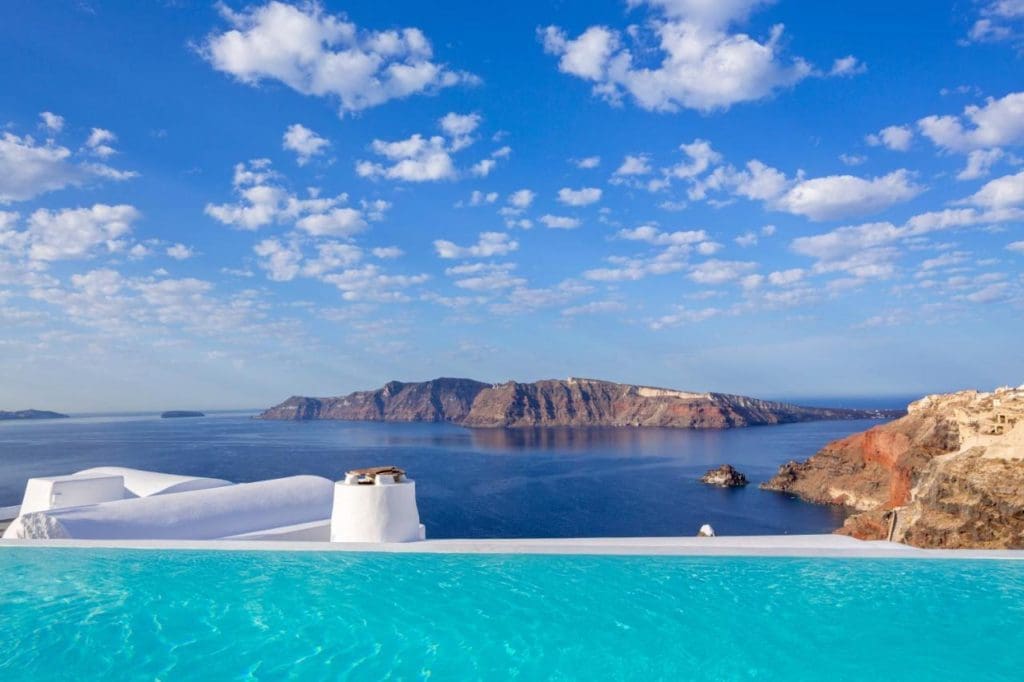 The private terrace has an uninterrupted view of the caldera and sea, which is also perfectly viewed from your own private swimming pool. The shared swimming pool is not too shabby either.
Discover the A.spa experience in this hidden cave and rejuvenate yourself through the many spa treatments. When you've finished your spa treatment, make sure you explore the Champagne bar and restaurant.
Mystique, a Luxury Collection Hotel
Mystique looks as if it has been plucked straight out of the Californian desert and plopped on top of Santorini's cliffs. It is magnificent. The decor is dreamy and earthy, with tones reminiscent of the cliffs nearby.
All the rooms have terraces that face the sea, perfect for watching the infamous Oia sunsets. All suites have a private pool or a heated plunge pool and are lavishly decorated with the finest of touches.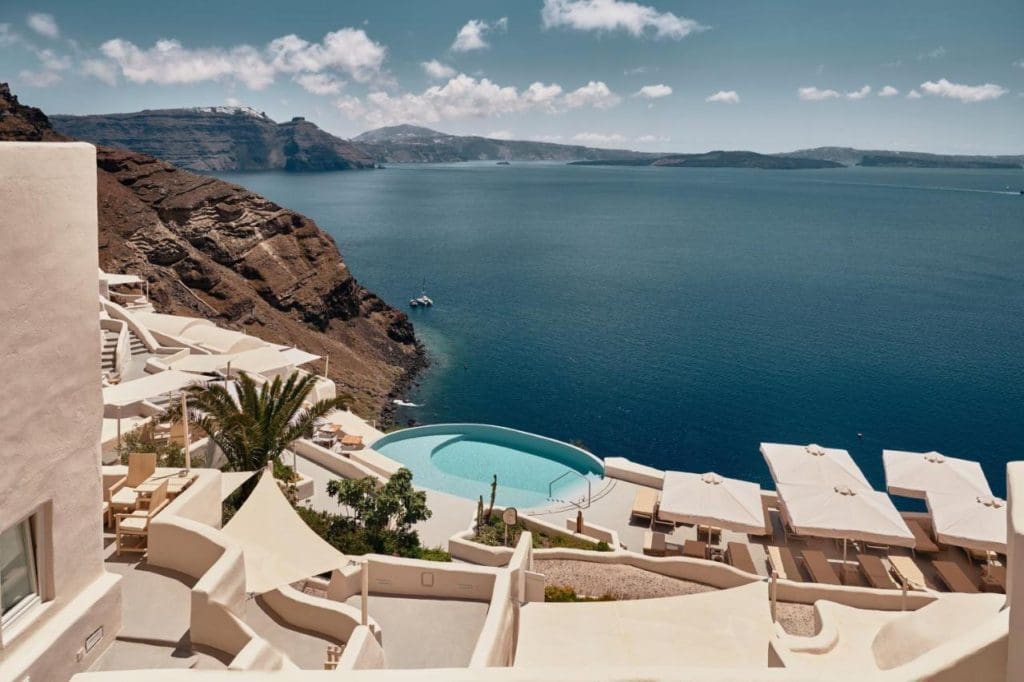 When you eventually drag yourself away from your swimming pool, you'll find a 150-year-old Secret Wine Cave and the Charisma Restaurant as your dining choices. A delectable meal, as well as the finest wines, are available for selection, and meals are created by an award-winning chef.
Don't forget to visit the large swimming pool at the centre of the complex and soak up the views of the Aegean sea. Mystique lives up to every sense of its name, guests will delight in the privacy that not many other hotels in Oia have.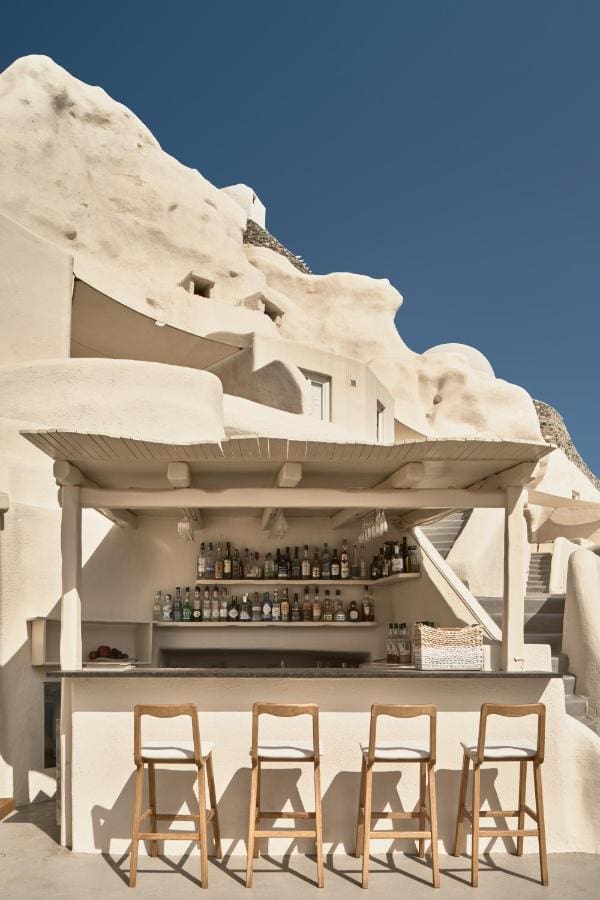 Canaves Oia Suites and Spa
Canaves is synonymous with Oia, as Greece is with Gyros – they simply go hand in hand. Staying in Canaves Oia Suites is one of the most luxurious experiences on the island. From the moment you arrive, you are treated with such care and kindness. Nothing is too much for the hotel and the service is exemplary.
All the rooms in Canaves Oia Suites and Spa come with a private plunge pool and guests can find a complimentary bottle of wine in their rooms. The hotel has an incredible infinity pool with built-in sun loungers that overlook the Caldera. There is another large pool with a pool bar and restaurant, which serves a delicious breakfast with extensive options.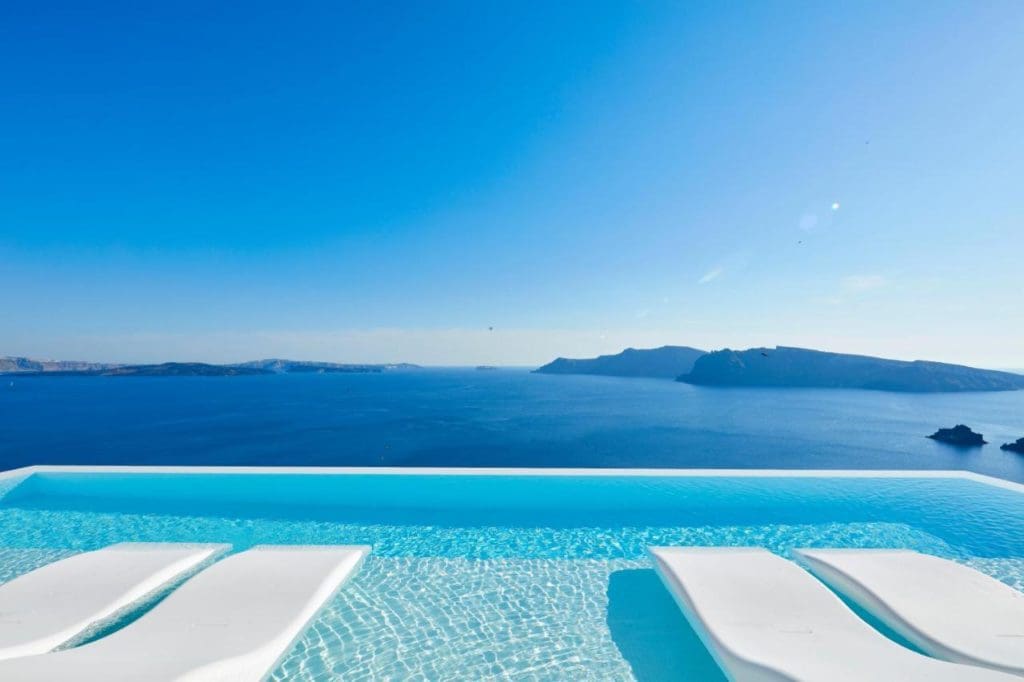 What makes Canaves Oia Suites so special is the sheer abundance of private pool options available. Choices include a Royal Suite, a two-bedroom Cave Villa, a River Pool Villa with a River Plunge Pool and more. It is hard to decide whether Canaves Oia Suites is prettier during the day or when it's all lit up at night.
The location of the hotel is perfect, taking approximately 30 seconds to reach the main street of Oia. Views from the hotel rooms and pool somehow keep getting better as the day progresses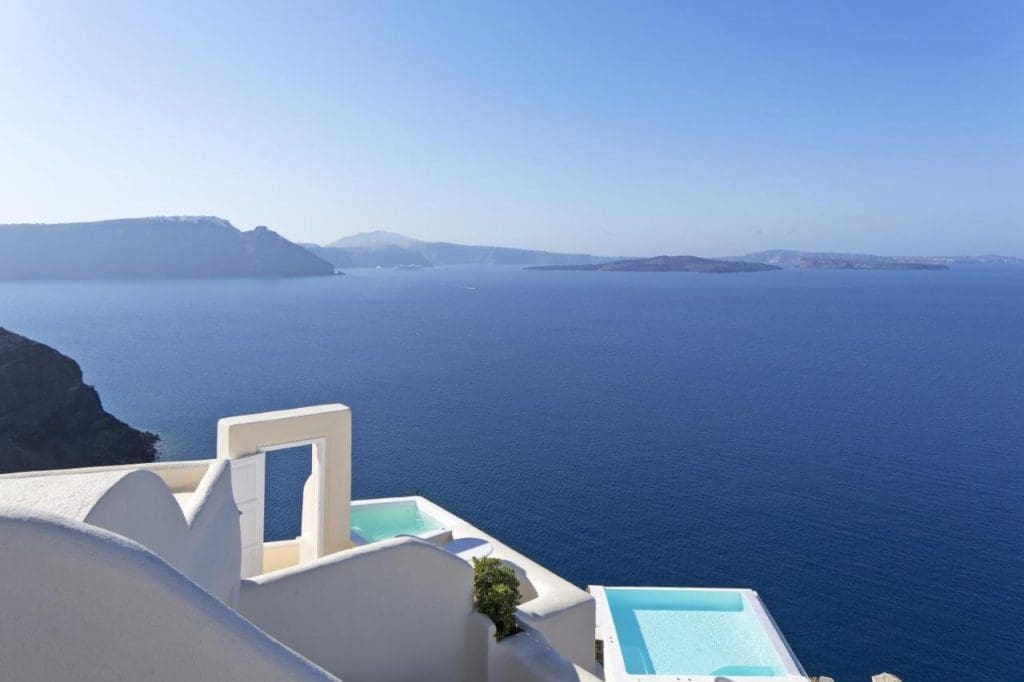 Canaves also has additional hotels worth exploring for an alternative experience at Canaves Oia Epitome and Canaves Oia Boutique Hotel. I can't stress enough how incredible staying at this hotel is. This is one of the hotels in Oia Santorini with private pool that I'll never forget or stop talking about. It kind of ruined other hotels for us! It's seriously that incredible.
Andronis Luxury Suites
The Andronis Luxury Suites are recognisable from the main street of Oia for one reason. The enormous pink chair. This chair is the focal part of their incredible restaurant and is visible across Oia. The sumptuous restaurant is only a tiny part of this hotel, with 29 luxury suites and villas built into the Oia cliffs.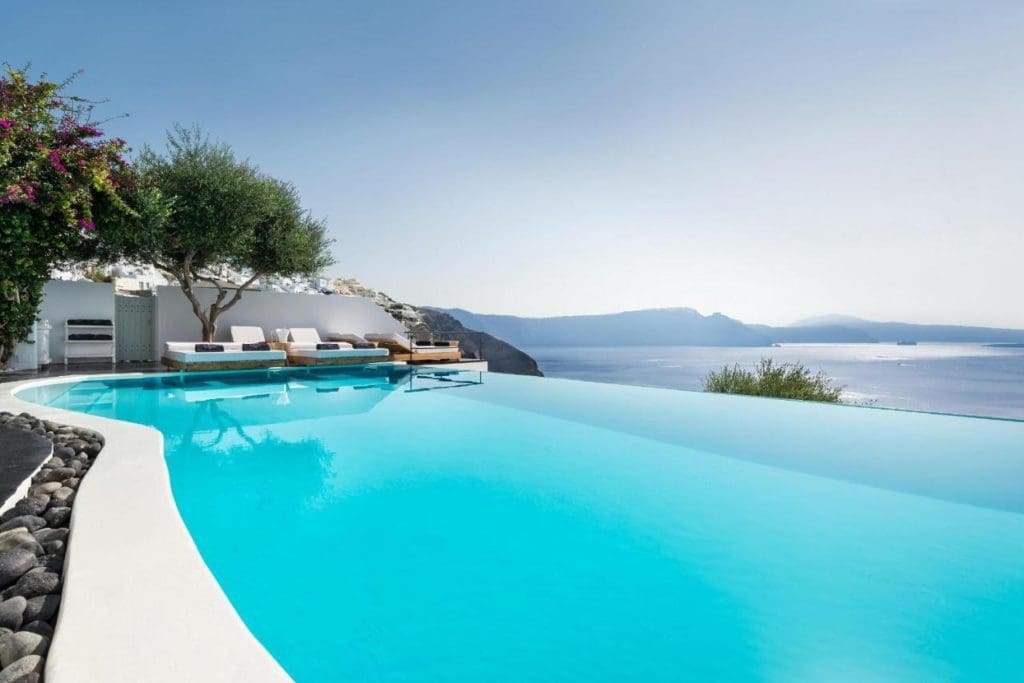 The show stopper is the Exclusive Suite with Infinity Pool and it truly is outrageous. Clinging to the edge of the Caldera, the private infinity pool suite spans the length of the hotel room and gives guests an uninterrupted view of the caldera.
What better way to unwind than sipping a cocktail on your private terrace before watching the sunset over the Caldera. This is one of the hotels in Oia Santorini with private pool that makes you feel like royalty.
Imerovigli
Imerovigli is located between the popular towns of Oia and Fira. It is known as the honeymoon town due to its wide range of boutique hotels and plunge pools. And of course, it's incredibly pretty. Perhaps even prettier than Oia?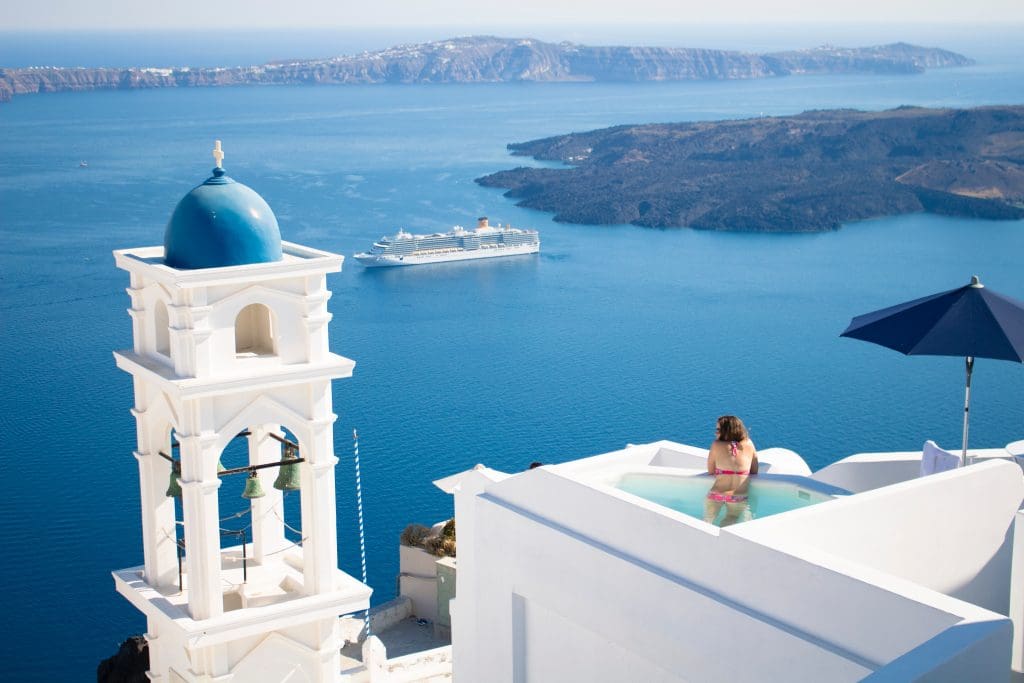 Unlike Oia, it doesn't have the expensive shops that line Oia's main street, and there is a shortage of restaurants in the area, but it does have some remarkable views.
A popular 10km walk from Oia to Fira passes through the centre of Imerovigli and allows walkers to explore Imerovigli's 13th-century Venetian castle on Skaros Rock.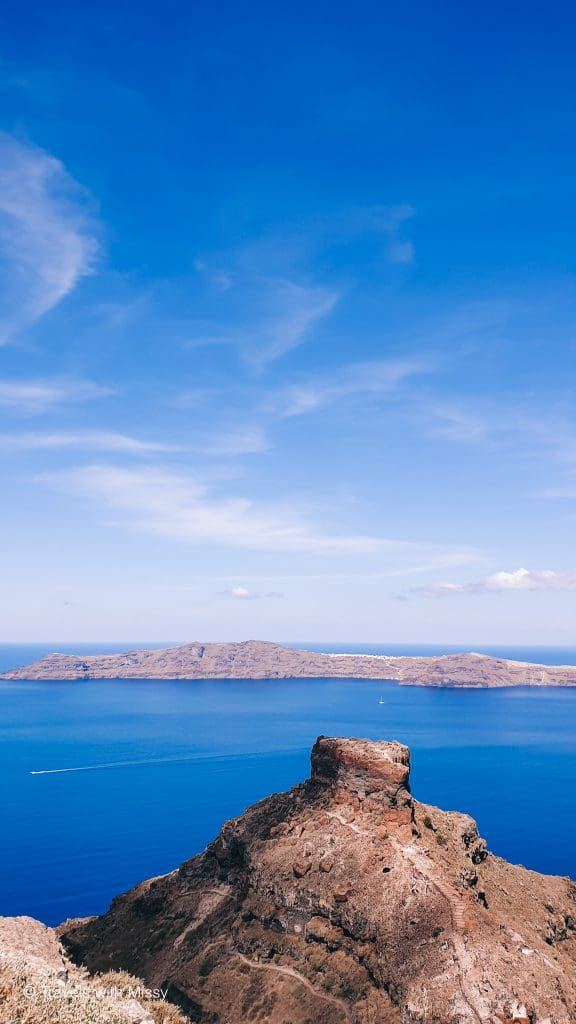 The walk to Fira from Imerovigli is all downhill and has ample choices for restaurants and shopping. Much like Oia, there are a huge number of hotels in Imerovigli with private pools and plunge pools.
Grace Hotel Santorini
Grace Hotel Santorini sits perfectly in front of Skaros Rock. The hulking black rock is a remarkable backdrop to this awe-inspiring 5-star hotel. The Grace Hotel Santorini has a shared infinity pool that is a little exposed by those walking on the pathway, but that won't matter as you'll be spending most of your time in your private plunge pool.
Make sure that when you've reached your fill of sunshine, to try out a spa treatment in your room. And when you're ready to sleep for the night, don't forget to choose from your pillow menu and select from seven potential choices.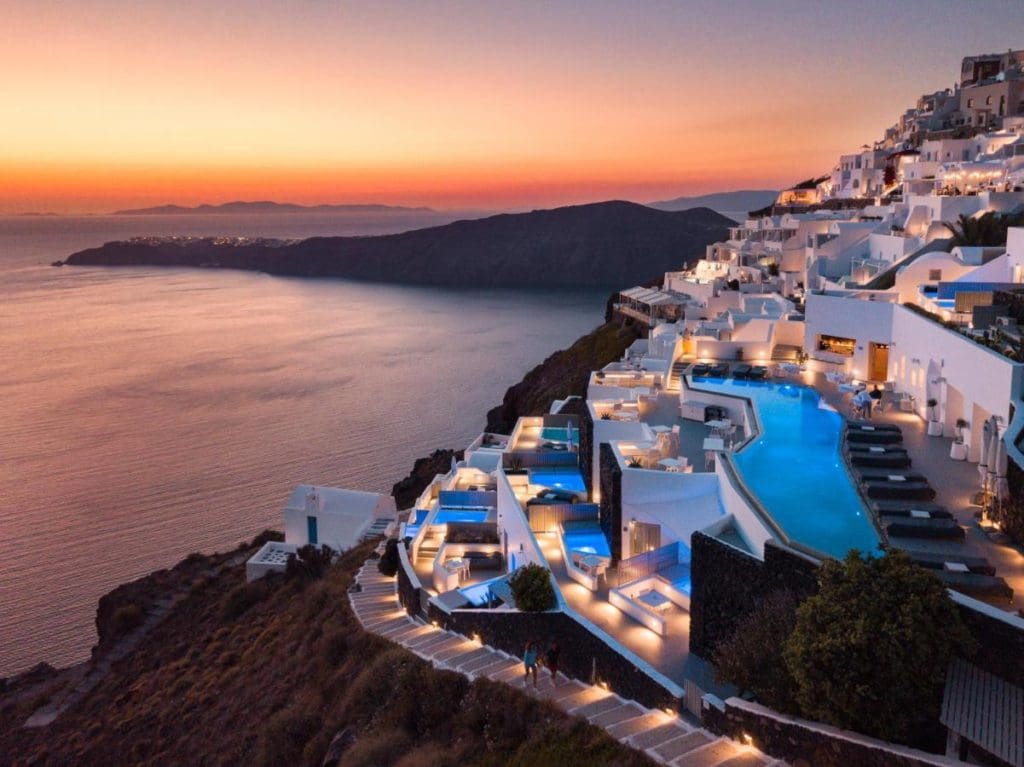 When you arise in the morning, try not to overindulge during your 5 course Champagne breakfast on your private balcony. All the while you are experiencing one of the most incredible views of Santorini, perched halfway between Oia and Fira, it's a real pinch-me moment.
Cavo Tagoo Santorini
Open your Instagram during the summer months and you will be inundated with influencers posting their vacation snaps to Cavo Tagoo in Santorini and Mykonos. And understandably, it is a dream hotel.
The outdoor infinity pool sits perfectly on the horizon, sun loungers hovering on the water dripping with influencers and glamour. This is a place to be seen.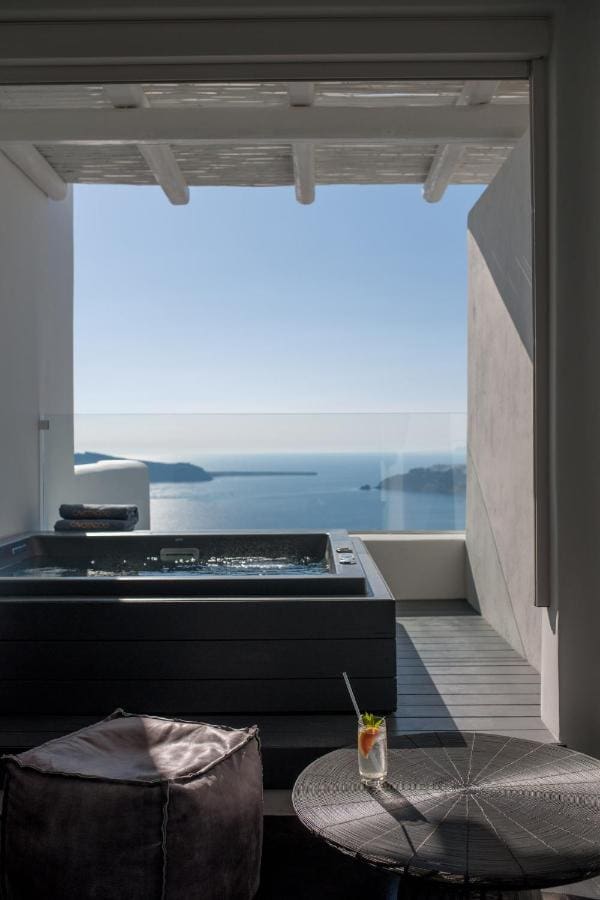 The rooms in Cavo Tagoo Santorini feature either a hot tub or a private pool and each room has a terrace to watch the sunset over Oia in the distance. Each room and suite has either a private outdoor jacuzzi or plunge pool with an incredible sunset view.
Due to its location, 6km from Oia or 5km from Fira, guests have the option of dining at Vezenes restaurant serving Greek-inspired BBQ.
Don't forget the cocktails, which are really out of this world. Cavo Tagoo Santorini is an incredible experience from start to finish and will fulfil those who want to experience one of Greece's most famous infinity pools.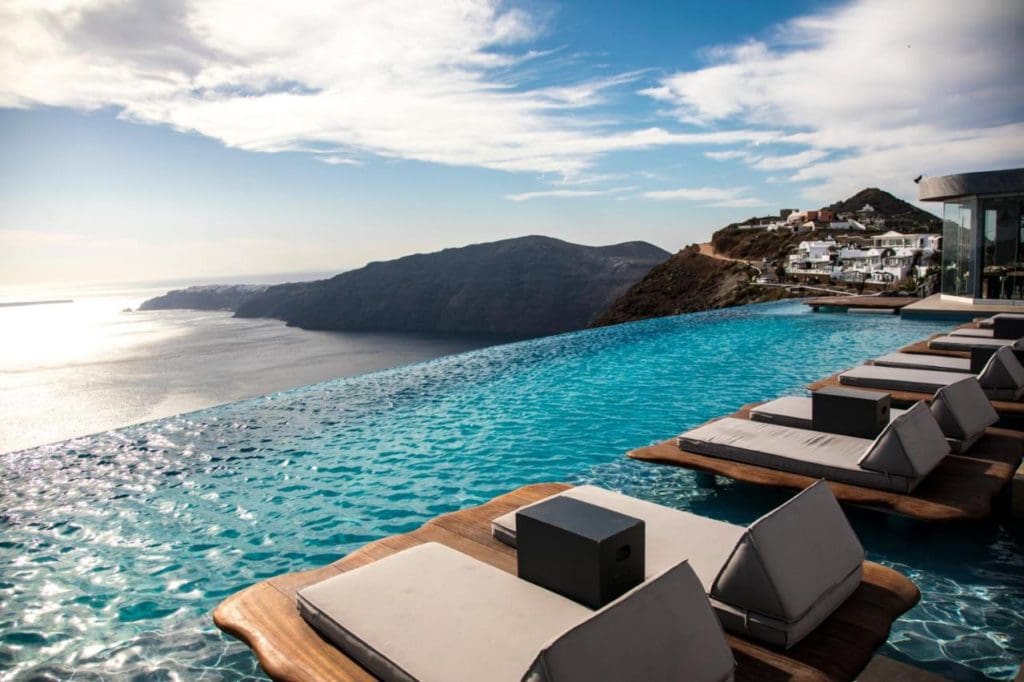 Best Hotels in Santorini with Private Pool – Fira
Fira is the centre of Santorini, it's the main bus terminus and hub of the island. Where Oia oozes luxury and wealth, Fira is still pretty but missing a little bit of the charm that Oia has. It's a great place to be based with some excellent restaurants and cocktail bars with incredible views. The price difference between Fira and Oia is very noticeable.
Katikies Garden Santorini
Like its sisters in Oia, Katikies Garden Santorini is infamous for the level of service and sophistication it serves. With luscious deep greens that saturate the main foyer, the theme continues throughout the hotel and into the suites.
The 5-stars outdoor swimming pool is found on the roof and overlooking the town of Fira and the Caldera. A former monastery converted into one of Fira's best kept secret hotels, Katikies Garden Santorini maintains its aura of a private sanctuary and is carried across all of its suites.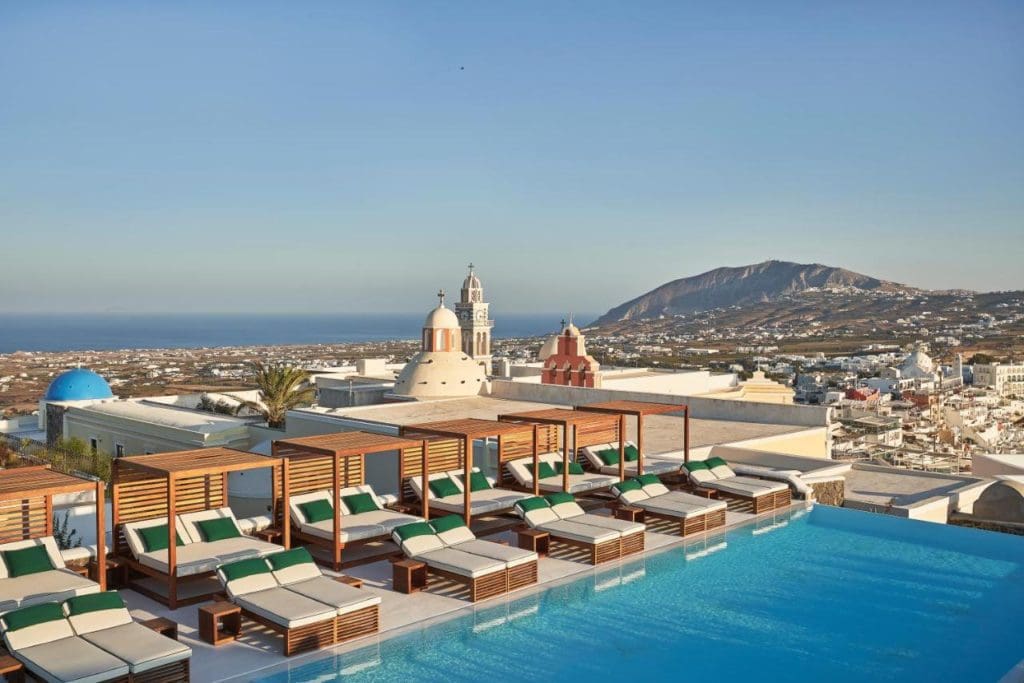 The Superior Pool Suite has a private pool set in a tranquil garden, perfect for basking under the sun and cooling off in the pool. The bedroom is straight out of your dreams, teak floors and the bed of your dreams await you.
Whilst none of the suites have views of the infamous Caldera, they do offer an alternative space for privacy and seclusion that a lot of places on the Caldera don't have.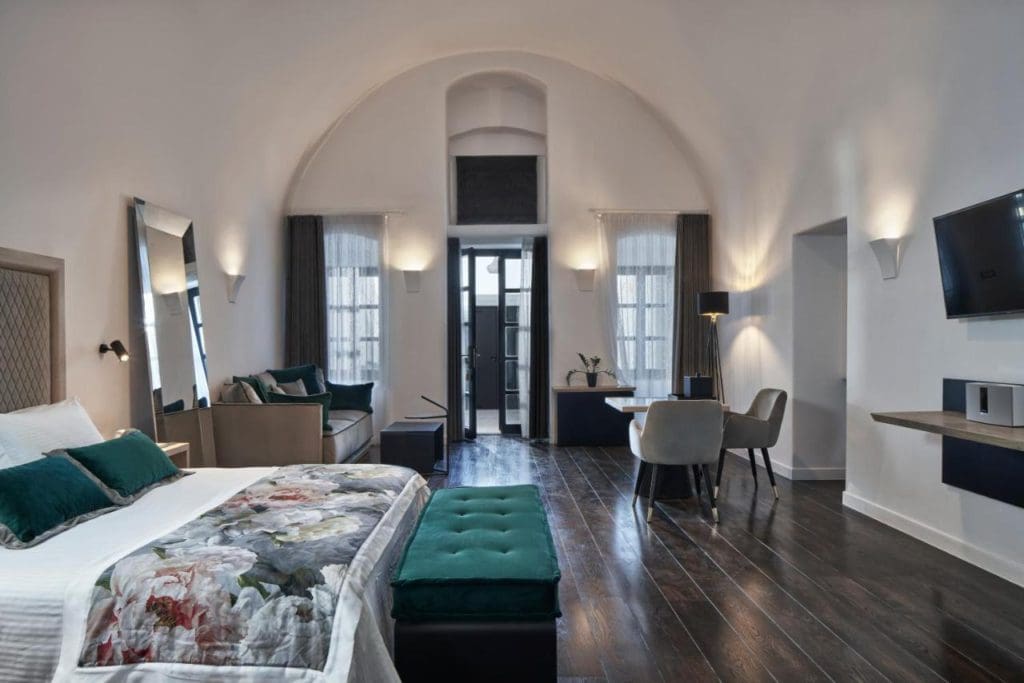 Best Hotels in Santorini with Private Pool – Pyrgos
Pyrgos is a small hilly town 7km from Fira and one of the quietest spots on the island. It has escaped mass tourism that the rest of the island experiences and offers those who explore the interior of the island with a wonderful treat. Its small labyrinth alleyways and hidden passages make you feel like you are exploring an undiscovered part of Santorini.
North Santorini – A Luxury Spa Hotel
One of the finest wineries on the island Santos Wineries is located a short drive away from North Santorini a luxurious hotel located in the centre of the island. The decor in North Santorini represents the elements of the island, from the volcanic soil to the Aegean sea. It is scrumptious.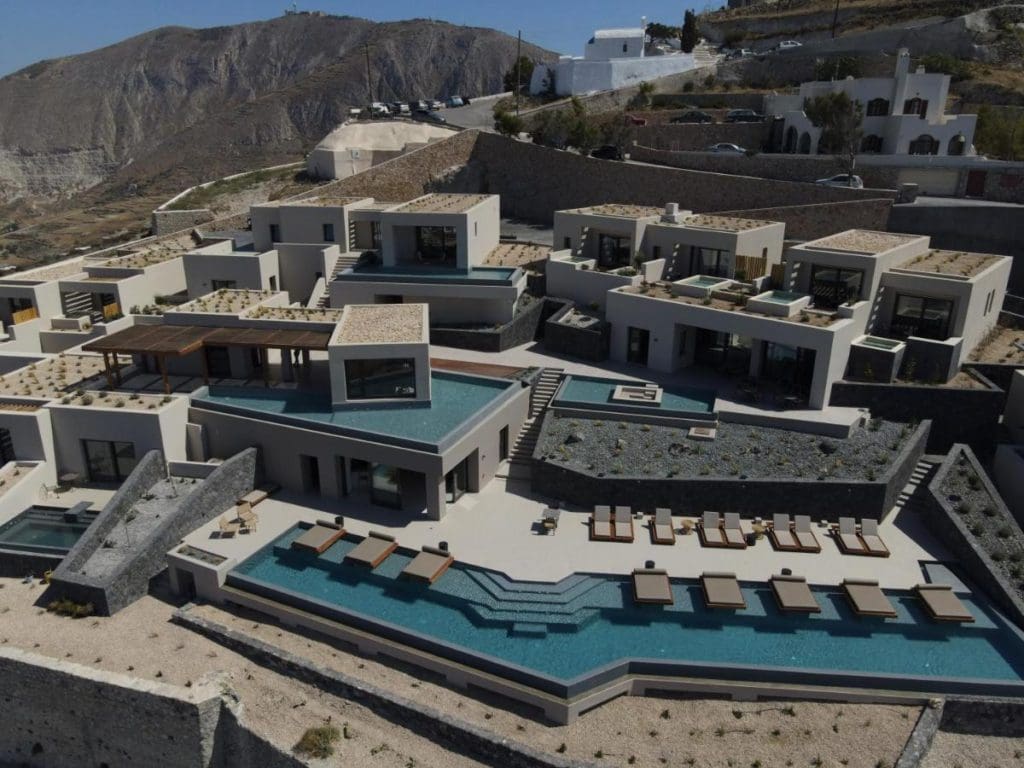 With an enormous heated infinity pool that forms the central point of this hotel, you can enjoy the views across the island. The spa has an indoor heated swimming pool where you can relax and unwind after your massage. Or perhaps you'd rather enjoy the Cave Hot Tub? With a hammam and gym, you can enjoy a workout in their superb facilities.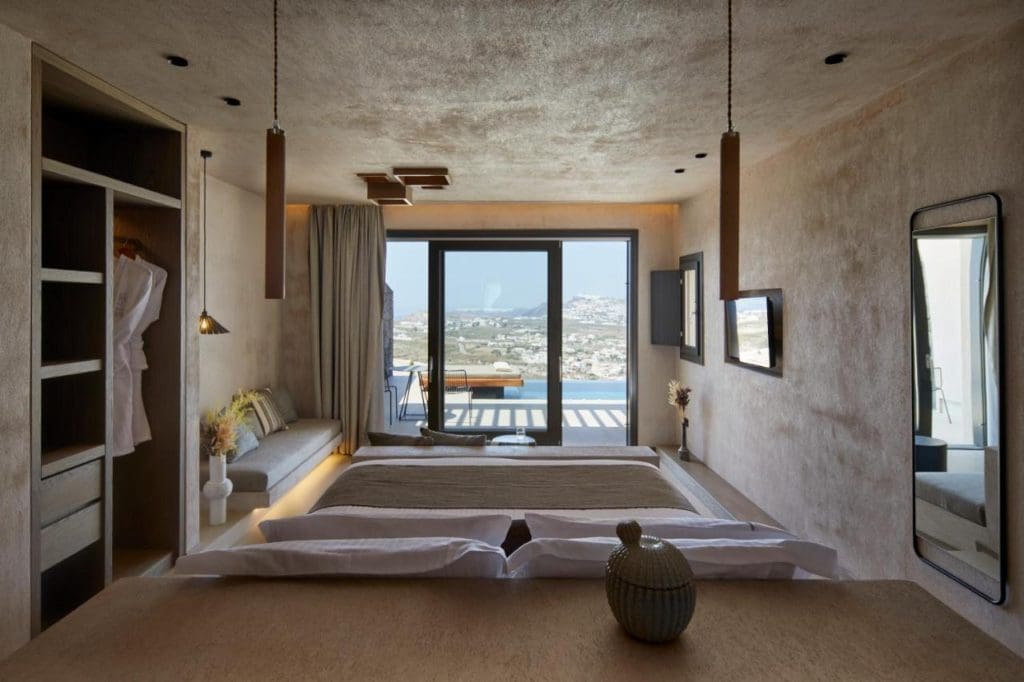 Each of the rooms in North Santorini – A Luxury Spa has either a plunge pool or a private pool. Sometimes even both! The hotel offers excellent options for honeymooners to savour a special time, and because all the private pools are heated, you can enjoy any time of the year.
Akau is their signature restaurant on site and is a fusion of Japanese and Peruvian food whilst using local produce. Don't forget to check out the Sushi Lounge Bar and make sure to experience the cocktails served on the terrace by the pool.
Best Hotels in Santorini with Private Pool – Akrotiri Hotels
Akrotiri is located 15km from Fira, the capital and effective centre of the island. The views from this part of the island are spectacular, with Oia in the far north gazes back. The sunsets in Akrotiri are out of this world, and for Instagrammers, the Akrotiri lighthouse makes a wonderful backdrop.
Akrotiri is a very small village that is most famous for its Venetian castle and Bronze Age archaeological site. The breathtaking cliffs will draw you in, and you will find some excellent private infinity pools in the area. 
Phos The Boutique
Phos The Boutique is quite simply sublime. Every single villa on the hotel property has a private outdoor pool. Phos the Boutique is a 5-star hotel that sits on the edge of Santorini's caldera and offers visitors spectacular views.
The luxury suites in this hotel have heated infinity pools, so matter what time of the year, you can enjoy swimming in the outdoor pools. The breathtaking interiors are something that comes straight out of Vogue, bohemian with a dash of tropical elements.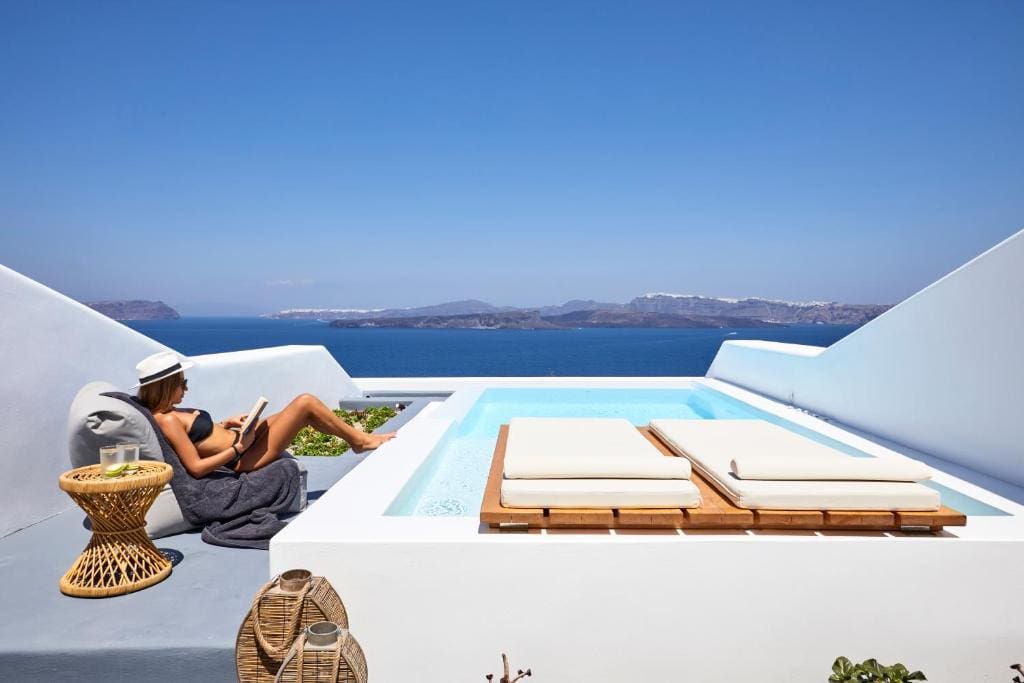 Each villa and suite has several features such as flat-screen TVs, optimised with Netflix because let's admit, you won't be leaving your luxury suite anytime soon. The option of breakfast can be served on your private terrace, as you enjoy watching your surroundings.
And when you've worked up an appetite you can enjoy delicious lunch and dinner serving Mediterranean cuisine. Don't forget to treat yourself to one of the spa's treatments that are carried out in your pool suite or private villa terrace. Phos the Boutique is truly one of the most incredible hotels in Akrotiri and on the island of Santorini.
When to go
Santorini is beautiful no matter what time of the year, however, most of the larger hotels and a lot on this list shut down between the months of December to March. The island is quieter on the off-season shoulder months of November and March with tourist numbers drastically reduced compared to the peak months of July & August.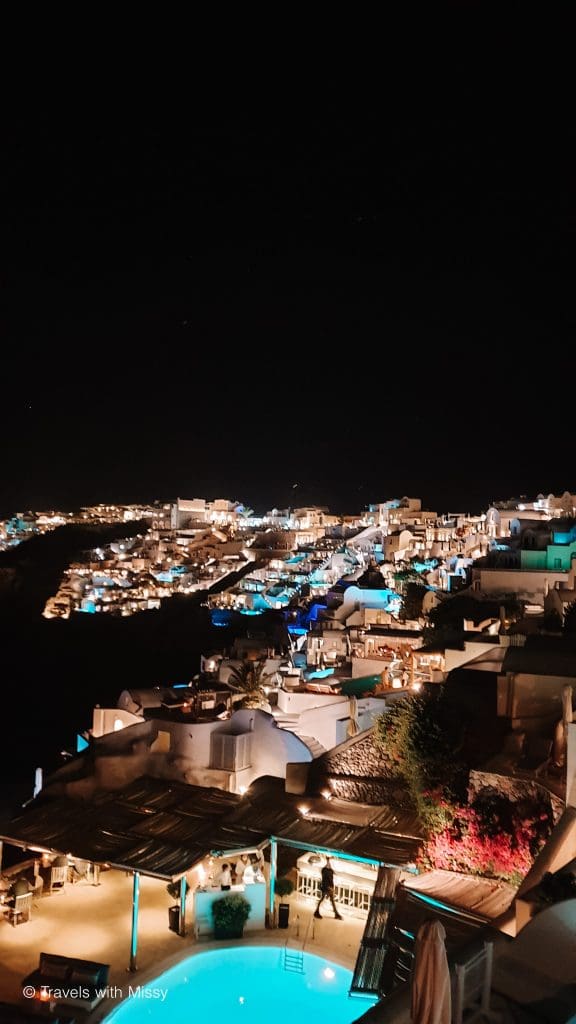 Conclusion
Santorini has an almost endless list of superb accommodation choices. The one that remains consistent in all of them is the spectacular views and scenery. Santorini is one of the prettiest places on the planet and something that should be ticked off your bucket list at least once. And it definitely has some of the best hotels in Santorini with private pool in all of Greece.