It's safe to say that when you visit Belgium you will soon find your suitcase being stuffed with delicious chocolates from Belgium. Chocolate in Belgium is a serious thing. And like Belgian Beer and Frites, the Belgians excel when it comes to creating incredible chocolates.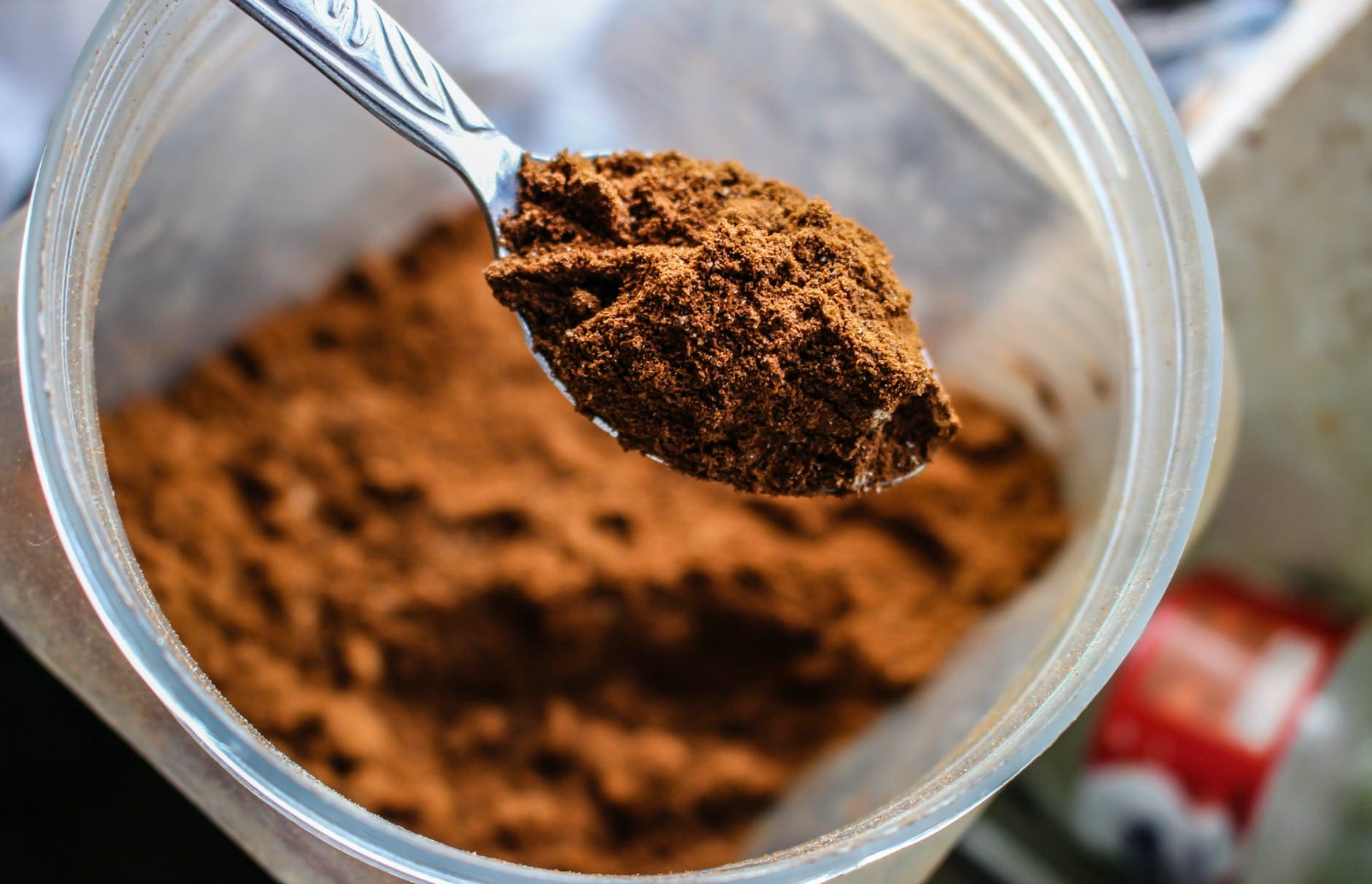 Walking down the streets of Brussels, Antwerp, or any city in Belgium, you will be surprised by the sheer volume of Belgian Chocolatiers. It can be overwhelming and not all Belgian chocolate brands are equal. So with this helpful guide, your next visit will leave your suitcase bulging with some of the best chocolates from Belgium.
Some of these may be affiliate links, which means when you buy something I may receive a small commission. There is no additional charge to you, and it really helps to support me – so thank you!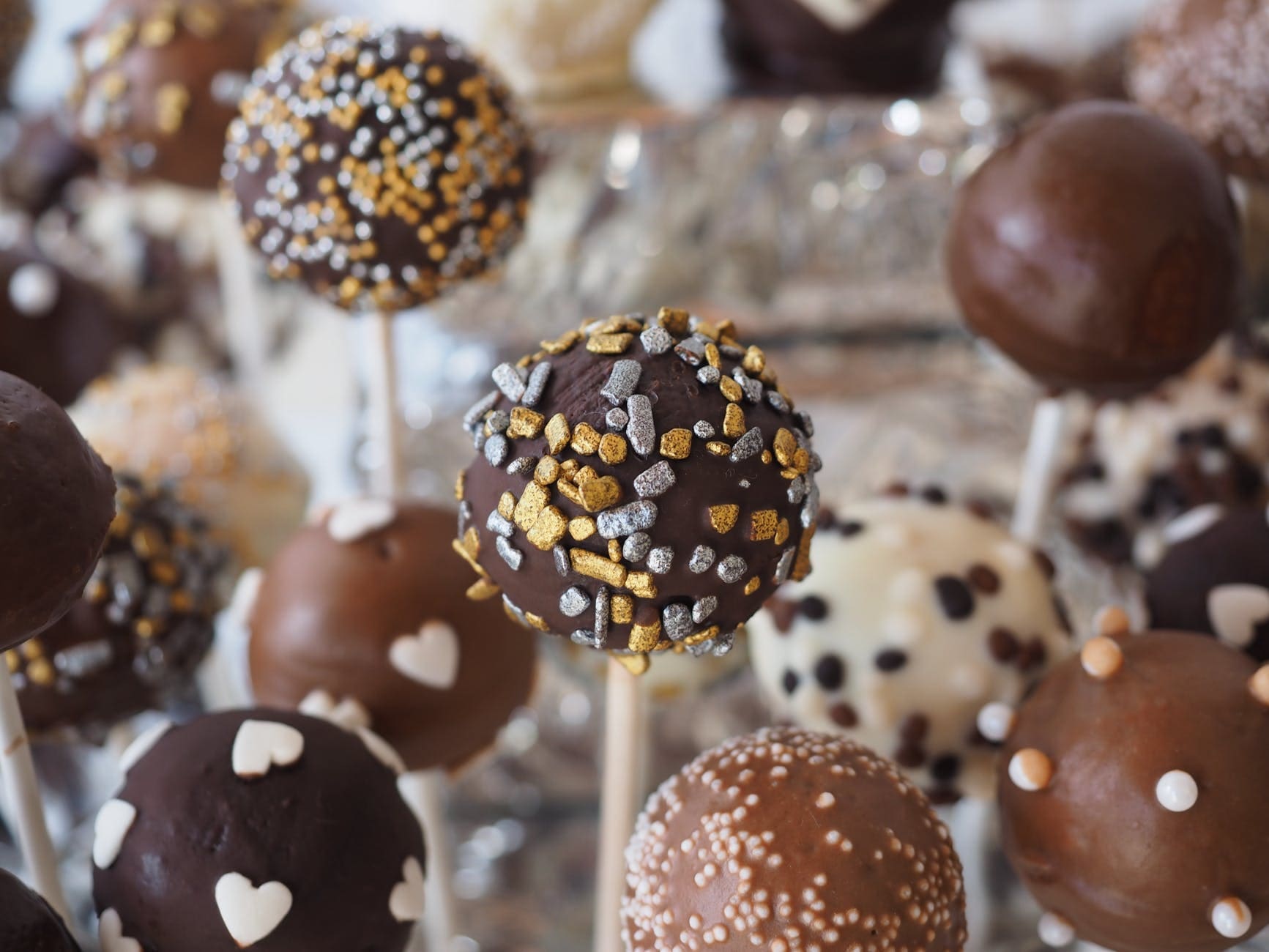 What are the best Belgian Chocolate Brands?
The best Belgian chocolate brands are Galler, Leonidas, Guylian, Cote d'Or, Neuhaus, & Godiva. These recognizable names are found in stores and supermarkets across the world.
Best Belgian Chocolates – Belgian Chocolate Brands
The following list has several famous Belgian brands that are recognizable across the world. Of course, there are smaller Belgian chocolatiers that deserve a shout out too and they have been included on this list. The best chocolate brands are so personal and the preference for which Belgian Truffle or Belgian Praline varies from person to person.
Mary – The Belgian Royal Warrant Chocolatier
If you want chocolates that are fit for a King then Mary is the Belgian chocolatier for you. Not only are the boxes for the chocolates from Mary stunning and worth in price alone, but these chocolates are something special.
So special in fact that they have been the Belgian Royal family's choice of chocolatier since 1942. Established in 1919 by Mary Delluc in Brussels, the chocolates created are dreamy and reminiscent of a time gone by. And much like chocolates that are fit for Royalty, do expect a hefty price tag when purchasing these decadent Belgian chocolates.
A box of 8 pralines will set you back €16, but their gift boxes are truly beautiful. Mary was awarded the Royal Warrant Holder in the 1940s.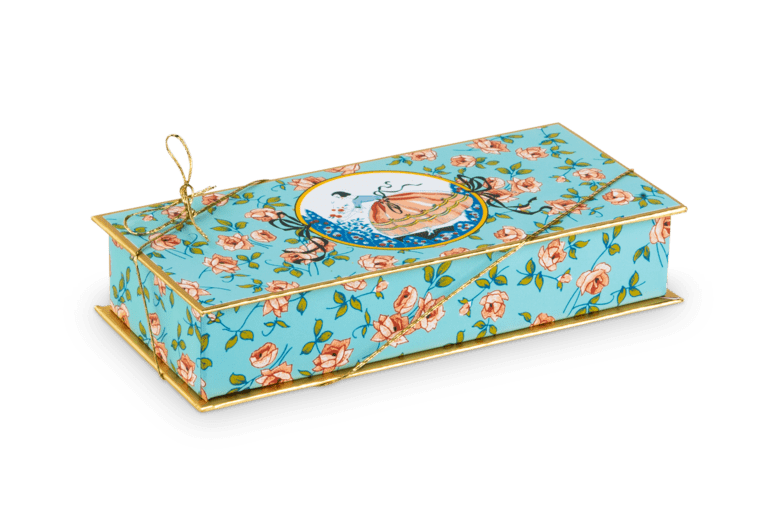 Delivery
Mary delivers to the following countries:
Canada
Europe: Austria, Belgium, Denmark, Finland, France, Germany, Greece, Ireland, Italy, Luxembourg, Monaco, Netherlands, Norway, Portugal, Spain, Sweden, Switzerland, United Kingdom.
United States
Japan
Neuhaus – Inventor of the Belgian Praline
Neuhaus is one of Belgium's most famous Belgian chocolatiers and is the inventor of the Belgian praline. Established in 1857, Jean Neuhaus family set up his chocolate shop in Brussels and they are also royal warrant holders.
In 1912 the now-iconic Belgian praline was invented, hard-shelled chocolate filled with nuts mixed with softer chocolate.
Walking into a Neuhaus store the first thing that you will notice is the smell of cocoa in the air. Next, you will notice the iconic Belgian Ballotin which was created in 1915 as a way of gifting your chocolates in a decorated gift box.
The rose-gold Belgian chocolate gift box of Neuhaus is complete with premium Belgian chocolate and truffles. And of course, no Neuhaus chocolate box is complete without its famous heart-shaped Belgian pralines.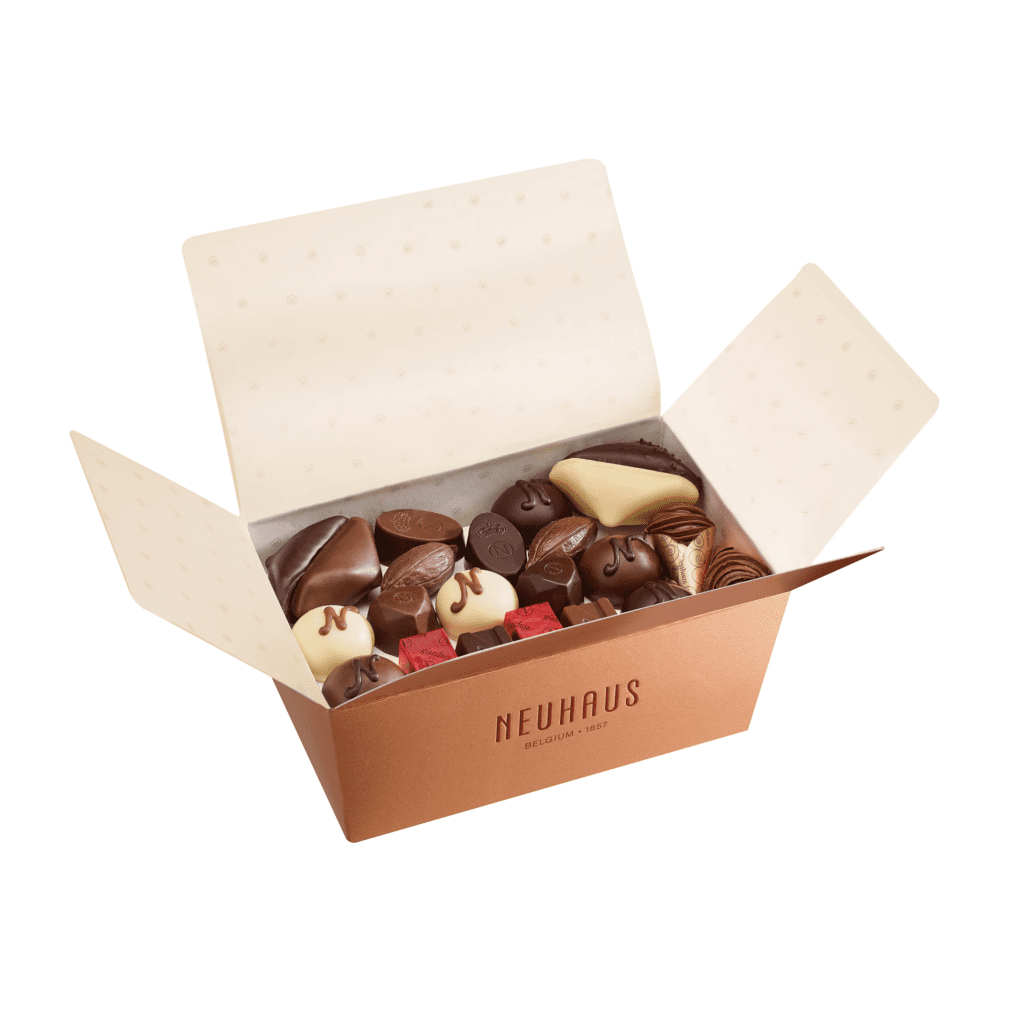 Delivery
Neuhaus deliver to the following countries;
Europe: Belgium, Netherlands, Germany, France, Luxembourg, Austria, Italy, Spain, Portugal, Finland, Sweden, Denmark, Estonia, Czech Republic, Romania, Slovakia, Bulgaria, Croatia, United Kingdom, Republic of Ireland.
Guylian – A Belgian Classic
The iconic Guylian shells are one of Belgium's most famous chocolate brands around the world. The traditional Belgian chocolate gift box includes Guylian seahorse and shells or 'sea fruit' as my partner adorably calls them.
The Guylian chocolate seashells have been in production for over 50 years and are available all around the world. It all started when in 1958, Guy married a woman named Liliane, they combined their names and formed their chocolate business Guylian.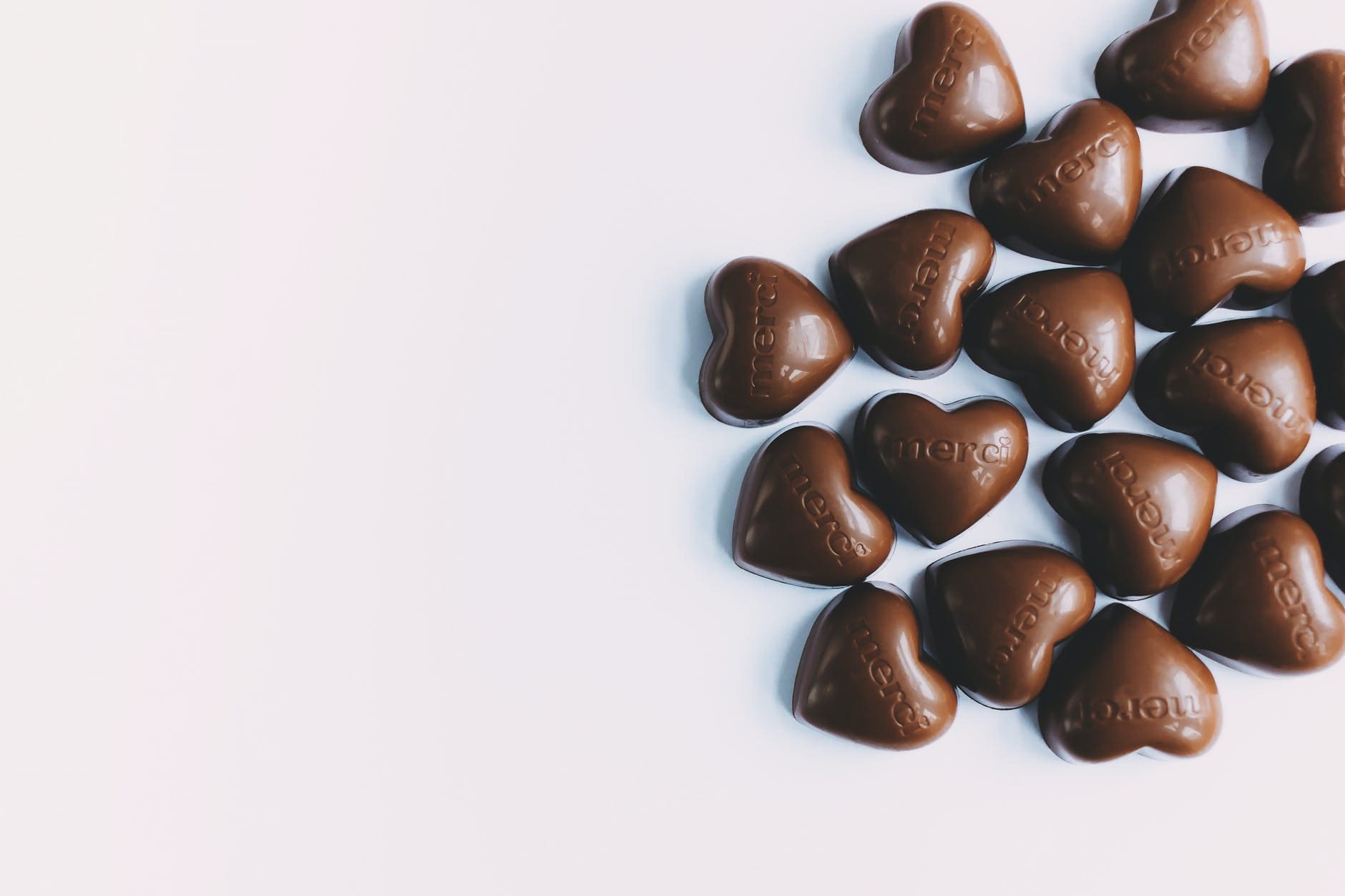 Guylian chocolate seashells and chocolate seahorses are sold in over 120 countries around the world. This iconic Belgian brand is on most supermarket shelves and unlike some other notable chocolate brands, Guylian operates a Fairtrade policy with its West African cocoa bean suppliers.
Guylian's use of cocoa butter creates an incredibly silky smooth chocolate. Coupled with hazelnuts sourced from the Mediterranean, these quality ingredients are then used to make the creamy hazelnut praline filling.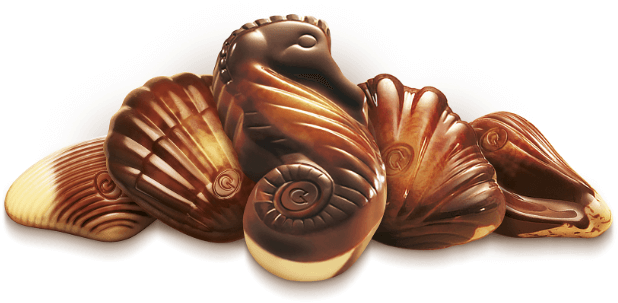 Specialities
The Original Belgian Chocolate Sea Shells
Discover where it all began with these incredible Belgian chocolate seashells filled with delicious roasted hazelnut praline.
Guylian Belgian Master's Selection
An assorted mix of tasty pralines in a range of flavors will delight those searching for the perfect Guylian chocolate gift box.
Godiva – A Global Chocolatier
Godiva is one of those famous chocolate brands that everyone has spotted on their supermarket shelves or had the luxury of stepping into one of their 600 boutiques around the world. Created in 1926, Pierre Draps set up his first shop in Brussels.
After his death, his sons took over the business and named their chocolate company after the legend of Lady Godiva. Lady Godiva is best remembered from the Middle Ages as the woman who rode naked through the English streets, with only her hair covering her modesty. Her image is represented in the Godiva logo.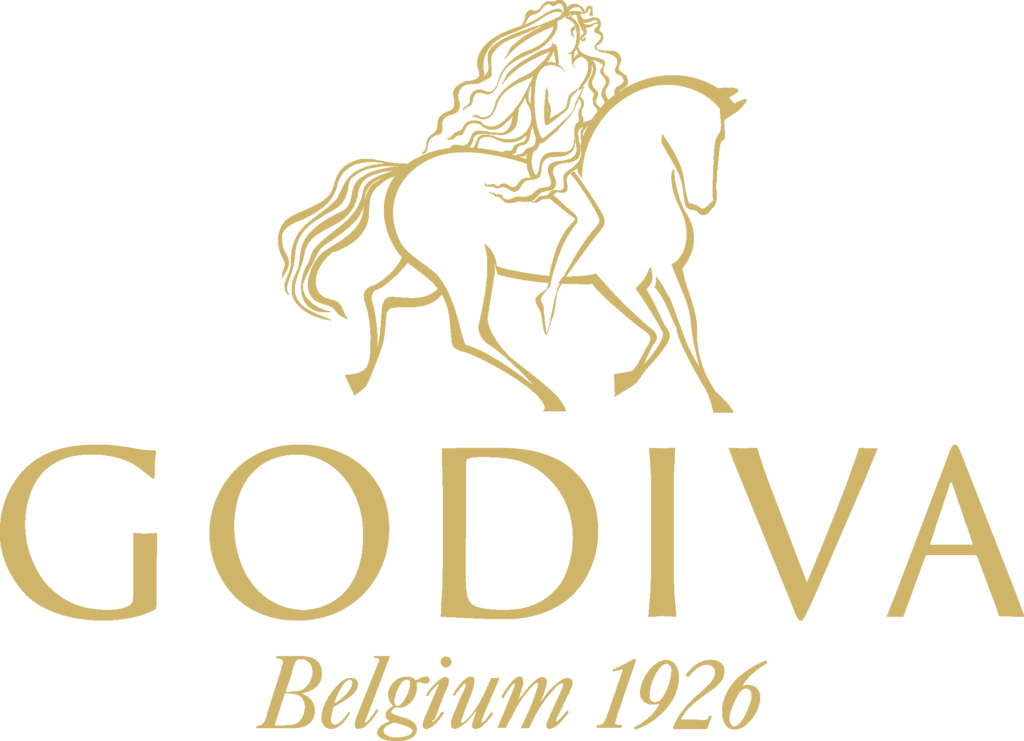 Inspired by Lady Godiva's values of boldness and generosity, these remain the pillars of Godiva's foundations to this day. In the late 1940s, Godiva created their signature chocolate dusted truffle.
This Belgian cocoa-dusted truffle was an industry first and remains iconic chocolate for the entire chocolate industry. Godiva is one of the best Belgian chocolate brands and in 1968 was awarded the Belgian Royal Warrant from the Belgian King.
Cote d'Or
Our snack cupboard is never without a delicious chocolate bar from Cote d'Or. It was a brand name that I was unfamiliar with prior to my move to Belgium and now something I can't imagine ever living without.
The iconic elephant raising its trunk in celebration dates from the late 19th century and has been a staple of Belgian society since. Apparently, 600 million Cote d'Or products are eaten by Belgians each year.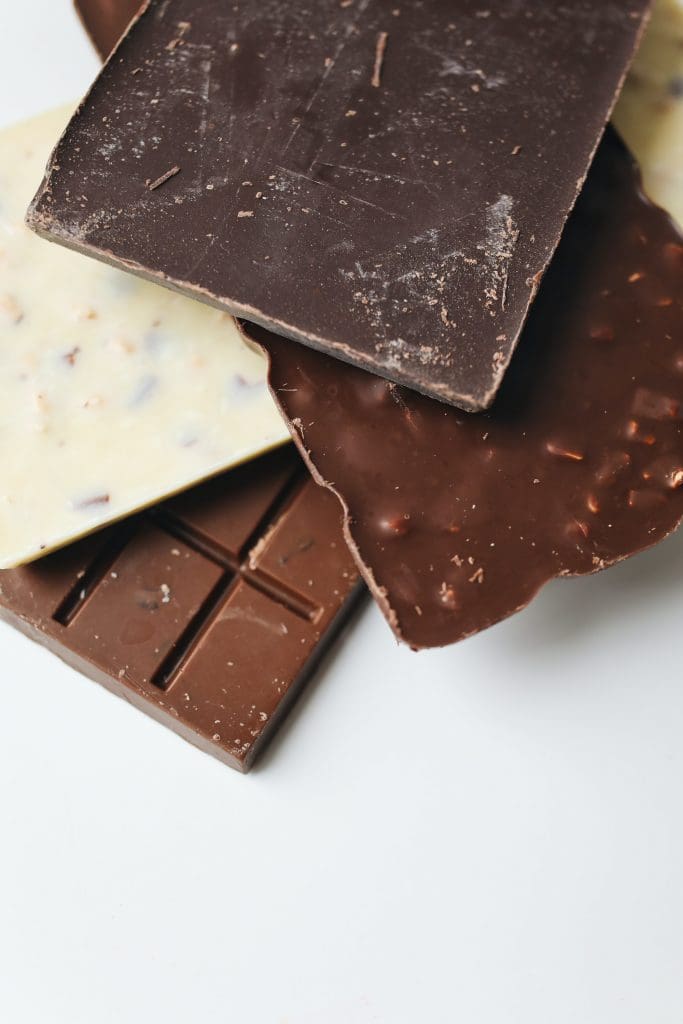 This is a bar of superior Belgian chocolate found on most supermarket shelves, with creamy textures and a variety of fillings. In fact, the chocolate has barely changed since Charles Neuhaus sold Cote d'Or in the late 1890s.
Cote d'Or produces affordable Belgian Chocolate that is probably the most famous Belgian household chocolate brand in the country.
Leonidas – The Affordable Chocolatier
Leonidas mission is to create moments of happiness for everyone. One childhood memory I have of the Belgian chocolate store Leonidas was after our weekly supermarket shop being allowed to pick a few Belgian chocolates from the glass counter with my mom. Their gold-colored box fills me with nostalgia every time I see it. Leonidas provided me with my first experience of excellent Belgian chocolates.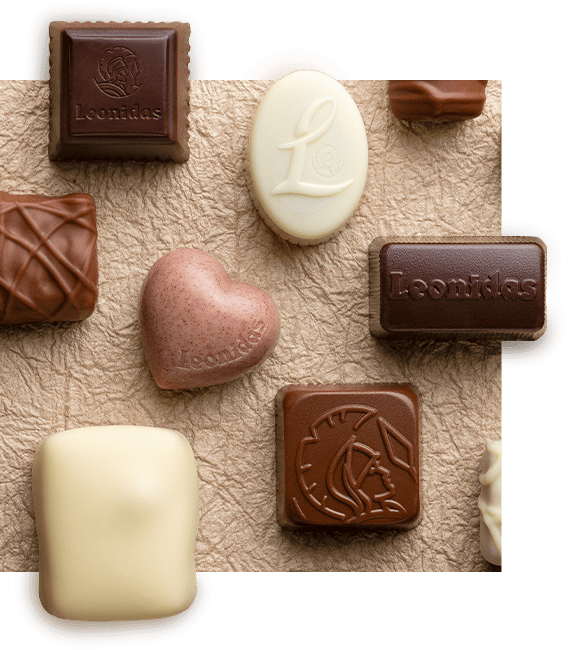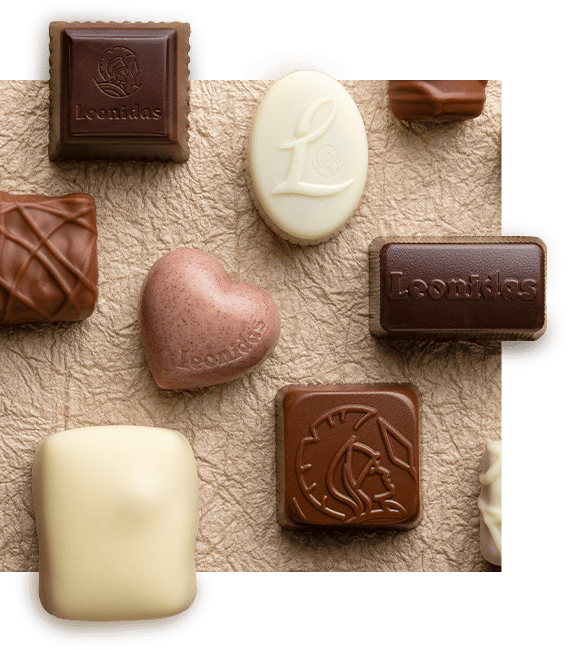 The creator of Leonidas was Leonidas Kestekides who set up his chocolatier shop in Ghent in the early 20th century. After a huge success, he set up shop in Brussels and kept his promise of affordable chocolates, something which everyone could enjoy.
After years of success not only in Belgium but all around the world, Leonidas chocolates in 2013 were awarded the Belgian Royal Warrant.
Specialties
Manon Cafe
The Manon Cafe praline when it was created in the 1980s created a stir. With a white chocolate shell, arabica coffee, and hazelnut buttercream filling, Leonidas was the first chocolate company to create a white praline.
Artisanal Chocolatiers
Pierre Marcolini
Pierre Marcolini is the Louis Vuitton of Belgian Chocolates – expensive and well designed. The stores are modern Willy Wonka Chocolate factories with beautiful displays and an opportunity to see how they craft the pralines and slabs of decadent chocolates. Pierre Marcolini travels around the world in search of the best cocoa and uses only the finest of ingredients when creating his masterpieces.
His Belgian chocolates are so popular that you can even find stores in United Arab Emirates, South Korea, and Japan.
The process in which the cocoa bean is harvested and then made into the silky smooth chocolates is completely overseen by Pierre Marcolini, which sets him apart from other larger Belgian chocolatiers.
Signature Specialities
Malline Découverte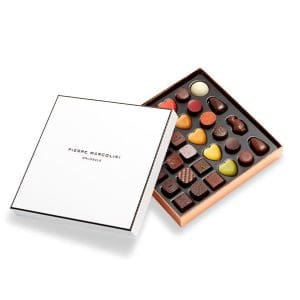 Showcasing 33 of the best Belgian chocolates in a signature Pierre Marcolini white box, this is the quintessential gift to bestow upon any chocolate lover. It is an incredible journey for the palette and will tingle each taste bud with some of the finest chocolates from Belgium.
Raspberry Heart
The symbol of Pierre Marcolini, this heart-shaped Belgian chocolate is filled with raspberry ganache 'enhanced with lemon zest'.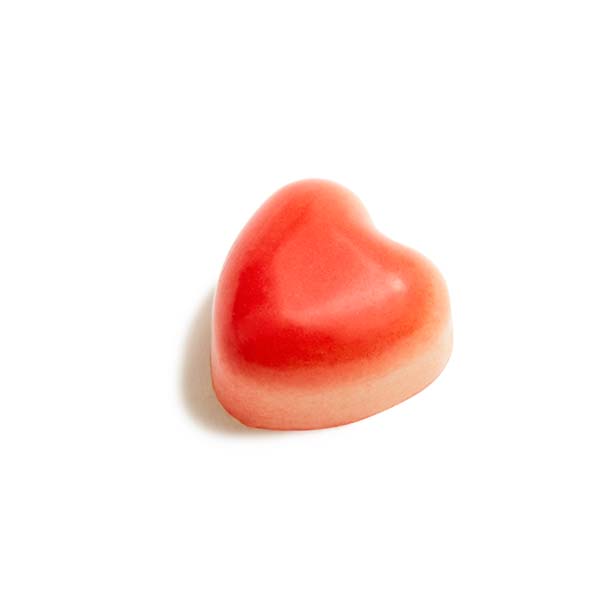 Carré² Chocolat
Thumbing his nose at supermarket chocolate, the Carré² is the closest you will get to a 'simple' chocolate bar in Pierre Marcolini. The Carré² chocolate tablet comes in a variety of flavours from Salted Caramel, Pecan Nut Praline and 10 other incredible flavours of cacao and fillings. A perfect gift for those looking for an out of the ordinary Belgian chocolate bar.
Delivery
Pierre Marcolini delivers to the following countries:
Austria, Belgium, Bulgaria, Czech Republic, Denmark, Estonia, Finland, France, Germany, Greece, Hungary, Ireland, Italy, Latvia, Lithuania, Luxembourg, Netherlands, Poland, Portugal, Slovakia, Slovenia, Spain, Sweden, United Kingdom.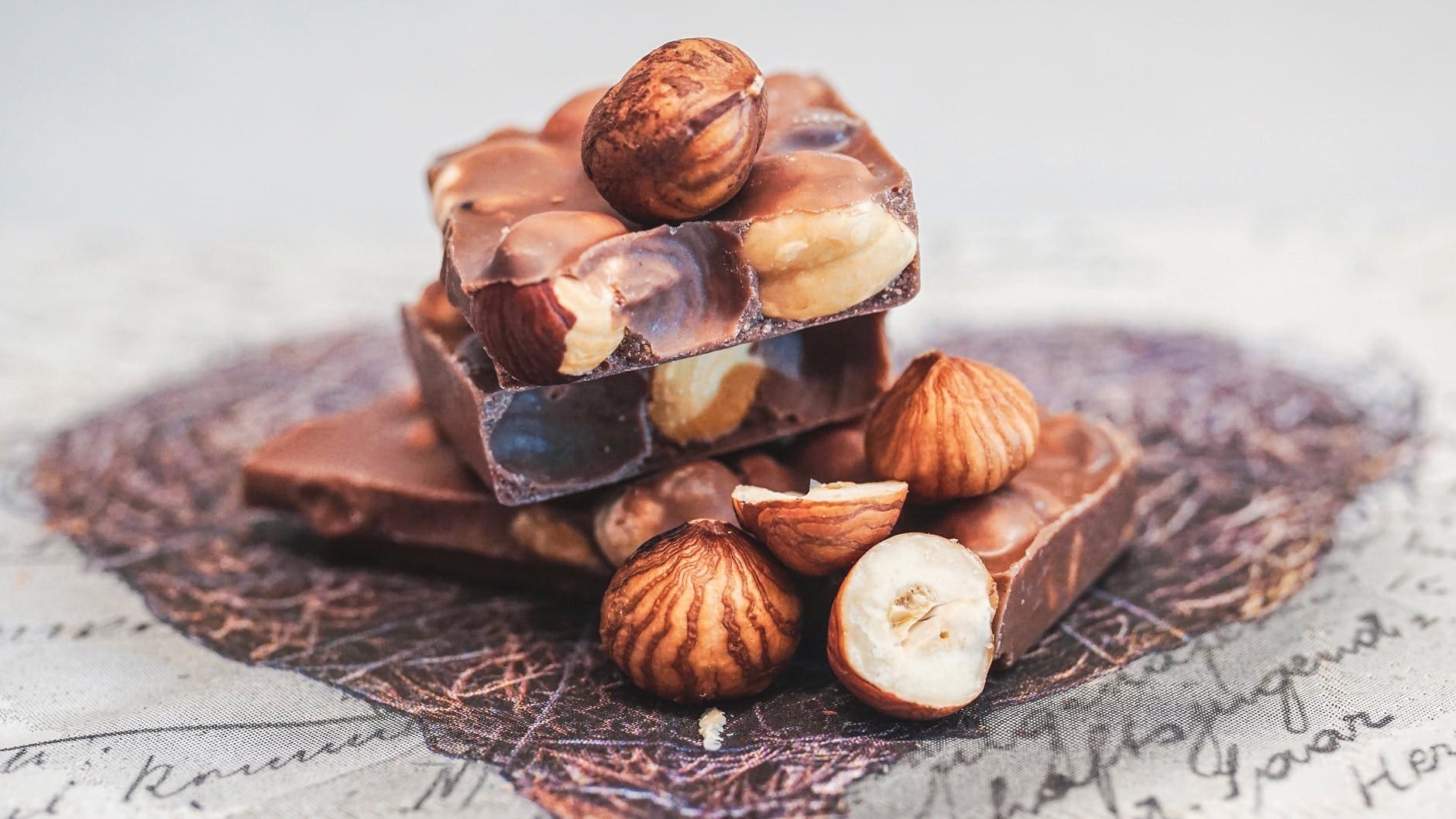 In Choc by Tom Coosemans | Nassaustraat 15, 2000 Antwerpen
It wasn't a complete list without adding in my favorite Belgian chocolatier in Antwerp (and the whole world). Tom Coosemans has created some of the most incredibly flavored chocolates, using unique ingredients rarely found in 'ordinary' Belgian chocolatiers.
Like any good Belgian chocolatier, Tom Coosemans uses only the best quality ingredients available. Ingredients such as citrus fruits – Yuzu & Kalamansi, or using Earl Grey Tea enhance the flavors of the chocolate, so much so that they explode with flavor in your mouth.
It's not only the flavors that make these Belgian chocolates stand out, they are decorated with some of the most beautiful splashes of artwork. With brushstrokes of color, these decadent pralines look almost too good to eat.
His strive for quality made an impact and in 2020 a year after opening up his store he was named as one of the Finest Belgian Chocolatiers in all of Belgium and Luxembourg by the Gault and Millau Guide.
No visit to Antwerp is complete without a visit to In Choc by Tom Coosemans.
Opening Times
Monday & Tuesday: Closed
Wednesday – Saturday: 10 – 18h
Sunday: 11 – 17h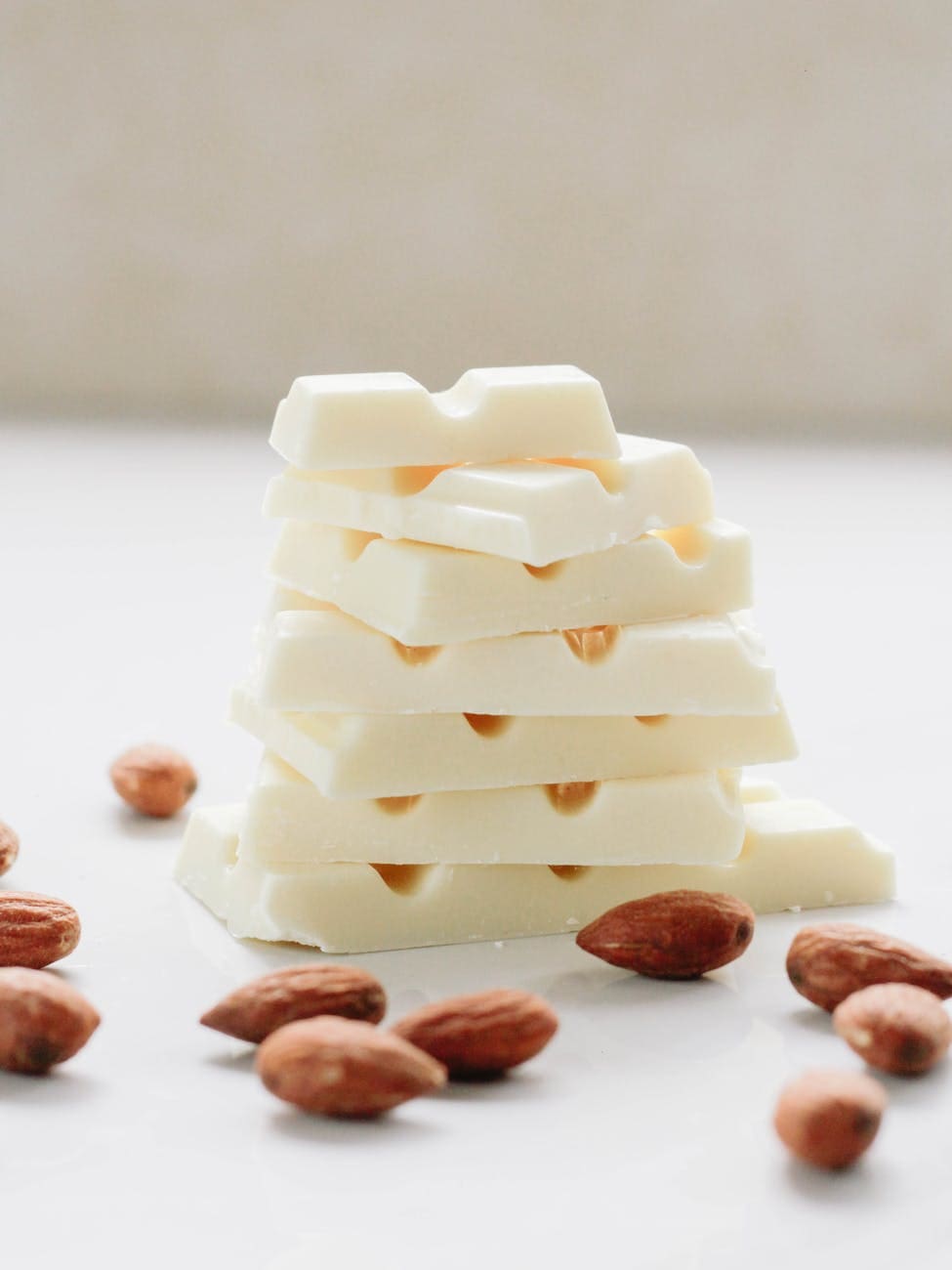 Chocolate Museums & Tours
For a country obsessed with Chocolate, there are chocolate museums and tours across the country. Choco-Story in Brussels and Bruges have interactive tours, and Antwerp has the world's largest Belgian Chocolate Museum.
These are a fun way to spend a couple of hours in an afternoon learning about the history of one of the world's most delicious foods.
Choco-Story Brussels
A must for visitors in Brussels, this highly interactive tour of Choco-Story Brussels will walk you through the process of how cocoa beans were discovered and the Aztec's use of this incredible fruit. The journey follows the bean as it made its way to Europe and how its popularity exploded around the entire world.
The Choco-Story Brussels tour also includes a demonstration of how the cocoa is turned into a delicious praline by one of the chocolatiers. It would be rude not to sample the delicious Belgian chocolates, of course, and tastings are included in the ticket price.
You can purchase your tickets directly from the widget below or visit the Tiqets website and plan your visit.
And for those who want to go a step further and make their own chocolates, make sure to check out the Chocolate Workshop at Choco-Story Brussels. During the hour-long workshop, you will create your own Belgian Chocolate creations and is perfect for families and anyone who loves chocolate!
Chocolate Nation Antwerp
It would be remiss not to include Chocolate Nation Antwerp – the world's largest Belgian chocolate museum. Antwerp has the world's largest storage supply of cocoa in Antwerp port (and coffee) and was the home to the first chocolate factory in Belgium.
Located right beside Antwerp Centraal Station, the tour of Chocolate Nation takes 60 to 90 minutes to complete. Throughout your tour, you will learn the origins of the cacao bean and its process of being turned into some of the best Belgian chocolates in the world.
The tour is a must for anyone with a sweet tooth or curious about how chocolate is made.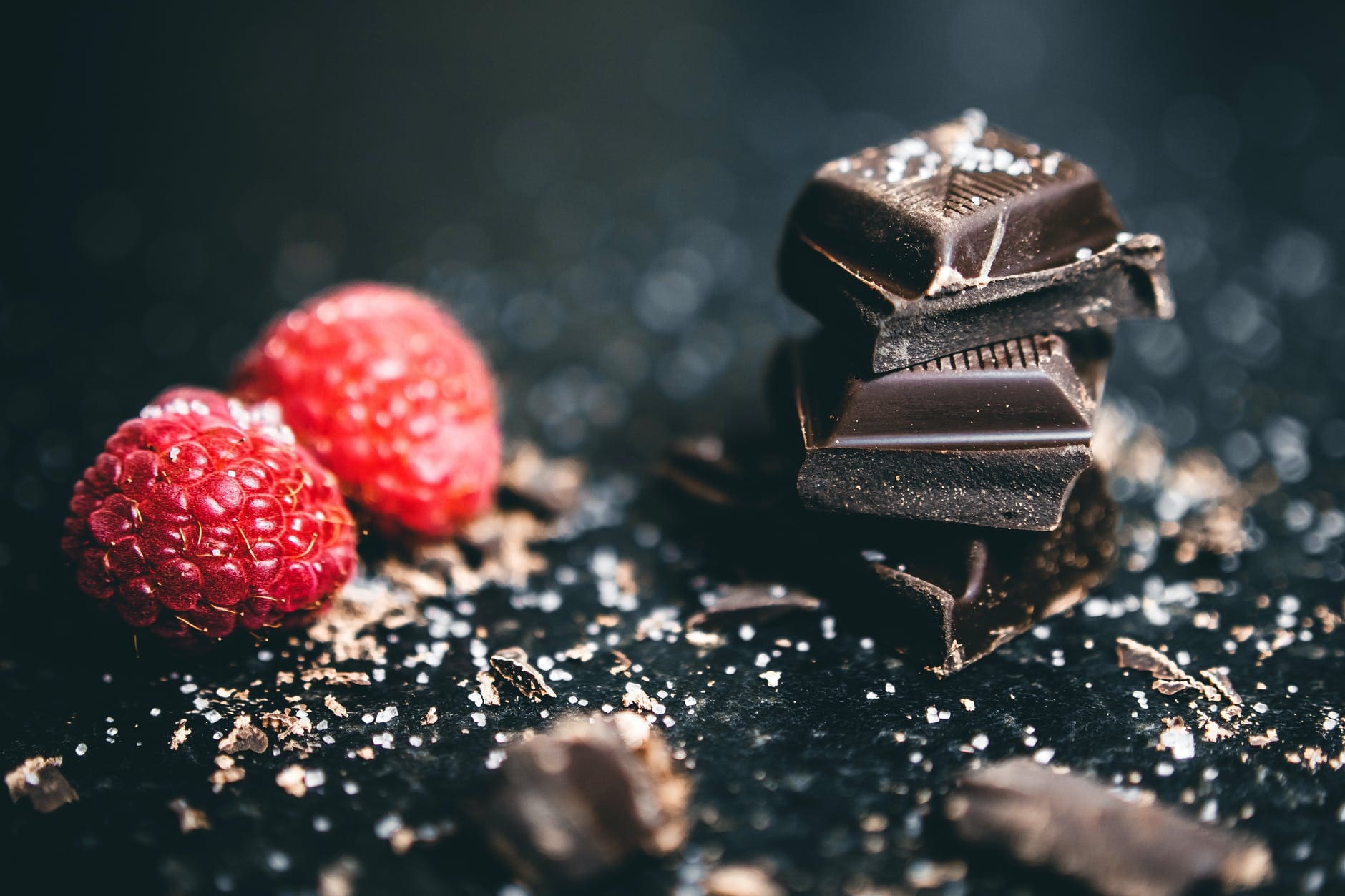 Why are Chocolates in Belgium so good?
So what makes the chocolates in Belgium taste so good? Is it Belgium Cocoa? Or perhaps it's because they are presented so beautifully in gift boxes? It's a combination of many things.
Antwerp Port has the largest storage of cocoa beans in the entire world. So selection of excellent cacao is already on Belgian soil.
Belgian chocolate uses 100% cocoa butter. This gives it a higher yield than your average supermarket chocolate.
Belgian chocolatiers are serious when it comes to sourcing the best quality ingredients. This means travelling to cocoa plantations and sourcing the best beans on the planet.
The high percentage of cocoa, much like the cocoa butter means that Belgian chocolate is far from average.
Belgian chocolate quality is never compromised and is a source of national pride.
Which famous Belgian Chocolate will you be bringing home?
Needless to say, it will be very hard to close your suitcase upon leaving Belgium. With so many excellent Belgian chocolatiers it might be impossible not to pass a day visiting Belgium without stepping foot into the hundreds of Belgian chocolate stops.
Part of the experience is to find your favorite Belgian praline or that one flavor that is virtually impossible to find on supermarket shelves. The quality of ingredients and the process involved in creating Belgian chocolates are what make these incredible chocolatey delights. Enjoy!