Now that you've booked your vacation to Greece and have started to plan your dream vacation, it's time to start to think about what reading material you're planning on bringing with you. I've put together a list of a few of my favorite books set in Greece, or you can check out my essential summer reading list for 2023 here.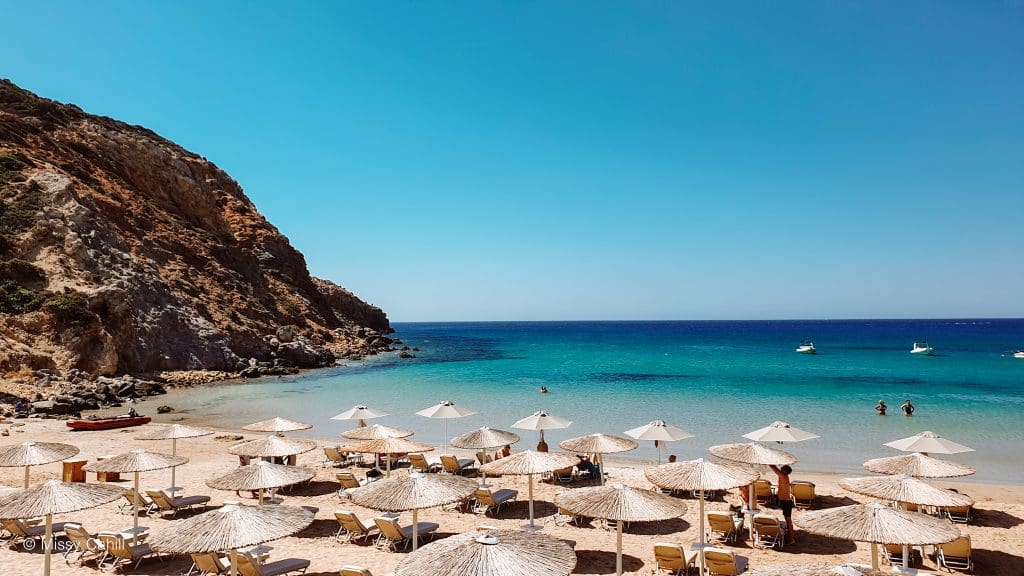 Greece is the birthplace of, well, pretty much everything. From democracy to mathematics to theatre, it's a place brimming with ideas and beauty. And there is no wonder why so many books have their settings on stunningly beautiful Greek islands too.
Crystal clear water.
Beautiful scenery.
Incredible history.
Amazing food.
The list could go on and on. And it's no surprise when an author chooses Greece as the setting for their books. As a librarian and therefore avid reader I've encountered a lot of books that make Greece the star of their books. Here are some of my favorite books set in Greece that you simply need to pack into your suitcase.
Top 9 Books Set in Greece
The Island by Victoria Hislop is a guaranteed sob-fest of a book. But don't let that put you off it! This historical fiction story takes place on an island called Spinalonga which was a leper colony up until the late 1950's.
And whilst the topic doesn't sound too light-hearted, this is a truly magical story. This is definitely the book to pack in your suitcase if you are heading to Crete. And don't forget the tissues.
If you enjoyed The Island, make sure to read The Return the follow-up to the blockbuster.
When I was around 15 or so, I read Captain Corelli's Mandolin in preparation for watching the movie that was in production with Nicholas Cage and Penelope Cruz.
The book is set in Kefalonia during World War 2 and evokes the smells of pine trees and island life.
I absolutely loved falling in love with Pelgia and for the longest time I wanted to buy a mandolin. Thankfully I've learned over the years that I do not have any musical capabilities. Avoid the movie, it's pretty terrible.
Madeline Miller makes Greek Mythology so accessible. And then tries to destroy your whole entire being. . But damn she's good.
Circe is banished to an island where she uses her witchy powers to tame beasts and in her meetings with some of Greek Mythologies famous faces. What I love about Madeline Miller is she uses her books to educate in such a beautiful way.
Her stories are so intricate and devastating. If you need a gateway into Greek Mythology, her books are a must.
It would be rude not to include another Madeline Miller on the list. Right? I mean, is there anyone left who hasn't read The Song of Achilles yet?
If you are unfamiliar with Greek Mythology, this is an absolutely beautiful story of friendship and love between the warrior Achilles and his best friend Patroclus. When Helen of Sparta is kidnapped, Achilles goes off to war in the hopes of fulfilling his destiny. Bring tissues.
This was the book that absolutely sold me on Greece. And whilst The Sisterhood of the Traveling Pants and its series is definitely aimed at teen readers, I had to add it to my list. This series follows 4 best friends on their journeys from teenhood to adulthood.
However, it is the story of Lena who spends her summer in Greece that absolutely captured my heart. Her relationship with her distant grandparents and her blossoming love story with Kosta is just *chefs kisses*.
A must-buy for any young teen reader in the household. I have such a soft spot for this book and I think it may be my favorite books set in Greece from my list.
Ok, so this is a slight cheat. I've not read the books 🙈 but I've seen the TV series, The Durrells, on ITV and thoroughly enjoyed it. It has long been on my to-read list, as has visiting Corfu.
Gerald wrote the books based on his real-life experience growing up on the island of Corfu with a zany family and also with a menagerie of animals in their home. One day I'll get to the book and the island.
7. Ariadne by Jennifer Saint
Retellings of Greek myths have become increasingly popular over the years. Jennifer Saint tells the story of Ariadne and the Minotaur. Threatened by her brother, the Minotaur's thirst for blood. Ariadne ropes Theseus into her plans for a peaceful life.
This, of course being a Greek legend, it wouldn't be complete without a tears, betrayal and lessons to be learnt.
Perfect for fans seeking books set in Greece that are retellings of Greek legends and about the island of Crete.
8. Mythos by Stephen Fry
Stephen Fry makes the worlds of Greek legends and myths accessible for those who didn't grow up reading the stories or knowing much about Zeus etc.
With his incredible wit and capacity for storytelling, Stephen Fry explains the origins of Greek myths, the heroes and villains and the lessons learnt from these fascinating tales.
Mythos by Stephen Fry is perfect for visitors who want to find books set in Greece that revolve around some of the most famous Greeks of all time.
Follow up Mythos with the next installment of books set in Greece, but this time about mortal heroes such as Jason & Perseus in his celebrated Heroes.
9. Middlesex by Jeffrey Eugenides
Middlesex by Jeffrey Eugenides is a sweeping saga that takes place throughout the 20th century. From Greece in the late 19th century, it follows the Stephanides family as they navigate the horrors of war to resettling in the United States.
Middlesex's unforgettable narrator is Calliope who explains how the events of the past have led to her struggles with her life and identity. Themes of generational trauma are present.
It's one of my favorite novels set in Greece that has long-lasting memories and is an absolute classic.
Leave a message in the comments below if you've read and enjoyed any of the books I've suggested. Or have I left something off the list?