Where to Stay in Santorini 2023: A Guide to the Best Places
Santorini has one of the world's most interesting landscapes. The remains of a former volcano is expected to be one of the most popular places on travelers' wish lists in 2023. Deciding the best part of Santorini to stay in can feel overwhelming with so many options. So lets break it down.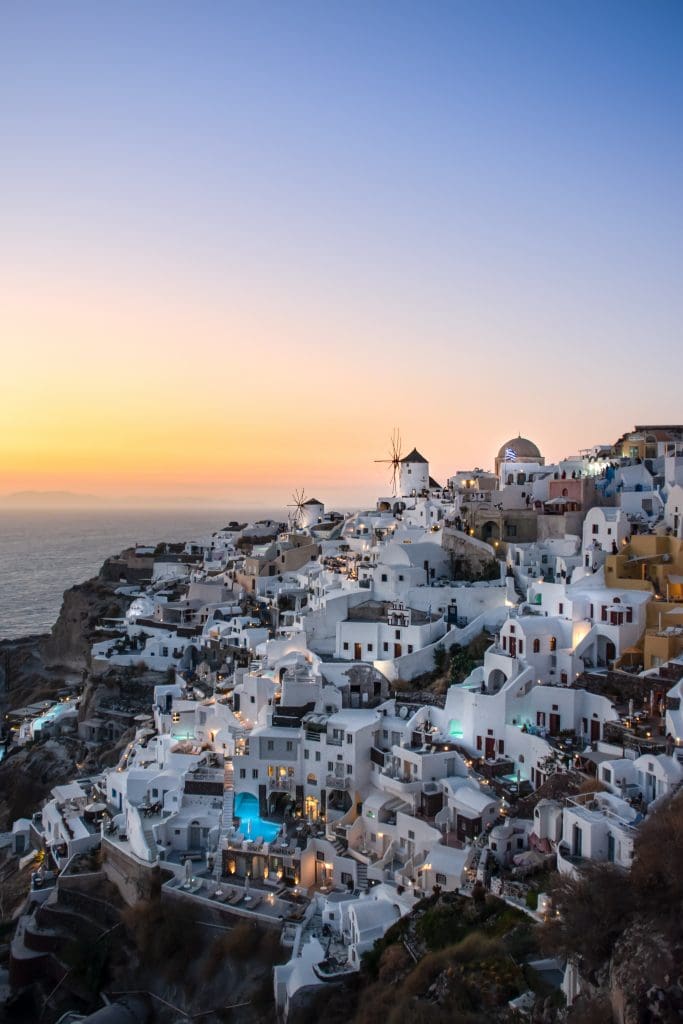 For first-time visitors, it can be confusing as to where to stay in Santorini. Once you understand the geography of the island, things will hopefully be a little clearer.
With this guide, Best Places to Stay in Santorini, I hope to show you a sample of places dotted around the island and decide what is best for your visit to one of the most beautiful islands in Greece.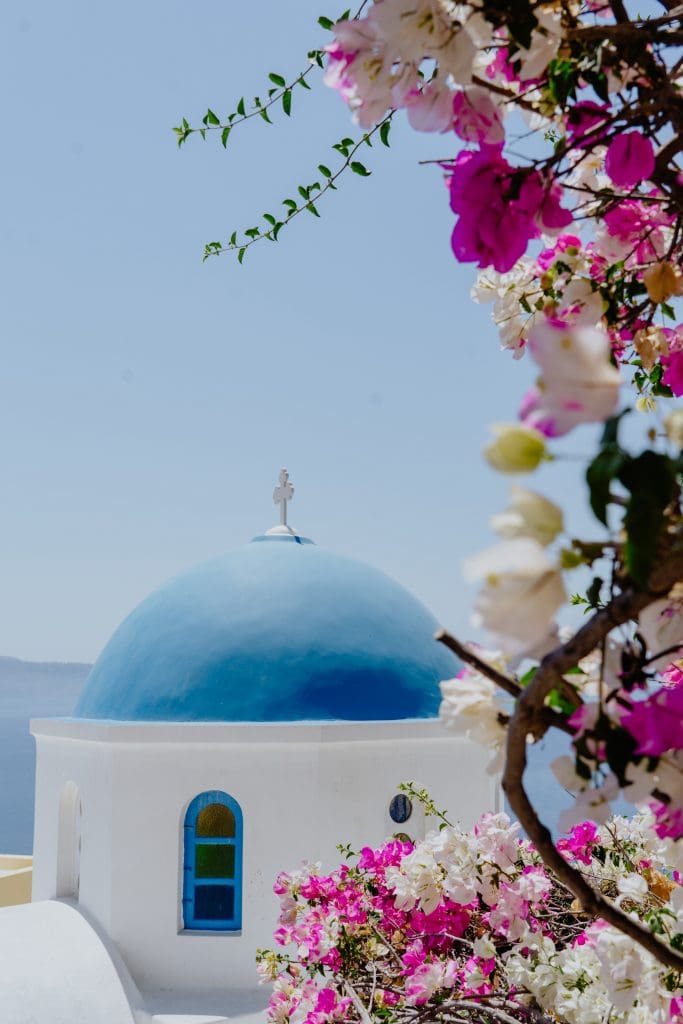 Some of these may be affiliate links, which means when you buy something I may receive a small commission. There is no additional charge to you, and it really helps to support me – so thank you!
Purchase the Guide to Santorini – 31 Pages of Content
Which side of Santorini is better?
This is a matter of preference and stems from what visitors expect when they visit. If you are planning on booking a hotel in Santorini and envision yourself, stepping out of your hotel room and looking across the caldera, whilst taking in the stunning scenery of the white buildings clinging to the edge of the caldera, then you should consider staying in towns like Oia, Fira, Imerovigli, Firostefani and Akrotiri.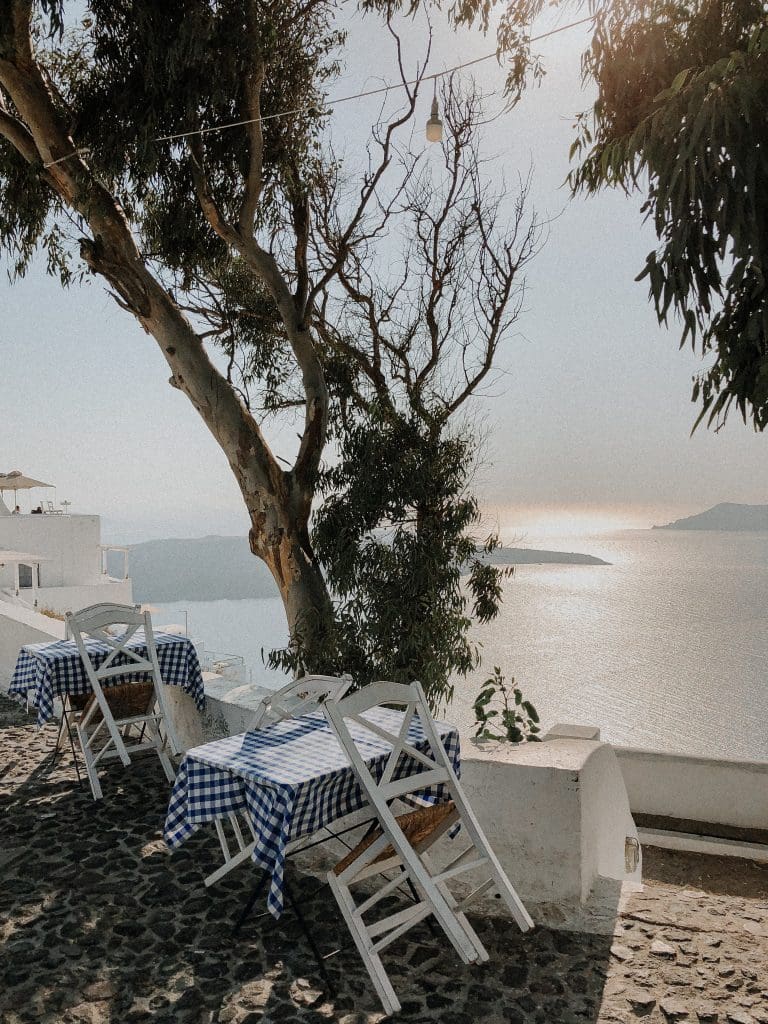 Or perhaps you want to spend your day by the beach, visiting the caldera towns during the afternoon and evening then you should consider the towns of Perissa & Kamari.
Which is the best area to stay in Santorini?
As you do your research on the island of Santorini you will start noticing a lot of the same names pop up, time and time again. Fira, Oia, Imerovigli, Kamari, Perissa, Firostefani and a few others. When planning your visit to Santorini, you need to understand the layout of the island.
Towns like Oia, Imerovigli & Fira are based on the edge of the caldera. So what does that mean? The caldera is what is left of Santorini's former volcano, which erupted thousands of years ago. This means that the towns that you have seen in Instagram posts or on social media, such as Oia, are built on the edge of the cliffs.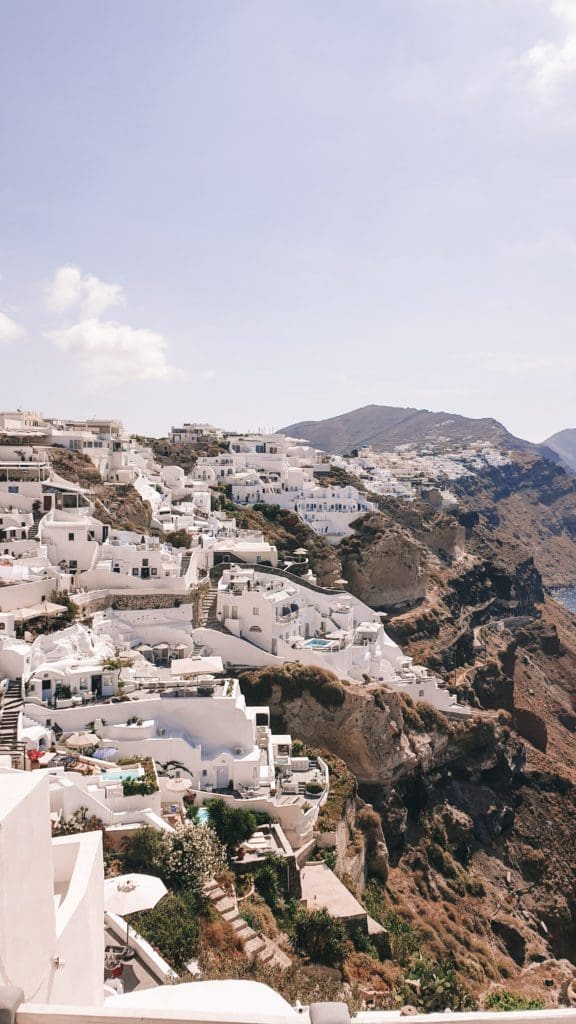 The white buildings that cascade down the impossibly tall cliffs of Santorini are an engineering marvel, and they somehow become even more beautiful as night approaches. The twinkling lights, that of the hotels, and those of the pools lights make this one of the most jaw-dropping sights in all of Greece.
The caldera towns of Oia, Imerovigli and Fira are some of the most popular towns in all of Greece. They also have the widest and most expensive range of accommodations on the entire island.
A lot of people choose to visit the caldera towns during the day and evenings and spend the majority of their time on the opposite side of the island. This side of the island is where you will find Santorini's beaches. Its flat landscape and easy access to beaches make this side very popular with families with young children.
Is it better to stay in Fira or Oia in Santorini?
Fira offers visitors a lot more in terms of restaurants and bars. The accommodation has more options and a wider price range. Plus with Fira being the main town on the island, it is also the transportation hub with all buses departing from here to other towns in Santorini.
Fira is the best place to stay in Santorini if you are looking for the caldera experience, proximity to neighboring towns, and a good range of shops, restaurants, and bars.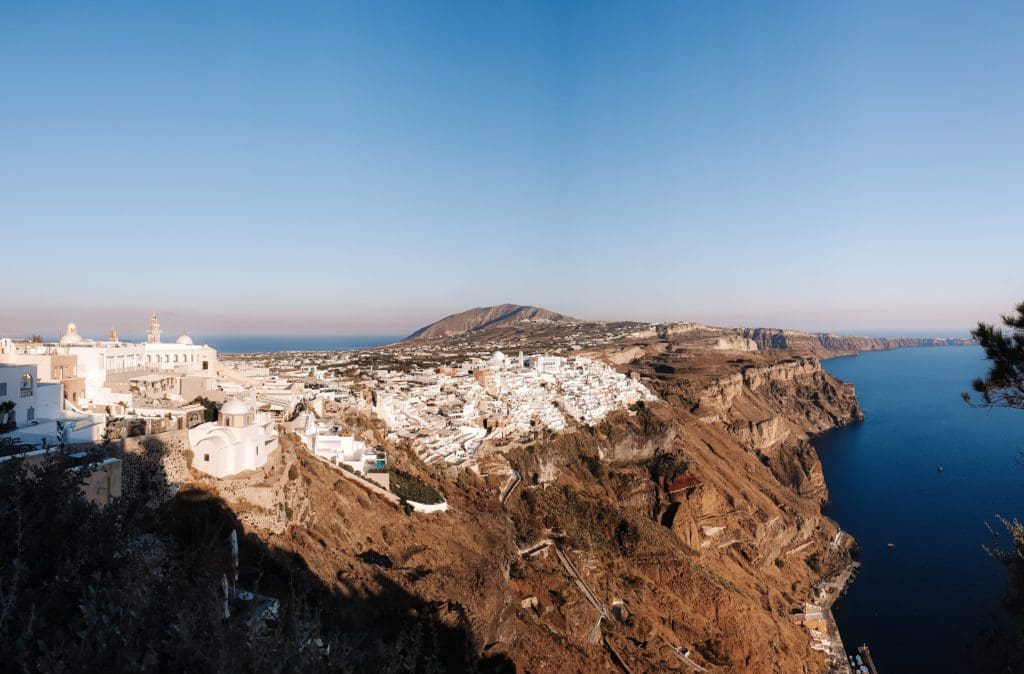 Oia is a lot more upscale but also smaller. It is also one of the most popular places on the entire island and during the height of summer can be overwhelmingly busy. Oia is stunningly beautiful and has the widest range of 5-star hotels on the island.
However, because of this factor, makes Oia an incredibly expensive place to stay in. There is also not a huge amount of great restaurants to choose from, in fact, the culinary scene in Oia is quite poor.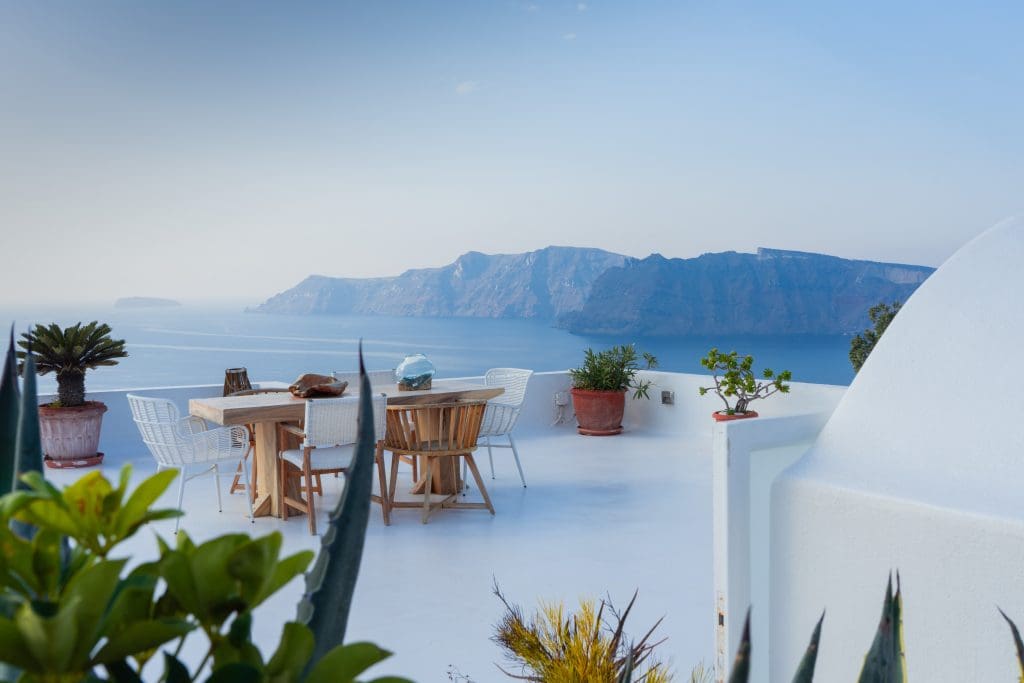 Oia is at its best when the buses and tours have left after sunset. The town suddenly feels empty and breathable again. This is when Oia is at her most stunning, and it is easy to see why people throng to visit the town from Cruise ships and tours because of how awe-inspiring it is.
Town
Pros
Cons
Fira
Transport hub
Great selection of Restaurants & Bars
Wide range of hotels
Well connected to all towns in Santorini.
Great shopping.
Can be noisy and busy.
Extremely throughout the entire day.
Oia
Prettiest town on the island.
Incredible selection of high-end hotels.
Excellent boutique stores.
Extremely busy during the day and sunset.
Lacking excellent restaurant choices.
Most expensive town to stay in Santorini.
What is the nicest town in Santorini?
Without a doubt the nicest town in Santorini is Oia. It also happens to be the most popular town too for several reasons.
It has incredible views of the entire island that sweep over the caldera.
Breathtaking sunsets that you will need to elbow your way through crowds to view.
Hotels that are so outrageously beautiful that you'll pinch yourself in disbelief.
Shops that ooze opulence and will make your credit card wince.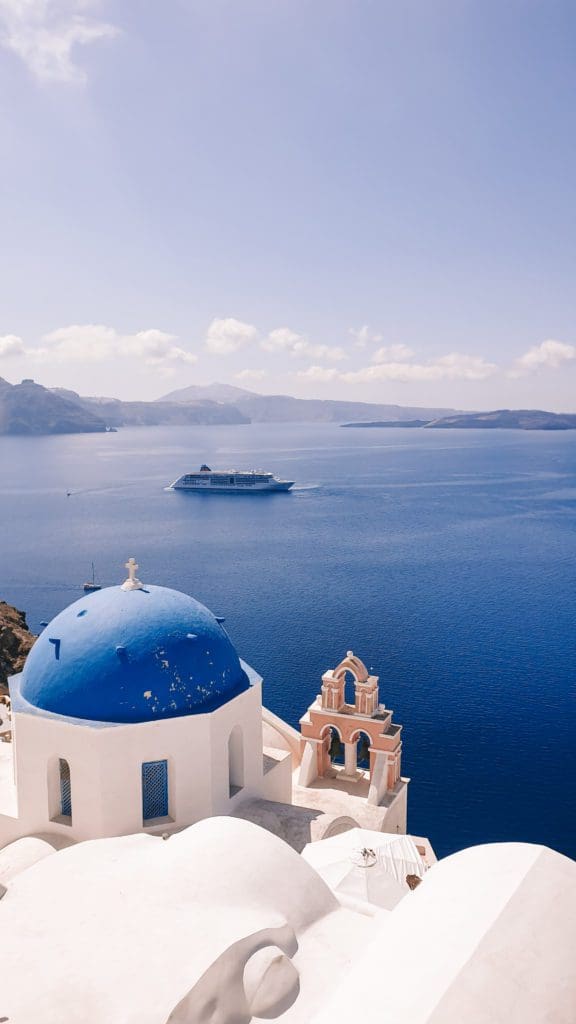 Where should I stay in Santorini for the first time?
The best area to stay in Santorini for first-time visitors is in the towns of Imerovigli, Fira & Oia. For the ultimate Santorini experience, Oia is hard to beat. Its staggering beauty is hard to comprehend at times, and whilst photos can do it an enormous justice, there is nothing quite like seeing it in person.
Oia has a wide range of ultra-luxurious hotels and breathtaking views. As you walk along the main street of Oia, you will be able to view some of the worlds leading hotels and experience staying in some of the finest accommodation choices in all of Greece.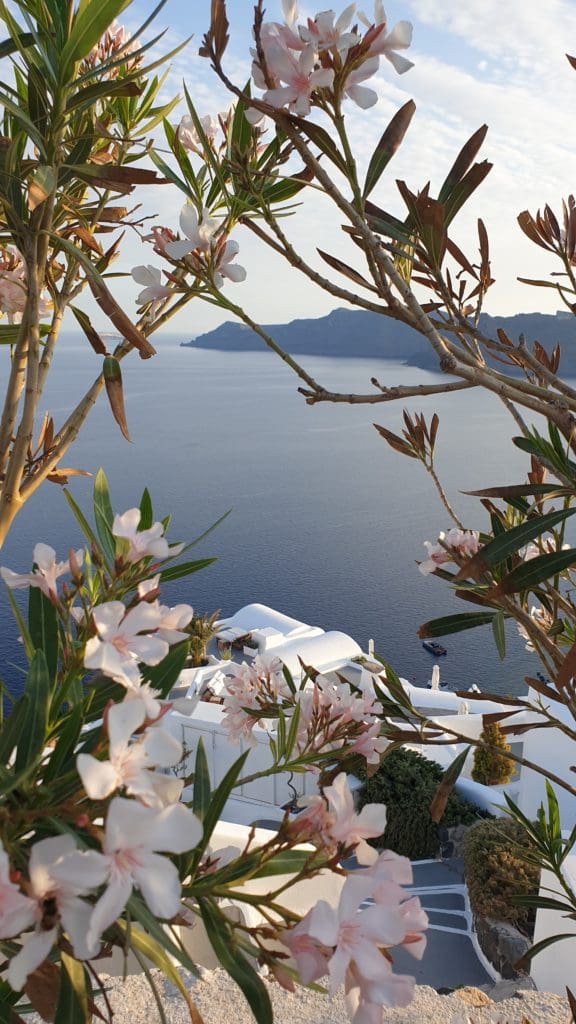 Is it better to stay in Oia or Imerovigli?
Oia and Imerovigli are quite similar in a lot of ways. Both offer extraordinary hotels and private pools, perfect for those on honeymoon or seeking a luxury hotel experience. And let's not forget the incredible views.
For a more detailed breakdown of which is better Oia or Imerovigli head over to my in-depth post.
Best Places to Stay in Imerovigli Santorini
Imerovigli has a distinct advantage over Oia. It is one of the best places on the entire island to photograph the town of Oia as the sun sets behind it. This unique position gives budding photographs an advantage and all without the crowds that visit Oia every afternoon and evening for sunset.
However, Imerovigli does not have an abundance of restaurants or bars. The options are quite limited. Most visitors staying in Imerovigli walk to Fira, which is only a 15-minute walk down a hill and get a taxi or bus back to Imerovigli.
It is a breathtaking walk and highly recommended, especially as the sun sets you can capture some incredible pictures of the viewpoints over Firostefani and Fira.
There are a lot of restaurants on the walk into Fira, which all offer stunning views over the caldera. Imerovigli is a lot quieter than Oia, and you'll be at times overwhelmed with the sheer beauty of Imerovigli.
If you plan on spending your day by your private pool and soaking up the views, then Imerovigli makes a great spot on the island to embrace relaxation and serenity whilst marveling at your incredible surroundings.
A good level of mobility is required for staying in some of the hotels in Imerovigli, as the accommodation and hotel rooms tend to have quite steep stairs to and from the main walkway of Imerovigli.
Grace Hotel Santorini
A stunning 5-star hotel with views over the magnificent caldera. Grace Hotel Santorini is the perfect place to take incredible sunset photos of Oia in the far distance. Directly in front of the hotel is Skaros Rock, a remarkable hike from the hotel around the rock formation. Grace Hotel Santorini is a world-class hotel and service, and it also offers rooms with private pools and plunge pools.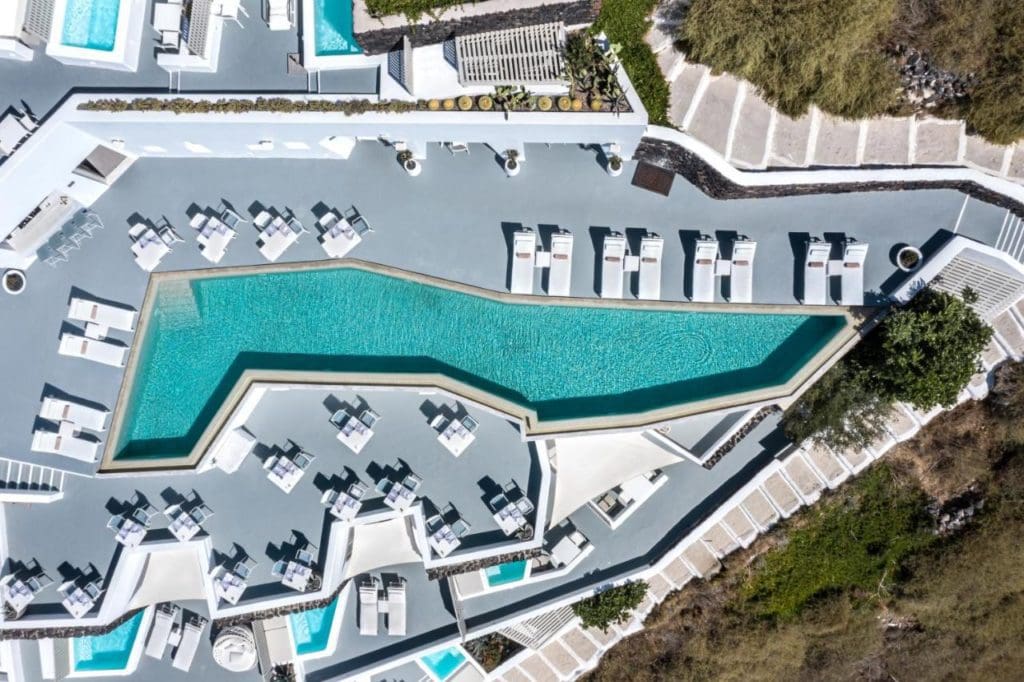 Remezzo Villas
If you have ever imagined spending your days watching the bluest Aegean sea for hours uninterrupted whilst lounging by your private pool then consider Remezzo Villas. Not only is the view and scenery out of this world, but the decor in the hotel rooms is simply divine. Trust me, you will not get tired of that view anytime soon.
Abelonas Retreat
Guests looking for a mid-range boutique hotel should consider Abelonas Retreat, a lovely family-run hotel with views of the caldera. Abelonas Retreat is an affordable hotel with wonderful Cycladic charms and would make a fantastic choice for those who want to experience the caldera side of the island.
Best Place to Stay in Oia Santorini
Oia is probably one of the most famous towns on the planet. Its recognizable layout is remarkable as you wander its streets, every turn and staircase leading to another outrageous viewpoint. There's no denying it that Oia is the best place to stay in Santorini whether its your first time of 10th visit to Santorini.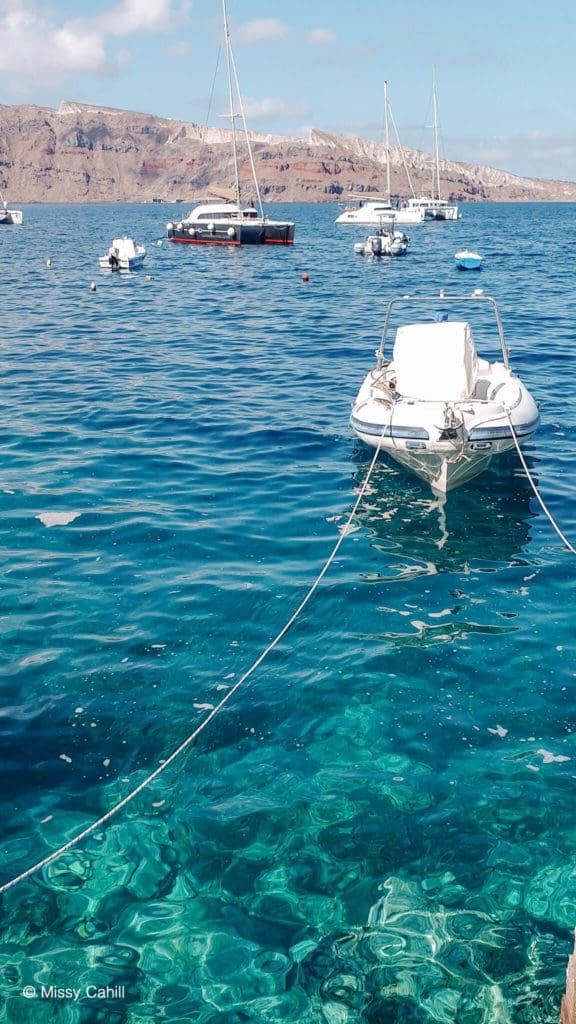 It's one of those places that you have seen countless times in magazines and movies, and somehow it surpasses how amazing the place is in reality. It is breathtakingly beautiful.
Oia has a wider range of places to eat than Imerovigli and some excellent bars for watching the infamous Santorini sunset.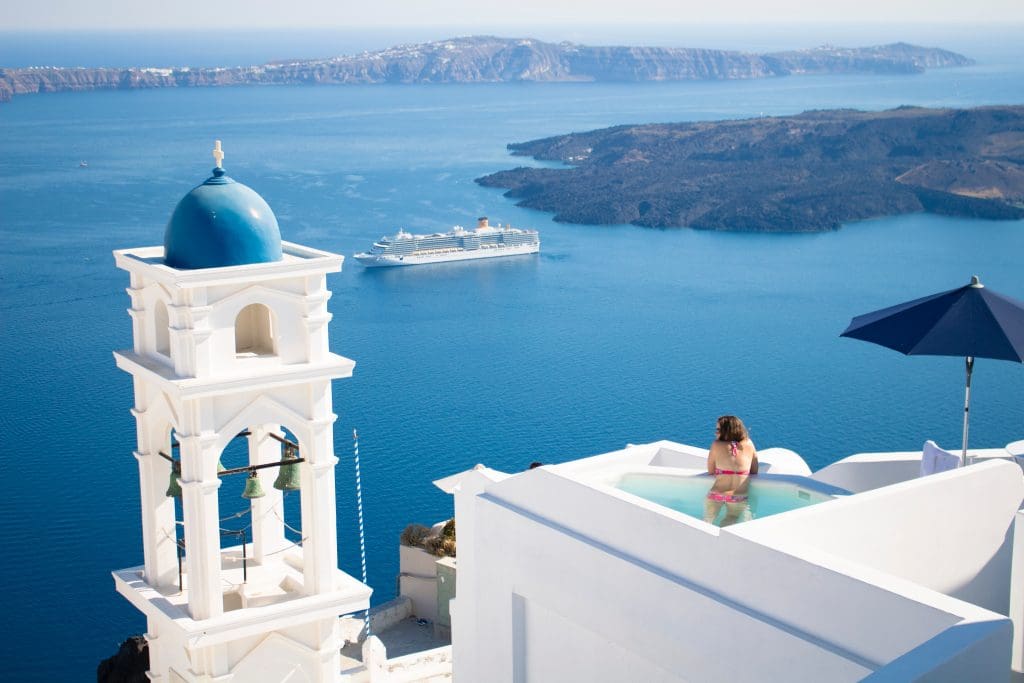 One of the popular activities is to watch the sunset from a catamaran or take a morning tour exploring the thermal waters and secret beaches of Santorini. These sailing tours leave from Ammoudi, a small fishing bay with seafood tavernas. The walk down to Ammoudi will have your legs trembling as you make your way down 400 + steep crumbling stairs.
Oia can be overwhelmingly busy during the day, as cruise ships and buses descend upon the town. But let's face it, who would be leaving their incredible Oia hotel during the day? Things wind down after sunset and you can stroll around the town with relative ease, with stores staying open quite late.
If you are wondering about where to stay in Santorini for first time visit you can't beat the town and setting of Oia.
Aethrio Sunset Village – Oia
Aethrio Sunset Village is one of the best places to stay in Santorini for those seeking excellent budget accommodation choices in Oia main town. Not only is the hotel a few steps from Oia's main street, but it offers visitors an unspoiled rooftop terrace to watch the sunset from the comfort of the hotel's rooftop balcony.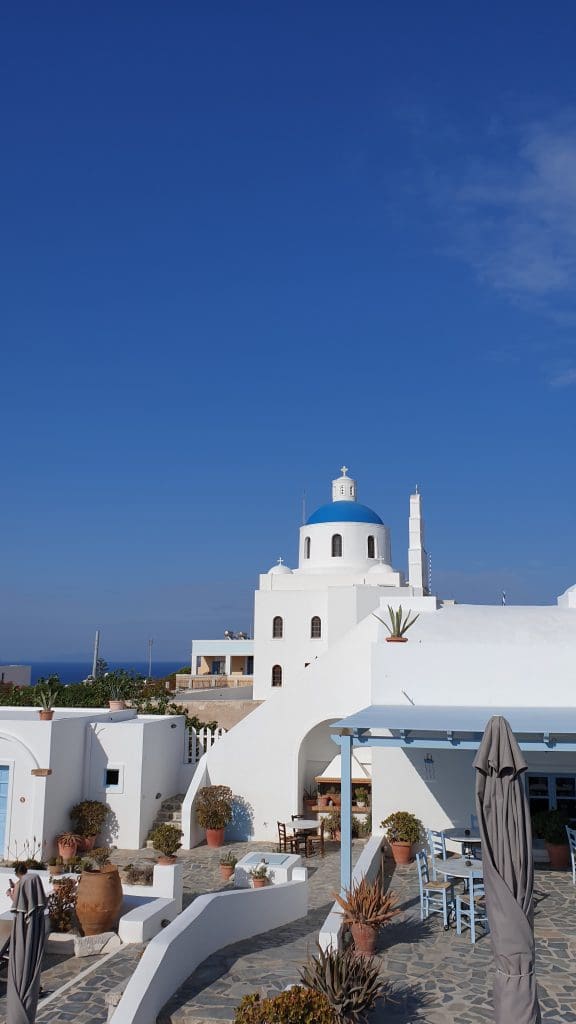 There is no need to battle your way through the crowds to experience one of the worlds prettiest sunsets. The rooms are huge, spacious and very traditional. The swimming pool is a welcome addition after a long day of exploring the island.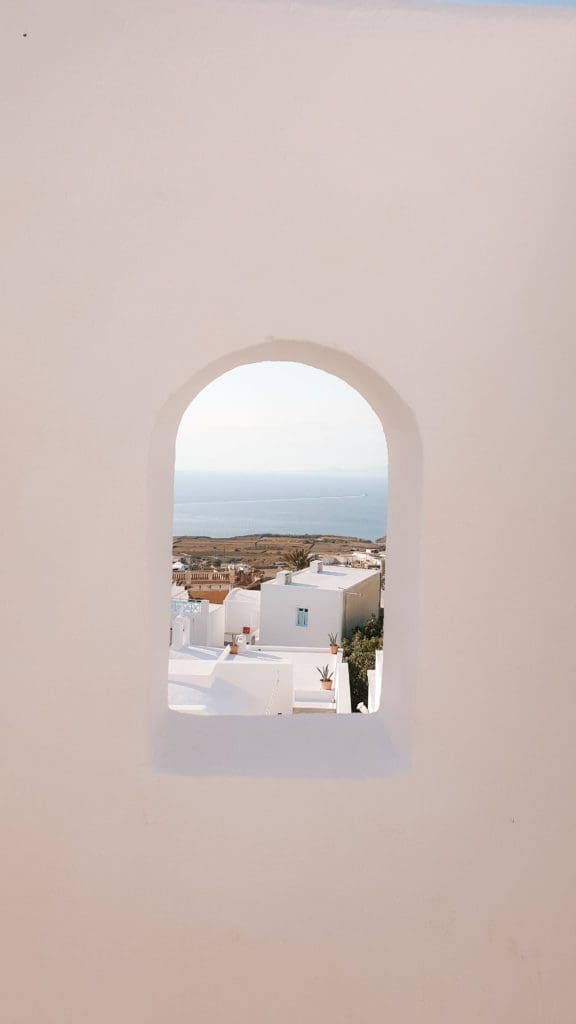 Anemoessa Villa
Another lovely budget hotel in Oia that is only a short 1 km walk to Oia's main street. Featuring stunning views over the Santorini countryside and a wonderful swimming pool, Anemoessa Villa makes a fantastic base for those wanting to be close to Oia, but also escape the crowds during the day. There is a bus stop, 50m from the hotel which connects Oia to Fira.
Anemi House & Villas
Try and find a cuter Cycladic house than those of Anemi House & Villas? Not only is the decor so astonishingly adorable, but their location is out of this world.
From the comfort of the villas, you can watch the infamous Santorini sunset and smugly watch the crowds jostle for the best photos.
Anemi House is one of the best places to stay in Santorini for a home away from home experience, and you may end up never actually wanting to ever leave. Who could give up a view like that every morning?
Andronis Boutique Hotel
Andronis Boutique Hotel is one of the most famous hotels in Santorini. Its 5-star status is cemented in its incredible service, and it also has a pretty fantastic backdrop too. Every room in the hotel has uninterrupted views of the caldera.
Whether you decide to join one of Andronis Boutique Hotels yoga classes as the sunrises over the caldera or take part in one of their Greek cooking classes, you will sometimes have to pinch yourself at your surroundings.
Don't forget to take endless selfies in the infinity pool, or your private plunge pool. Andronis Boutique Hotel is considered to be one of the best places to stay in Santorini for those seeking the ultimate 5-star luxury hotel experience.
Is it better to stay in Fira or Kamari?
Kamari
Kamari is most famous for its black sand beach that families with small children tend to gravitate to. There are many family-friendly hotels on this side of the island, with easy access to the beach towns such as Perissa Beach and Perivolos beach.
Many visitors who stay on Santorini for an extended period of time choose Kamari as the best place to stay in Santorini for a week-long beach holiday.
Kamari Beach has its distinct sand color thanks to the once-active volcano that once made up the island of Santorini.
It is now one of the more popular beach resorts in Santorini and is considered to be the best part of Santorini to stay for families. It has a great selection of family-friendly restaurants and hotels.
Prices are almost halved on this side of Santorini and you find a lot of excellent value-for-money hotels.
For those looking for the best part of Santorini to stay and enjoy a beach vacation you can't beat the towns of Kamari & Perissa.
Costa Grand Resort & Spa
Picture yourself lying on a sun lounger, cocktail in one hand, excellent book in the other. The black volcanic sand of Kamari beach underneath your lounger makes a startling sight, but the warm Aegean sea beckons you for a swim.
When you've finished at the beach, make your way to the pool and grab a double sun lounger that allows you to dip your feet in the pool as you scroll through the day's photos on your phone.
Each morning your breakfast will be served overlooking the sea and plans for the day start all over again. Will it be a pool or beach day today? Costa Grand Resort & Spa allows guests the best of both worlds, and on top of incredible service, you can spend your day enjoying spa treatments and facials.
Santorini Kastelli Resort
A short stroll from Kamari Beach, Santorini Kastelli Resort is one of the best places to stay in Santorini to experience a 5-star hotel with lush gardens, nature, and superb service. It's one of the rare places on the island that has lush green grass and foliage dotted around the hotel's grounds.
Whilst the remainder of the island can appear arid thanks to the Meltemi winds that are infamous in the Cyclades, Santorini Kastelli Resort is resplendent in greenery. With two large pools, spa treatments and a poolside bar, guests will love the stunningly decorated rooms and hidden oasis-like grounds.
Chez Sophie
Chez Sophie is a brilliant budget option for guests wanting to stay in Kamari Beach. Access to the beach is only 100 meters away, rooms are basic but welcoming. Chez Sophie also has a great swimming pool and there are plenty of restaurants close by.
Best Place to Stay in Fira
Fira is the best place to stay in Santorini if you want to have a solid selection of restaurants, bars and ease of getting around the island using public transportation. Fira, sometimes seen written as Thira, is the capital of Santorini. All buses and transportation pass through the town, and connections to towns such as Oia and Imerovigli from Kamari occur in Fira.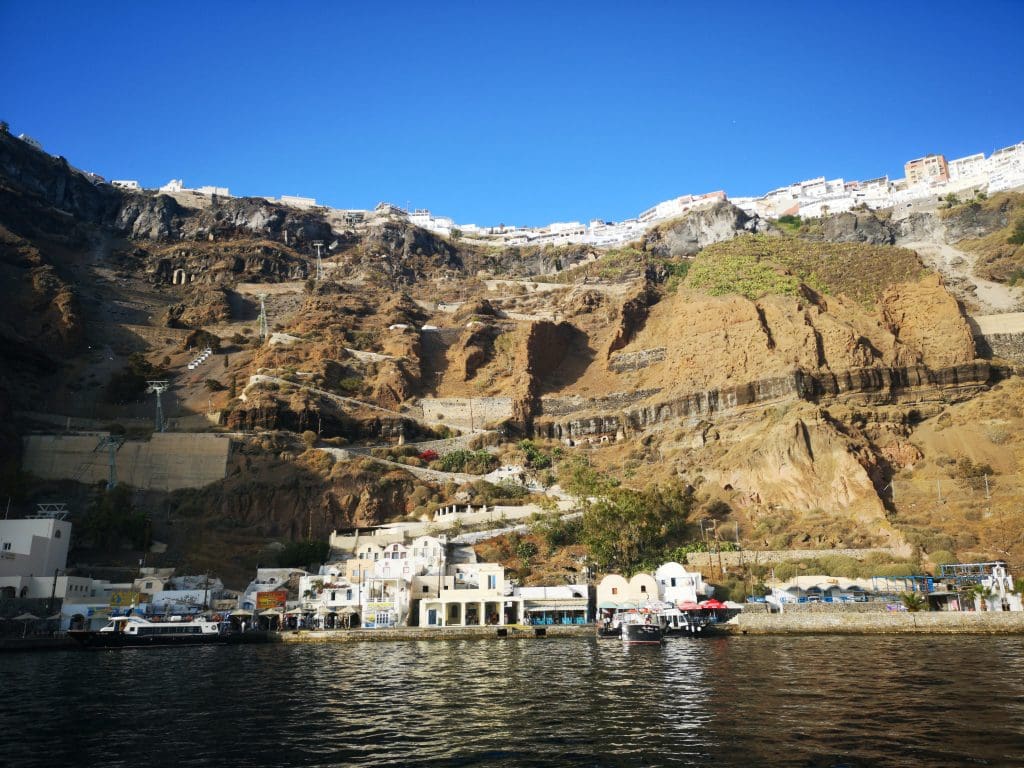 Fira has a superb nightlife scene and has an extensive range of restaurants and bars and is considered one of the best areas to stay in Santorini. It has accommodations ranging from cheap hotels to luxury hotels and has amazing caldera views.
The sunset views from Fira are wonderful and visitors will be happy that transportation, shopping and dining are all within walking distance of hotels.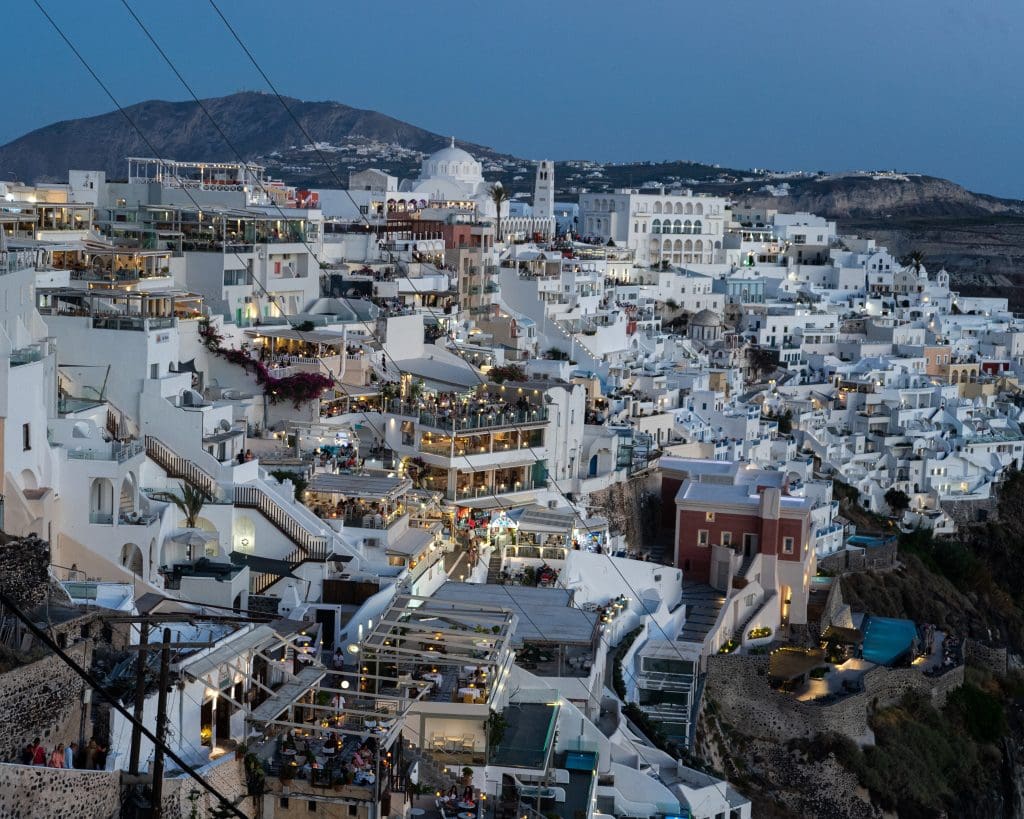 A lot of the restaurants offer excellent caldera views and arriving just as the sun starts to set is an incredible sight. This is considered one of the best places to stay in Santorini for its ease of getting around the island and for its buzzing nightlife.
On the Cliff Suites
Perched on the edge of the Caldera, On the Cliff Suites is located in the center of Fira. With incredible Santorini views and plunge pools begging for hours spent admiring the unbeatable view.
Katikies Garden Santorini
Katikies Garden Santorini is a hidden oasis in the town of Fira. The rooms in Katikies Garden Santorini are exquisitely decorated, and most include a balcony and views of the caldera. Katikies Garden Santorini is a 5-star hotel and a member of the Leading Hotels in the World, you can expect world-class facilities and service.
The rooftop pool is wonderful, but the real star is the courtyard which doubles as a bar and restaurant. If you have high standards and expectations, then a stay in Katikies Garden Santorini is one of the best places to stay in Santorini.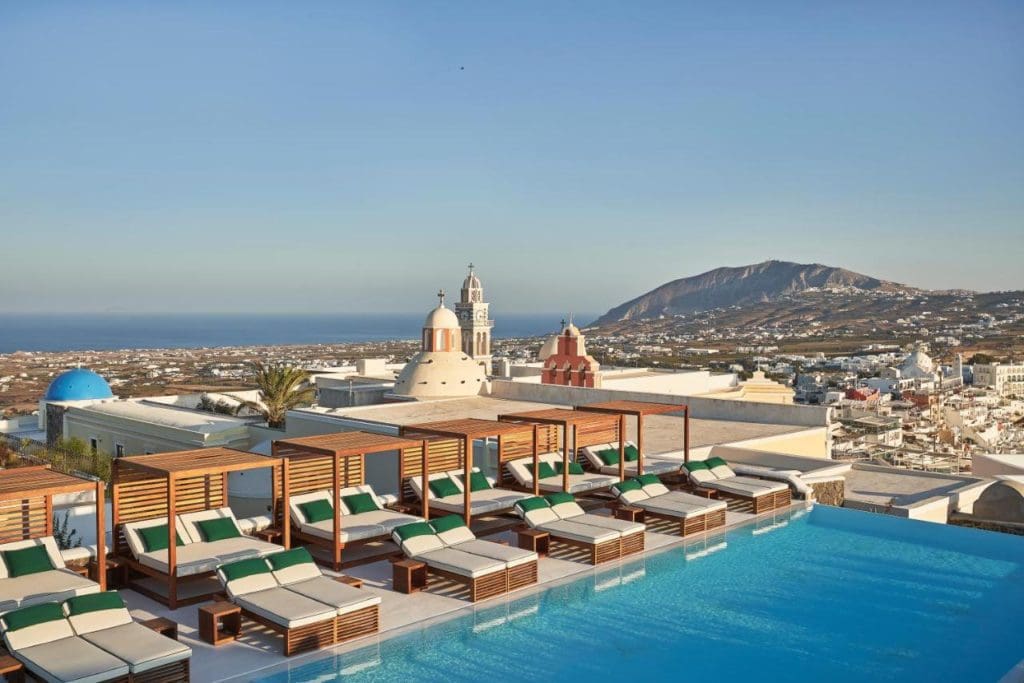 How many days do you need in Santorini?
How long is a piece of rope? You could easily see everything the island has to offer in 2 days, but it would be a very rushed visit. It also depends on the things that you want to do in Santorini.
Do you plan on visiting some of the vineyards that have not only delicious wines but some of the best viewpoints on the entire island? Or perhaps you want to spend an afternoon and evening on a catamaran, swimming in the remains of the volcanoes underwater thermal springs and watching the sunset from the boat hammock.
The perfect amount of days to stay in Santorini ranges from 3-5 days, which guarantees you time to see the caldera towns, spend an afternoon at the beach, explore the island, and drink in the wineries of the island.
Which is better Santorini or Mykonos?
Tourists who visit the Greek islands for the first time try to include Santorini and Mykonos in their travel itineraries. But if you are short on time and want to decide which island to visit, I write about it in more detail in my post about which island is better to visit Santorini or Mykonos.
Is Santorini Expensive?
Alongside Mykonos, Santorini is known as one of the most expensive islands in the Cyclades. It depends on your budget and needs. If you plan on staying in cheaper accommodation, taking public transportation, and not doing any tours, you can easily reduce costs.
Those planning on staying in a 5-star hotel in Oia or one of the other caldera towns with a private pool or plunge pool can cost between $560-$1300/€500-€1200 per night.
Santorini can be as expensive as you wish, or it can be affordable too once you plan in advance and budget for tours and meals in restaurants.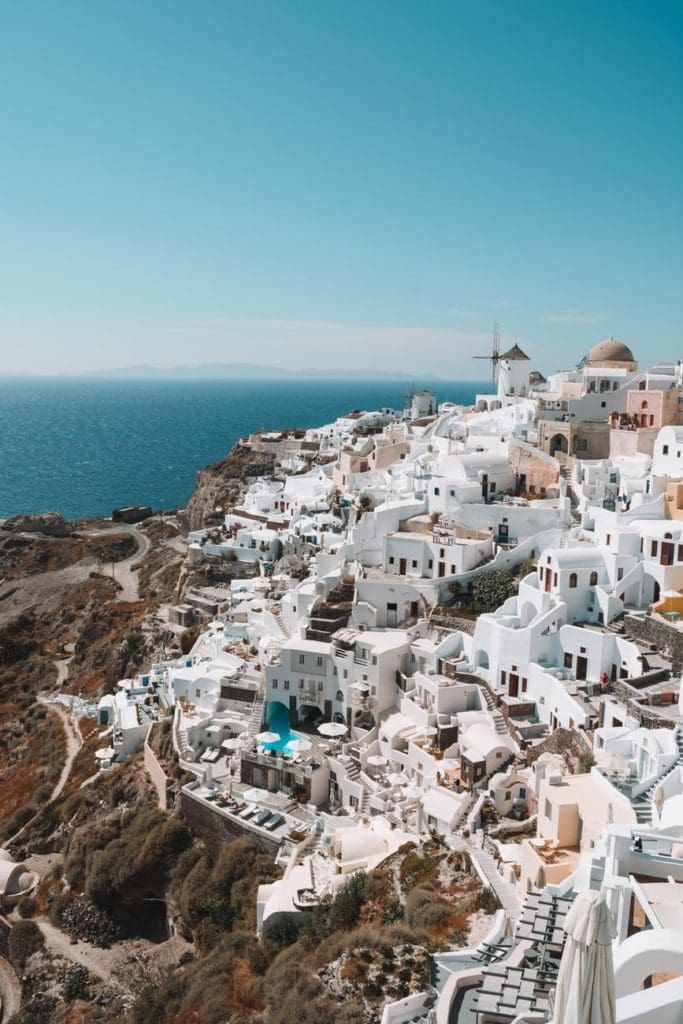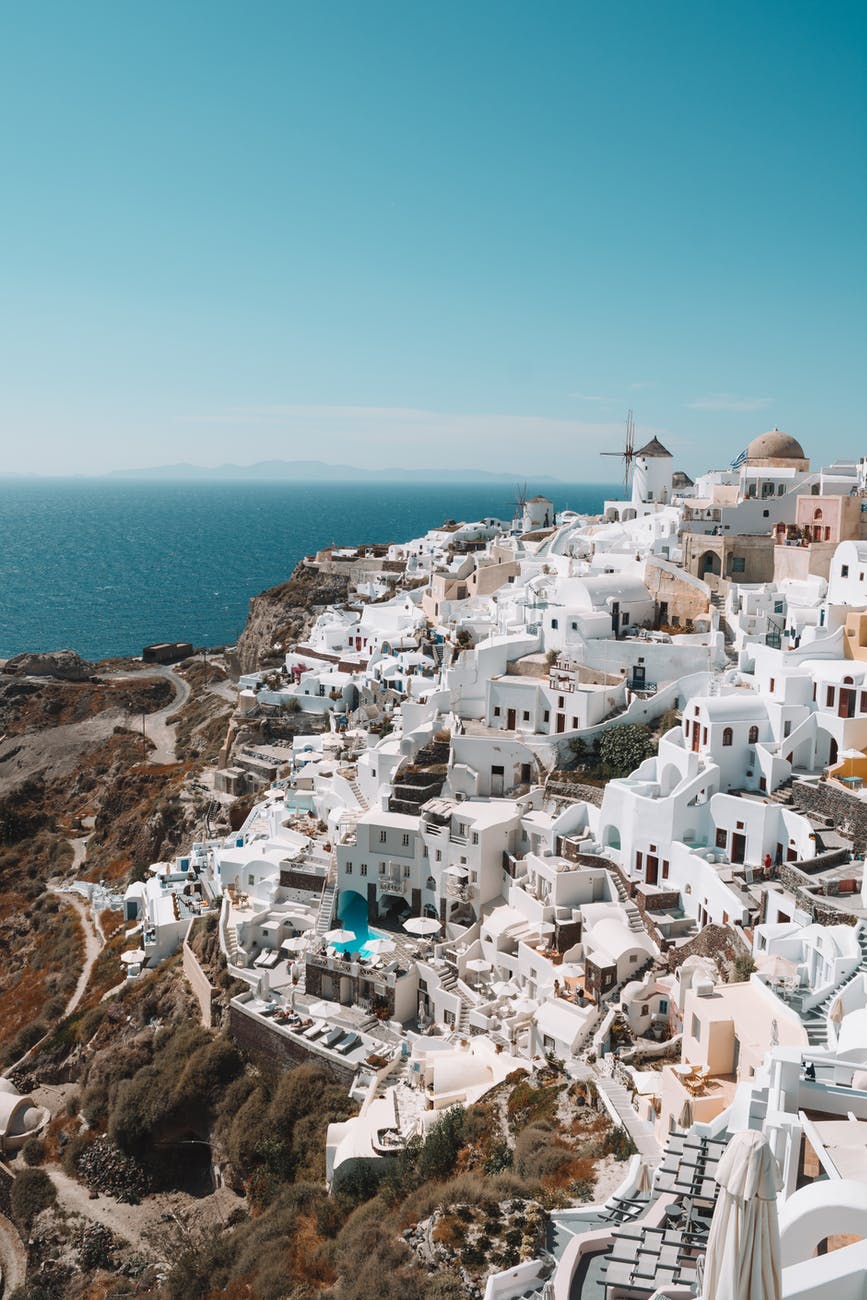 Where to stay in Santorini on a budget?
The best part of Santorini to stay for visitors on a budget can be found in Fira or Kamari. These accommodation choices range from hostels to budget hotels.
The island is also best visited during the off-peak months when prices dramatically drop for even 5-star hotels. Consider traveling from November – to March for a quieter Santorini experience and you can find some hotel prices are also halved.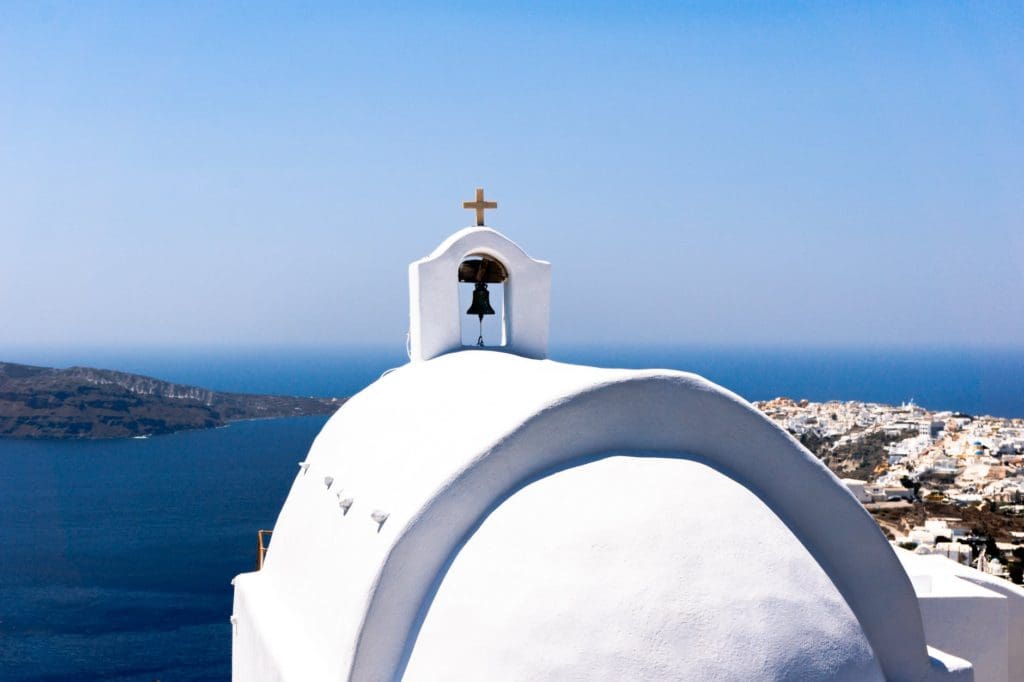 If you are planning on visiting Santorini during the peak summer months of June-October, you should book your accommodation months in advance, as this is Santorini's busiest time on the island. Accommodation prices are high during this period, so be prepared that hostel dorm rooms can start from €50 per night.
Where to stay in Santorini for a honeymoon?
The best part of Santorini to stay for a honeymoon are the towns Oia and Imerovigli. These beautiful villages in Santorini are breathtaking and geared for the ultimate honeymoon hotels. If you are considering a honeymoon in Santorini, consider yourself incredibly lucky.
It is as romantic as you can get and also has the good fortune of having lots of fun activities to do outside of your hotel room 😉 Whether you indulge in a wine tour or even take part in one of the incredible flying dress photoshoots, there are lots of options to keep you busy.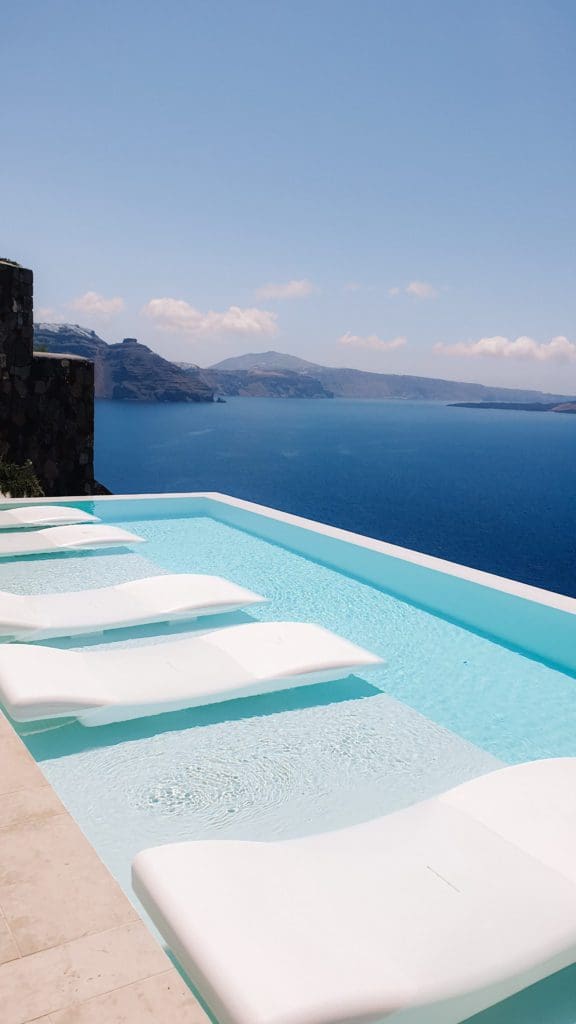 For the ultimate honeymoon experience, consider staying in some of the best hotels in Santorini that have private pools. This is one of those once-in-a-lifetime experiences where you can indulge in a luxury hotel and splash out in your own private pool. Explore my list of the best hotels in Santorini with a private pool.
Best Time to Visit Santorini Greece?
The busiest time of the year to visit Santorini is from May to October. It reaches its busiest peak during July & August. Prices for accommodation soar during these periods and can sell out months in advance.
The quieter months of November – March sees towns like Oia become almost ghost towns as a lot of the bigger 5-star hotels shut down for the winter months. Basing yourself in Fira is best as a lot of the restaurants and bars operate year-round.
This is one of the best times of the year to go if you want to skip the crowds. The weather can be lovely and crisp and rarely drops to freezing.
| | | | | | | | | | | | | |
| --- | --- | --- | --- | --- | --- | --- | --- | --- | --- | --- | --- | --- |
| Temp | Jan | Feb | March | April | May | June | July | August | Sept | Oct | Nov | Dec |
| Fahrenheit | 57 | 57 | 61 | 66 | 72 | 81 | 82 | 82 | 79 | 72 | 66 | 61 |
| Celsius | 14 | 14 | 16 | 18 | 22 | 27 | 29 | 29 | 26 | 22 | 18 | 15 |
Conclusion
Whether you spend all your time visiting Santorini or some of the other incredible Greek Islands like Mykonos or Paros, there's no place quite like Santorini. Photos don't do it justice just quite how beautiful it is. Arriving by ferry or cruise into the caldera and witnessing the sheerness of the cliffs is out of this world.
The white villages of Santorini with their blue-domed churches is one of the most memorable sights in all of the Cyclades. Whether you base yourself in Kamari or Oia, or whatever you consider the best places to stay in Santorini, you're bound to fall in love with this incredible Greek island.