6 Unmissable Areas To Stay in Paros in 2023
Increasingly popular over the past five years, tourists are flocking to the tranquil and oh-so-pretty Greek island of Paros. Paros is a dreamy island with excellent restaurants, and stunning beaches and is more affordable than the neighboring islands of Mykonos or Santorini.
Deciding where to stay in Paros is dependent on each visitor's needs, with most tourists staying in popular towns like Parikia, Naoussa, or Piso Livadi. In fact, there's a great mix of accommodation in Paros ranging from luxury hotels to quaint family-stays and for all budget needs.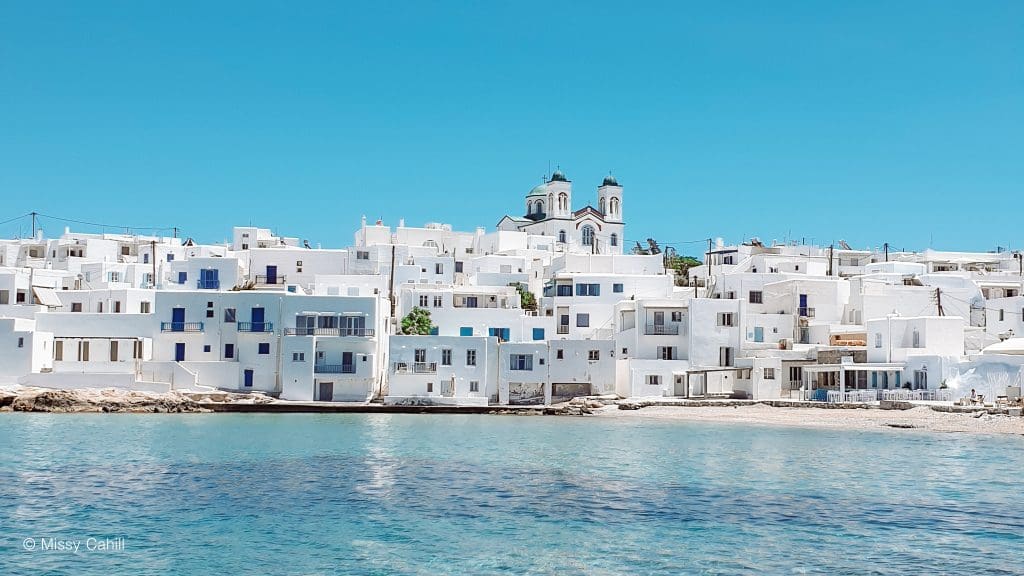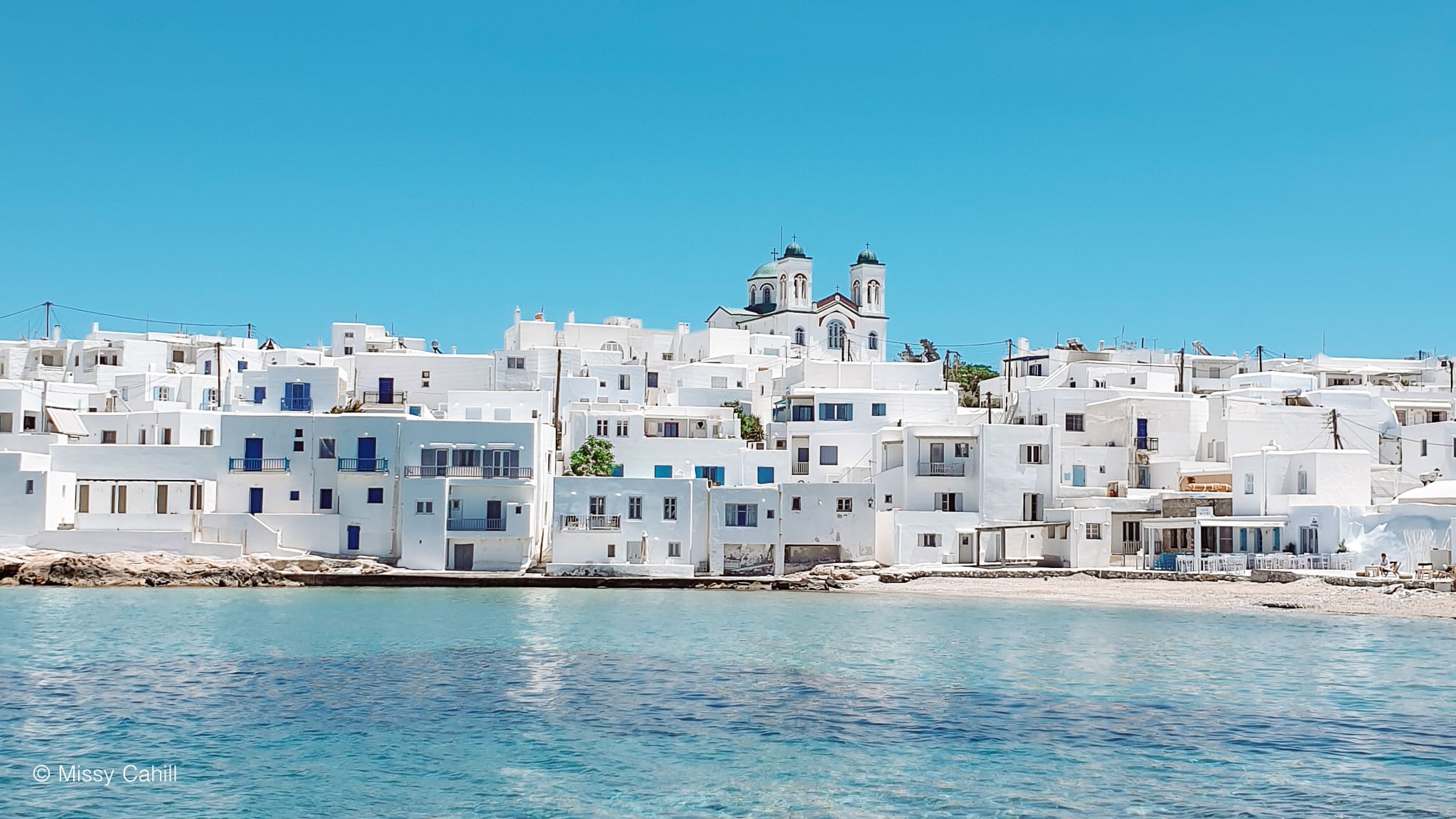 Paros is a wonderful place to rent a vehicle and exploring the island's towns and beaches is easily done considering the small size of the island. The entire island takes less than an hour to circumnavigate.
The larger towns of Naoussa and Parikia are the two most popular places to stay in stay in Paros with their winding maze-like alleyways replete with bougainvillea, white-washed buildings, and superb restaurants, bars, and boutique shops.
Visitors seeking the simplicity of visiting a Greek island with a small taverna, local beach, and accommodation will rejoice as Paros has ample offerings of low-key towns that offer the bare minimum.
If all you need is a good book, sun cream, and a fantastic taverna to dine in then look no further than small towns like Aliki, Drios, and Santa Maria.
Parikia – The Capital of Paros
All ferries arriving from neighboring islands such as Mykonos, Santorini, Naxos & Milos will arrive in the capital of Paros, Parikia. There are several daily ferry departures to the islands and Athens during the summer months, and the schedule varies during the off-season months.
Parikia is a vibrant small town on the island of Paros, and its streets can be mazelike as they creep around the bustling harbor. Parikia is a superb place to be based if visiting the island for a short period of time because of its central location.
There is a local bus that departs for towns and villages across the entire island, and it also makes a great base for those eager to explore the enchanting island of Antiparos.
The shopping in Parikia is fantastic with locally handcrafted goods available in abundance. This is a fantastic place to pick up bespoke shoes, linens, and other locally produced items. You can even have a pair of sandals made with local leather in a matter of minutes.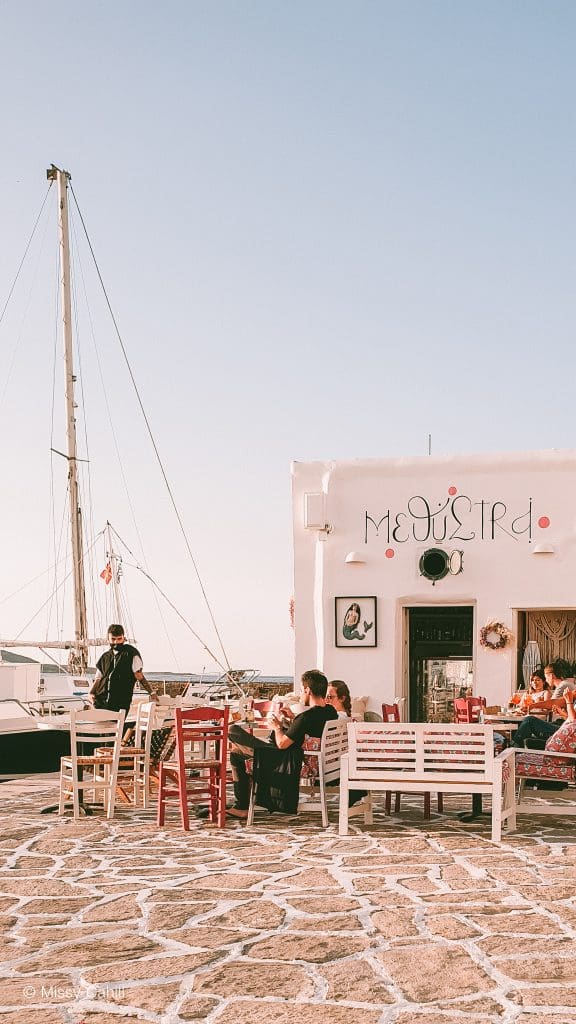 Foodies will delight in the remarkable restaurants serving locally caught fresh fish, or tavernas serving Greek staples such as Tzatziki, Gyros, and Souvlaki.
Parikia has a wide range of accommodations for all budget needs and for those wondering where to stay in Paros for ease of accessibility to beaches, restaurants, boutique shops, and bars, this is a great place to be based.
Where to Stay in Parikia Paros
Roses Beach Hotel – A short walk from the beach, this is a wonderful family-run hotel with affordable prices and warm welcomes. The outdoor swimming pool is a welcome addition. All rooms come with air conditioning and there is private parking for your rental car.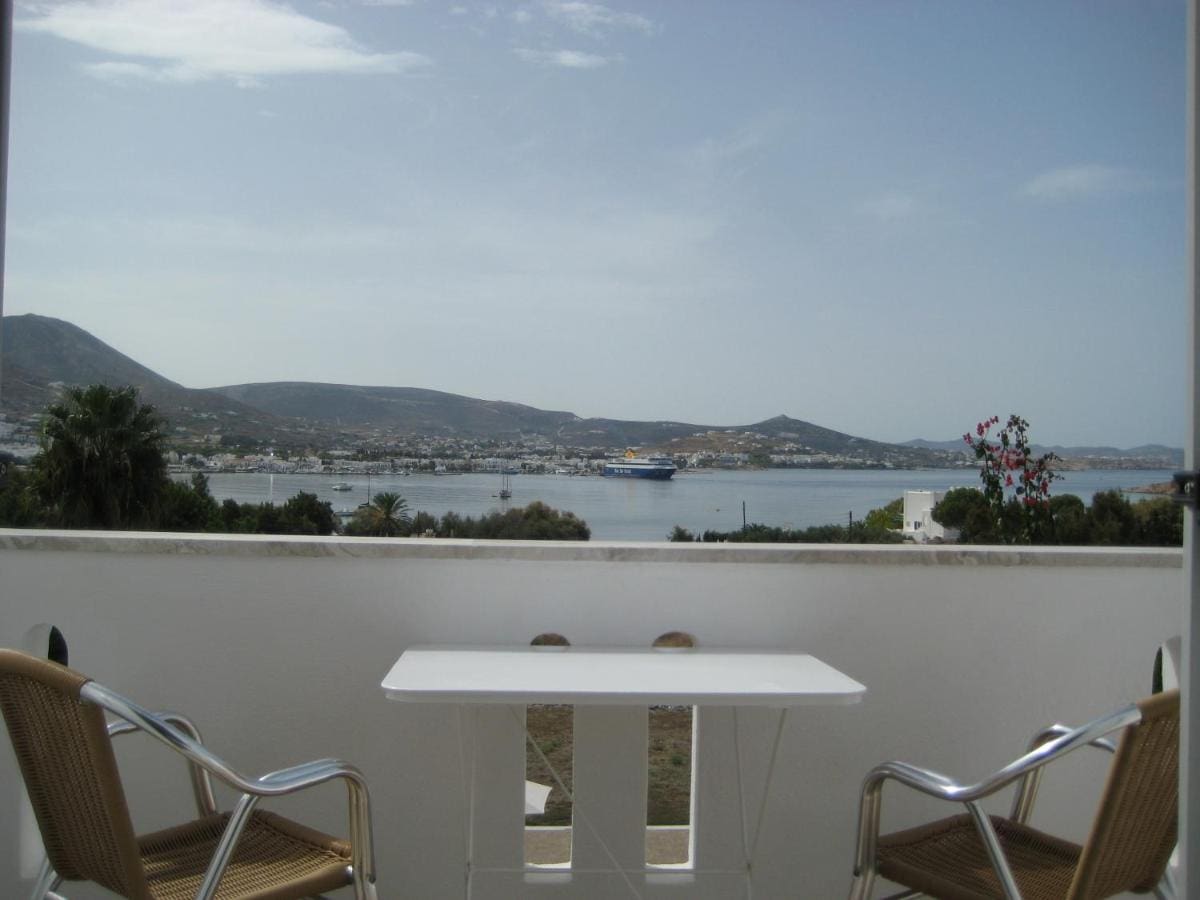 Aegean Village – Located in the heart of Parikia, is the family-run aparthotel, Aegean Village. Perfect for visitors looking for budget-friendly accommodation that has cooking facilities in a superb location. The rooms are equipped with a fridge and stove, and each room has a balcony to enjoy evenings on.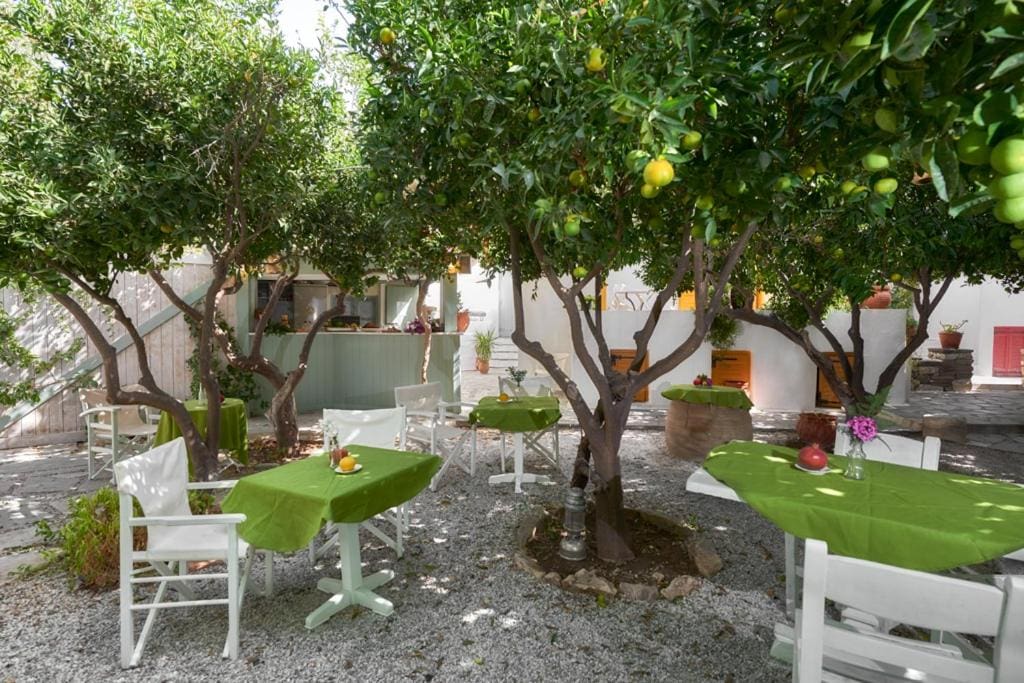 Paros Agnanti Hotel – The stunning 5-star Paros Agnanti Hotel is less than a 1-minute walk from the beach and has stunning views of the Aegean Sea and the town of Parikia. Stylishly decorated and with a stunning outdoor swimming pool, Paros Agnanti Hotel is the perfect hotel to enjoy a luxury hotel stay and some of the nicest views on the entire island.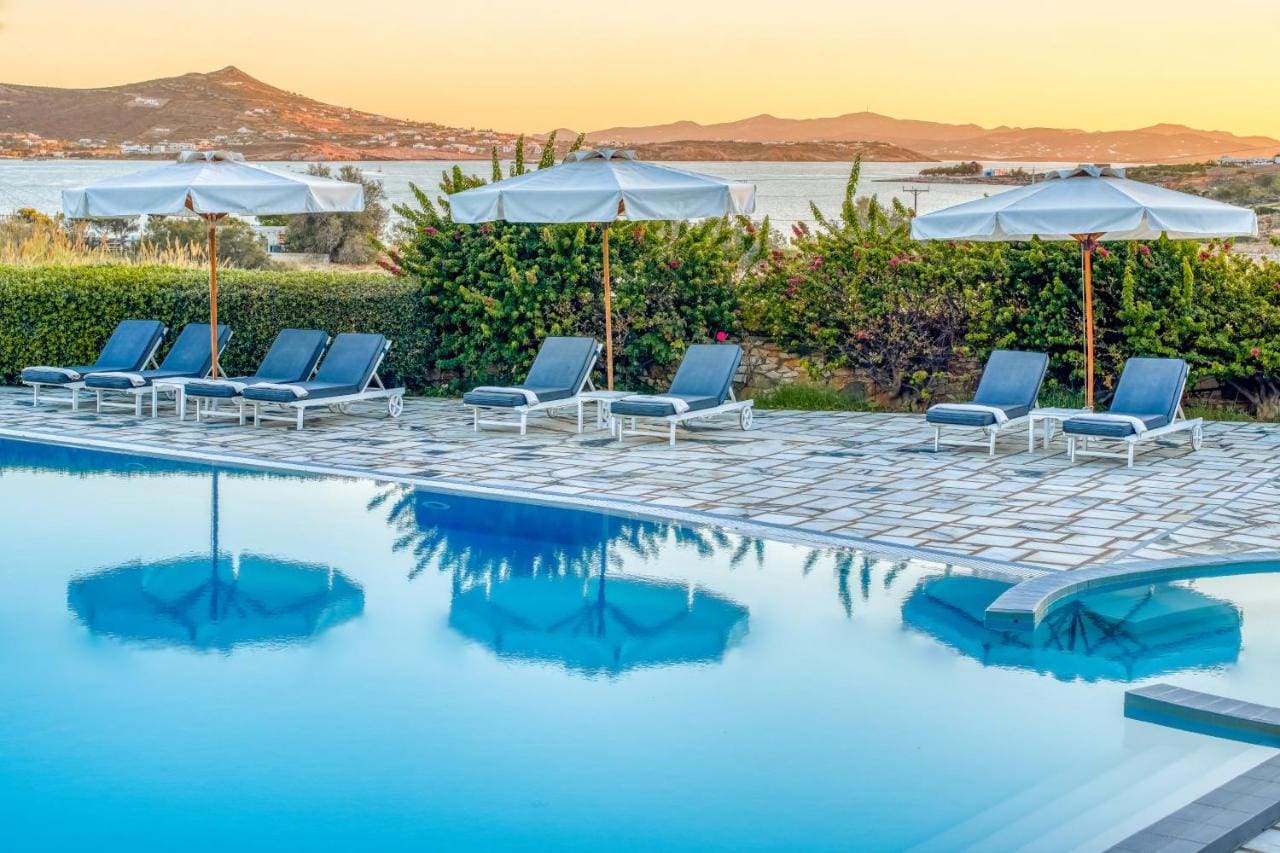 Naoussa – The prettiest harbor town on the island
A firm favorite with most visitors who spend time on Paros, Naoussa is exceptionally pretty. Much like Parikia, it has the privilege of excellent boutique stores, superb restaurants, and a plethora of stunning cocktail bars.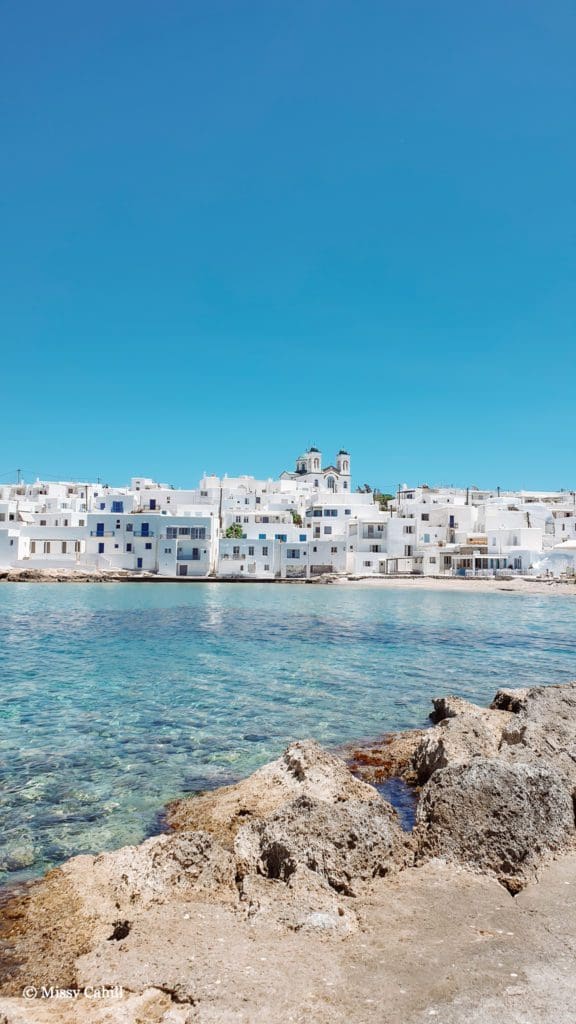 What sets Naoussa and Parikia apart is that Naoussa has one of the prettiest settings in the entire Cyclade chain of islands. The active and working harbor of Naoussa is the backdrop to some of the most incredible restaurants and cocktails bars, with fairy lights strung across the harbor. It's an incredibly romantic setting and you can't help but fall a little bit in love with Naoussa.
Naoussa is one of the best places to stay in Paros if you love quality beaches and evenings spent meandering through the quaint streets lined with delicious-looking restaurants. Naoussa also has great sunset views which help add to its appeal. There are local water taxis to the nearby beaches that are some of the best on the entire island.
If you have been looking for where to stay in Paros that oozes romance, superb restaurants, and a postcard-perfect backdrop, then look no further than Naoussa.
Read More: Best Beaches in Paros
Where to Stay in Naoussa
Villa Irini – A short walk downhill to Piperi Beach, Villa Irini is a beautiful Cycladic hotel with gorgeous views over the harbor of Naoussa and the Venetian Castle. Some of the rooms include a kitchenette and there is a stunning outdoor swimming pool.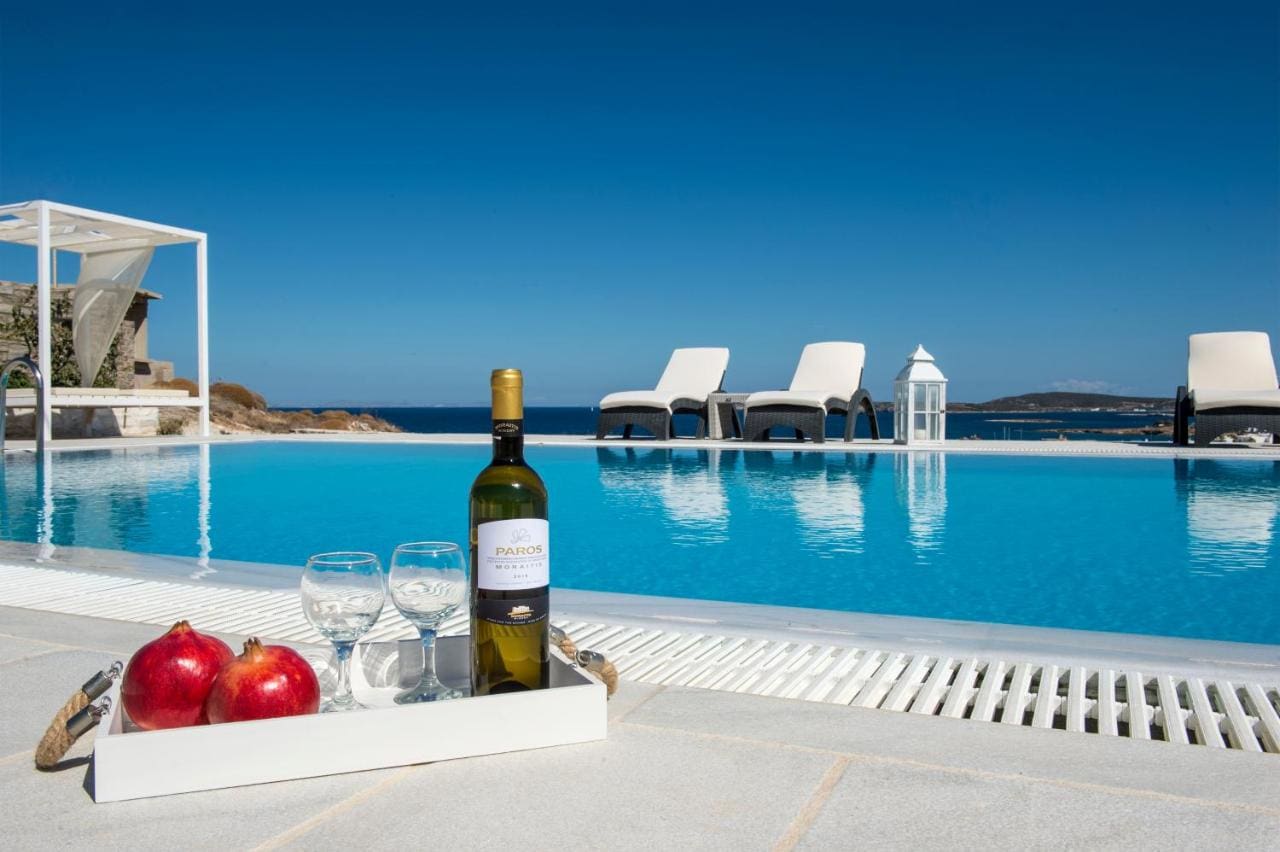 Saint Andrea Seaside Resort – Located on the outskirts of Naoussa town, the harbor is a 2-minute drive from town and a 3-minute drive from Kolymthibres Beach. Saint Andrea is a 4 Star Hotel with beautiful views over the bay of Naoussa and is beautifully decorated.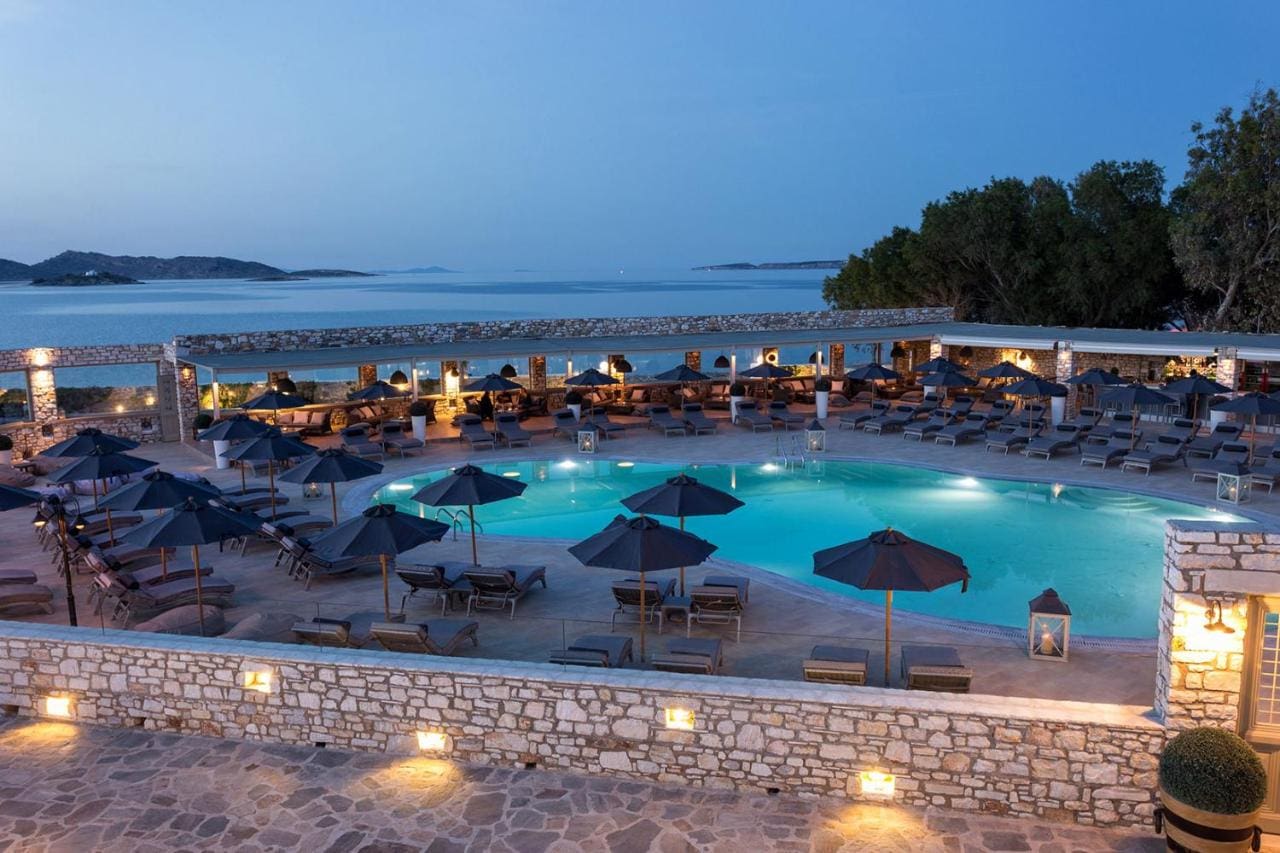 Vounali Rooms – Everything you could possibly want in a quaint boutique hotel, Vounali Rooms are perfect for visitors who want to be in the center of Naoussa town. With restaurants, bars, and a 3-minute walk from the beach, Vounali Rooms are the perfect choice for visitors who love ease and accessibility.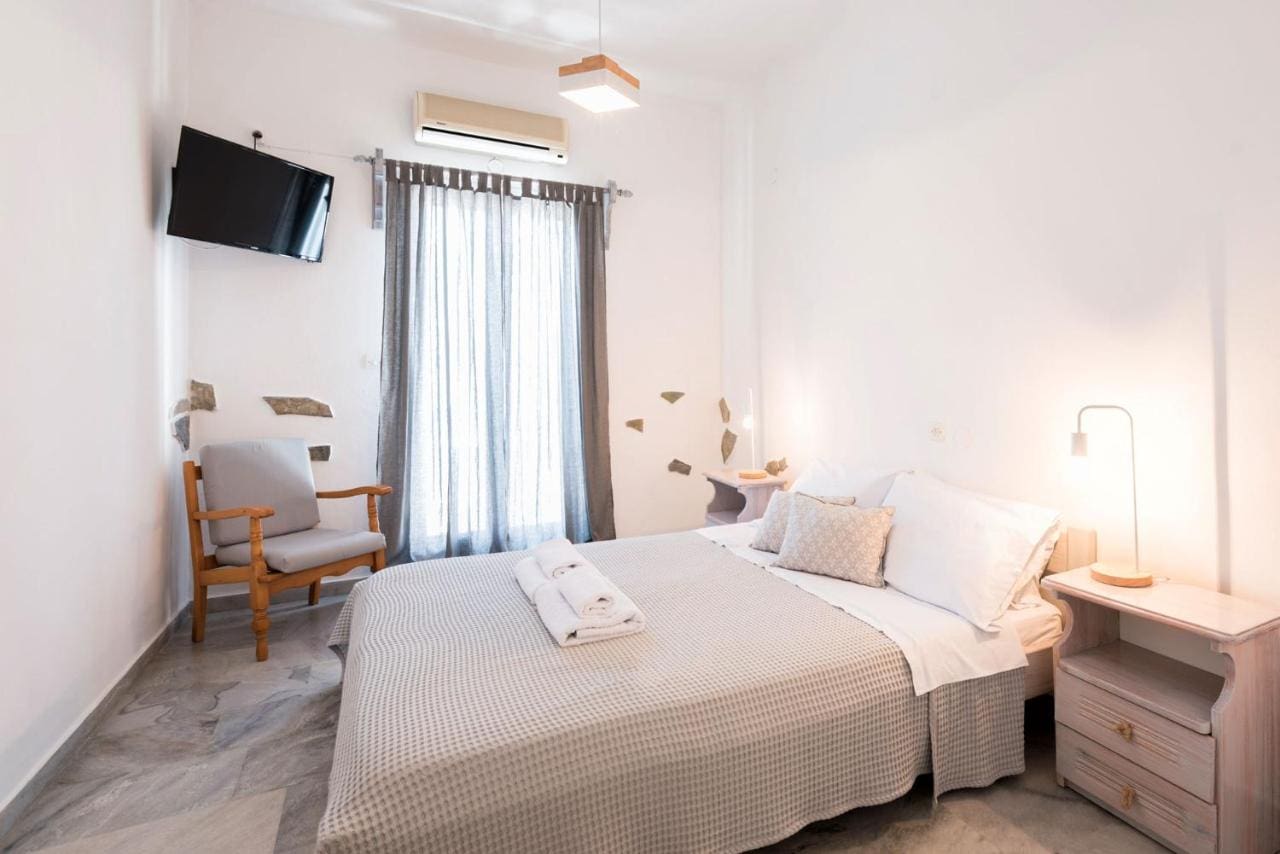 Lefkes – A Mountain Village
Lovely Lefkes is the highest village on the island of Paros and a place of serenity. Arriving in the town, you can immediately feel any stress just vanish from your body as you walk the white-washed streets of Lefkes.
If you've been looking for where to stay in Paros to unwind and see where the islanders live, then Lefkes is the place for you.
It's the perfect place to sit on a bench in the town square and soak up the sounds of cicadas and enjoy the cool breeze that Lefkes enjoys. Like many places in the Mediterranean, the town square is where you can do some fantastic local people-watching and get a sense of the place.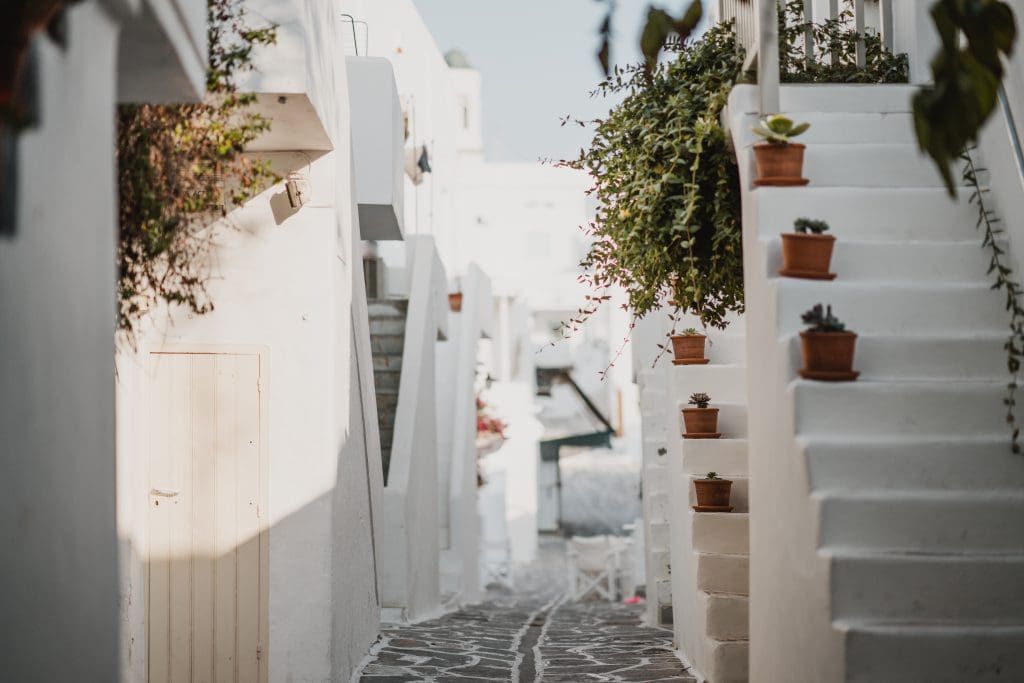 Lefkes has a beautiful Byzantine church in the town square and is visible from around the town. For those interested in hiking, the excellent Byzantine Road travels from Lefkes all the way to the sea. There are also trails in the hills behind the town.
If you've been looking for where to stay in Paros that offers a more traditional Greek village experience, then you'll love lovely Lefkes.
Where to Stay in Lefkes
The Traditional Windmill – Make your dreams come true and stay in a traditional Cycladic windmill. A perfect place to enjoy views over the vista in Lefkes and live out your fantasies.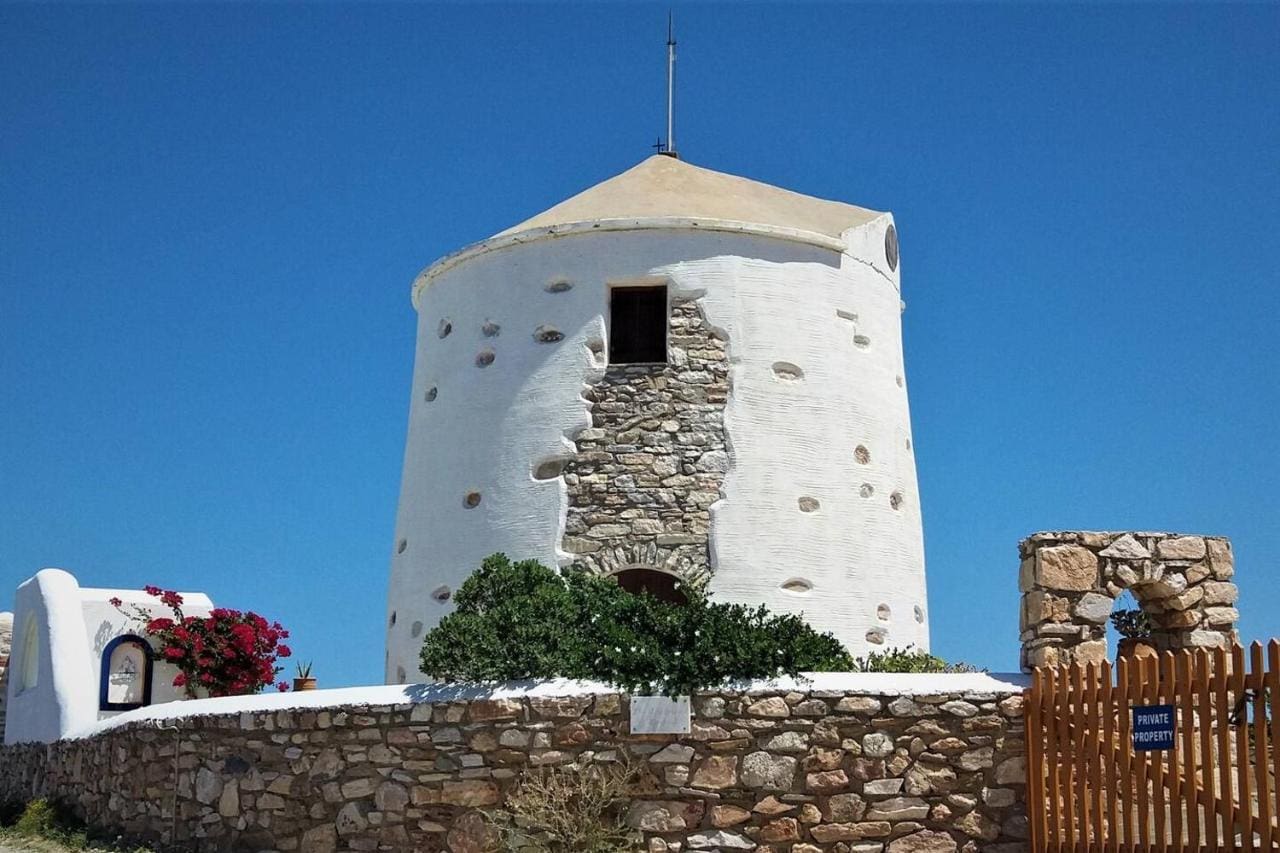 Sweet Path Villa – A fabulous private pool villa newly built with some of the most incredible views over the Paros countryside. Ideal for a family who seek a home away from home and all the amenities such as bicycle rental on offer from the villa.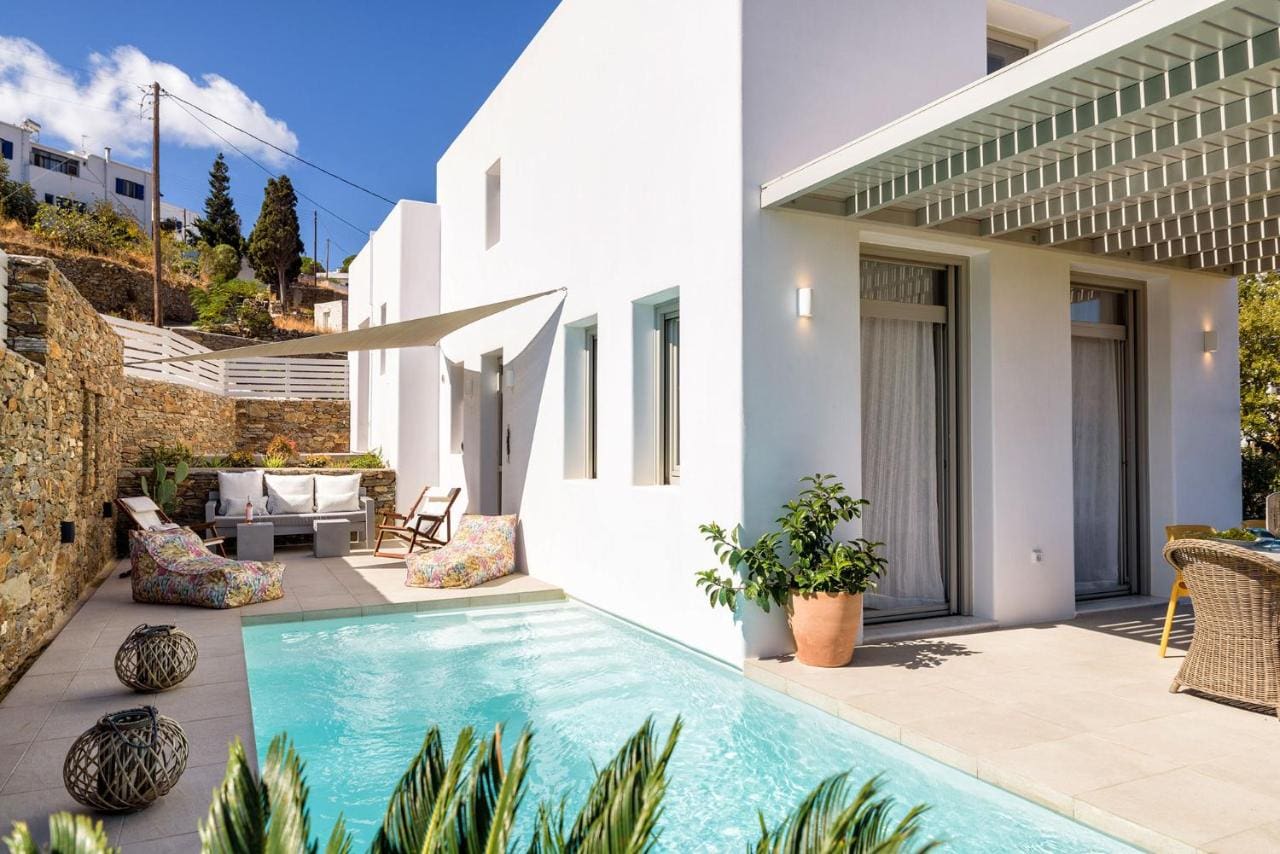 Piso Livadi – Family Friendly Village
Piso Livadi is a small coastal village a short drive from Naoussa. Its natural harbor has regular day excursions to nearby islands such as Naxos and Santorini that depart during the high season. Piso Livadi has a lovely seafront with a handful of restaurants and bars and is well suited for families with young children.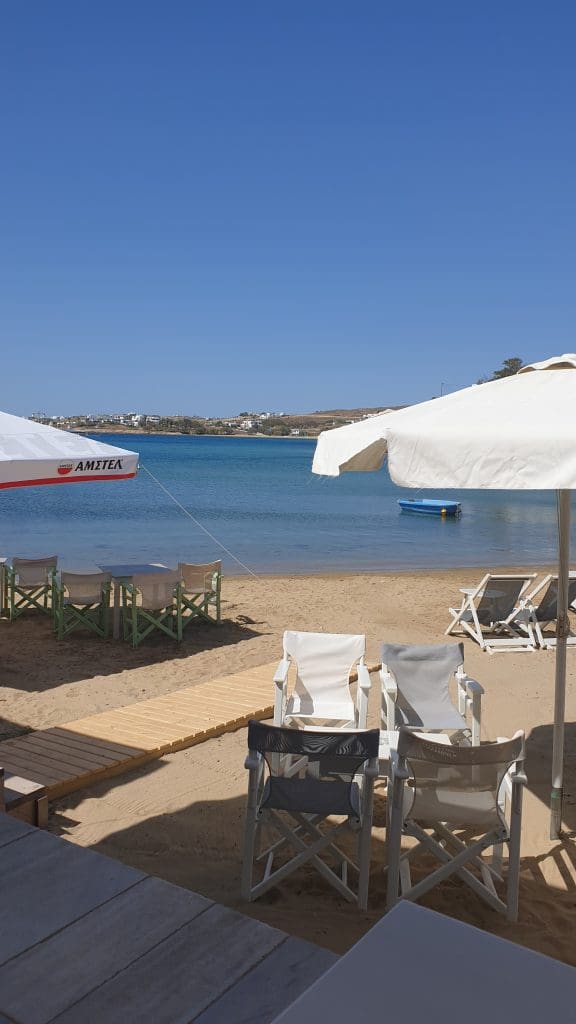 There are two beaches a minute's walk from one another that have shallow water for small children to paddle in. Paralia Logaras and Paralia Livadi are small golden sandy beaches that have shade from the trees overhead, and views of Naxos in the distance.
One of the best places to stay in Paros that is perfect for young families, Piso Livadi ticks all the boxes for a family-friendly vacation.
Where to Stay in Piso Livadi
Londos Hotel – Great value for money, Londos Hotel is located in the harbor of Piso Livadi and is warmly decorated in Cycladic fashion.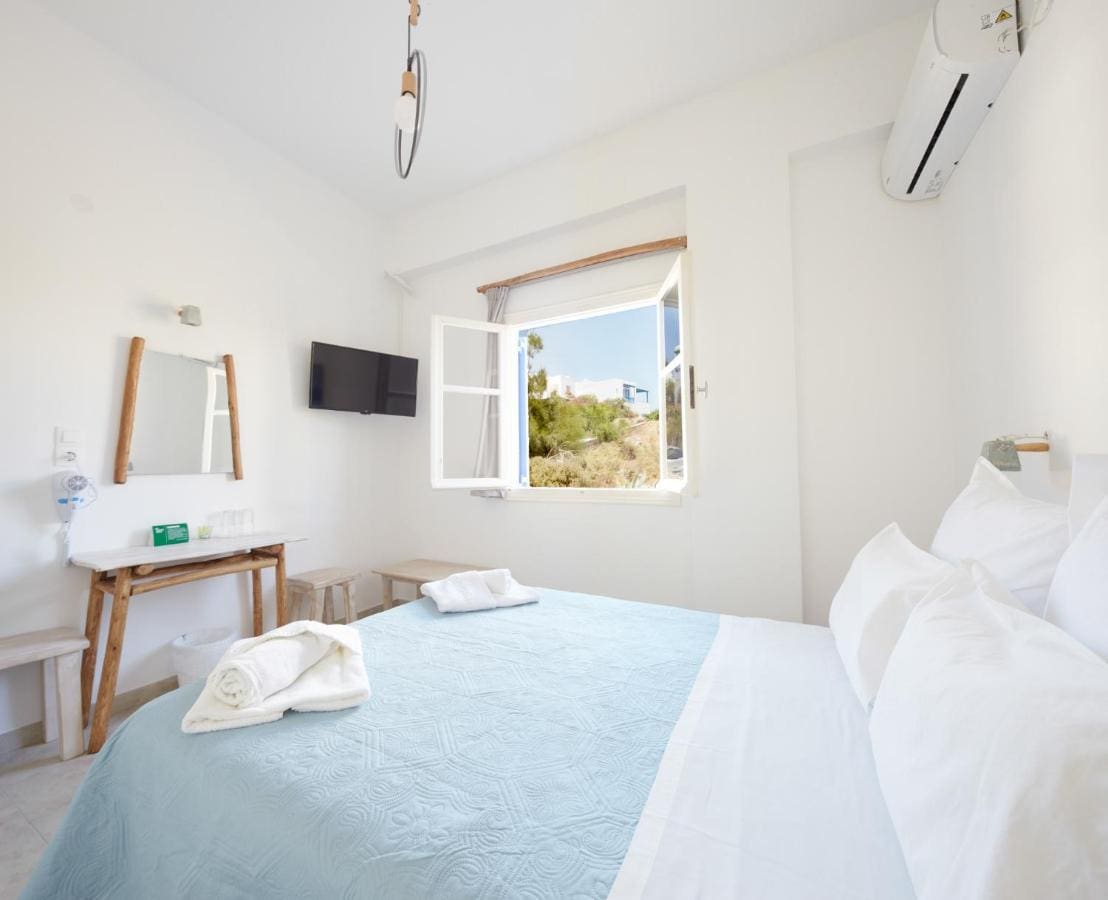 San Antonio Summer House – A five-minute walk to the beach, San Antonio Summer House features a fabulous outdoor swimming pool, all rooms have air conditioning and some come with a small kitchenette.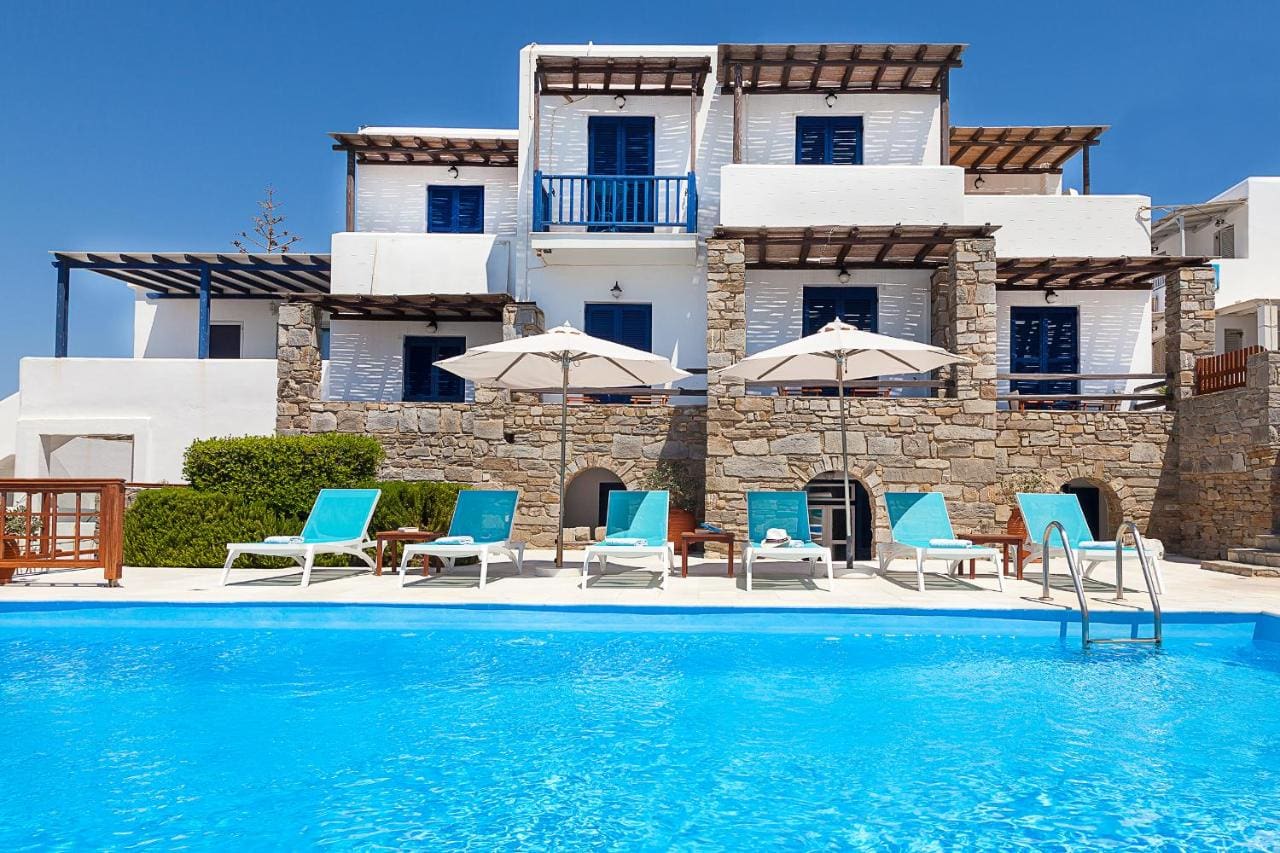 Aliki – The Perfect Writers Retreat
For visitors seeking tranquility and a place well off the beaten path, then the town of Aliki is the perfect place. Whilst it may not have the hustle and bustle of Parikia or the charming streets of Naoussa, Aliki is a relaxed tiny village in the south of Paros.
A short drive from Paros Airport, Aliki has a small selection of Tavernas and some great beaches. A car or vehicle is necessary for getting around this part of Paros as it is quite remote.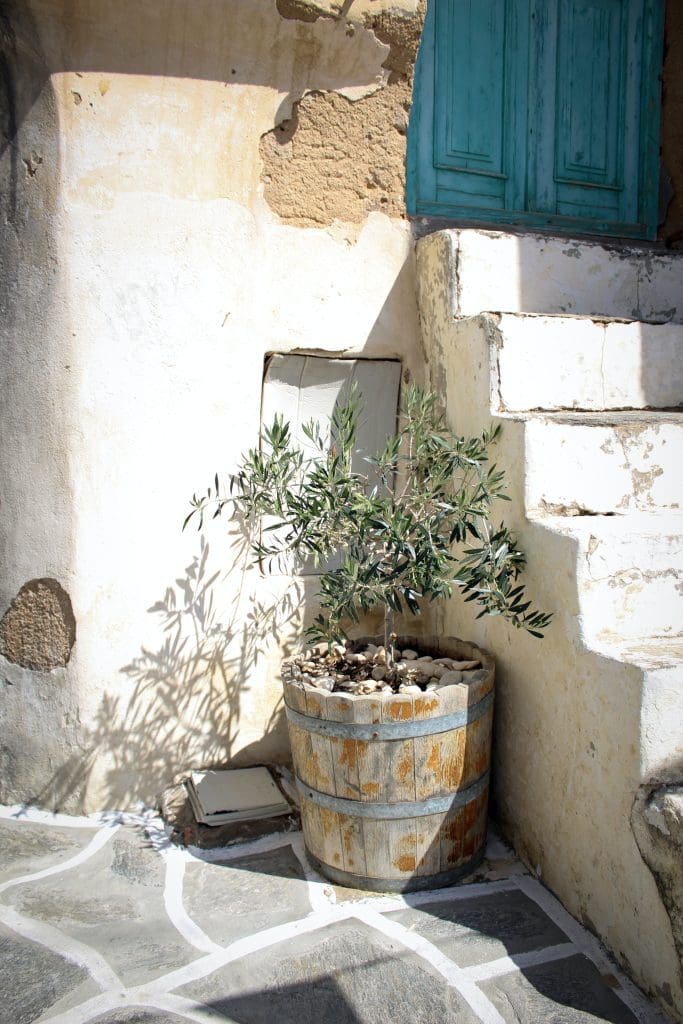 Even in the height of summer, when the rest of Paros can feel busy with tourists, Aliki rarely feels the impact and remains quite sheltered from the influx of visitors to the island. Windsurfers are quite drawn to the beaches of Aliki and there are ample spots on the island to find a private spot for sunbathing.
If you've been wondering where to stay in Paros which is away from the crowds and offers a more relaxed beach vacation, then Aliki is one of the best places to stay in Paros to unwind.
Where to Stay in Aliki
Aphrodite Boutique Hotel – Less than a 100-meter walk from the village, Aphrodite Boutique Hotel is a charming hotel close to the quaint village of Aliki. The hotel also includes an outdoor swimming pool.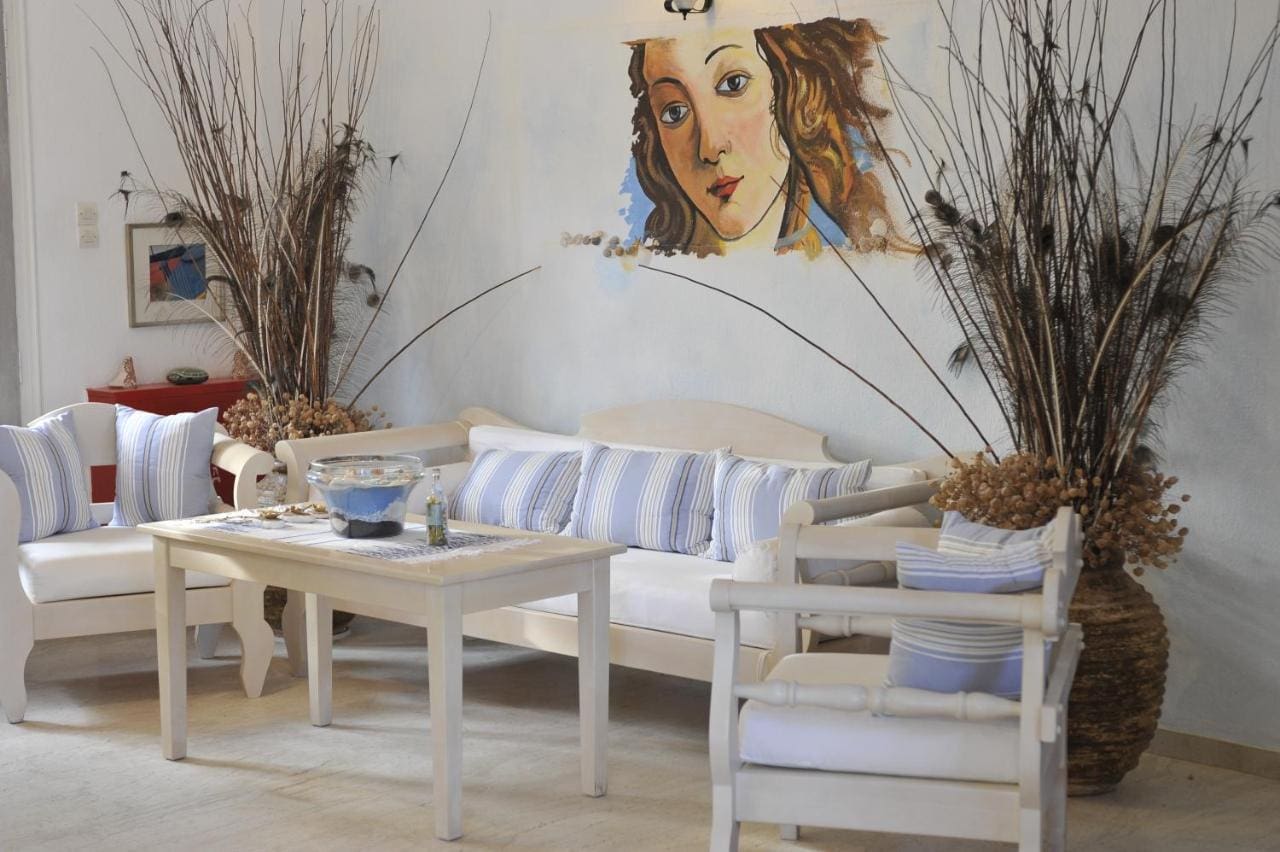 Ostria Studios & Apartments – You won't find a better location in Aliki than the Ostria Studios and Apartments whose location is directly on Aliki Beach. Units include a small kitchenette and a small bar on the premises is the perfect place for a nightcap.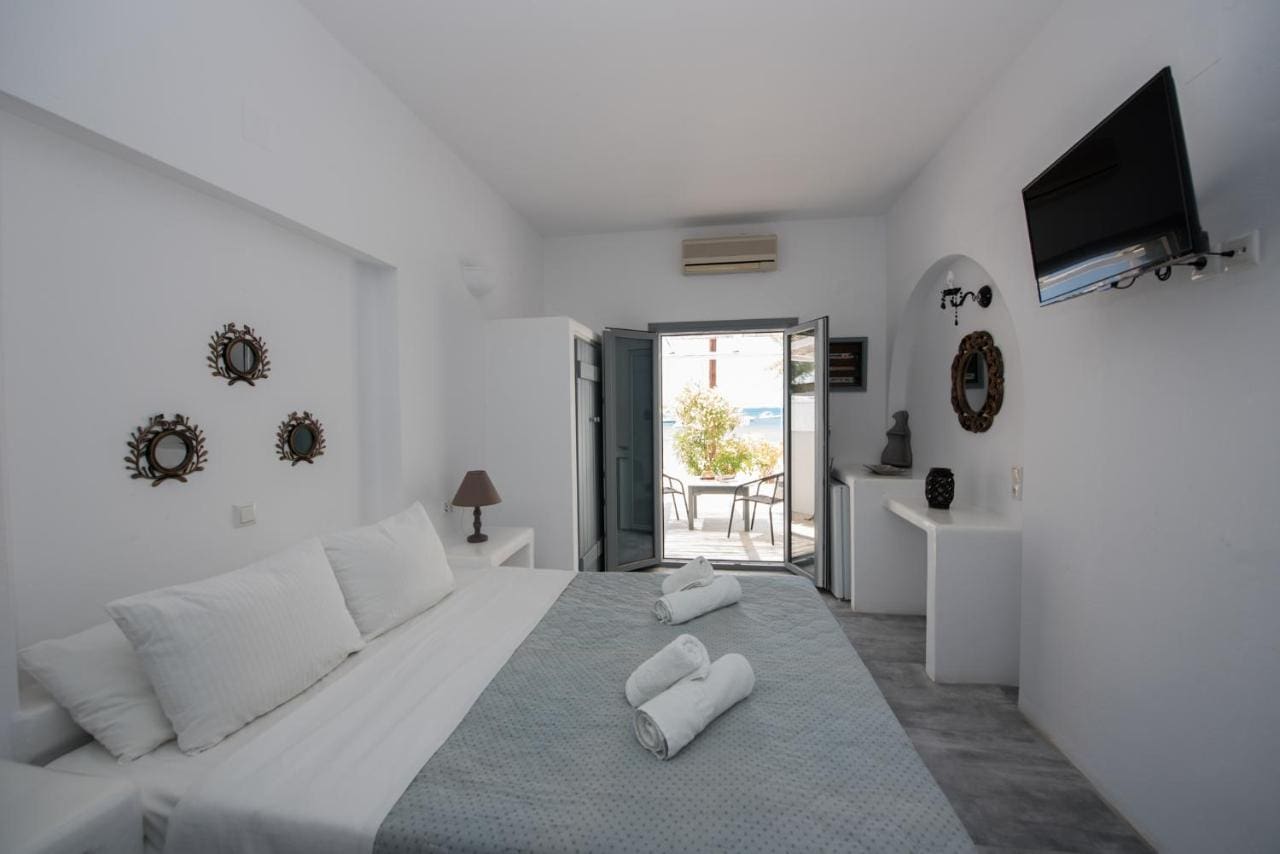 Drios – The Best Beaches & Fish Tavernas on Paros
Drios is where to stay in Paros if all you crave is excellent seafood all afternoon and evening. This mixed with dips in the beautiful and crystal clear waters of the Aegean Sea and surely this is a hidden paradise? A row of seafood tavernas on the shores of Drios Beach make up this small village in the south of Paros.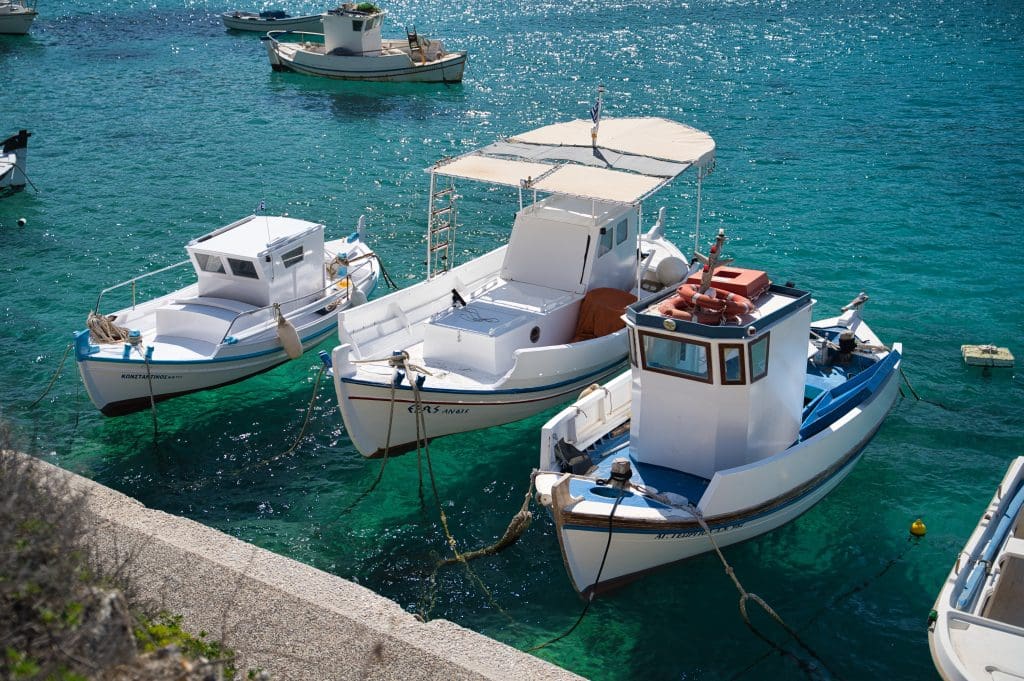 A perfect place to escape from the crowds, Drios is a seafood lovers' paradise and simplicity at its finest. Watch as the fisherman haul the latest catch from their fishing vessels and pick out your supper, this is as fresh as fish comes.
Where to Stay in Drios
Glyfa Village – If you've been searching for an escape from the madness of your life and all you crave is the sound of the waves crashing against the shoreline, a view that will rejuvenate you each morning, and a beach 100 meters away, then Glyfa Village is the perfect accommodation in Paros for you.
These beautifully decorated Cycladic cottages sit prettily on the shores of Drios Beach and offer seclusion and solitude. Groceries can even be arranged to be delivered directly to your door.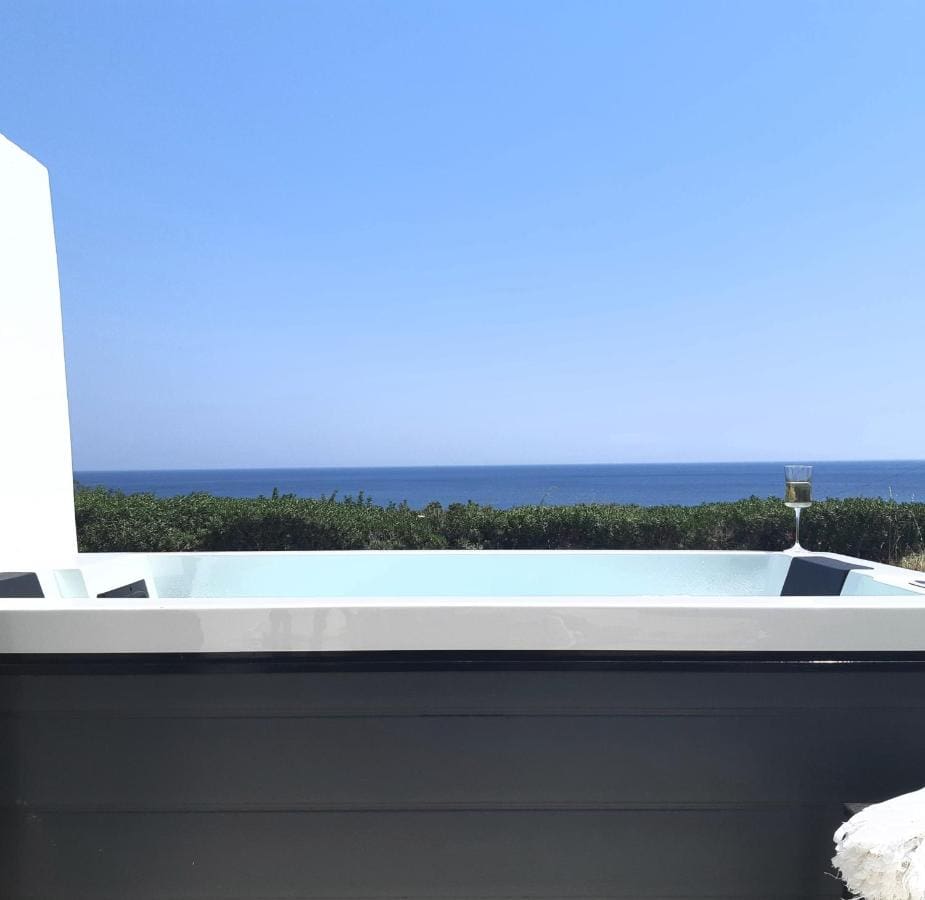 Blue Waves Suites & Apartments To Kyma – Stunningly beautiful and a short drive from Drios Beach, To Kyma sits above seafood tavernas and overlooks the sea.
The apartments and suites have been decorated with some of the finest and locally produced materials from the island of Paros and neighboring islands. I love the balcony with the sun loungers, it's one of the best views on the entire island of Paros.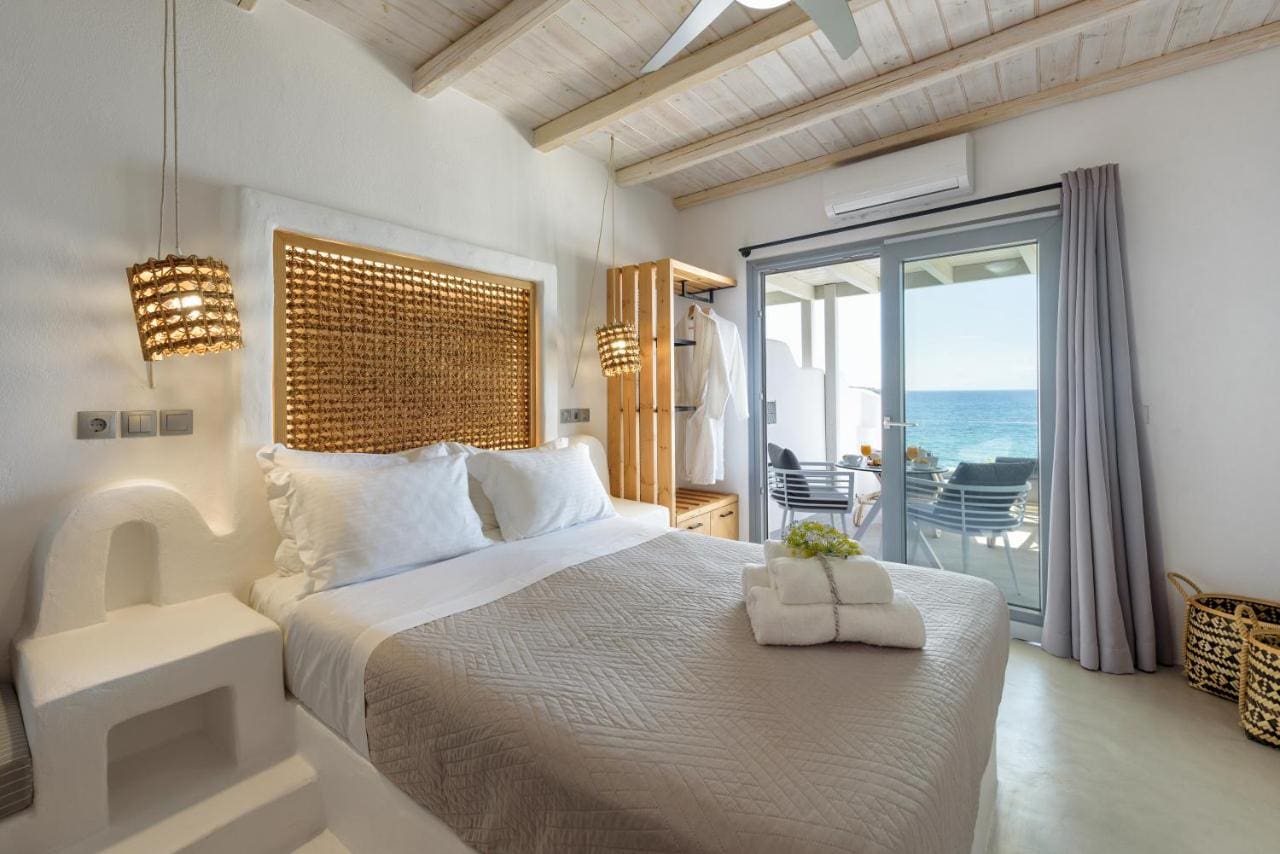 How to get to Paros
Flying – There is a small airport on Paros Island that connects it with Athens. There are numerous daily flights during the high season. The number of daily flights decreases in the off-peak months. You can book your flights via Omio.
Ferry – One of the best parts of traveling around the Cyclades is the ease of island-hopping from place to place. You can easily connect from Athens or nearby islands such as Milos, Santorini, Naxos & Mykonos to Paros. The easiest way to book ferry tickets is through Ferry Hopper, where you can also check ferry routes and timetables.