Antwerp is fortunate that so many different ethnic backgrounds have made the city their new home. With such a melting pot, you can find just about every cuisine you can possibly imagine in this wonderful city.
From Michelin star restaurants to small curry houses, you crave it, Antwerp has it. With that being said, there are a lot of excellent restaurants to choose from so here is a small selection of some of the best restaurants in Antwerp.
13 Best Restaurants in Antwerp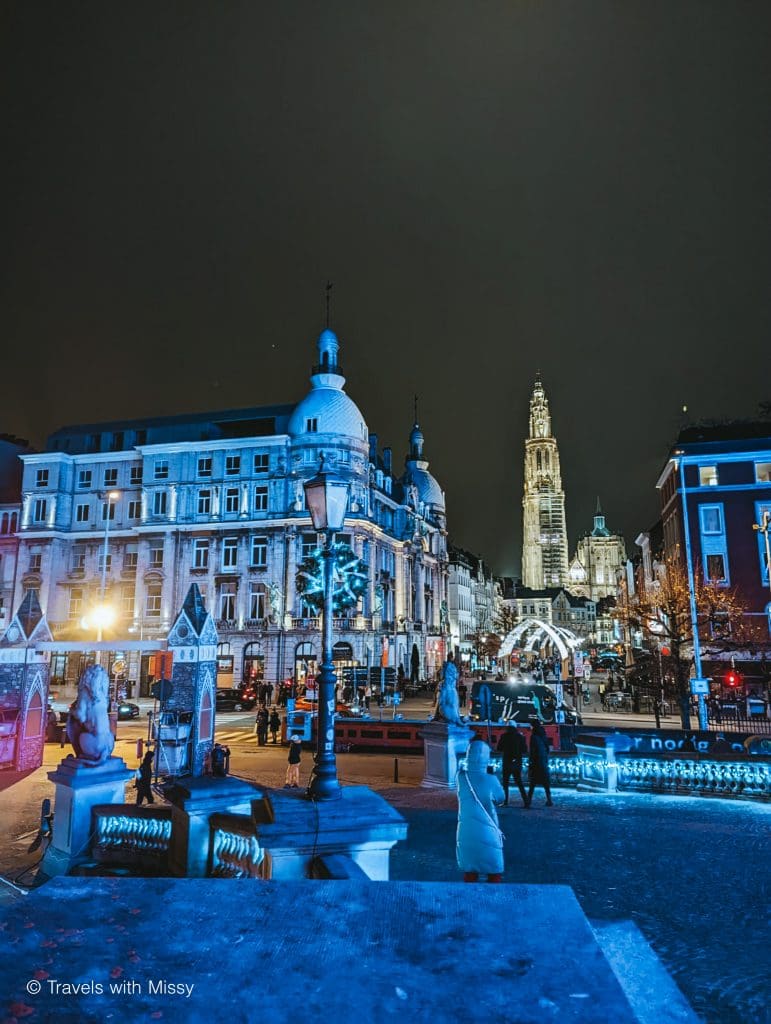 1. Mission Masala | Dendermondestraat 68, 2018 Antwerpen
Mission Masala is one of the best restaurants in Antwerp serving mouthwateringly delicious Indian cuisine. Its limited menu allows the restaurant to focus on what they excel at – creating Indian-inspired dishes with a twist.
Must-try dishes include their mouthwatering delicious 'Boom Ting Butter Chicken' and 'Oh my Gobi'. They also do some banging cocktails too.
We LOVE the decor in its cosy restaurant and during the summer months (when the sun actually shines), Mission Masala's outdoor area is a fun way to spend an evening. Its popularity allowed its owners to set up an additional restaurant in Ghent. Make sure to book in advance.
Opening Hours: Tuesday – Saturday: 6 pm-10 pm
Closed: Sunday & Mondays
2. Tamo | Volkstraat 44, 2000 Antwerpen
Tamo is hands down the prettiest restaurant on this list, if not all of Antwerp. It has one of the cosiest outdoor dining areas, complete with fairy lights and flowers. Its interiors are also incredibly pretty and give Bali boho vibes.
It's a good thing that the food also tastes as good as the restaurant looks. We love the cool outfits the servers wear and their cocktails are some of the best we've ever tasted.
Tamo is one of the best restaurants in Antwerp serving Thai food. Make sure to sample their starter sharing platter complete with spring rolls, yummy peanut dipping sauce and prawn dumplings. Try the Jungle Duck for mains, and make sure to order a mai tai to chase it all down.
Opening Hours: Wednesday – Sunday 5.30 pm – 10.30 pm
Closed: Monday & Tuesdays
3. Black Smoke | Boomgaardstraat 1, 2018 Antwerpen
If you have some craving for some slow-cooked meats, Southern US-style cooking, then look no further than Black Smoke. This is a meat-lovers paradise and Black Smoke is fantastic at what it does.
Black Smoke's 'Pulled Pork' is out of this world delicious, as are their BBQ ribs which come in two flavours, 666 Honey Rib flavour or Kansas Wet Style. The Kansas Wet Style is a more traditional BBQ sauce, but with a Black Smoke twist as the BBQ sauce is infused with beer from the De Konnick brewery downstairs.
During the summer months, the rooftop of Black Smoke is used as an additional restaurant and is one of the best dining experiences in the entire city. Black Smoke also have a fantastic selection of aged spirits that are recommended with certain dishes. Their cocktails are also pretty superb too.
Opening Hours:
Thursday – Saturday: 5.30 pm – 11 pm
Sunday: 12 pm – 2.30 pm & 5.30 pm – 11 pm
Closed: Mondays & Tuesdays
4. Umami | Luikstraat 6, 2000 Antwerpen
Almost slightly hidden, Umami is one of the best restaurants in Antwerp serving high-quality Sushi. Sushi chefs expertly prepare incredible flavours, and from every seat in the restaurant, you can observe the skilled chefs assemble delicate bites of deliciousness.
The sharing platter of sushi, which includes 24 pieces, is a fantastic way to sample your way across the menu.
If sushi isn't your thing, there are other wonderful dishes such as the Chargrilled Chicken Yakatori or the King Prawns cooked in Chorizo Oil and Calabrian Chili. Umami is a fantastic restaurant with a ton of character and ambience.
And when you've finished your meal you can head to Minus-1 their late-night bar until 2 am.
Opening Hours:
Monday – Saturday 5.30 pm – 11 pm
Sundays: 11.30 am – 3 pm & 5.30 pm – 11 pm
5. Maven | Luikstraat 4, 2000 Antwerpen
Located right next door to Umami is Maven, a carnivore's dream. Or a vegans nightmare. Maven Nobel Meat Craft is a collaboration of incredible butchers, Luc De Laet and Wim Van der Borght (they also happen to be my favourite butchers in Antwerp).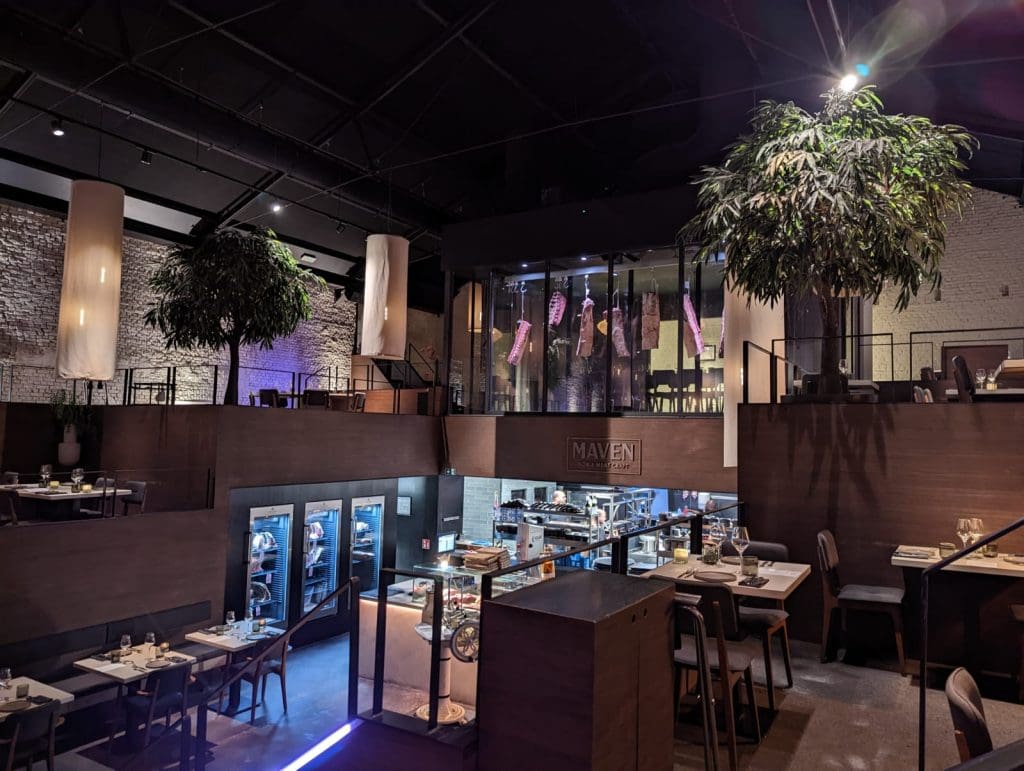 Their passion led to the creation of Maven, an incredible restaurant that serves only the finest cuts of meat in Europe.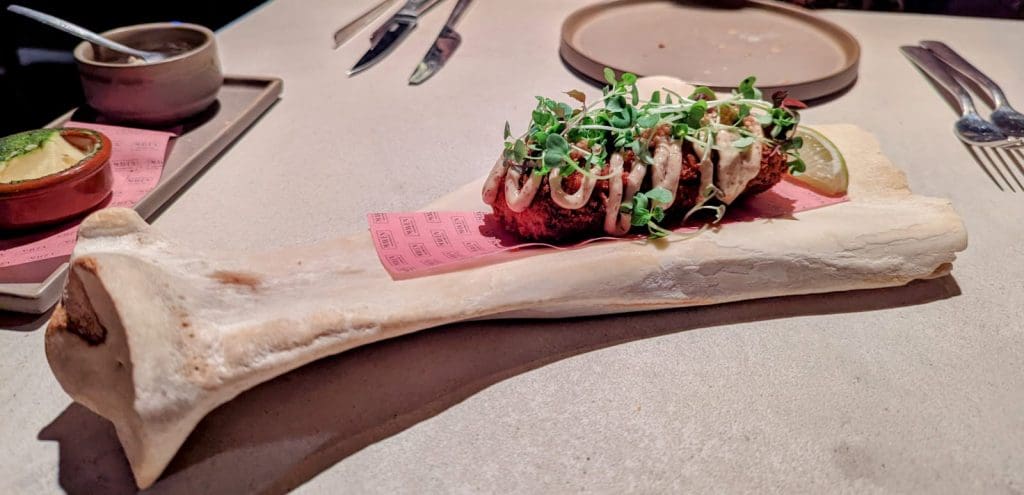 If you are serious about steak then this is one of the best restaurants in Antwerp. Their selection and cuts of meats change over time, and you can also discuss your meat selection with the onsite butcher. Holsteiner, Kobe and Swami are just a sample of some of the meats you can expect to find at Maven.
Make sure to add a side of their Truffle Fries, which are quite honestly some of the best fries in the world.
Opening Hours:
Monday – Sunday 6 pm-11 pm
6. Elfde Gebod | Torfbrug 10, 2000 Antwerpen
One of the quirkiest restaurants on the list, Elfde Gebod is quite unlike anywhere you've ever been before. The entire restaurant, including the restrooms, have religious statues everywhere.
Its location right beside Antwerp Cathedral adds to its bizarre charm, and aside from the religious icons watching your every move, the food here is pretty great.
One of their specialities is their mussels which are also one of their most popular dishes. And of course what are Moules without their side accompaniment, frites, which in Elfde Gebod seriously noteworthy.
For a bizarre restaurant with some of the kookiest settings, you are guaranteed a good meal and a ton of photos taking it all in.
Opening Hours:
Monday – Thursday: 6 pm – 10 pm
Friday – Sunday: 12 pm – 10 pm
7. Tapabar | Pelgrimstraat 22, 2000 Antwerpen
Located on Pelgrimstraat, a 2-minute walk from Antwerp Cathedral, Tapabar is easily one of the busiest and most popular restaurants on this fun and lively street. For those craving Spanish tapas, which let's face it, is one of the best ways to share a meal or have a bit of everything, Tapabar has some of the best tapas in Antwerp.
Its lively atmosphere, whether sitting at the stools by the kitchen, or upstairs in a cosy alcove means that bookings are essential for dining here. Its popularity is primarily due to its excellent dishes, and its prices are pretty great too. The location helps too.
Opening Hours: Wednesday – Friday: 6 pm – 10 pm / Saturday & Sunday: 3 pm – 10 pm
Closed: Monday & Tuesday
8. t'Hofke | Vlaaikensgang 6, 2000 Antwerpen
A real hidden gem in a part of Antwerp that you wouldn't necessarily even see, t'Hofke is down one of the quaintest and most adorable hidden alleyways in the old town.
Access is via either Pelgrimstraat or Oude Koornmarkt, look out for signs for the 15th-century alleyway.
t'Hofke offers traditional Flemish dishes, such as Stoofvlees and of course, one of the most famous Belgian dishes, croquettes. The food is really nice, but the real star is the restaurant and its surroundings. How often do you get to say that you dined in the oldest alleyway in Antwerp?
Opening Hours:
Monday – Friday: 12 – 3:30 pm, 6 – 11 pm
Saturday & Sunday: 12 – 11 pm
9. Satay | Wijngaardbrug 8, 2000 Antwerpen
For those craving the flavours of South East Asia, look no further than Satay. It takes some of the most famous street food from the region, Pad Thai, Teriyaki Beef, Gado Gado Chicken and of course the infamous Chicken Satay to a whole new level.
Expertly grilled and flamed you can even order as many satay sticks as you crave, which let's face it, you can never have enough of.
Satay often pops up across the city in some of the summer bars, so keep your eyes peeled for some of the best South East Asian street food in Antwerp.
Opening Hours:
Tuesday & Wednesday: 6 pm – 9 pm
Thursday – Saturday: 12 pm – 3 pm & 6 pm – 9 pm
10. Camino | Muntstraat 4, 2000 Antwerpen
Another Asian-inspired addition to the list, but Camino is a bit different than the rest. With its ever-changing menu, you're guaranteed to never experience the same dish twice. Hidden away, Camino turns into a real paradise when the sun shines during the warmer months of the year.
Their large terrace means that reservations are required and you're not necessarily guaranteed a table outside. But that's ok since the food is crazy good. Camino makes a perfect choice for those seeking Korean dishes with a twist.
Opening Hours: Tuesday – Saturday 12.30 pm – 3pm & 5.30pm – 10pm
Closed: Sunday & Monday
11. MESA | Kloosterstraat 99, 2000 Antwerpen
MESA promises culinary dishes from around the world, and it sure does deliver. The menu is not extensive, but there is a world cuisine for everyone.
Be it the Korean Chicken Tacos, Fried Padron Peppers or Mesa Moules, you can eat your way around the world.
Mesa is a product of the Tomorrowland family, yes, one of the worlds largest dance festivals are the vision behind this restaurant. Whether or not that helps with making a decision, one thing that is for sure is that the food sure is tasty.
Openings Hours: Wednesday – Saturday 5 pm – 11 pm
Closed: Sunday – Tuesday
12. Le Pristine Cafe | Lange Gasthuisstraat 13, 2000 Antwerpen
Le Pristine Cafe is the brainchild of Dutch chef Sergio Herman. And whilst it may not have a Michelin Star (yet) like his other notable restaurant, The Jane; Le Pristine Cafe is a more accessible experience and aims to embrace a relaxed Italian trattoria serving pizzas pasta, and cocktails, making it a superb gateway for a casual fine dining experience.
This is a perfect restaurant for anyone looking for a special occasion to celebrate. Reservations open weekly for Le Pristine Cafe and they occasional have walk-in availability. For those seeking a more refined culinary experience, consider Le Pristine which is the main restaurant located in the same building.
Opening Hours: Tuesday – Saturday 12pm – 10pm
Closed: Sunday & Mondays
13. De Arme Duivel | Armeduivelstraat 1, 2000 Antwerpen
De Arme Duivel is a small cosy restaurant near the Meir that is like a warm hug. It serves very traditional Belgian dishes with staples such as Vol au Vont, Stoofvless and even the lesser-seen, horse steak.
For the ultimate Belgian comfort food, De Arme Duivel is delicious and its cosy interiors are inviting, especially on cold Antwerp winter evenings.
Opening Hours:
Mondays – Saturdays: 12 pm – 2.30 pm & 5.30 pm – 10 pm
Closed: Sundays
Conclusion
Whatever your craving, Antwerp has you covered. And the great thing about a city like Antwerp is that every year more and more new restaurants are opening up and challenging our tastebuds. Are there any cuisines that Antwerp doesn't have yet that you'd love to see? Drop a comment on your favourite restaurant in Antwerp.