Most people will be aware of Milos' existence only quite recently with the explosion of social media. Famed for its unique rock formations and hard-to-reach beaches, Milos' landscape is unlike anywhere else found in the Cyclades. Its popularity has exploded so much so that figuring out where to stay in Milos can at times be tricky.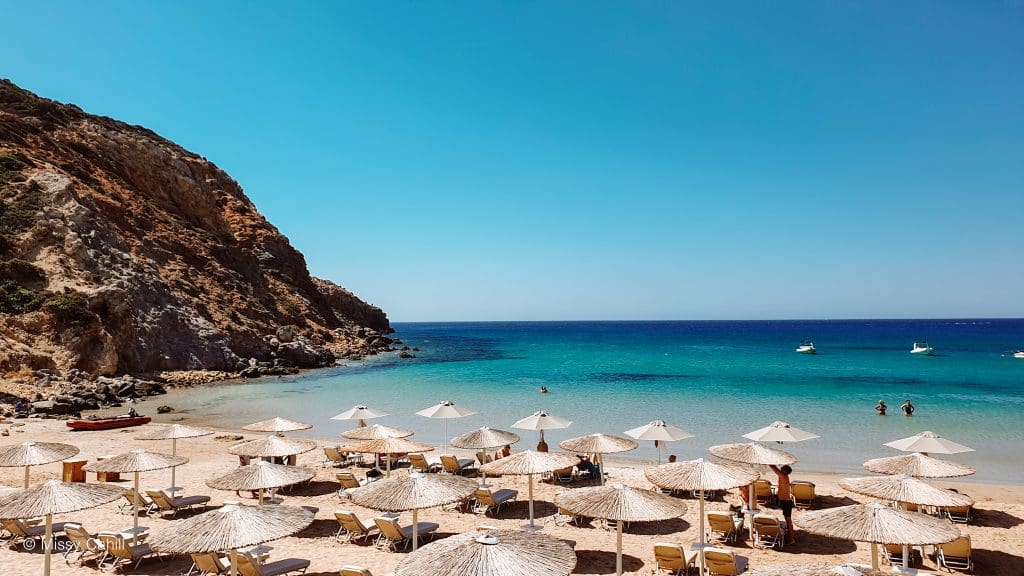 Its lunar landscape is where the infamous marble was used in creating Venus de Milo, the armless Greek goddess of Aphrodite. Its also quickly becoming one of the best places to visit, not only in Greece but in Europe. It's an island that has an excellent culinary scene, great cocktail bars, and over 30+ beaches. 
Whilst most people who visit the Cyclades head to Mykonos or Santorini, there is another crowd that forgoes the chaotic crowds and extraordinarily high prices and heads to islands such as Milos, Paros, or Sifnos for an escape from the maddening crowds. Those who journey to Milos will be rewarded with a sense of adventure and an island off the beaten path. 
The island of Milos is quite small and after figuring out where to stay in Milos you'll soon realize you'll never be too far away from a beach or restaurant. Most visitors tend to stay in the port area of Adamantas as the bulk of accommodation can be found in and around that area.
A personal favorite of mine is the small town of Pollonia which has great restaurants and a ferry that crosses to the smaller island of Kimolos throughout the day. 
Unique Airbnbs can be found in the form of former fishing huts that once belonged to the thriving fishing culture and fishermen whose lives depended on the profitable sea.
Nowadays in the small villages of Mandarakia and Klima, these fishing huts have been restored to stunning holiday homes which are some of the dreamiest rentals that sit on the water's edge in their multicolored buildings.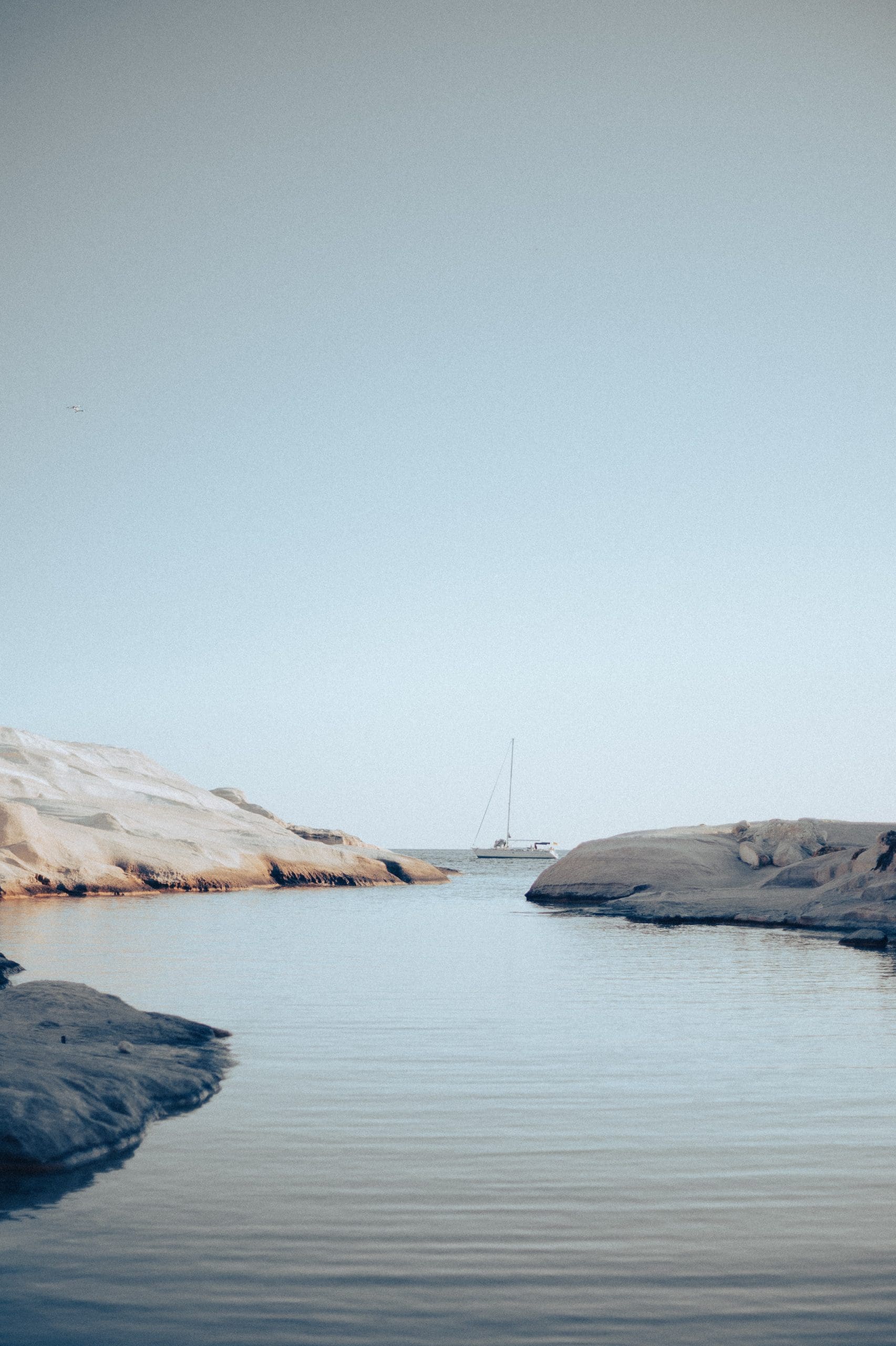 Because of the island's small nature, you can easily whizz around the island and hop from beach to beach with relative ease. The island of Milos is known for its incredible culinary scene and has excellent restaurants dotted in all the small towns and villages on the island. So whether you decide to stay in Pollonia or Mandrakia, you'll never be too far away from great restaurants and bars. 
Some of these may be affiliate links, which means when you buy something I may receive a small commission. There is no additional charge to you, and it really helps to support me – so thank you!
Where to Stay in Milos
Plaka
The main town of Milos sits perched atop a hill. Plaka is where visitors will spend their evenings wandering the side streets and watching the sunset from the epic viewpoint of the castle that sits perched at the top of Plaka town.
Cars are prohibited from entering the town and the only vehicles that are allowed in are scooters and bikes that can squeeze through the narrow streets of Plaka.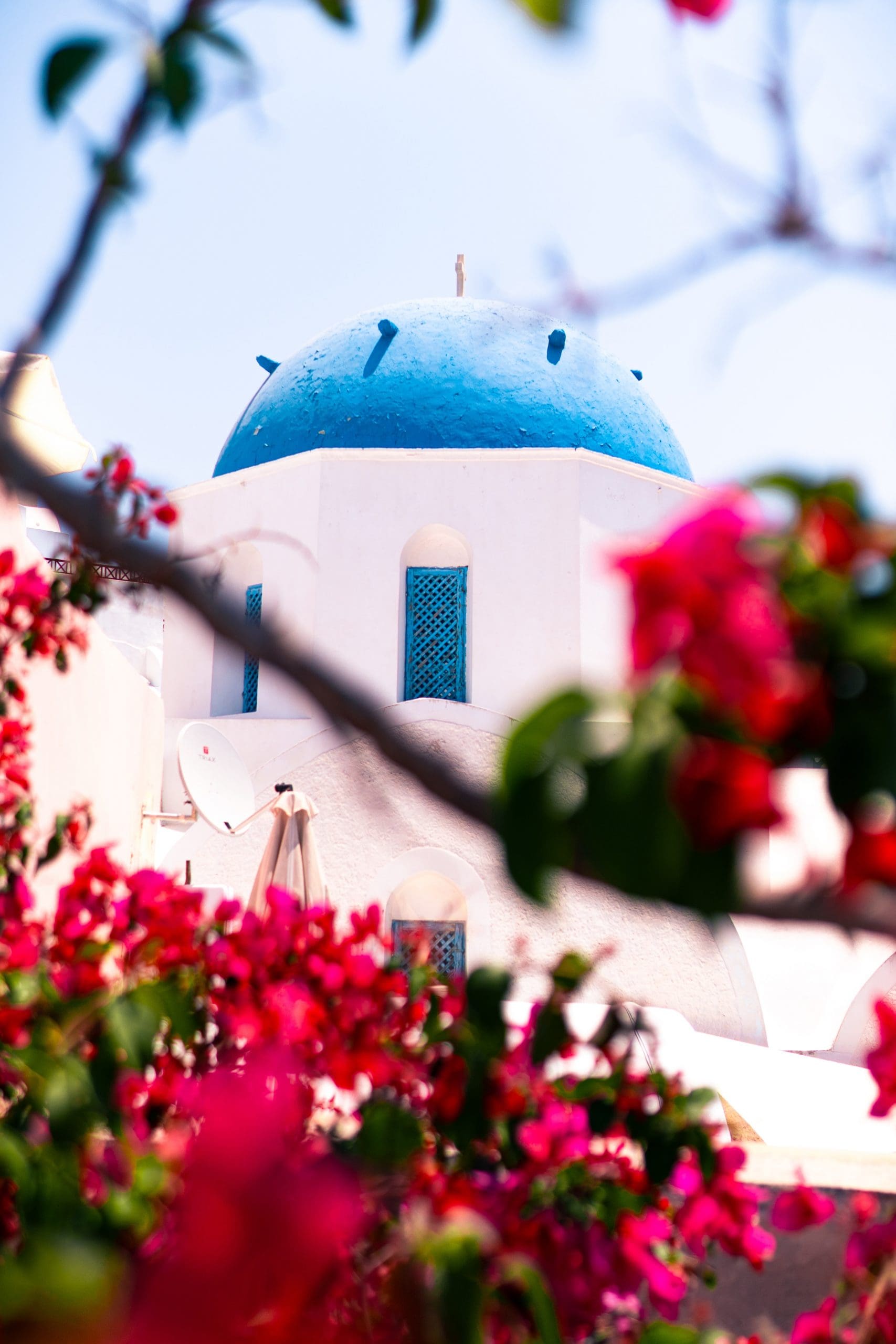 Plaka is a foodie paradise with a lot of fantastic restaurants to choose from. It's probably the busiest spot on the island in the evenings with people visiting for the sunset and a selection of restaurants. It's a great place to be based if you want everything on your doorstep and the beaches are only a short 10-minute drive away. 
If you loved the fishing village of Naoussa in Paros, then Plaka is where to stay in Milos for a similar mountain village that is bursting with bougainvillea and quaint stores.
Plaka Suites – Gorgeous and beautifully designed, Plaka Suites offer a variety of accommodations choices that have terraces or balconies with incredible views. For people who like to cook, each suite has a fridge and stovetop. The nearest beach is only 2 km away.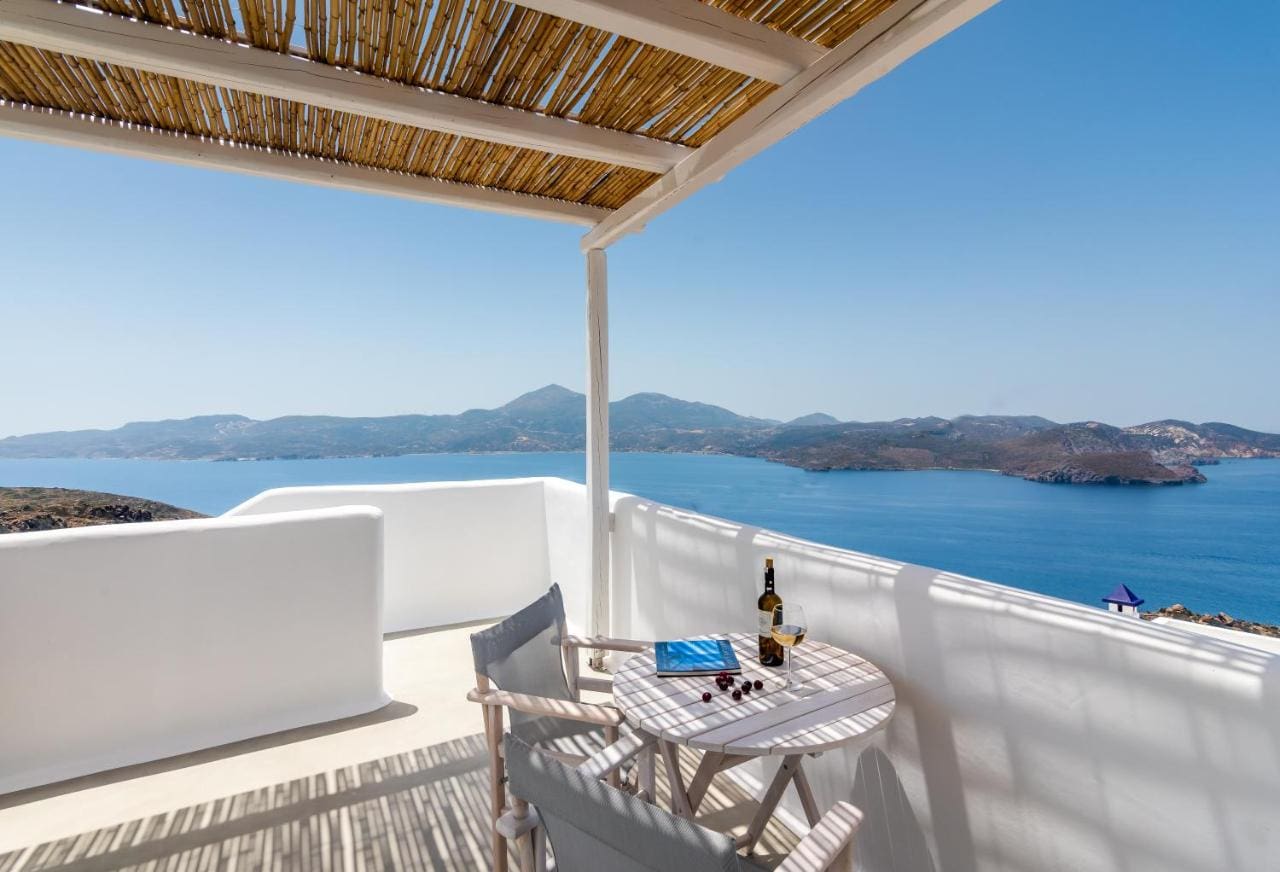 Studio Balkoni – Easily one of the most incredible and breathtaking views from the balcony I've ever seen, Studio Balkoni is an affordable option for visitors who want to enjoy the stunning views and be a short walk from the center of Plaka town. It's a small space but it's the views that win for me. You'll be blown away every time you open your balcony doors.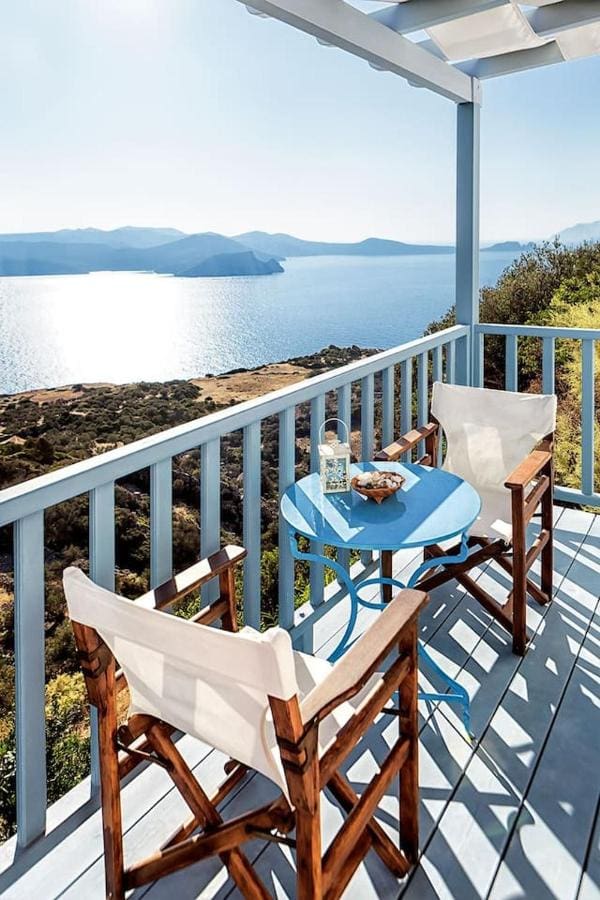 Adamantas
Most people who travel to Milos will arrive by ferry to the port of Adamantas (also written Adamas). It's a small port town with restaurants lining the seafront. A large concentration of accommodation and hotels is found in Adamantas.
Adamas is the most convenient if you are short on time or are reliant on the public buses that navigate routes around the island.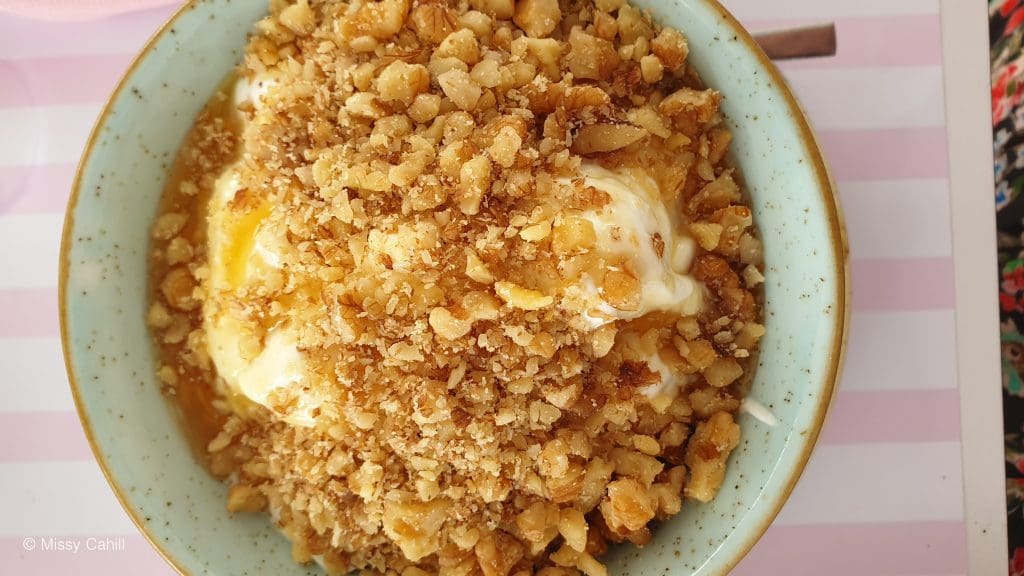 You'll find a small Mining museum a short walk from the center of town that documents the island's interesting history in mining and its maritime past. Located near the harbor is the 600-year-old Holy Trinity Church which has survived the ravages of time. 
Adamas is a great town to be based when figuring out where to stay in Milos for its accessibility to transport, restaurants and neighboring islands. Plus all sailing tours appear to depart from the marina in Adamas.
Santa Maria Village – A fabulous 4-star hotel with an incredible outdoor pool that overlooks the harbor, Santa Maria Village is one of the best luxury hotels in Adamas. Each room has been tastefully and thoughtfully decorated, and some include super balconies that have spectacular views across the island. It's a 10-minute walk to the marina.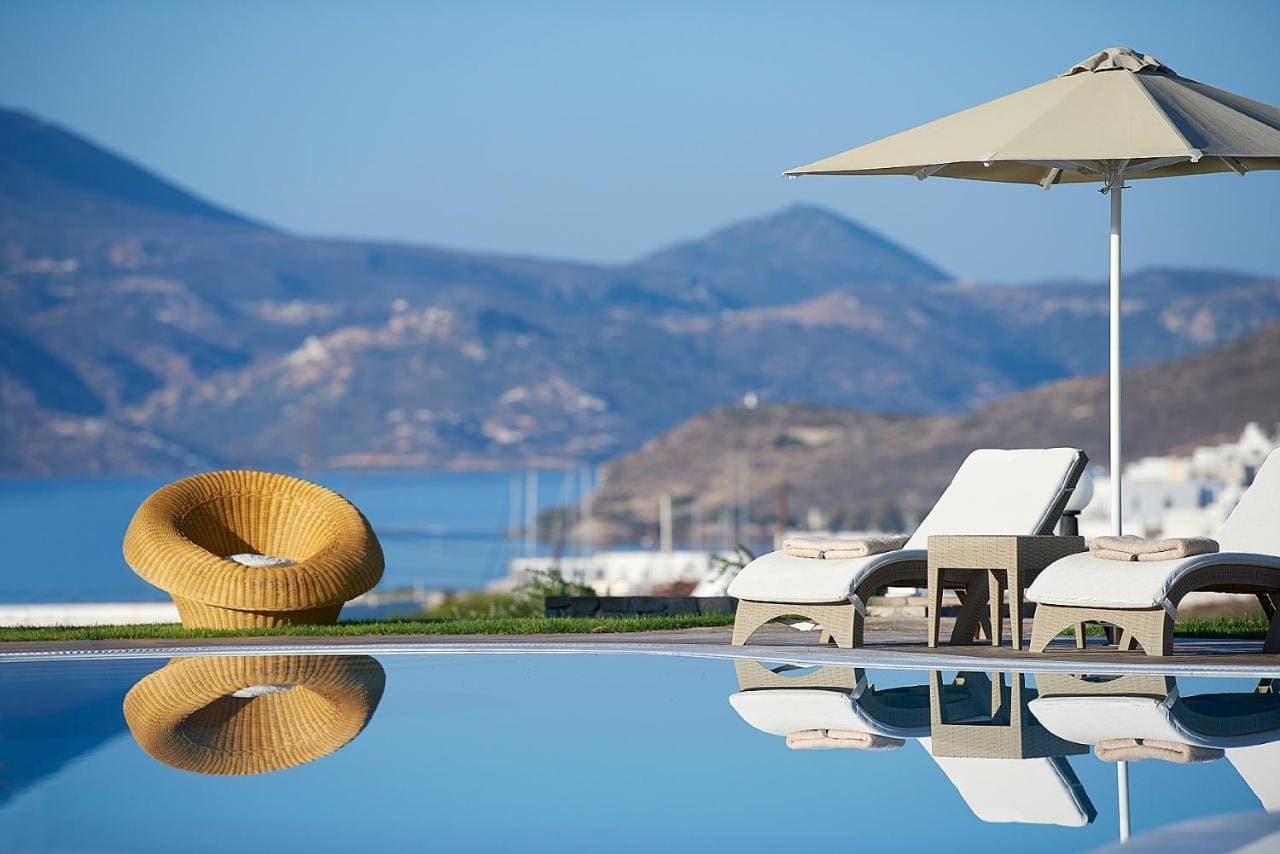 Aeolis Hotel – Family-run and budget-friendly, Aeolis Hotel is centrally located in the heart of Adamas town and is a 6-minute walk to the beach. Aeolis Hotel is perfect for visitors looking for easy access to the port and ferries on a short visit to the island of Milos.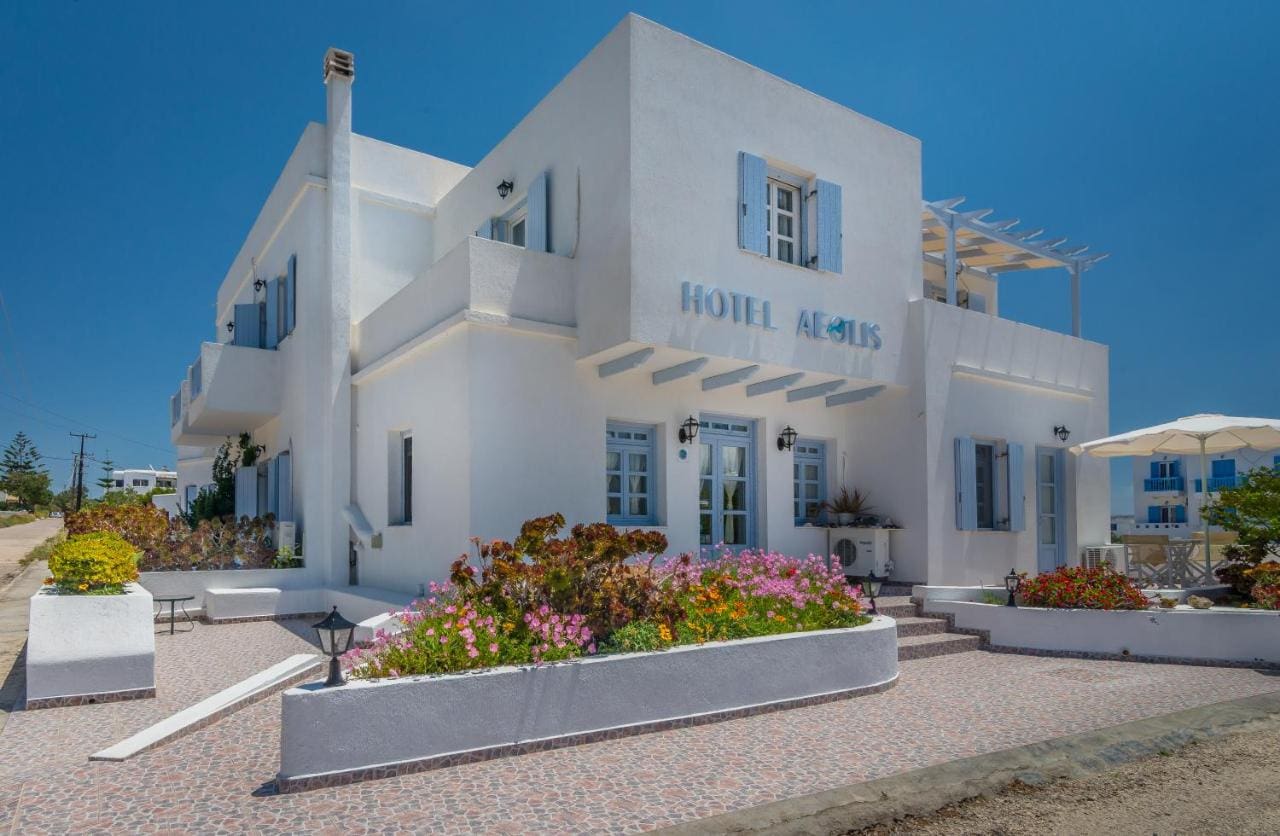 Klima
Klima is the sort of place where if I were writing a book I would hide away in the former fishermen's huts and write a novel about the sea and long-lost love. Magical in every sense of the word, it's almost hard to imagine a better view to wake up to each morning.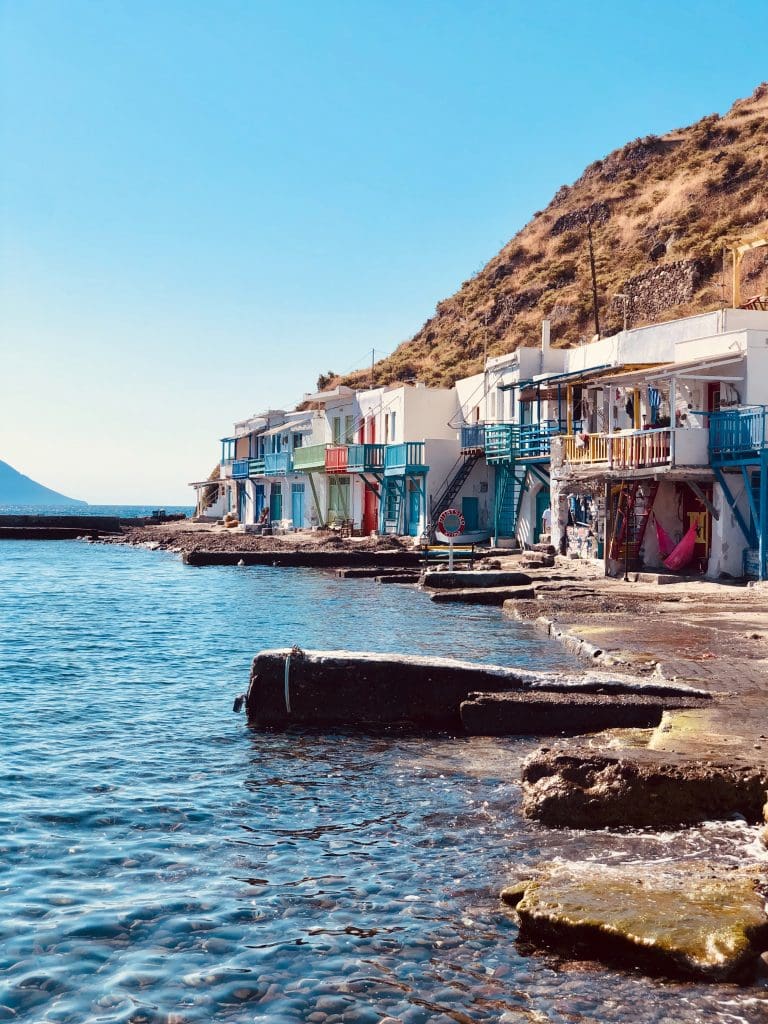 As you open the front doors of your home that once was a boathouse or Sirma in Greek, you will be greeted by the crystal clear blue waters of the sea lapping at your feet. Your evenings will be filled with the sounds of shallow waves breaking on the footpath as you watch the sunset over the Aegean Sea.
Klima almost feels like a dream, and if you are trying to decide where to stay in Milos where you can stay in accommodation that feels like you're living in romantic novel about Greece. Then Klima is the perfect place for your stay in Milos.
You don't need to be harboring a secret ambition to write a novel to be moved by the beauty of a place like Klima. If you've been seeking a retreat from the wider world, then you must explore the fantastic converted fishermen's boathouses in Klima for a once-in-a-lifetime experience.
Vasealis & Seafis Sirma Klima – Beautifully remastered, you can have your choice of the ground floor apartment that opens up directly onto the sea. Or a little bit more precious with the apartment upstairs that has a fantastic balcony overlooking the superb view. With beautiful interiors and modern amenities, Vasealis & Seafis Sirma Klima is a magical place to stay in Milos.
Dream Boathouse – This property calls to my very soul. The owner has retained a lot of the property's original features but bringing the former boathouse very much into the 21st century. A perfect place for a family of 4 to enjoy with bunk beds that have been built into the upper floors alcove. It is the main bedroom that is swoon-worthy with double doors that lead to a small balcony that overlooks the water.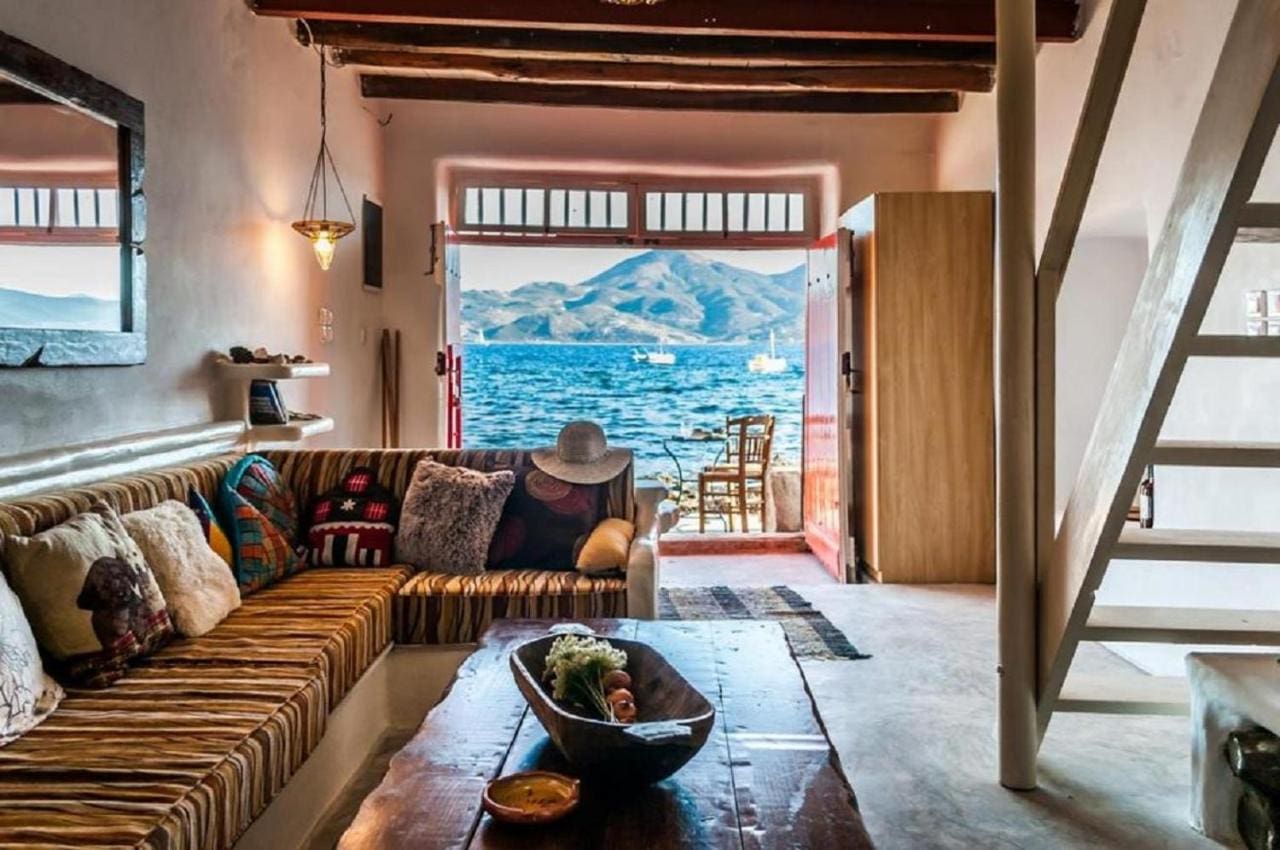 Trypiti
Trypiti sits just above the small town of Klima, less than a 2 km drive, and is the home to an ancient Roman Theatre as well as the famous Milos Catacombs. The Roman Theatre was only discovered in the late 18th century and hasn't fully been excavated yet. It's a fascinating piece of ancient history and is believed to have been able to seat up to 8000 people during the 1st to 4th century.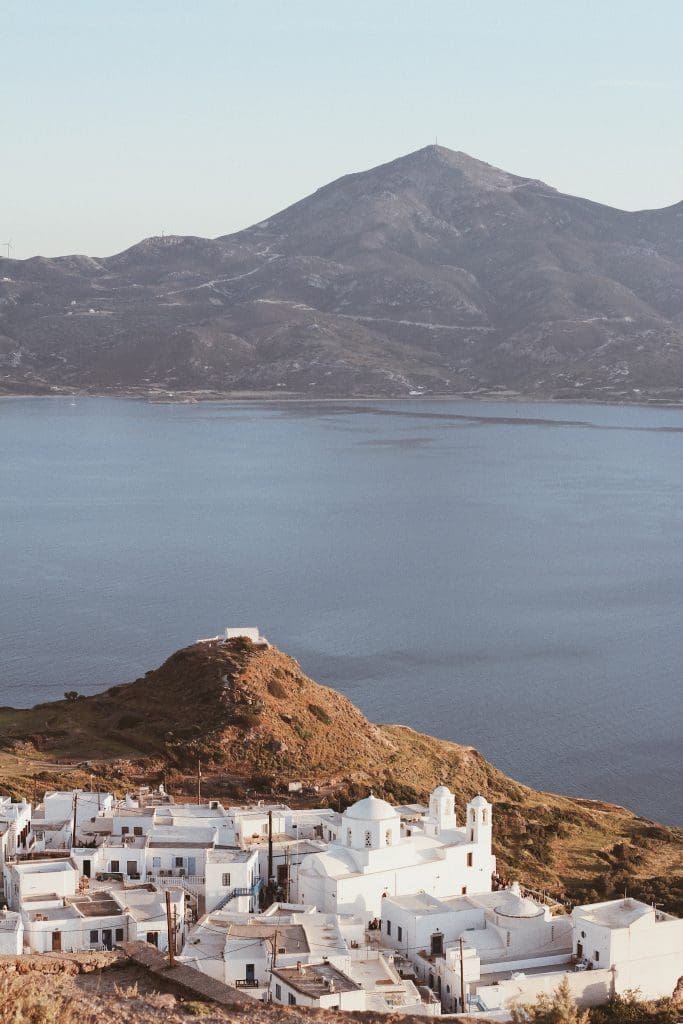 This part of Milos is also the former birthplace home of the Venus de Milo who was uncovered in the 19th century in a field near the town of Trypiti. She is now housed in the Louvre in Paris, but islanders are eager to return her to her former home and have started a petition to bring her back to Milos.
You'll find a good mix of accommodation choices in this area to stay in, from family-owned apartment rentals that offer fully equipped kitchenettes to beautifully restored windmills. The town of Trypiti is super for foodies as you'll find superb restaurants in the town itself and in nearby Plaka.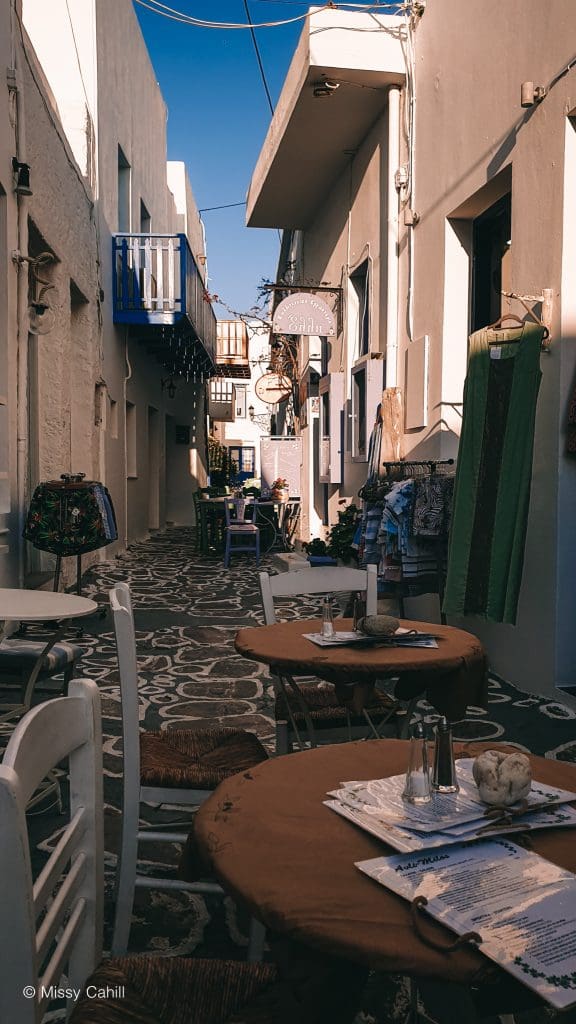 There may not be an abundance of accommodation to choose from in Trypiti but if you are looking for where to stay in Milos on a long-term budget, this is a good place to start.
Windmill Karamitsos – Staying in a windmill has to be one of those rare accommodation possibilities that you didn't know existed but now that you do, that's all you can think about? Or is that just me? Regardless of whether you've had staying in a windmill on your bucket list, consider adding the Windmill Karamitsos to your dream list. It's beautifully styled and retained so much of its original charm. With views over the beautiful surrounding countryside and sea, you'll feel like you have stepped back in time.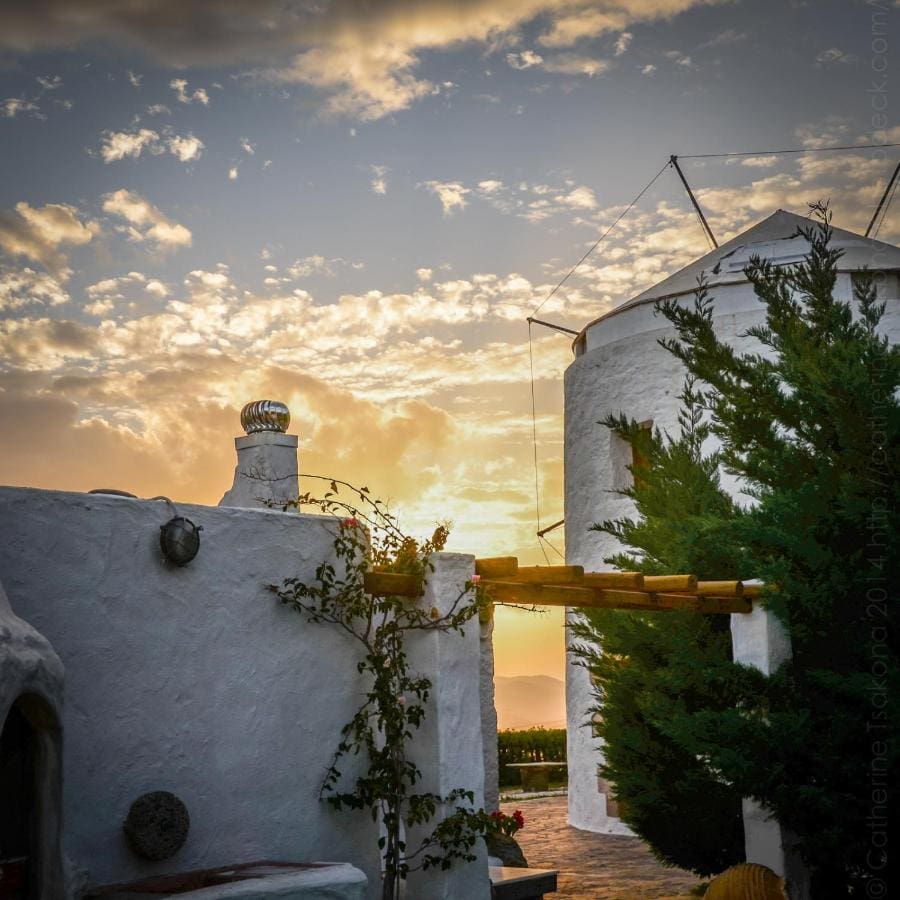 Deluxe Sunrise – A superb choice for a family to stay in this two-bedroom apartment that has a fully equipped kitchen and balcony with fantastic views. Close by to restaurants that are a short stroll from the property, you're near to shops, beaches, and transport.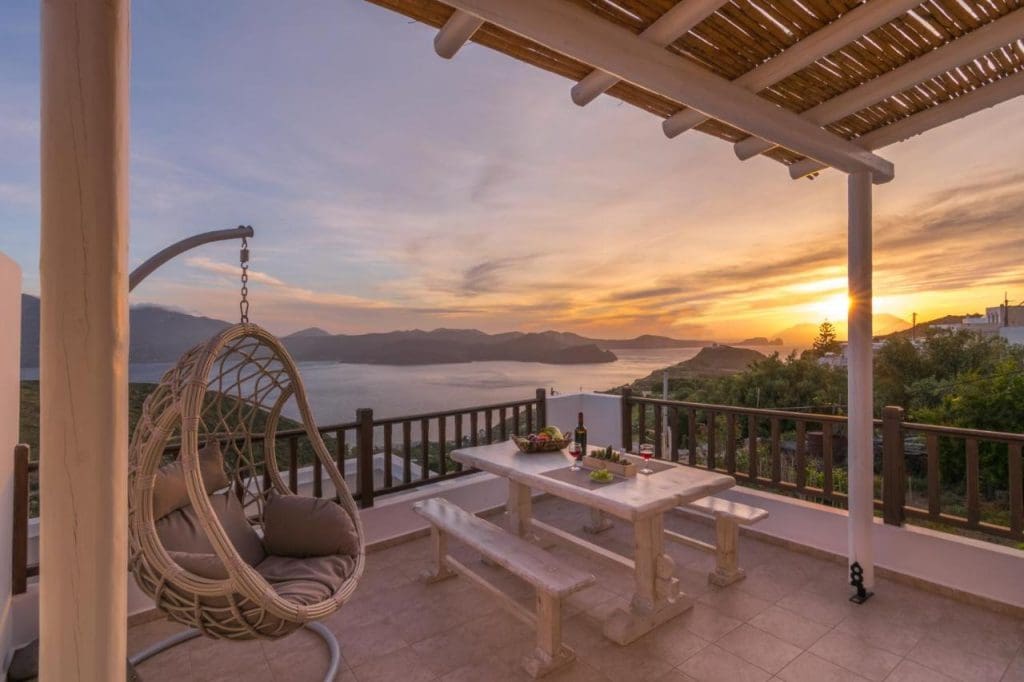 Mandrakia
Similar to the town of Klima, Mandrakia is a small village that has now become an important tourist destination because of its still active boathouse (Syrma's) that are still operational.
The difference between Klima and Mandrakia is that some of the boathouses are still used as, well, boathouses. Located on the peninsula of Mandrakia village you will find one of the most incredible restaurants on the entire island – Medusa. 
Mandrakia was without a shadow of a doubt my absolute favorite place on the entire island. When I was figuring out where to stay in Milos it ticked all the boxes for what I wanted in a vacation spot.
Immediate access to the water, tiny village feel, stunning scenery, and incredible food. And bonus points for the kittens that were everywhere.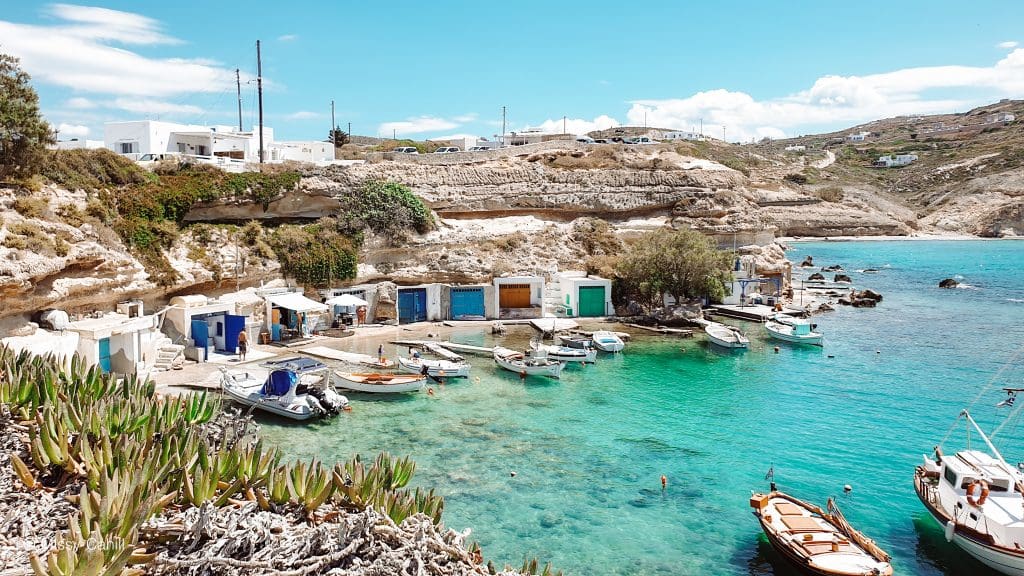 Medusa has one of the best restaurants on Milos with tables and chairs set up on the water's edge. It's incredibly charming throughout the day and more so in the evening. But it's not just its fabulous setting, but the quality ingredients on offer on its menu.
You'll find traditional Greek dishes on the menu but it is the standout freshly caught seafood that steals the show. Whatever the special is in Medusa, make sure to order it. You won't regret it.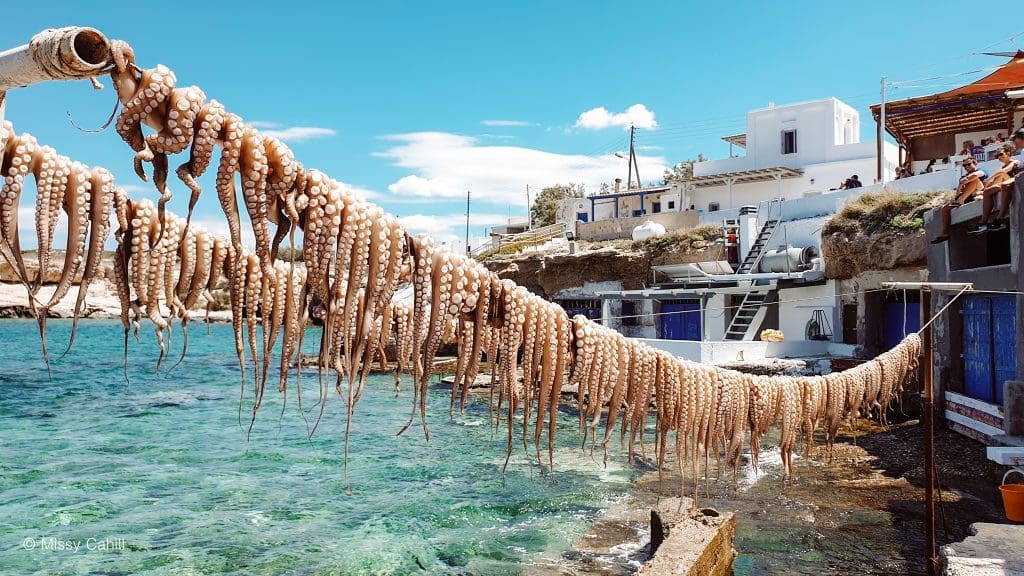 Milo Milo Suites – Perched above the small village of Mandrakia, Milo Milo Suites is a delightful boutique hotel that includes an outdoor swimming pool. The rooms are clean and modern with Cycladic influences running throughout the property.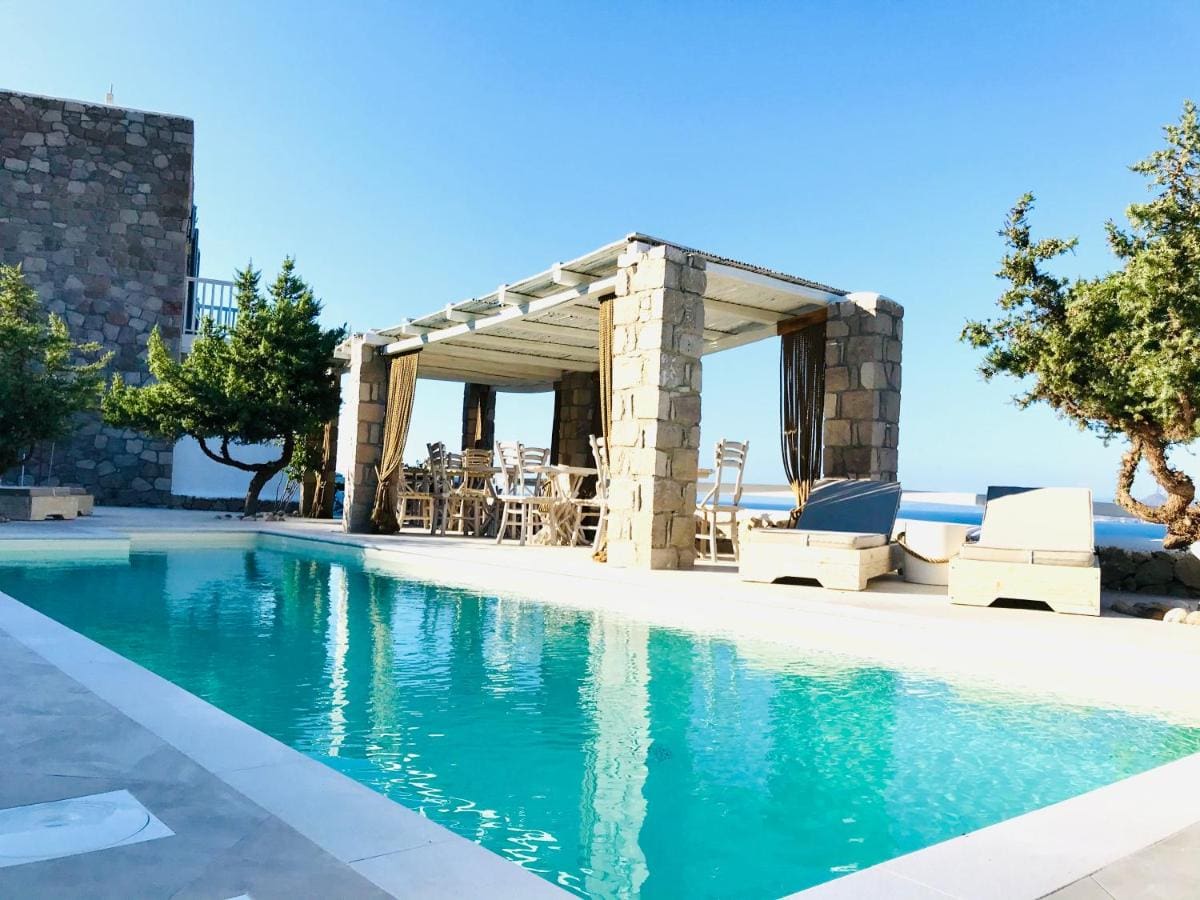 SeaScape Mandrakia – A superb small house that sits just above the water's edge of Mandrakia, SeaScape Mandrakia is a beautiful one-bedroom apartment in one of the loveliest spots on Milos.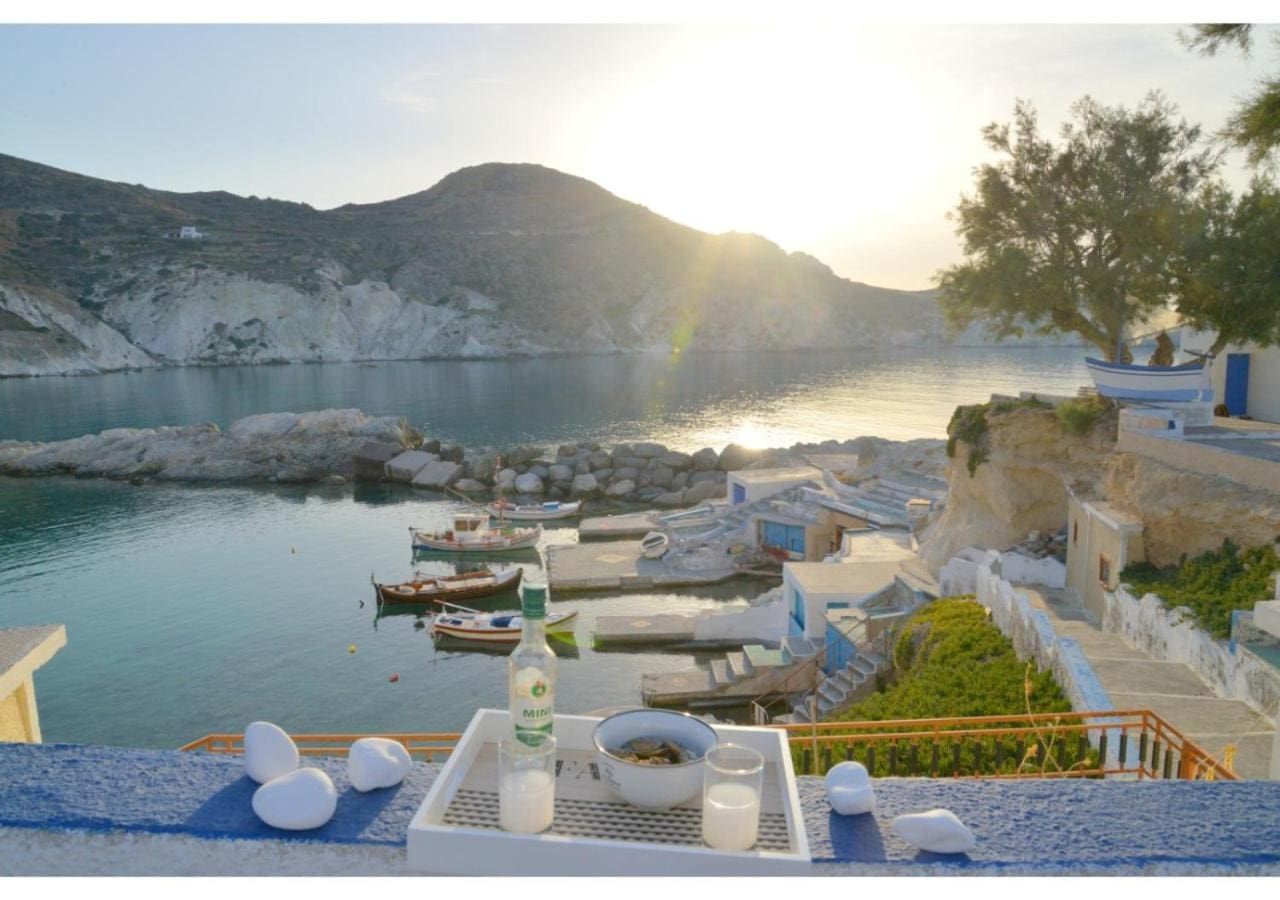 Pollonia
The town of Pollonia sits on the North-East coast of Milos and faces the smaller island of Kimolos. You can easily catch a local ferry that operates between the two islands throughout the day. Check the schedule here for departure times.
Pollonia is a firm favorite of visitors to Milos with its laid-back atmosphere, proximity to a pretty nice beach, and excellent restaurants and bars. It's a superb place to be based when deciding where to stay in Milos and my favorite town on the island. On the outskirts of town, you can spend an evening in the only winery on the island of Milos, Kostantakis Winery.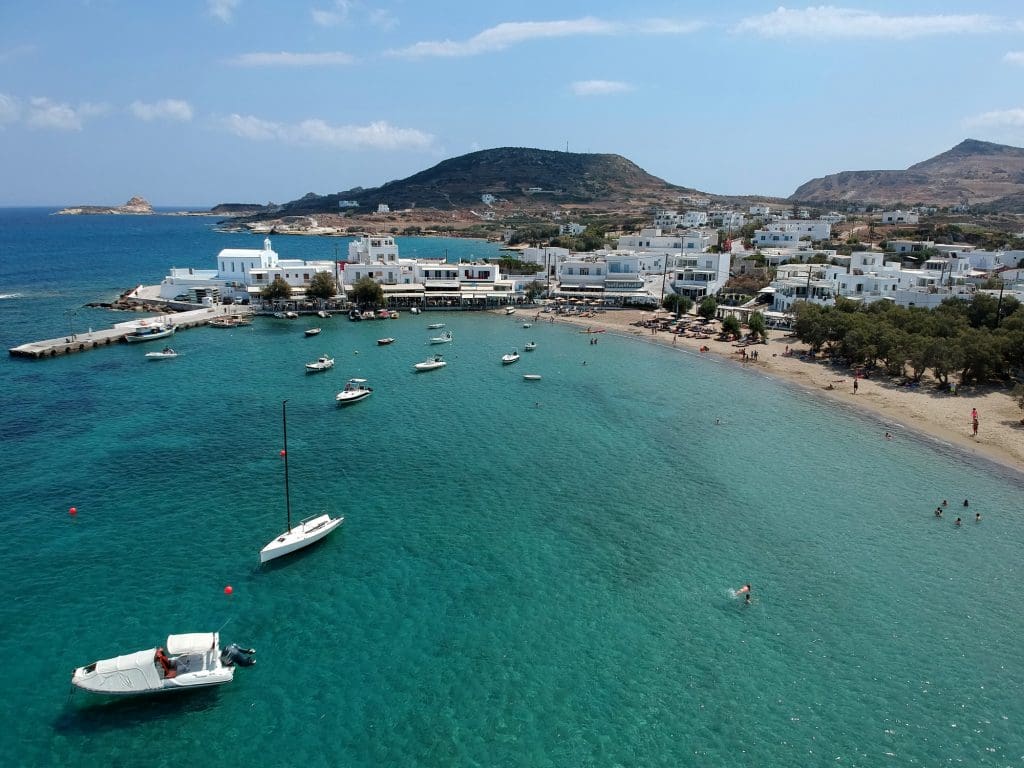 Pollonia's gentle beach is a pleasant way to spend an afternoon soaking up the sun and has plenty of shade from the trees that line it. There's a great selection of hotels in the area and you're not too far from the most famous beaches on Milos, Sarakiniko Beach & Papafragas Beach.
Captain Zeppos – Superb accommodation on Pollonia Beach, Captain Zeppos has a stunning pool and a private deck area with sun loungers that overlooks the sea. Captain Zeppos offers visitors the opportunity to experience luxury in a smaller setting where you will be rewarded with a truly memorable experience.
Delmar Apartments & Suites – Stylish and almost effortlessly timeless, Delmar Apartments and Suites are exquisitely designed with minimalism and comfort in mind. The spaces are large and have kitchens and fridges making this a fantastic place to base your stay.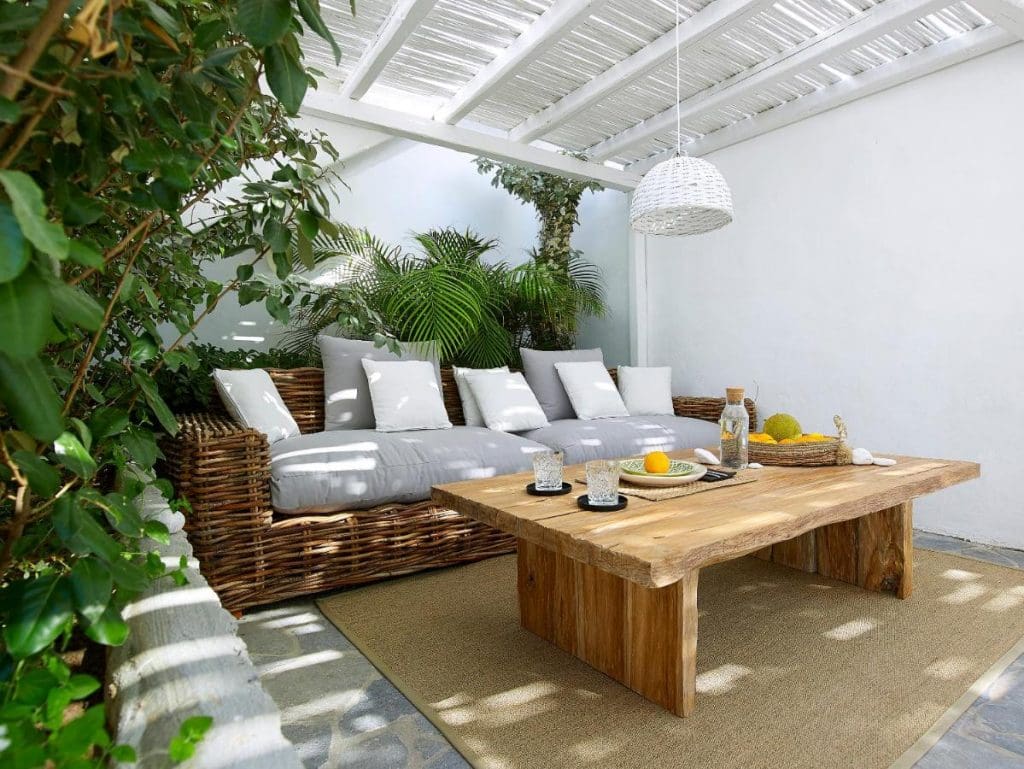 Where can I stay in Milos without a car?
If you've decided to stay in Milos without a car, the best place to base your stay would be in Adamantas (also written as Adamas) or Pollonia. These are two of the largest towns on the island and have a frequent bus service that serves the entire island.
Adamantas is also where ferries departing for other islands in the Cyclades will arrive and depart. In the evenings you can catch a local bus that will take you to Plaka or Trypiti where you will find a lot more restaurants and bars than in the town of Adamas.
There are a huge number of hotels and Airbnbs to choose from in both Adamantas and Pollonia so you will have a greater selection of choices than on the rest of the island. For ease and convenience, Adamantas makes a great place to stay without a car.
How long should I stay in Milos?
Milos is a really special island and can be visited in 1 day if you are short on time. You would not be doing yourself or the island any justice with such a short trip. There are so many fantastic places to discover on your visit to Milos.
From the numerous beaches that vary in lunar landscapes to the incredible restaurant and dining scene that draws many Athenians to the island, Milos is wildly varied.
The optimal amount of time that should be spent in Milos sits around 4-5 days.
Do I need a car in Milos Greece?
Milos has great bus service on the island, with the main bus terminal in Adamantas serving routes around the entire island. However, for the ultimate freedom and convenience, you should consider renting a car or a scooter to get around Milos.
The roads in Milos are good but do note that if you are unfamiliar with driving a manual car you might be better off renting an automatic scooter or ATV. Some parts of the island have deteriorated roads and are inaccessible by a regular car, but the rental company at pick up will advise you which parts of the island to avoid.
I always recommend using RentalCars for booking cars overseas. You can use the widget below to find the prices of car rental on Milos.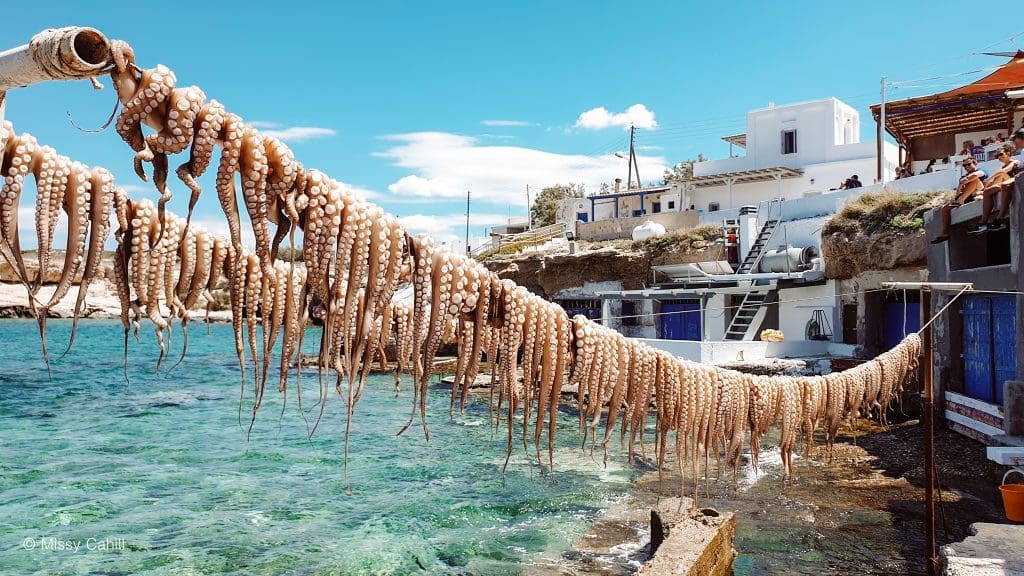 How do I get to Milos island?
Milos is one of the more accessible Cycladic Islands with its own airport that has daily connections with Athens International Airport.
Most people will arrive by ferry from either Athens or the neighboring islands.
Is Milos or Santorini better?
Milos and Santorini are two entirely different islands (duh!), in the sense that they couldn't be more different than one another. Santorini is all about romance and luxury accommodation. The hotels in Santorini are quite unlike anywhere else in Greece and of course, the views and landscape are out of this world outrageous.
Whereas Milos has a unique volcanic landscape, it challenges visitors with its beaches that are sometimes only accessible by ladder or by boat. It's a place where adventurous visitors will love the diversity of things to do, from jumping off the rocks at Sarakiniko Beach to exploring an abandoned sulfur mine at Thiorichia Beach.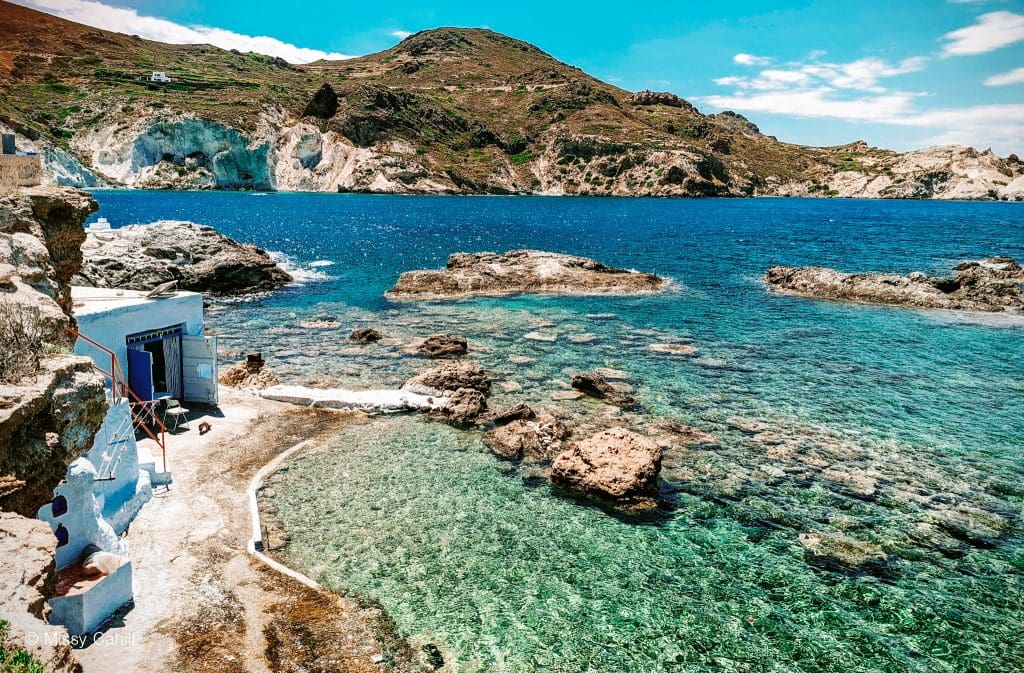 Milos has super accommodation choices from luxury hotels to family-run hotels and the prices are almost half of what you will expect from hotels in Santorini.
If you are looking for a romantic getaway and want to stay in a luxury hotel in Oia, then Santorini is the place for you. But if you are looking for great beaches, affordable hotels, superb restaurants, and a lot of fun activities then Milos is the island for you.