Discover the 14 Best Hotels in Naoussa Paros (2024)
Make no mistake, when you do discover Naoussa Paros, you will find it extremely difficult to eventually leave. It is one of those magical places where your version of Greece aligns completely with expectations. And with it being one of the best places on Paros, you'll also find some of the best hotels in Naoussa and on the island here too.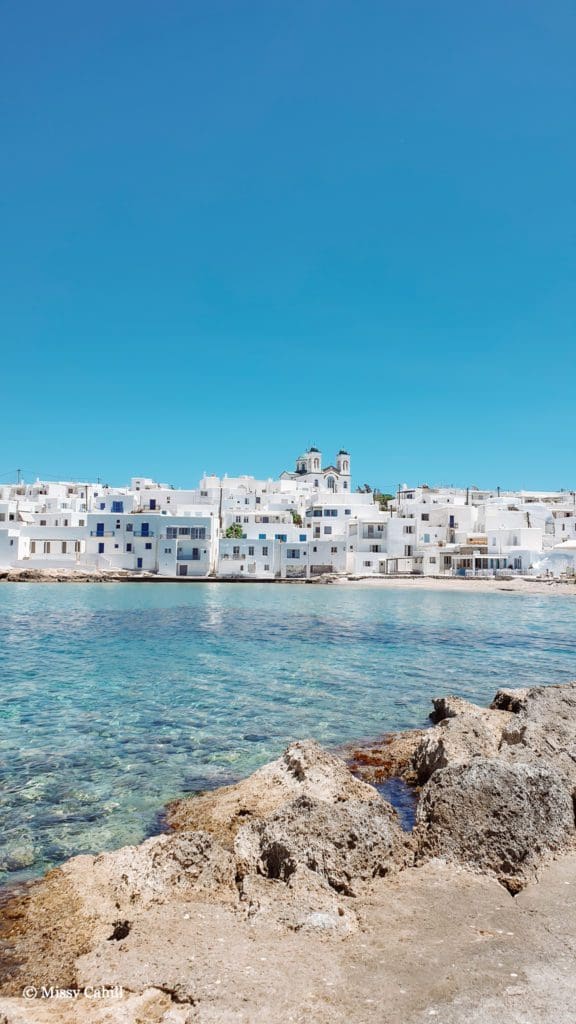 Naoussa, also written Naousa, is perfect for visitors who want to escape the chaos of Santorini and Mykonos.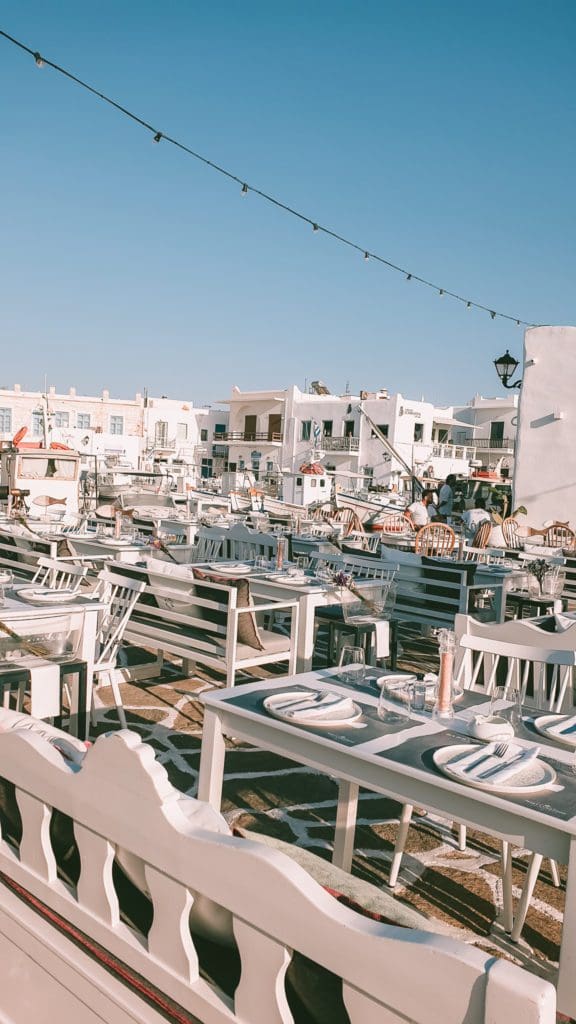 Naoussa still has incredible energy with bustling cocktail bars and a fantastic restaurant scene. The restaurants and bars that surround the small harbor are something out of a movie, almost as if you had stumbled across a film set.
The streets that meander behind the Naoussa harbor wind around the town with blossoming bougainvillea and quaint stores.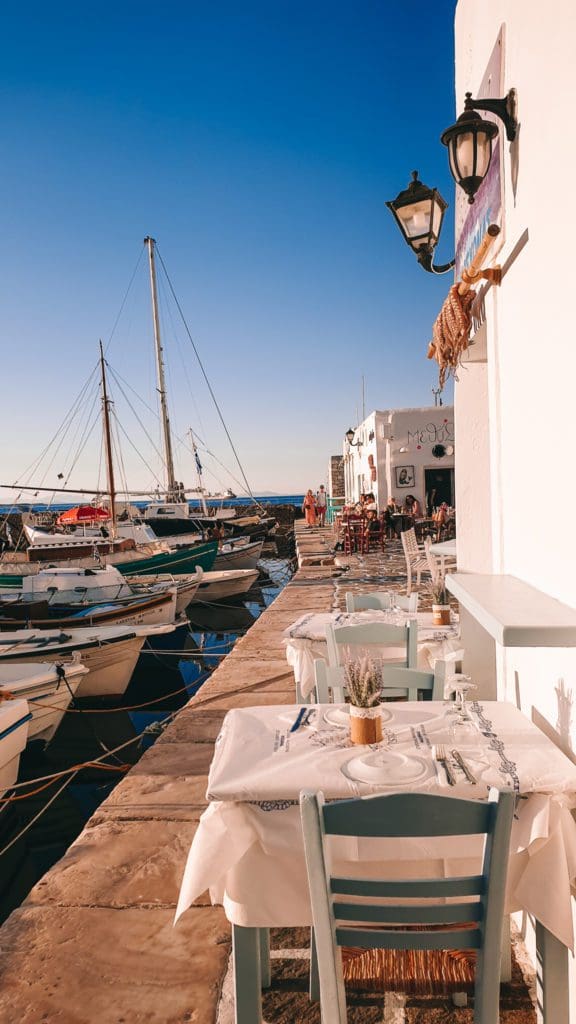 For such a small town, Naoussa offers a wide range of hotels and accommodation choices. Do you need a swimming pool? Or do you want your hotel to be a 1-minute walk to the beach?
Or perhaps you want to stay right in the heart of the town? I've got you covered. Naoussa has a fantastic selection of accommodations, so without further ado, here are some of the Best Hotels in Naoussa Paros.
[icon name="circle-exclamation" prefix="fas"] One thing to note is how expensive Naoussa has become since I originally wrote this post in 2021. The prices for a night in a hotel have jumped 3 times what they were in 2021 and in 2024 you can expect to pay a minimum of €500 for a 5-star hotel in July. A mid-range hotel in Naoussa has increased from around €150 a night to around €350.
Some of these may be affiliate links, which means when you buy something I may receive a small commission. There is no additional charge to you, and it really helps to support me – so thank you!
Discover the best hotels in Naoussa Paros
1. Mandaky Hotel
Steps away from the village of Naoussa, Mandaky Hotel is a fantastic choice for visitors who want to stay really close and be steps away from the action of Naoussa and are on looking for somewhere affordable to put their heads down for the night. The rooms are modestly furnished and small but really who cares when you're this close to the town right?
Prices start from €121 per night.
2. Adonis Hotel Studios and Apartments Naoussa
Adonis Hotel Studios and Apartments is the perfect Naoussa hotel for guests who love friendly staff and elegant rooms at affordable prices. The staff at Adonis were so helpful and kind during our stay, they remembered our favorite drinks and always loved to have a quick chat about our plans for the day.
We stayed in the Deluxe Room with Hydromassage, one of the newer renovated rooms and it was absolute bliss. We loved having a large patio area for the evenings where we soaked up the end of the day after a day exploring the island or hanging out on the beach. It's also a quick minute walk to the beach.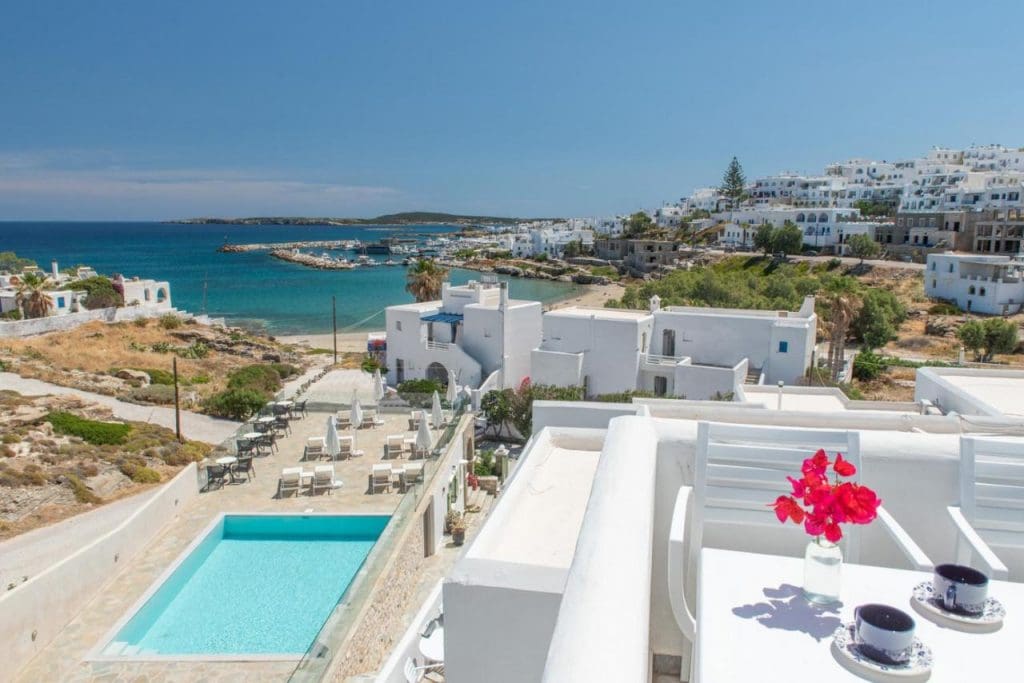 The hotel is around a 7-minute walk from the center of Naoussa and on a relatively flat road. The road was in pretty poor shape from my last visit, so those with mobility issues may find it challenging.
We noticed a lot of people seemed to take their ATVs at night into town but it's a very walkable route. Adonis Hotel Studios is one of the best hotels in Naoussa Paros in terms of value for money and comfort.
Prices start from €180 – €300 per night depending on the month
3. Saint Andrea Seaside Resort
Saint Andrea Seaside Resort is one of the few 4-star hotels in Naoussa, located just outside town. Featuring a large pool and views of Naoussa Bay, you are within a short drive to Kolymbithres Beach or Monastiri Beach.
There are 56 rooms and suites and a fantastic pool. It is a 20 walk into the town on Naoussa, so a car or ATV would be recommended when staying here. There are very few pathways found in Paros to walk safely on.
Prices start from €345 per night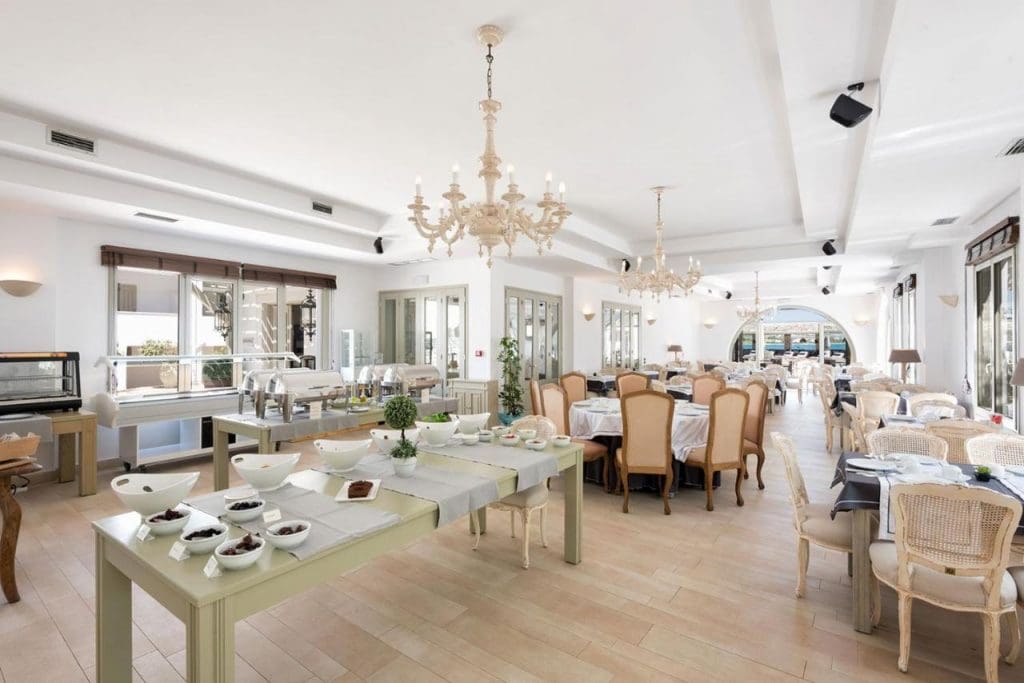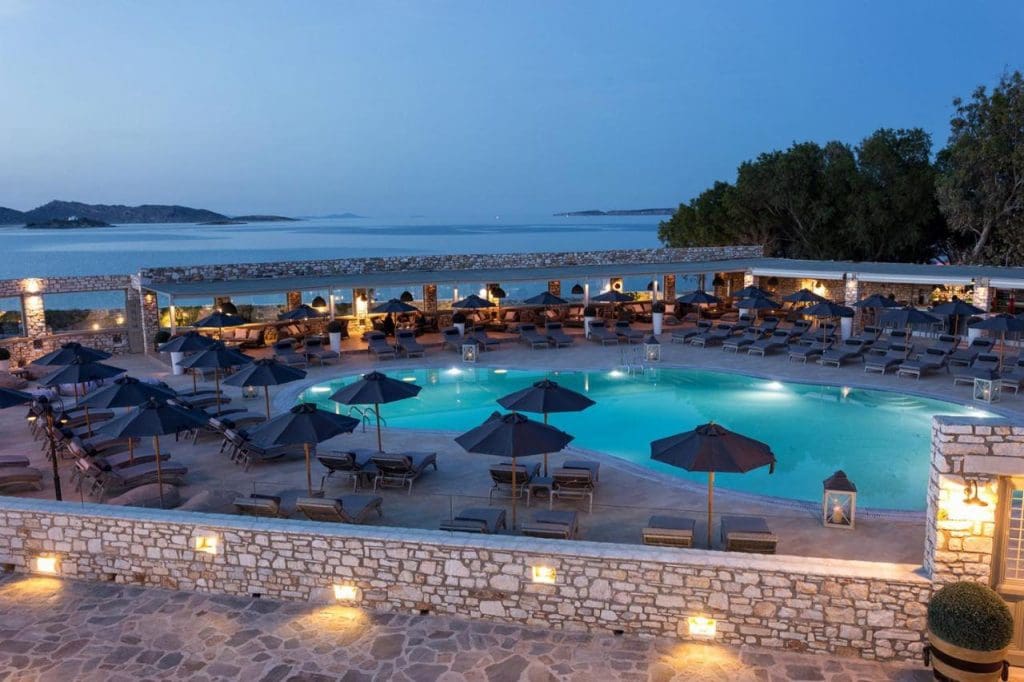 4. Sandaya Luxury Suites Naoussa
Sandaya Luxury Suites Naoussa is a boutique hotel with its sister hotel Bohemian Luxury Suites located more centrally in Naoussa town. I loved this hotel for a number of reasons, they had a small swim-up bar, it felt like we had stepped straight into a Bali villa and they offered lots of different services.
Sandaya Luxury Suites also have rooms that include hot tubs and each room is stunningly designed with a bohemian vibe. They also offer car rental through the hotel with their own Fiat 500, which you can rent for a daily charge.
Prices start from €250 – €350 per night.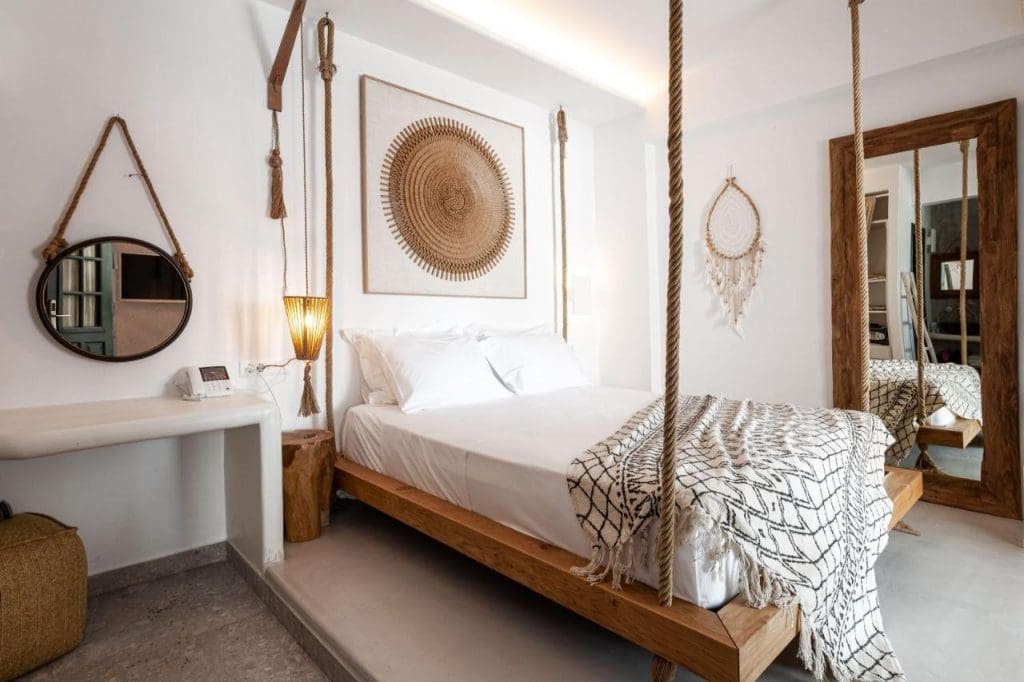 5. Parillo Hotel Paros
Set 2.2km outside of the village of Naoussa, Parillo Hotel Paros is the hotel to stay in for 5-star luxury. Featured in the likes of Conde Nest Traveler Magazine, Parillo Hotel Paros is the ultimate high-end stay.
With 33 luxury suites, which were created by a talented Athenian Architecture firm you can spend your days by the pool which is designed in a cross shape, or in their spa.
The close proximity to either Kolymbithres or Monastiri beach are only a short drive away. Parillos Hotel Paros was recently voted one of the best hotels in Naoussa Paros to stay in by Lonely Planet.
Prices start at €500 – €800 per night.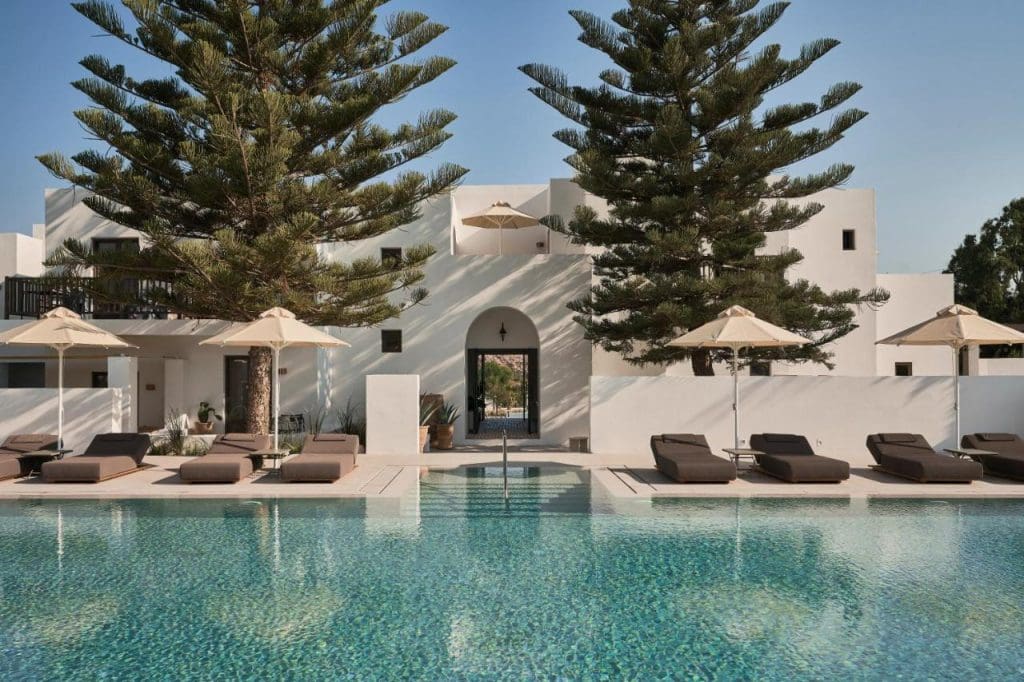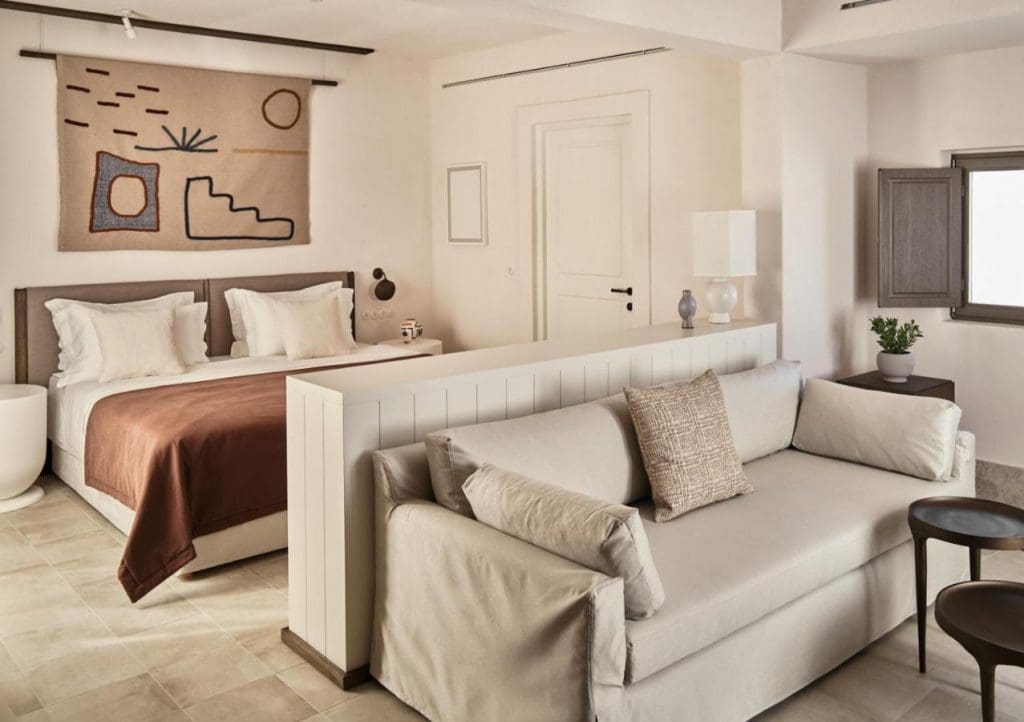 6. Cove Paros
If you've always wanted to stay in a resort so luxurious that they rake the sand each morning before guests arise, then Cove Paros is the hotel for you. Exquisitely decorated, prepare to spend your days lounging by the dreamy pool, before ending your day at Agioi Anargyroi Beach.
The resort of Cove Paros is so serene that you may struggle to leave the hotel completely. But if you must leave the hotel, it's only a 10-minute walk into the center of Naoussa. Cove Paros is considered to be of the best hotels in Naoussa Paros.
Prices start from €500 – €850 per night.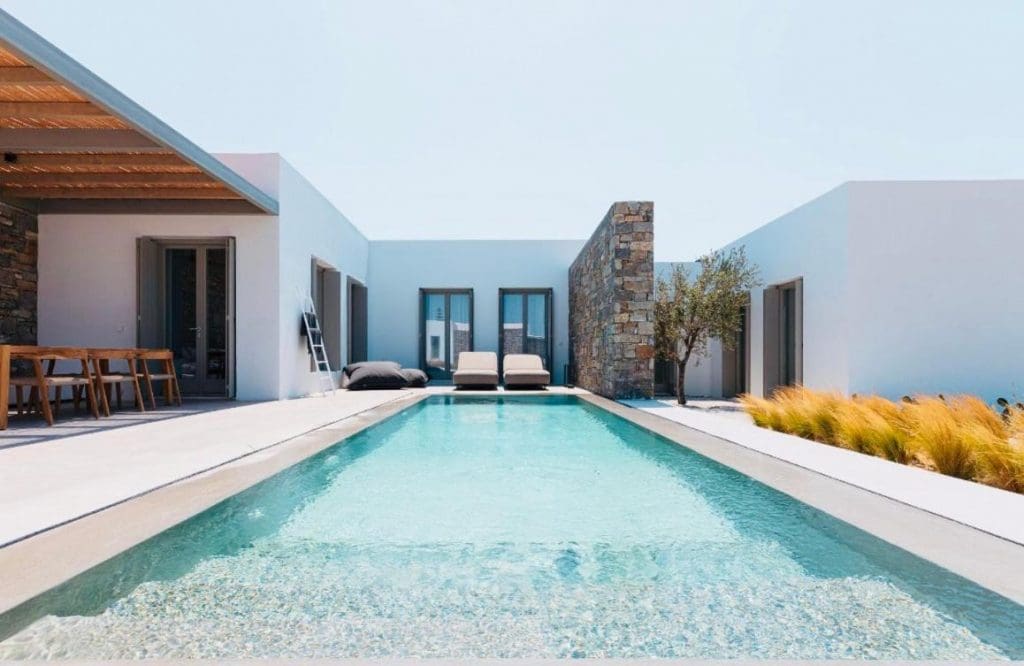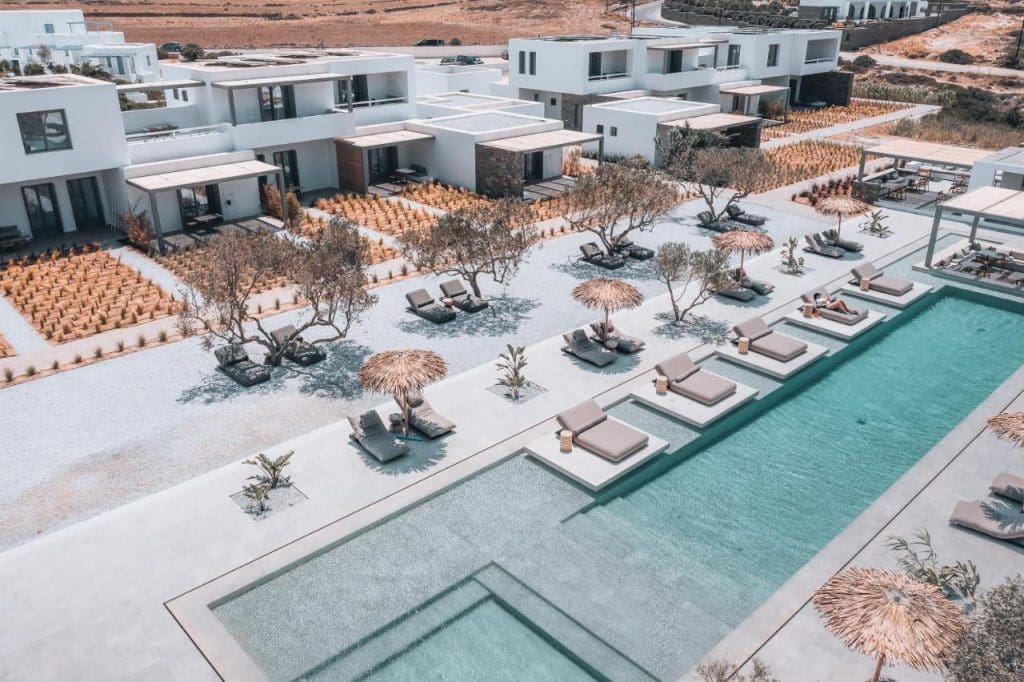 7. Hotel Senia
Hotel Senia's close proximity to the town, but also its views over the seafront are just some of the reasons to book a stay. Located only 200m from the town of Naoussa, and boasting two pools, of which one is a heated pool means that guests can enjoy swimming year-round.
Each room in Hotel Senia is beautifully decorated in traditional Cycladic style and some rooms include a hot tub. Hotel Senia also has a small sauna, and most importantly has a pool bar. Hotel Senia's location offers wonderful views over the bay and you can enjoy watching sunsets from your private balcony.
Prices start from €340 – €450 per night.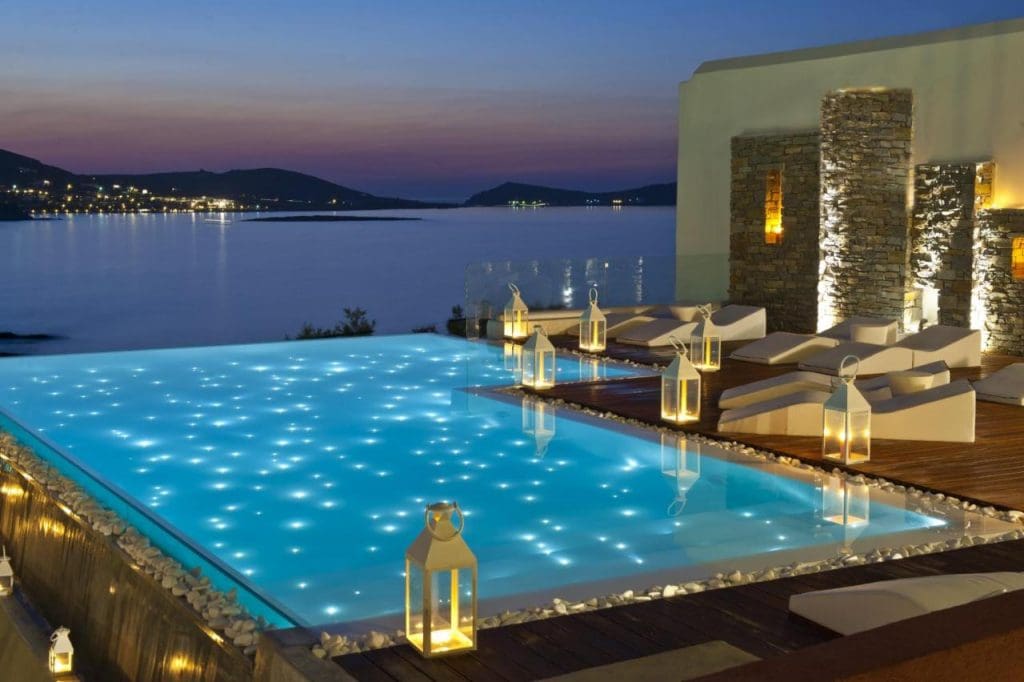 8. Bohemian Luxury Boutique Hotel, Adults Only
There are many reasons to love your stay in the Bohemian Luxury Boutique Hotel. It could be that as you step foot from the front door of the hotel, you are immediately in the town of Naoussa.
Or perhaps its the stunning decor in the hotel rooms? Or maybe its the fact that you can watch sunsets from the hotel (albeit small) pool or even pool bar.
It's perhaps all those things and more, because Bohemian Luxury Boutique Hotel is one of those places that make you feel instantly right in the mix of things.
And the great thing about that, is that nothing is too far away from you and your relaxing stay, which makes Bohemian Luxury Boutique Hotel one of the best hotels in Naoussa Paros.
Prices start from €300 – €500 per night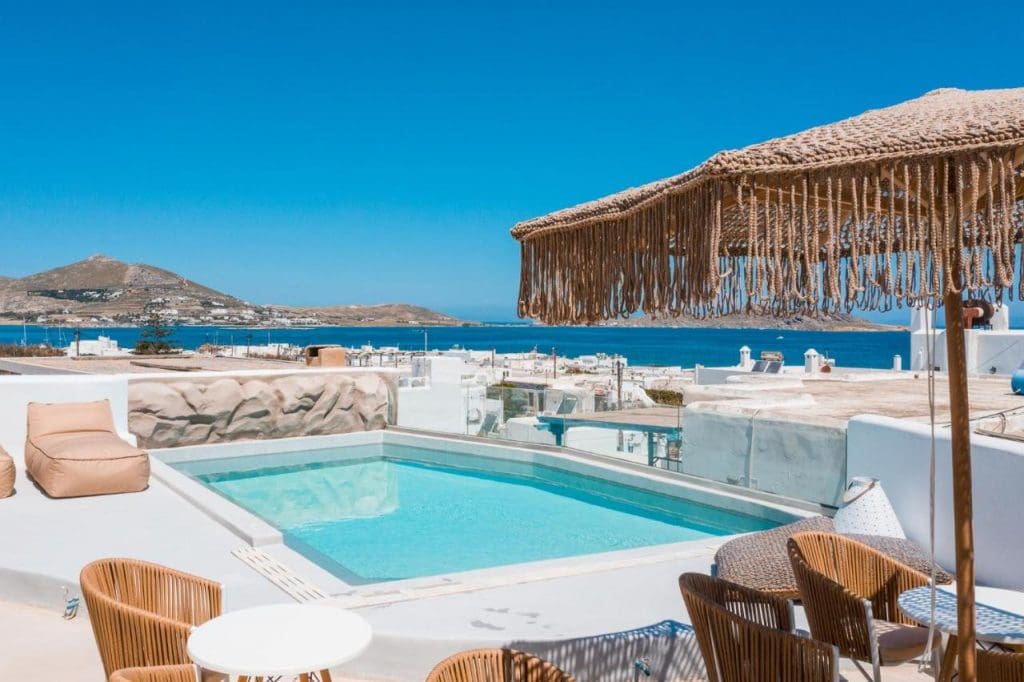 9. Potami Home by Rocks Estates
Potami Home is a short walk to Piperi Beach and a recent addition to the long list of accommodation choices in Naoussa. This is the vacation home of dreams. With 2 bedrooms, the apartment can sleep 4 adults.
It has an enormous terrace that overlooks the beach, with a BBQ and hot tub hidden out of sight. The incredible interiors of Potami Home are reminiscent of Cycladic design, with curves winding their way around the apartment.
Potami Home is a dream apartment, with close proximity to beaches and the town of Naoussa.
Prices start from €350 – €700 per night.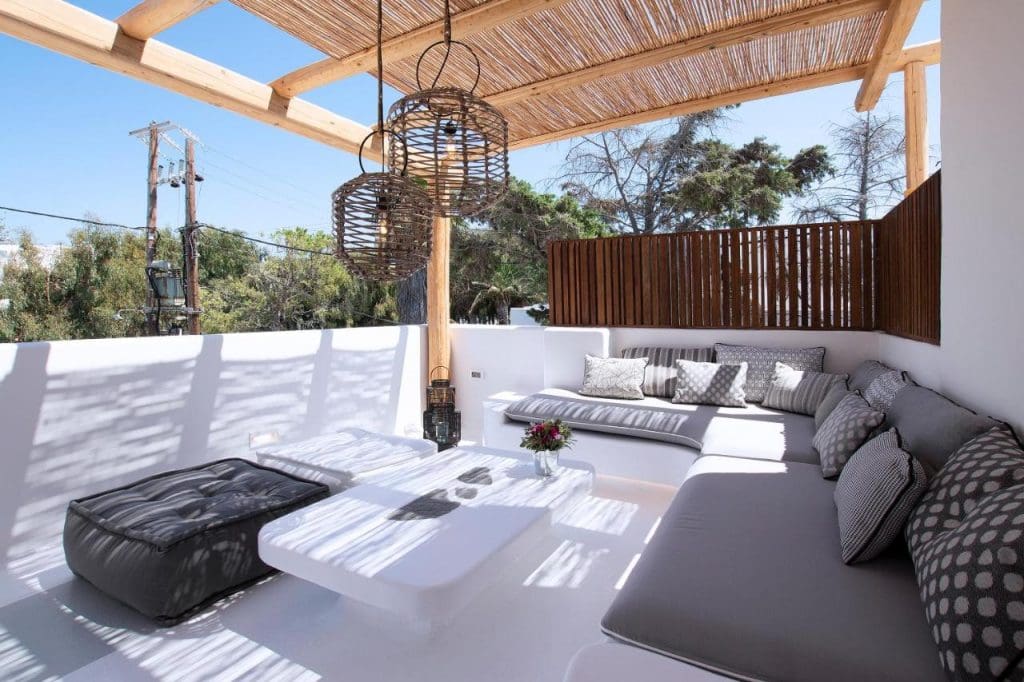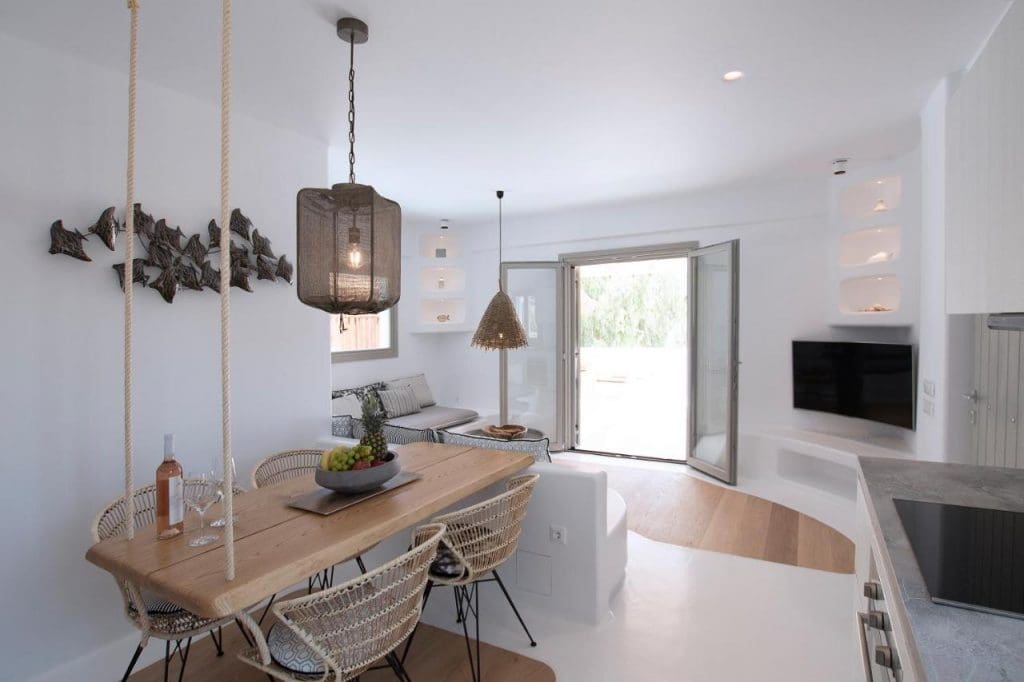 10. Phos Home by Rocks Estates
Phos Home, a three bedroom apartment is steps from the main town of Naoussa making this a perfect place for friends and family to rent.
The apartment boasts a huge terrace and sunken hot tub. Much like the apartment Potami Home, the decor is stunning and Instagram worthy.
Phos Home would make a perfect apartment rental for those who want to hang out in a stunning terrace that begs to be used, as well as a fancy BBQ.
The fully equipped kitchen means you can grab baked goodies from Ragnoussi Bakery which is a short stroll away, and enjoy breakfast on the sublime terrace.
Prices start from €500 – €850 per night.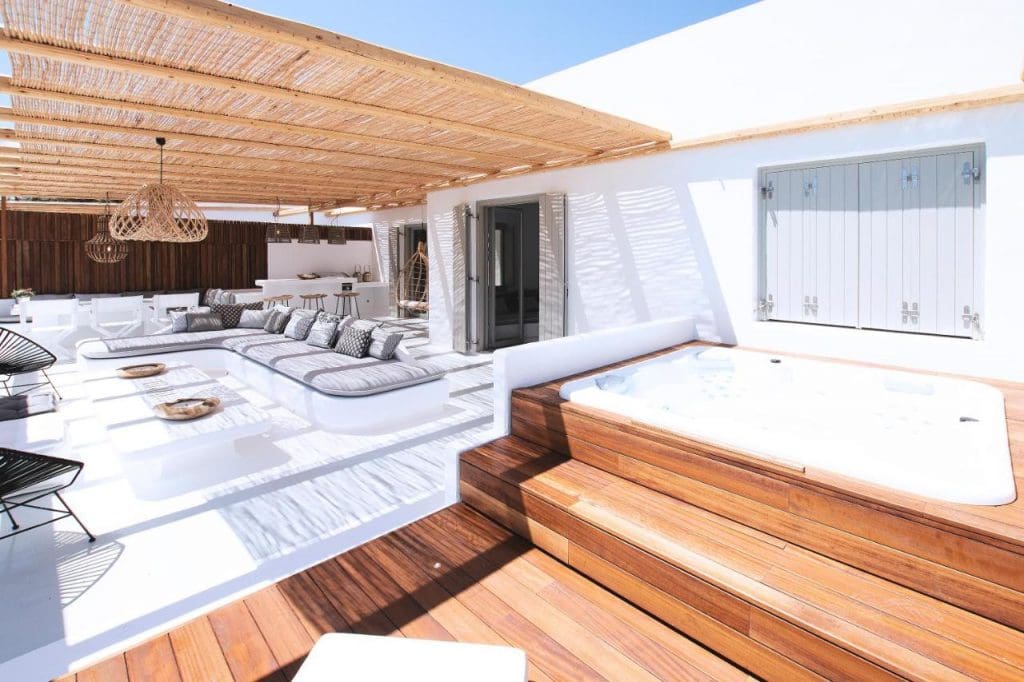 11. Oikies
With two apartments and small plunge pools in both accommodations, Oikies makes a fantastic choice for those looking for a home away from home. With a fully functioning kitchen and wonderful balconies that have stunning views over the Paros countryside, you can watch magnificent sunsets from the comfort of your personal hot tub.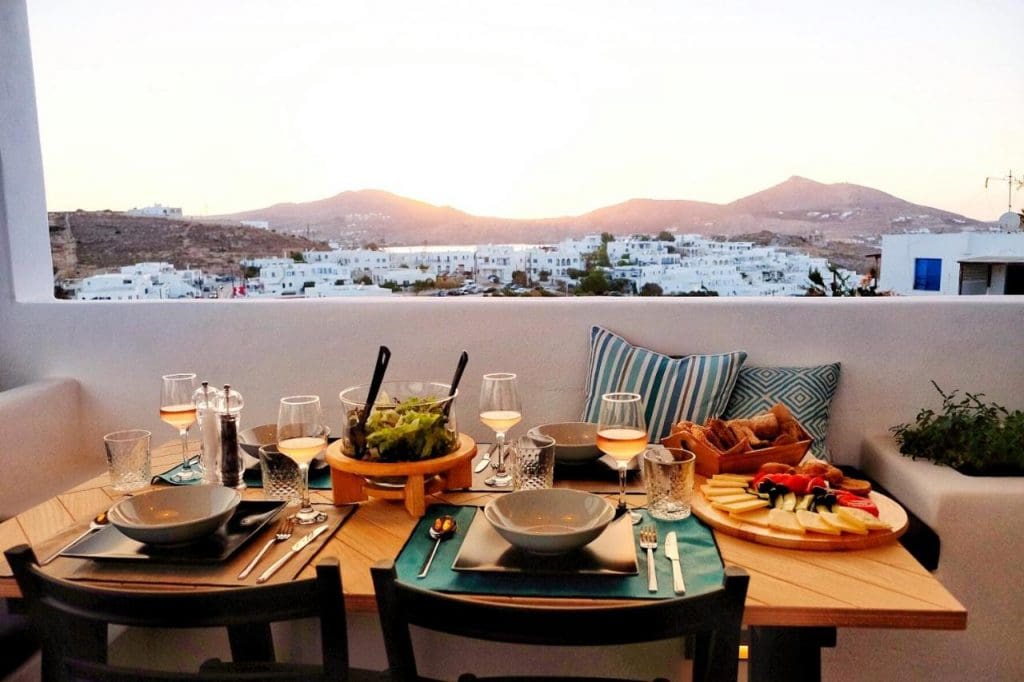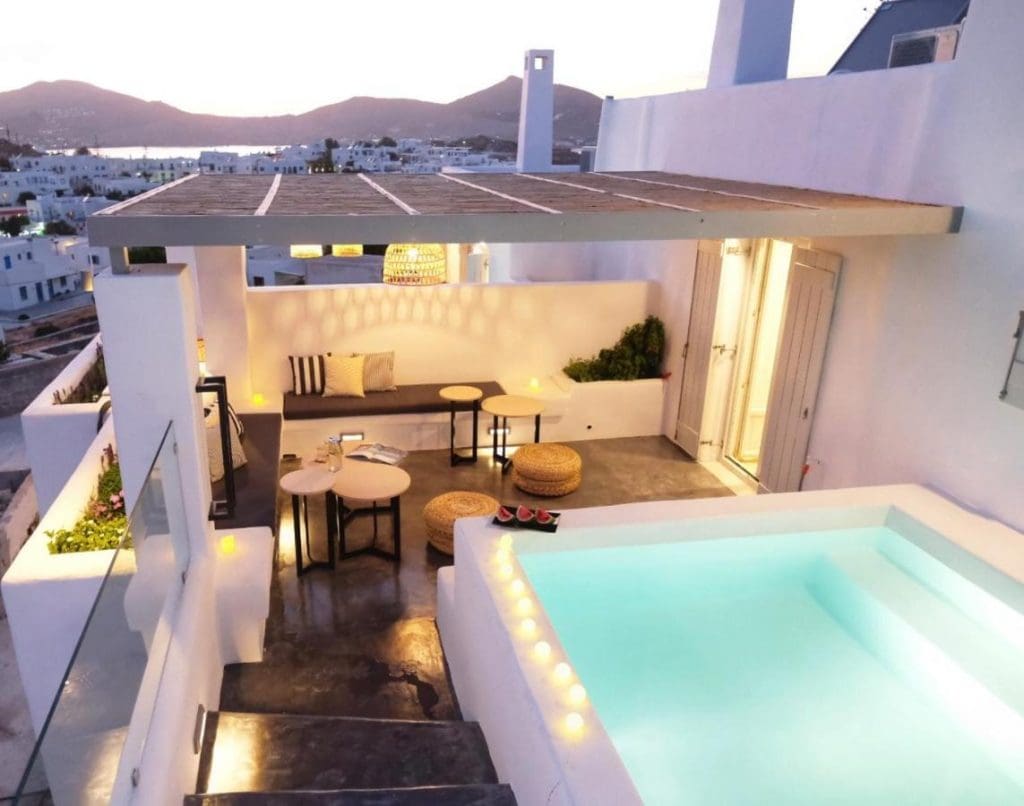 12. Central Boutique Hotel by Naoussa Hills Adults Only
If you are looking for an adults-only hotel then Central Boutique Hotel is a lovely 4-star hotel a short 10-minute walk from Naoussa. Each unit has a balcony or terrace and there is a large pool in the center of the complex.
The standout star of the hotel room has to be the marble bathrooms, which are spacious. The rooms are beautifully decorated and the hotel is small and intimate, with the staff being warm and welcoming.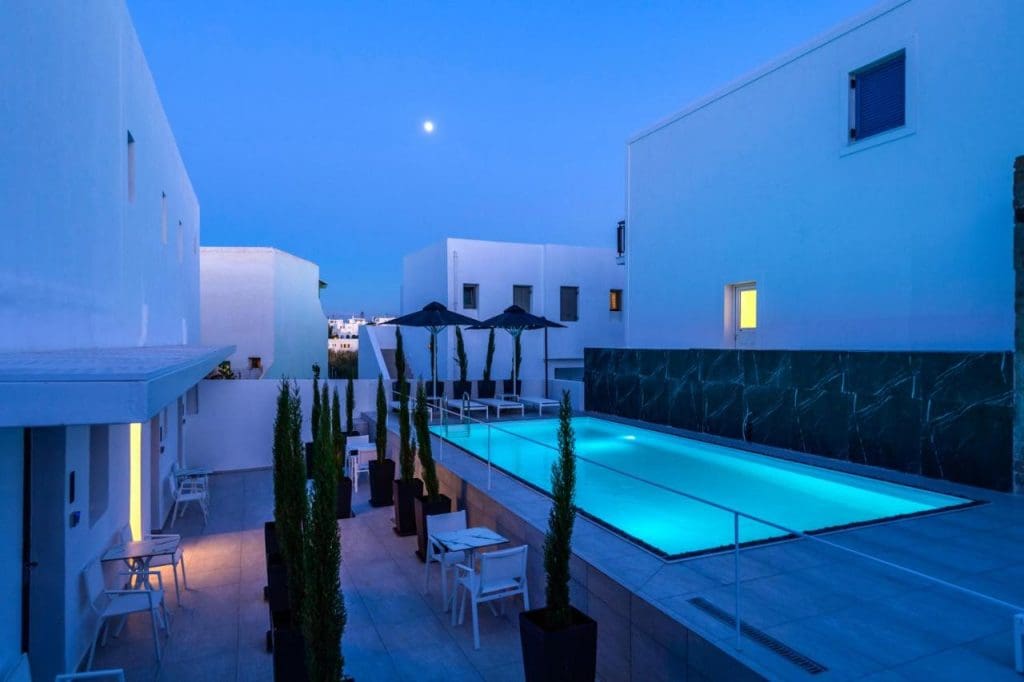 13. Asimi House
The views from Asimi House are the best on the entire list. A fully functioning apartment complete with a kitchen, you will probably spend every evening gazing over the beautiful harbor from the most incredible and jaw-dropping apartment balcony.
The apartment also comes with a washing machine. Fall asleep to the sound of waves outside your room, or watch the sunsets from a view you won't forget anytime soon.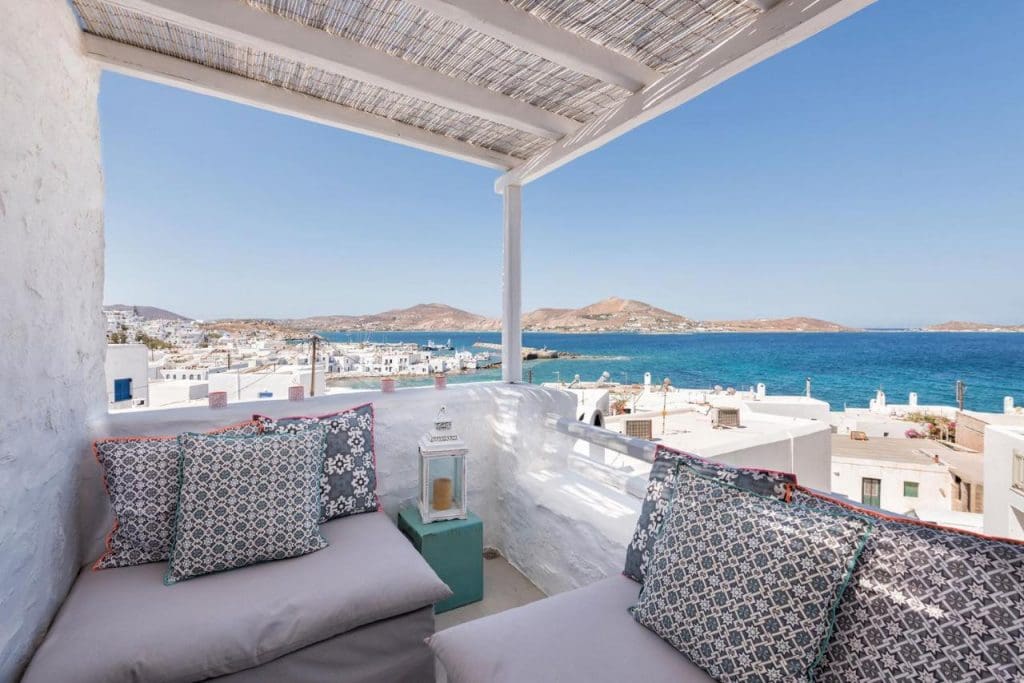 14. Anemomylos Residence
You only need to walk 100m from Anemomylos Residence before you reach Agioi Anargyroi Beach. There is a selection of rooms to choose from, most have some sort of hot tubs or hydro-massage tubs.
A nice quiet hotel with a large swimming pool and sun loungers, the hotel also has a bar to order drinks from. Whether you choose to spend a day at the beach or by the pool, you will find that Anemomylos Residence is a perfect mix of relaxation and comfort.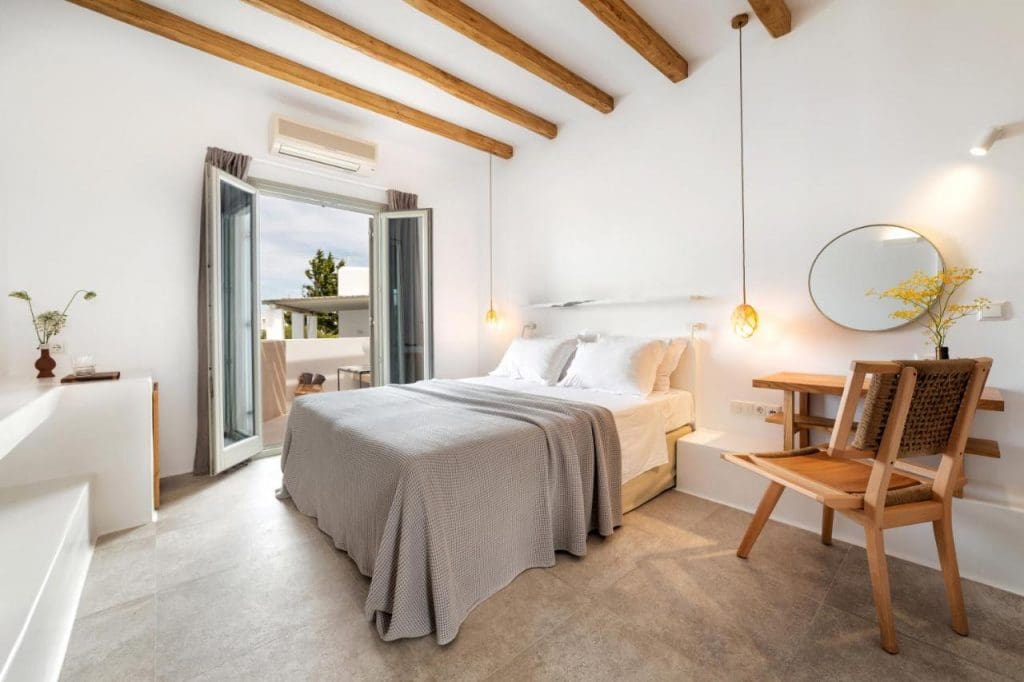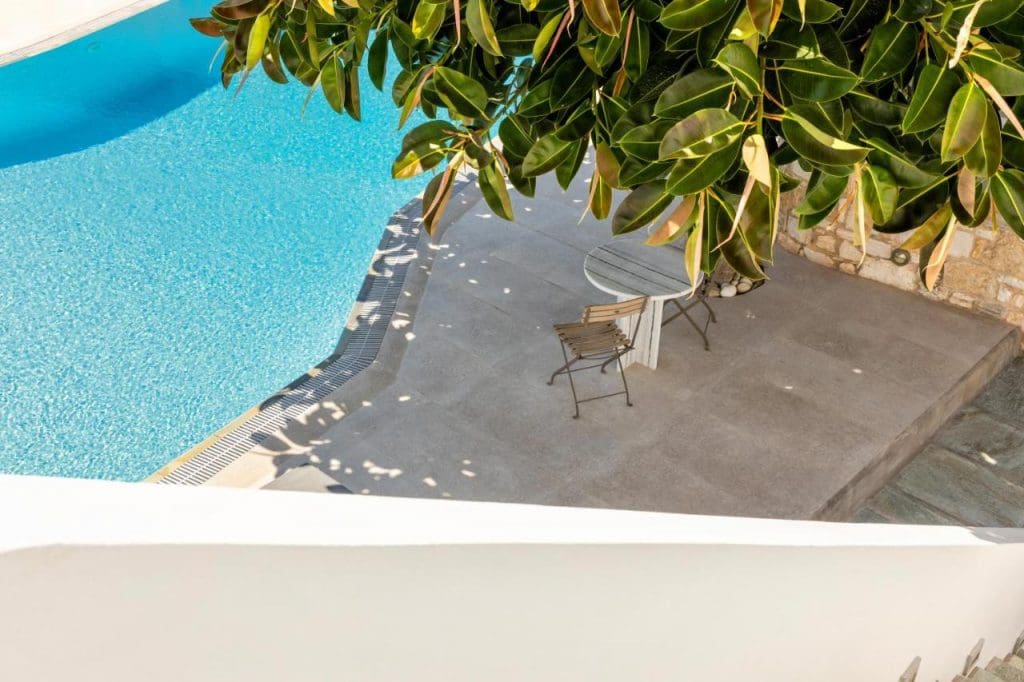 With such a selection of hotels to choose from when planning your visit to Naoussa, the one thing that won't disappoint you when visiting Naoussa is its amazing location.
Make sure you pack your suitcase with some awesome books after you've booked one of the best hotels in Naoussa and let me know in the comments which hotel you ended up booking!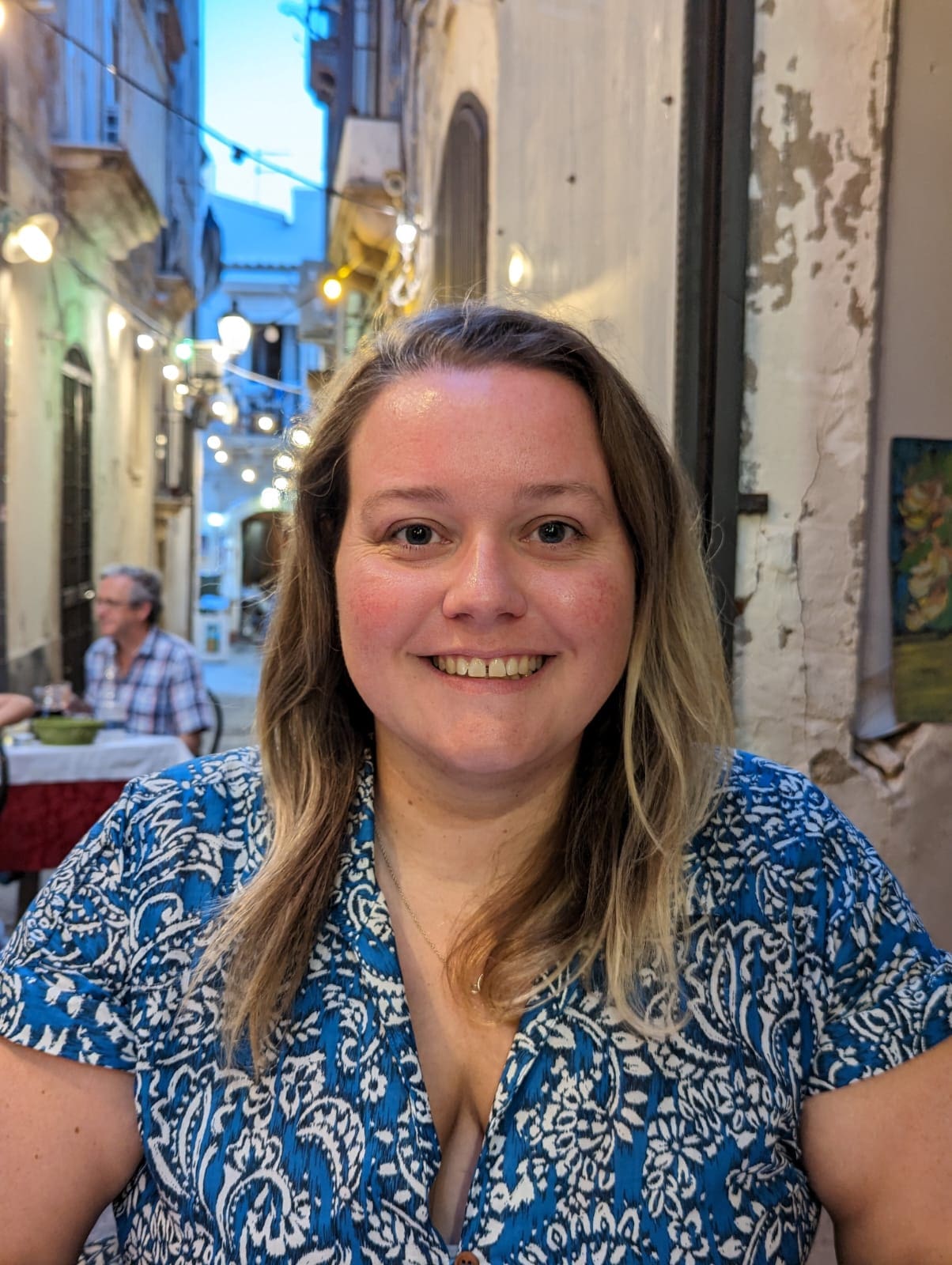 Meet Missy…
Missy spent the first 2 decades of her life living in her native Dublin, Ireland. Before a life living overseas called to her, and she spent the next decade living in China, Laos & Belgium. She now splits her time in Antwerp, Belgium, and wherever the sun is currently shining. You can follow Missy's real-time travels on her Instagram.