The island of Milos has over the past 5 years exploded in popularity. Social Media has a huge part to play in the island's popularity as more and more people discover the hidden gems of the Greek islands. Busier and more popular islands in the Cyclades, like Mykonos and Santorini, take the brunt of visitors when exploring the region. This is my guide on how to get to Milos Greece in 2023.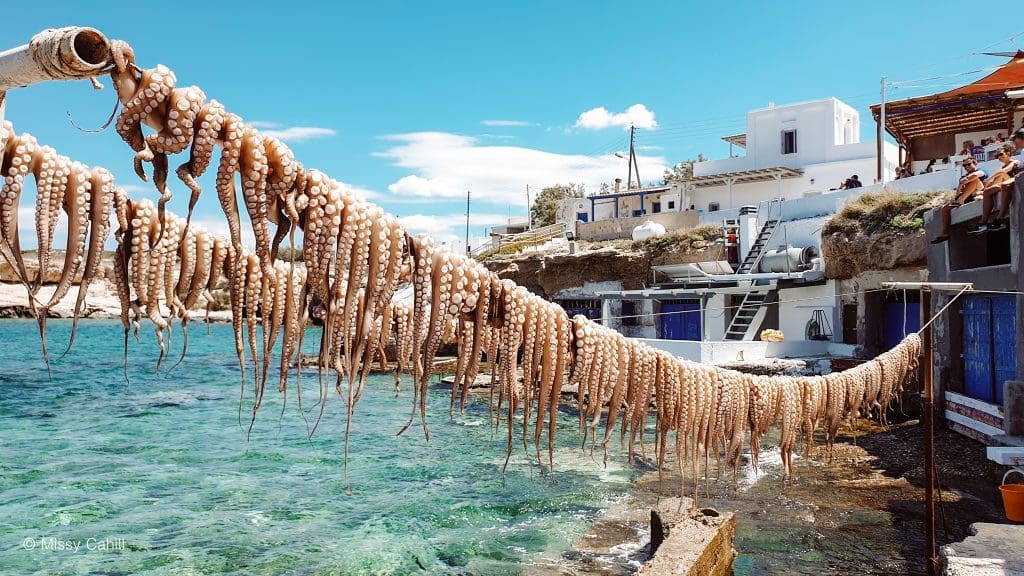 That's not to say that Milos is quiet and undiscovered, tourists have started to visit the island more and more frequently for a number of reasons. Milos has some of the best beaches in the Cyclades, with world-famous Sarakiniko Beach being just one of the 30 found on the island.
The unusual rock formations and crystal clear water are extraordinarily inviting, as is the adorable fisherman huts of Klima, and even the incredible culinary scene in Pollonia and Trypiti.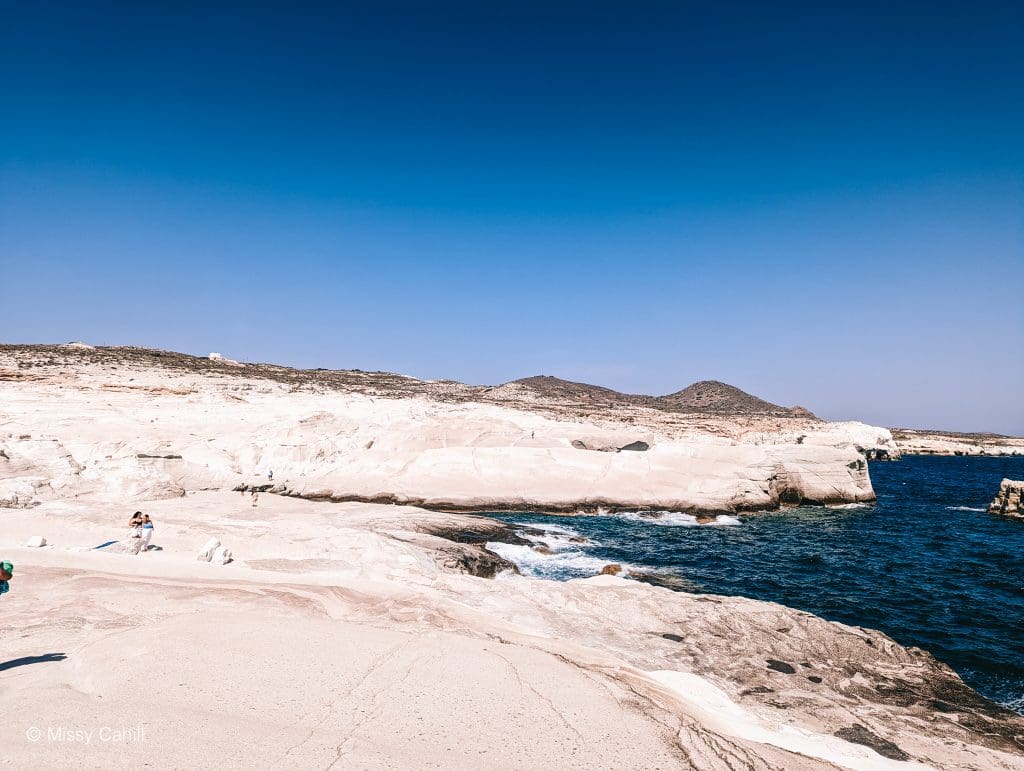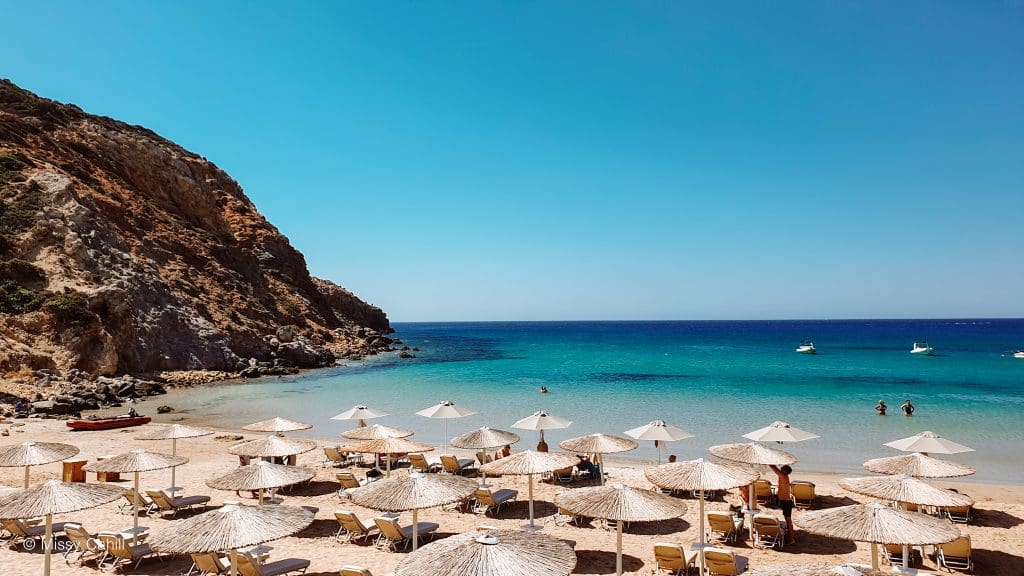 Ferry schedules are released from March to April for the upcoming year. Make sure to check Ferryhopper for more up-to-date travel times and ferry routes. Greece is one of the best countries to plan a trip island hopping, and it has great ferry connections throughout the islands.
Some of these may be affiliate links, which means when you buy something I may receive a small commission. There is no additional charge to you, and it really helps to support me – so thank you!
Where is Milos?
Milos Island is part of one of the most famous chain of islands in Greece known as the Cyclades. Mykonos and Santorini are also a part of this infamous group of islands that is well known for their whitewashed buildings, blue-domed churches and home to some of the best beaches in Greece.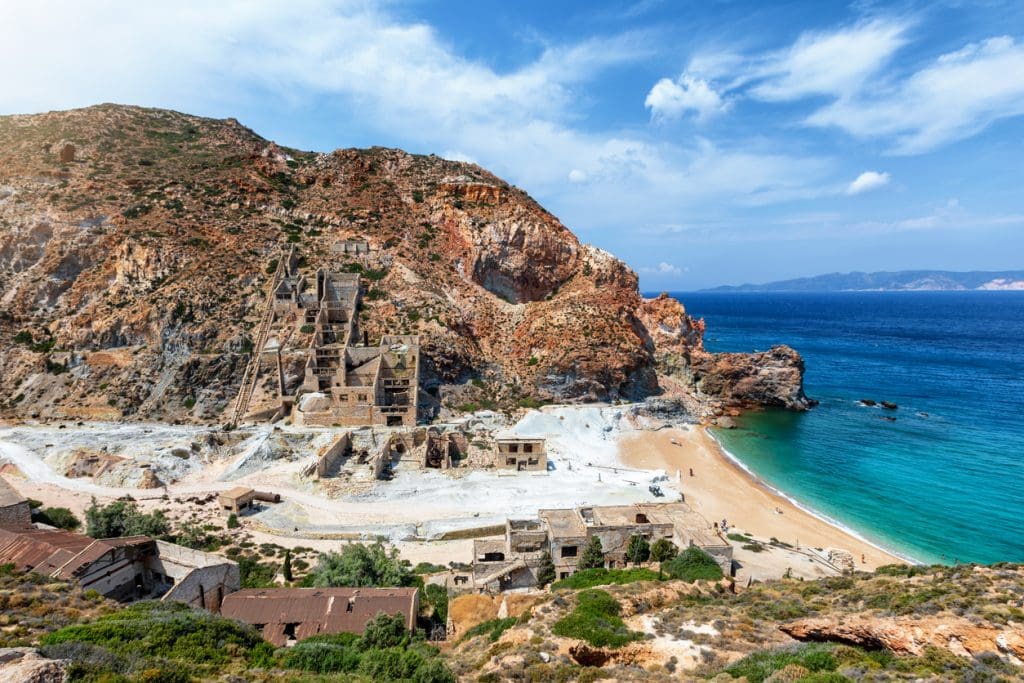 Its location 160 miles from Athens, makes it easily accessible with numerous ferry crossings per day during the high season. The average travel time by ferry from Athens Pireaus takes 3 hours, or by aeroplane, a short 40-minute flight. Ferries arrive at Adamas Port in Milos, a lively town and centre of the island.
Ferries in Greece
Travelling by ferry around the islands in Greece is a must. The routes are well organised and make island hopping easy to do. You can book ferry tickets in advance, or as needed. Do plan your routes carefully though, as some of the smaller islands are trickier to get to and require planning. Ferryhopper is a great service for booking ferries and makes booking travel incredibly easy.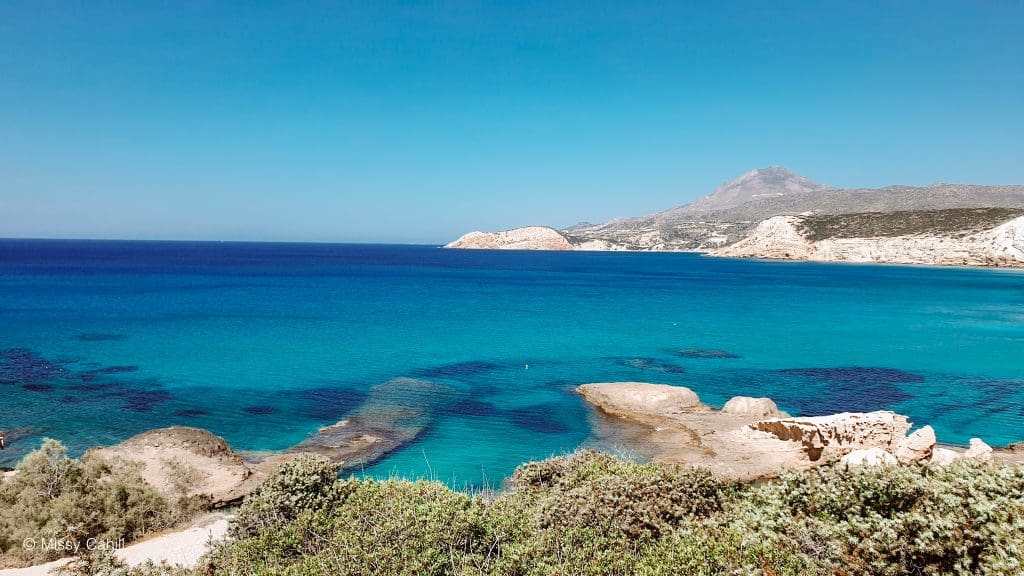 Ferries from Santorini to Milos ← → Milos to Santorini
There are several ferry operators that operate a service between the island of Santorini and Milos. With an average sailing time of 2 hours on a fast ferry, or closer to 4 hours on the slower ferries.
The number of ferries serving the route varies throughout the seasons, but during the summer there is the widest range of ferry routes travelling between Santorini and Milos, with over 25 departures throughout the week.
>> Click here to book your ferry tickets <<
Ferry Operators that have routes connecting the two islands include SeaJets, Zante Ferries, Aegeon Pelagos.
| | | | |
| --- | --- | --- | --- |
| Route | Ferry Operator | Frequency | Stops on Route |
| Santorini – Milos | Anek Lines | 1 per week | – |
| Santorini – Milos | Zante Ferries | 1 per week | Ios, Sikinos, Folegandros, Kimolos |
| Santorini – Milos | Seajets | 14 per week | Folegandros |
Milos to Mykonos Ferry
There is a fast ferry from Milos to Mykonos every day with Seajets that takes 2 hours and 40 minutes. Seajet ferry also has stops in Sifnos and Paros. Consider flying into Mykonos International Airport and travelling by ferry from Mykonos to Milos as an alternative route to Athens.
Milos to Paros Ferry
There are two ferry companies that link the islands of Milos and Paros. Blue Star Line Artemis operates this route once per week that stops in Kimolos, Serifos, and Sifnos before arriving in Paros. It takes 5 hours to make this journey and costs €20.
If you want to arrive a bit quicker to Paros, Superjet is a fast ferry that will take you in under 2 hours. It stops on the island of Sifnos and can be quite expensive, with prices starting from €55.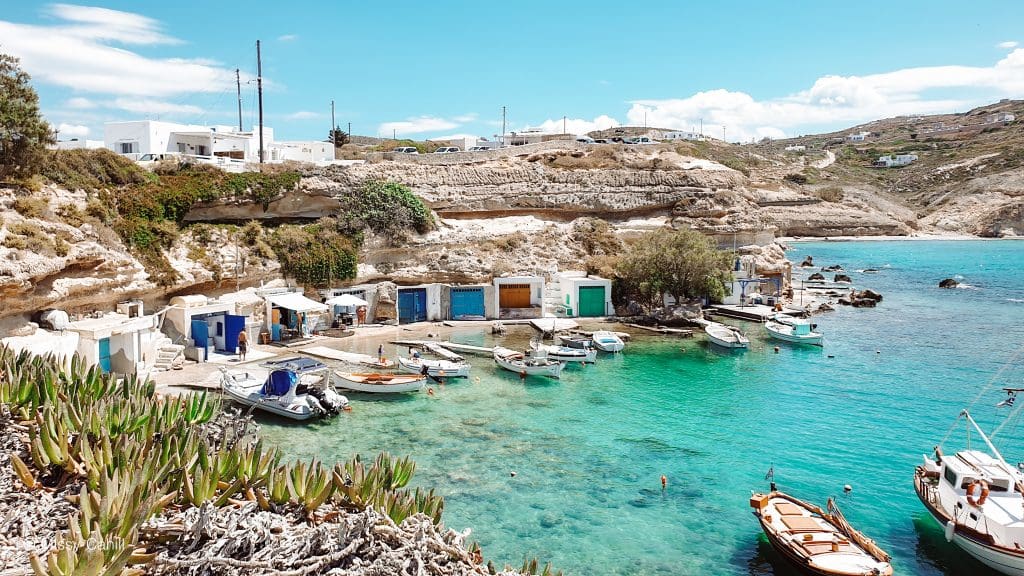 Athens to Milos Ferry / Milos to Athens Ferry
There are over 35 weekly ferry crossings during the summer months, travelling from Milos to Athens and Athens to Milos. A fast ferry from Athens Piraeus takes 3 hours to reach Milos, with slower ferries taking an average time of 4-5 hours for the crossing.
Outside of the summer months, the ferry crossings reduce, however, there are weekly crossings to Milos from Athens Piraeus.
Summer 2023 Schedule – Athens – Milos
| Ferry Operator | Crossing Time | Frequency | Price |
| --- | --- | --- | --- |
| Aegeon Pelagos | 5 Hours 15 Minutes | 1 per week | €35 |
| SeaJets* | 2 Hours 55 Minutes | 12 per week | €56 |
| Blue Star Lines Artemis | 15 Hours 20 Minutes | 1 per week | €36 |
| Aegan Speed Lines* | 3 Hours 55 Minutes | 12 per week | €49 |
* Fast Ferry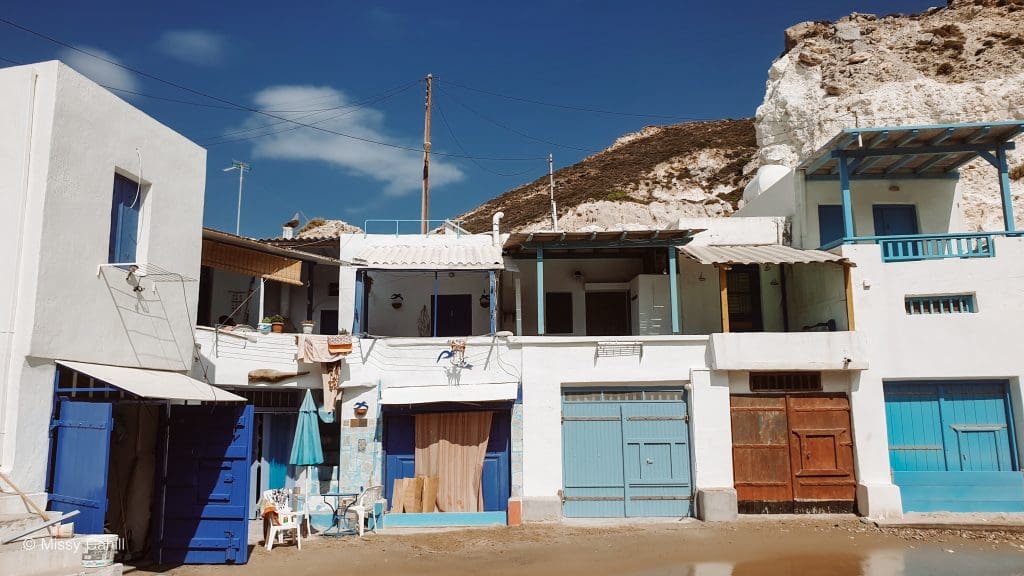 Milos to Naxos Ferry
There are 3 ferry operators and lines that operate a service between Milos and Naxos. Seajet 2, Blue Star Lines Artemis & Superjet. There are daily crossings during the summer months. There are also stops in several of the other lines, depending on the ferry itinerary.
| | | | |
| --- | --- | --- | --- |
| Route | Ferry Line | Departure Time | Stops on Route |
| Milos – Naxos | Blue Star Line Artemis | 07.00 – 13.05 | Kimolos, Folegandros, Sikinos, Ios |
| Milos – Naxos | Superjet | 07.50 – 11.40 | Sifnos, Paros, Mykonos |
| Milos – Naxos | Seajet 2 | 07.50 – 11.40 | Sifnos, Paros, Mykonos |
Can you fly to Milos?
Yes, you can fly to Milos Island National Airport from Athens International Airport. There are a number of flights throughout the high season that depart from Milos small airport. The airport is 5km from the Adamas Port.
At the time of writing, there are no current plans for the island of Milos to operate International flights, as the runway is too short for larger commercial airlines.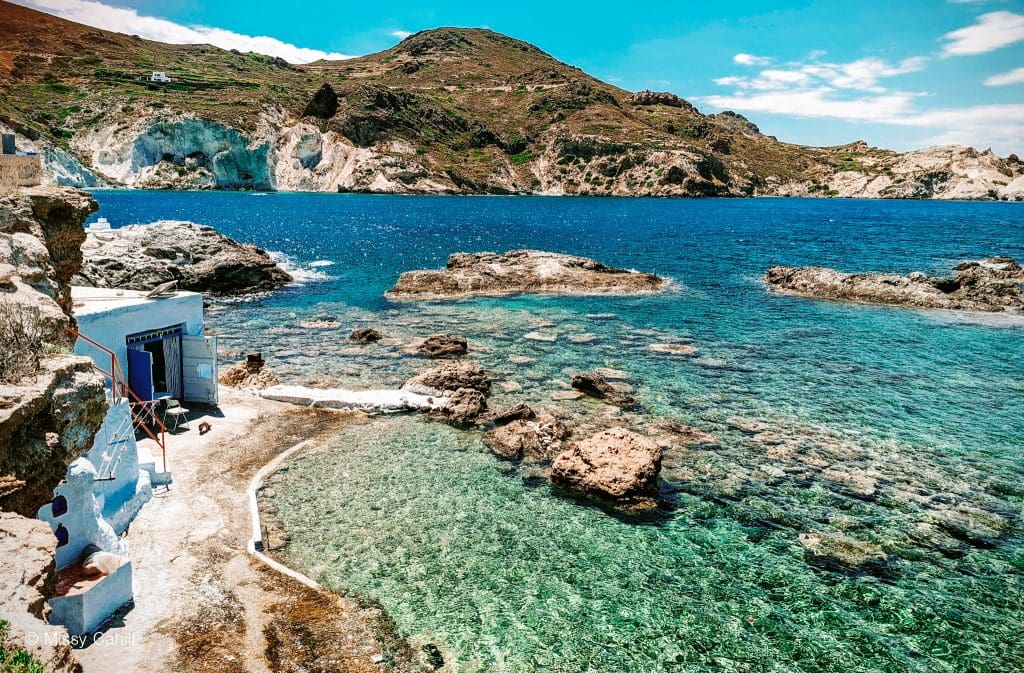 There are two flight operators that fly to the island of Milos from Athens. Olympic Air and Sky Express operate a daily route, with higher frequency during the summer months.
Flight time is 40 minutes and the planes are smaller, so if propeller aeroplanes make you nervous, make sure to check the aircraft specifications before booking.
Are there flights from Santorini to Milos?
There are no inter-island flights between Santorini and Milos. In order to fly from Santorini, you will need to connect to Athens International Airport and time your flights. In reality, it will be much quicker to take the fast ferry from Santorini to Milos rather than flying.
How to get around Milos Greece
If arriving from the airport you can either get a taxi to your accommodation on the island or rent a vehicle from the rental agencies at the airport. There are limited taxis available on Milos, so you may have to wait.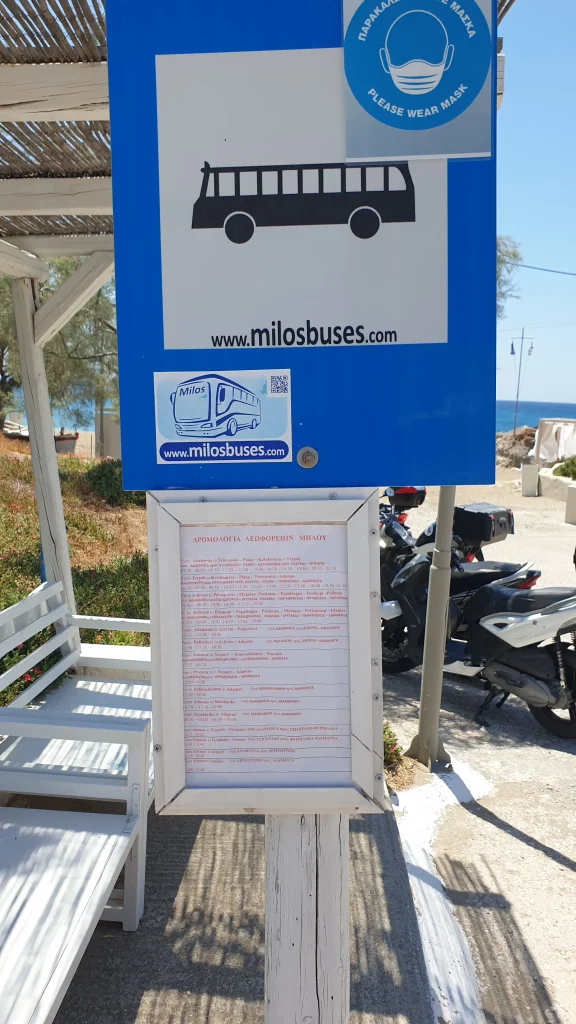 There is also a bus service around the island, with buses departing from the Adamas to other popular parts of the island. Bus tickets are cheap.
Car Rental Milos Greece
Renting your own vehicle, car or scooter is a great idea for getting around the island of Milos. There are lots of beaches that require a vehicle to get to, and rental options are relatively cheap on the island.
Your accommodation can usually provide you with local companies that can deliver scooters, ATVs and cars to your hotel. If you want to hire your car in advance and get the best rate, consider car hire with RentalCars for the best rates and availability.