Is Dublin Worth Visiting? 14 Things To Do In Dublin City Center
Some of these may be affiliate links, which means when you buy something I may receive a small commission. There is no additional charge to you, and it really helps to support me – so thank you!
I may be a bit biased when it comes to Dublin. I spent the first 28 years of my life living on the outskirts of the city center and can say without a doubt that there is no other city quite like Dublin. I'm often asked, but is Dublin worth visiting? As most visitors like to head straight out to the Irish countryside or the Wild Atlantic Way.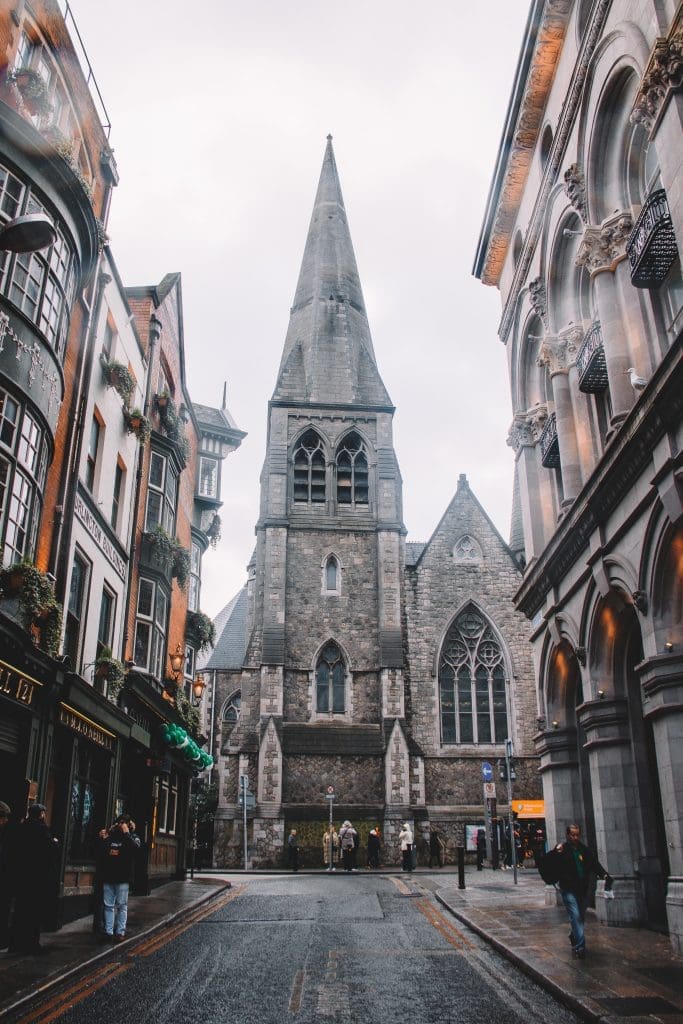 Dublin's charm stems from its deep-rooted history, fascinating characters that impacted the world, and that rich heady smell of Guinness that lingers across the city.
As a travel blogger, I wanted to showcase some highlights of my city that other guides misinform or think tourists should see when visiting Dublin, Ireland. So, here's a list of things to do, and stop wondering if is Dublin worth visiting.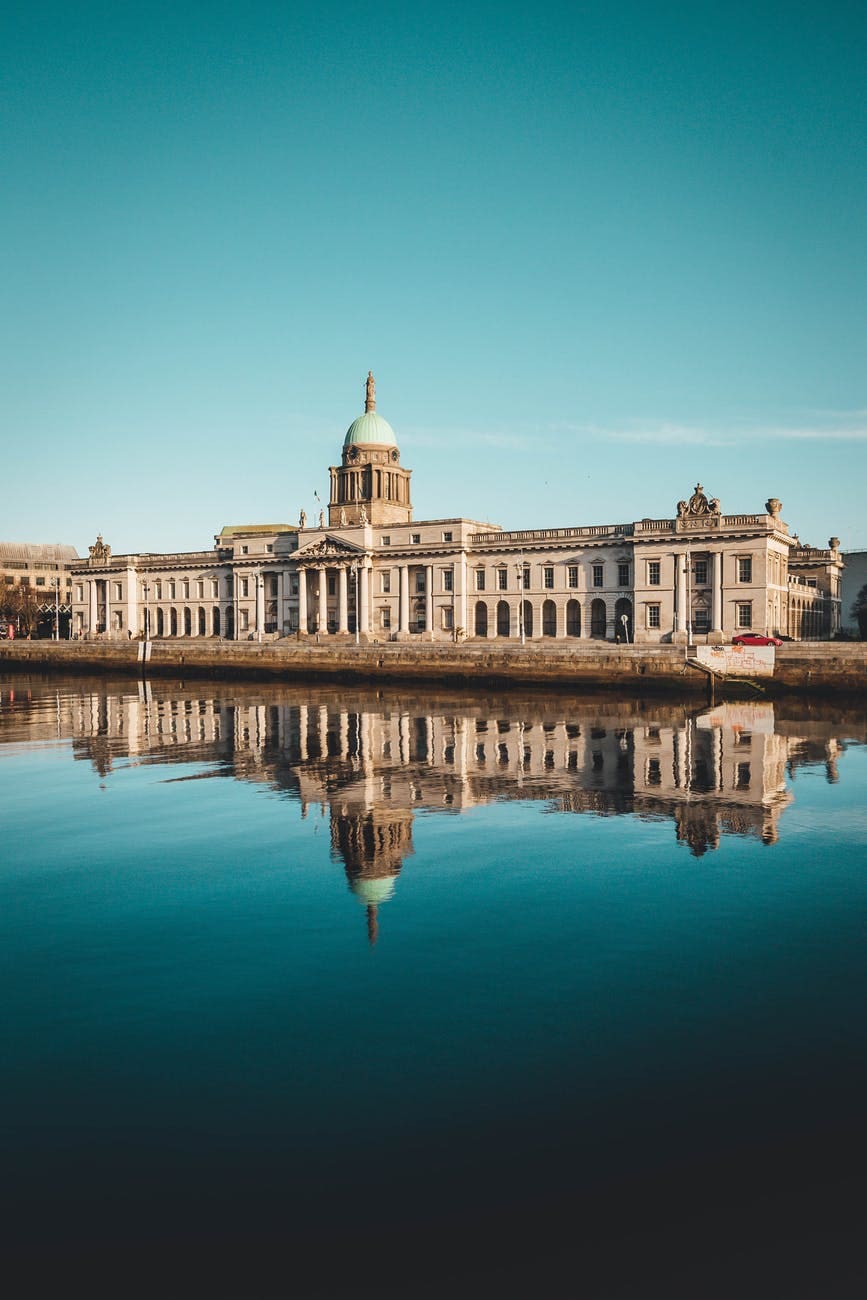 From quaint Irish pubs that beg passersby to pop in, 'just for the one'. Or the musician playing Irish music on one of the many bridges that span the River Liffey or corner of a street, Dublin just oozes charm and character.
And don't forget the weather. Make sure to pack your suitcase with thick wool sweaters, raincoats and shorts. Because with the Irish weather you honestly don't know what type of weather you will encounter in Dublin. It will most definitely rain at some stage.
1. Havin' the chats
What makes Dublin so unique are a number of factors. The people of Dublin, for starters, are absolutely brilliant. Again, I'm incredibly biased when it comes to it, but Irish people are known around the world for their hospitality, friendliness, and wit. Irish people love to chat with strangers and we're also exceptionally nosey.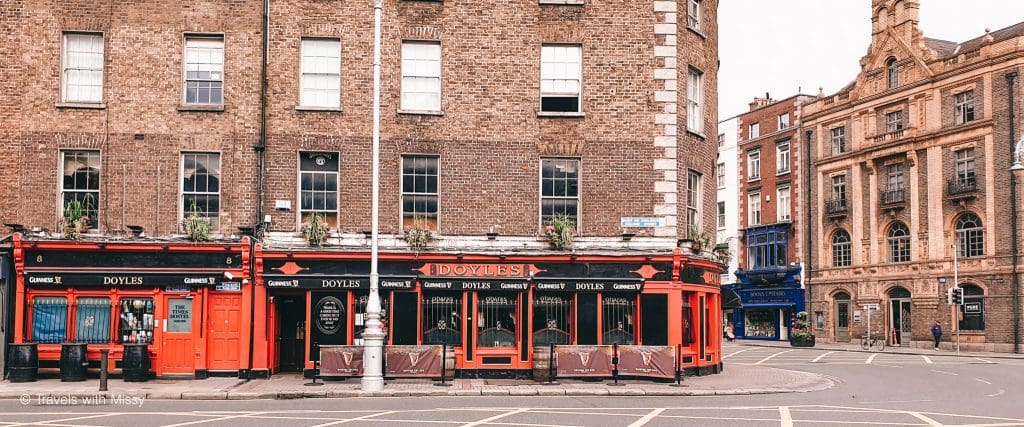 Irish people will find out everything about you within the first 5 minutes of meeting you. And it's easily one of my favorite things about Irish people. We love to build connections with people and will quite often try to give you the shirt off our own back.
As you explore the city and meet people, I hope you will experience a lot of Irish charm. It's one of the best things to do in Dublin City Centre is getting stuck talking to a random Irish person! Is Dublin worth visiting for the friendly locals and interesting characters – absolutely.
2. Trinity College Dublin
Trinity College Dublin is Ireland's oldest university having been established in the late 16th century. It is centrally located in the heart of Dublin city and its bustling city campus is truly a delight to walk around.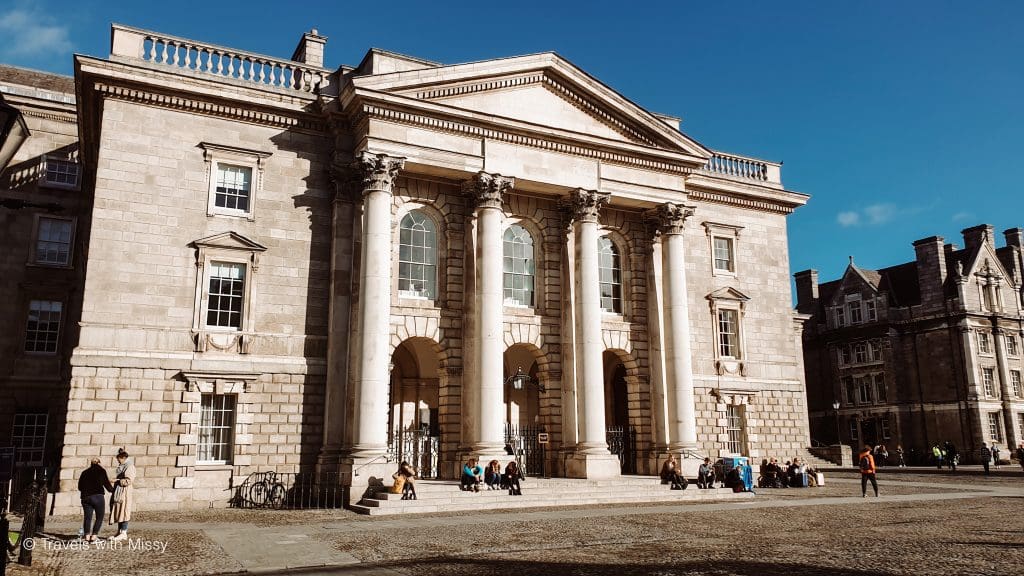 The Book of Kells can be found in Trinity College Dublin's Library and is an illustrated manuscript of the gospel created by monks during the 9th century. It is an incredible piece of religious history complete with ornate illustrations.
Each day a page of the manuscript is flipped over to preserve it from damage, so you can see it multiple times during your visit and never see the same page twice!
Make sure to spend time strolling around the campus of Trinity College Dublin and savor the ambiance of one of Europe's prettiest and most centrally located university campuses. You can catch all manners of public transportation outside all of its gates, buses, trains, and trams conveniently pass by.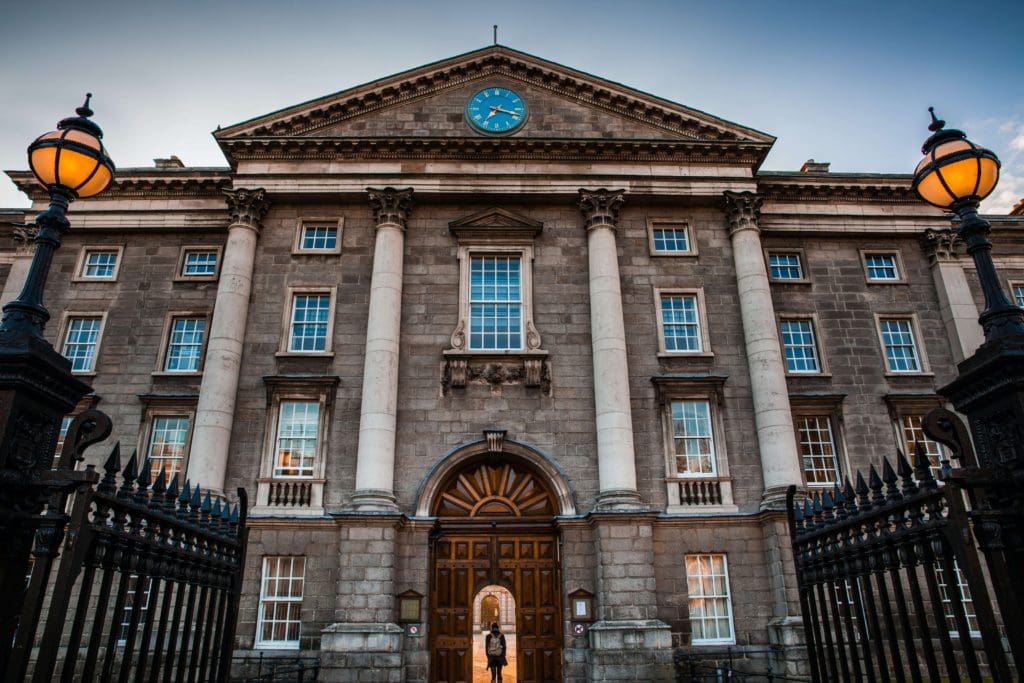 Highlights:
3. Pub Hopping
What is Dublin without her pubs? And I don't mean the touristy pubs in Temple Bar or wherever your guidebook has suggested you visit. I mean, real Irish pubs where locals actually drink in.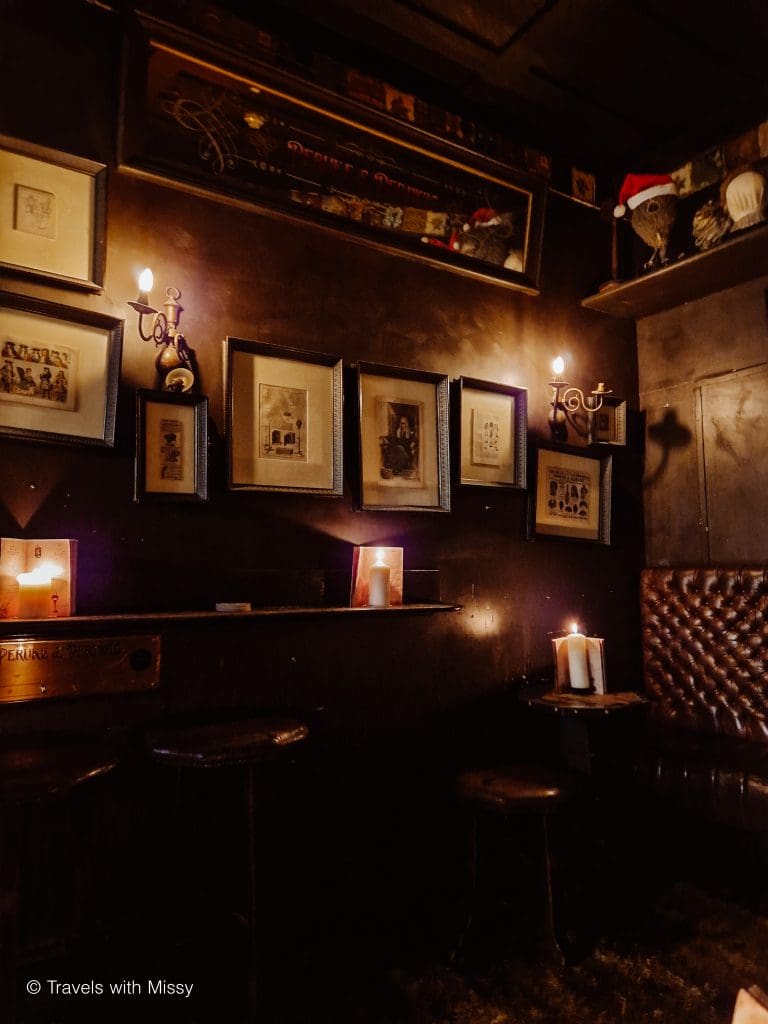 Every Dubliner has their favorite pub and their reason for what makes it special. For many it's the quality of the Guinness, or a certain 'snug'; or perhaps it serves an excellent cheese toastie.
As you explore the city of Dublin, find your favorite pub, order a Guinness, read the newspaper or watch the world go by. It's one of the unmissable things to do in Dublin city center.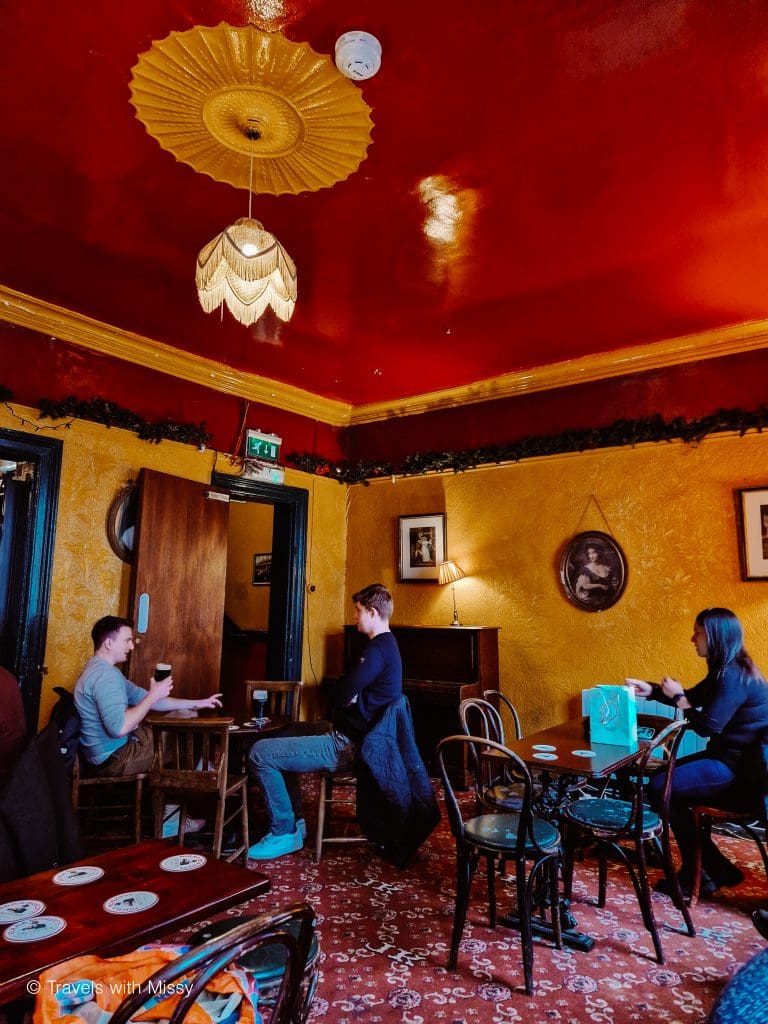 Grogans is an absolute classic when it comes to pubs. Serving excellent ham and cheese toasties, you can also purchase the artwork off the walls if it tickles your fancy. The small city pub has a small indoor space and gets crowded as the evening wears on, but that's all part of the fun.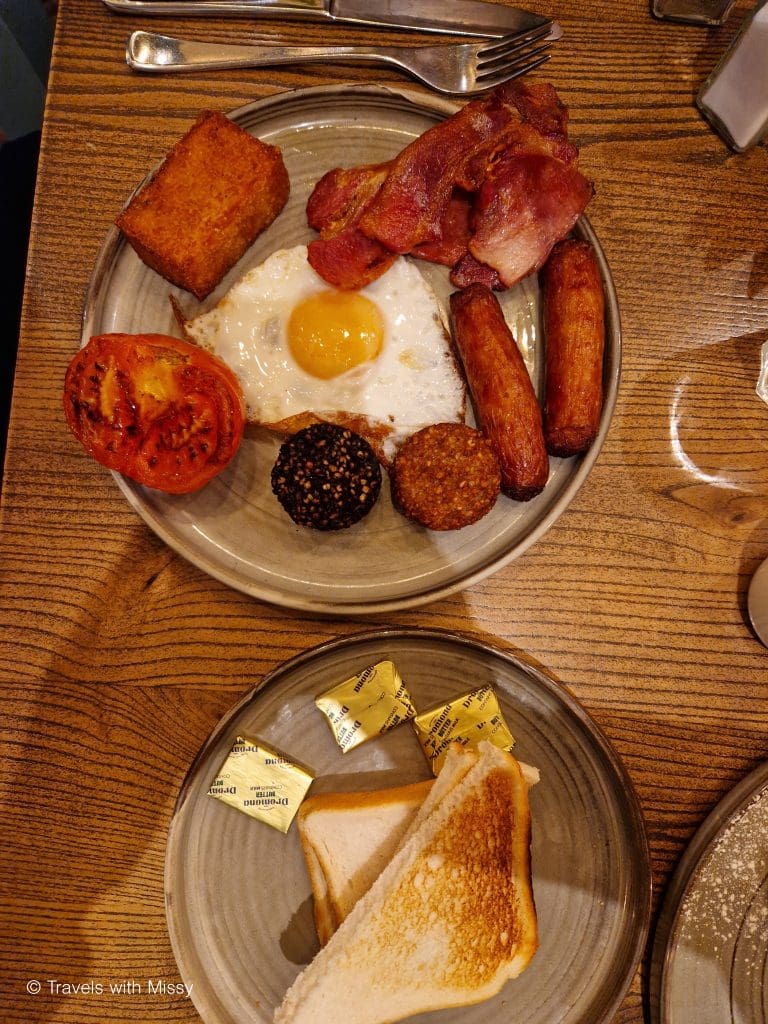 Bankers Bar serves really delicious Irish food and is definitely a more touristy pub than others found in the area. Its friendly staff is always welcoming, it's small but during the afternoons on weekdays, you're always guaranteed a table.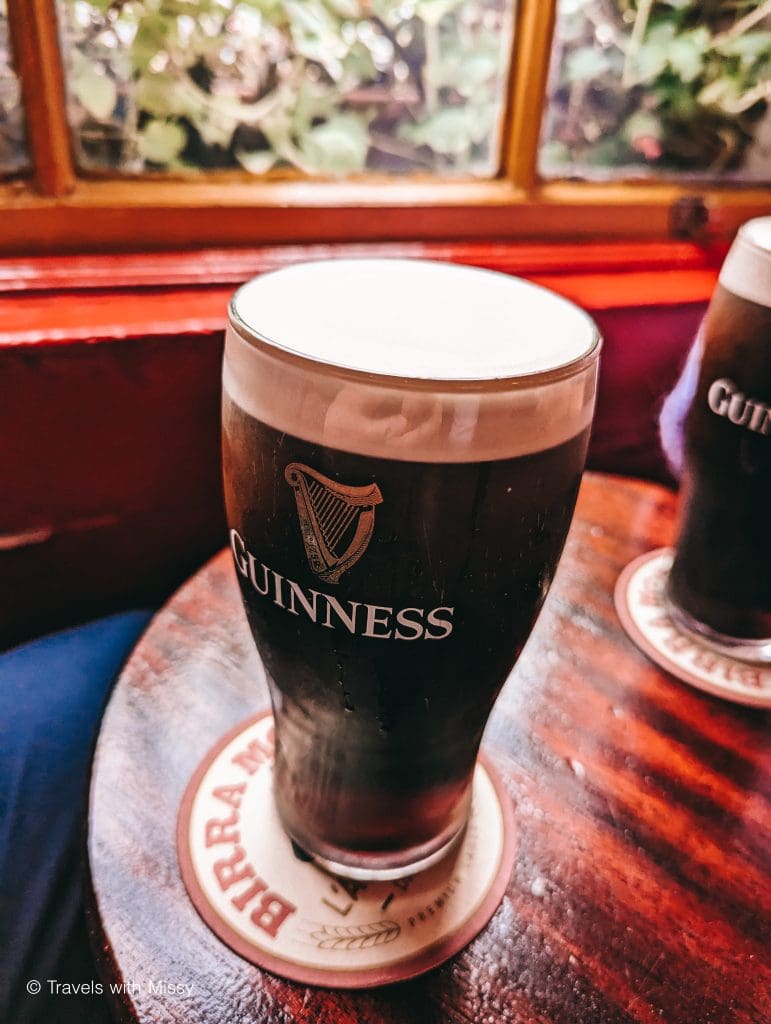 Kehoe's Pub just off Grafton Street ticks so many boxes. This pub is absolutely packed during the weekend evenings with crowds spilling out onto the surrounding streets.
Kehoe's is worth visiting Dublin alone for the experience of drinking a pint in a packed pub. And even better if you can visit Dublin during Christmas season, it's even more amazing!
If you get there early enough you can grab a seat in a snug (small private pub area that some pubs have) and rest your feet. This is a fantastic pub that has a lot of energy and is a great place to meet authentic Dubliners.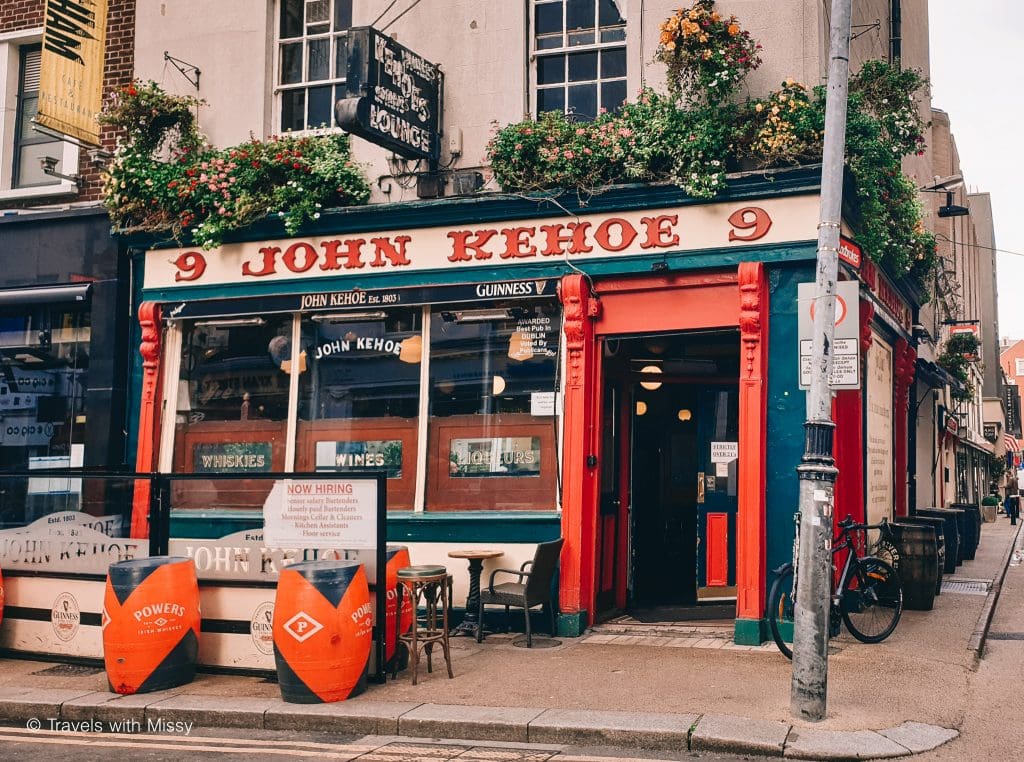 4. Guinness Brewery
Ireland's most famous export is notably Guinness. You can find a 'pint of the black stuff' on every continent, well perhaps not Antarctica, but that's sure to be fixed soon enough.
The Guinness that you will drink in Ireland is far superior to anything you've ever tried before and worth visiting Dublin alone for that experience. The rumor is, that we keep the good stuff at home and send the rest overseas 🙂 Whilst, hopefully, not true, Guinness does taste remarkably different in Ireland.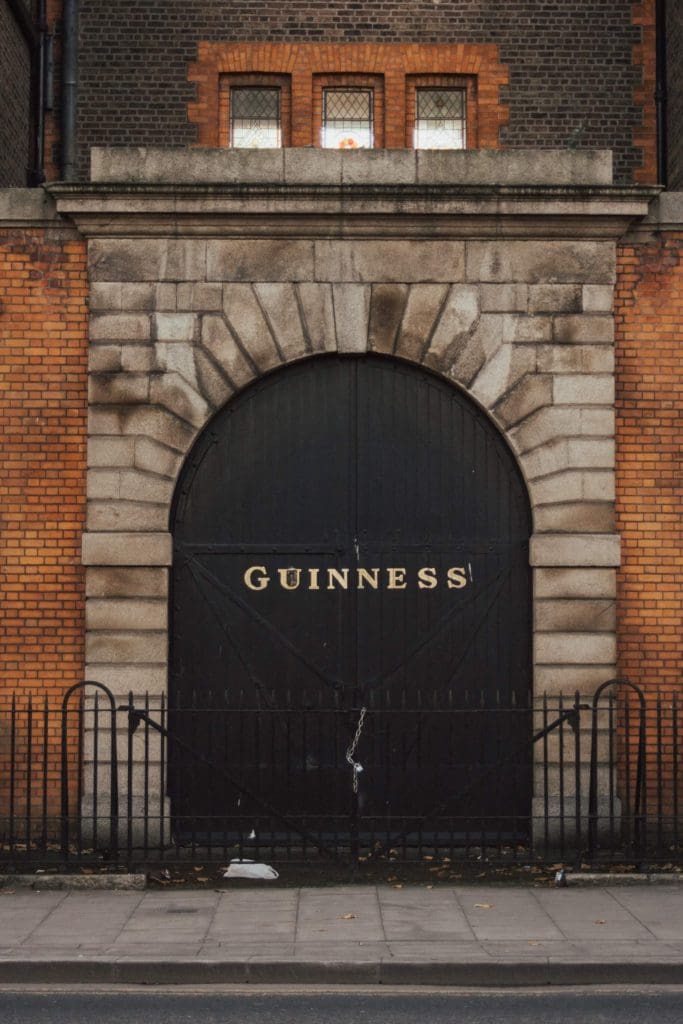 The brewery was established in 1759 at St. James Gate by Arthur Guinness and supposedly he took out a 9,000-year lease on the site. As the Millennium approached, the Guinness Storehouse was opened in the year 2000 and has become one of Ireland's top tourist attractions.
During your tour of the Guinness Storehouse, you will learn the process of how Guinness is made, the correct way to pour a pint, before having your very own pint at the top of the Gravity Bar with phenomenal views over the city of Dublin. You can even get a picture of your face lasered on the white head of the Guinness!
The Guinness Storehouse has been voted year after year as one of the top things to do in Dublin City Centre. Don't miss out on this amazing experience.
Top Tips:
5. The Little Museum of Dublin
The Little Museum of Dublin is located on St. Stephen's Green and promises to deliver a rapid-fire tour of Dublin's history from the 20th century. Every hour on the hour, you can take a guided tour of this Georgian house, and immerse yourself in the history of Dublin in bite-size chunks.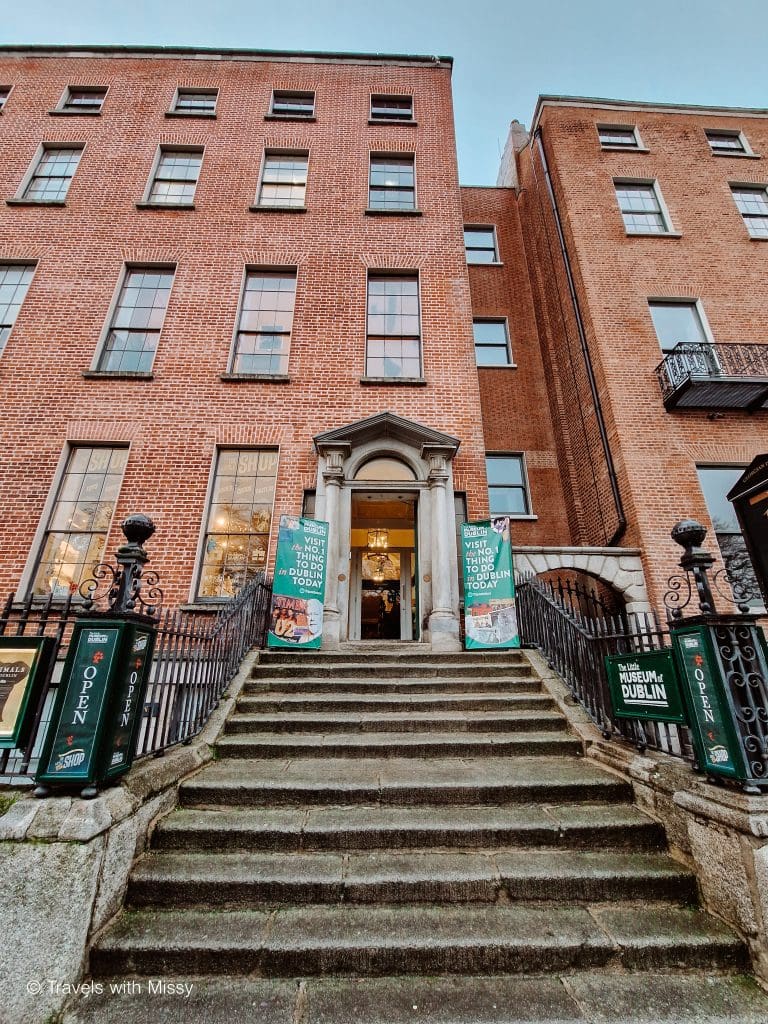 The guides are entertaining and incredibly knowledgeable about their tours. This is a must for things to do in Dublin city center for visitors short on time during their trip.
The Little Museum of Dublin is worth visiting Dublin for a want of better understanding Irish history in under 30 minutes. Also, every artifact that is in the museum was generously donated by members of the public.
The Little Museum of Dublin | 15 St Stephen's Green, Dublin 2, Ireland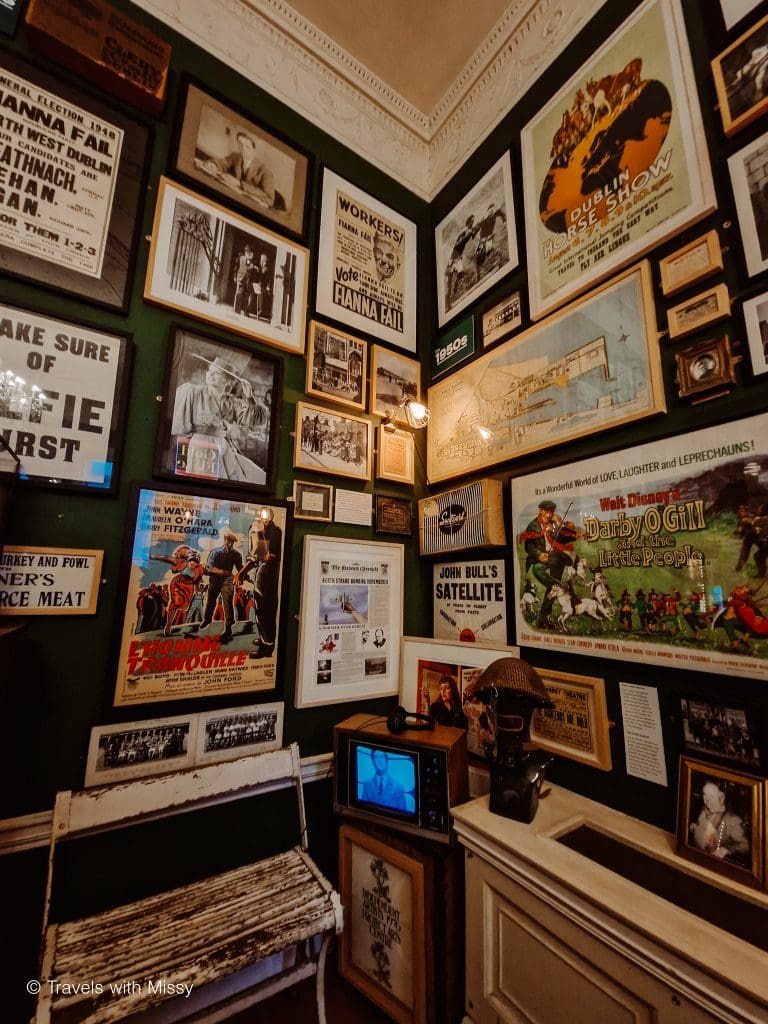 6. The Smallest Pub in Dublin
The Dawson Lounge on Dawson Street is tiny. And when I say tiny, I mean it's the smallest pub in Dublin and only has 26 seats. You cannot leave Dublin without visiting the smallest pub in Dublin and having an excellent pint of Guinness.
The Dawson Lounge feels like sitting in your friend's living room and trust me, you'll get acquainted with the rest of the patrons very quickly too.
The Dawson Lounge | 25 Dawson St, Dublin 2, D02 XT59, Ireland
7. Dublin Zoo & Phoenix Park
Zoos are always a controversial addition to any list. Whilst I am no fan of keeping animals in cages, Dublin Zoo has a fantastic breeding program. If zoos are your thing and you love to visit them wherever you go, then you've got to visit one of Europe's oldest zoos.
Established in 1830, Dublin Zoo is found in Europe's largest city park, Phoenix Park. Phoenix Park is a stunning city park that is home to wild deer, native fauna, and the President of Ireland's home Áras an Uachtaráin.
Dublin Zoo and Phoenix Park are both reachable by the 46a Dublin Bus and are several things to do in Dublin city center that is great for the whole family.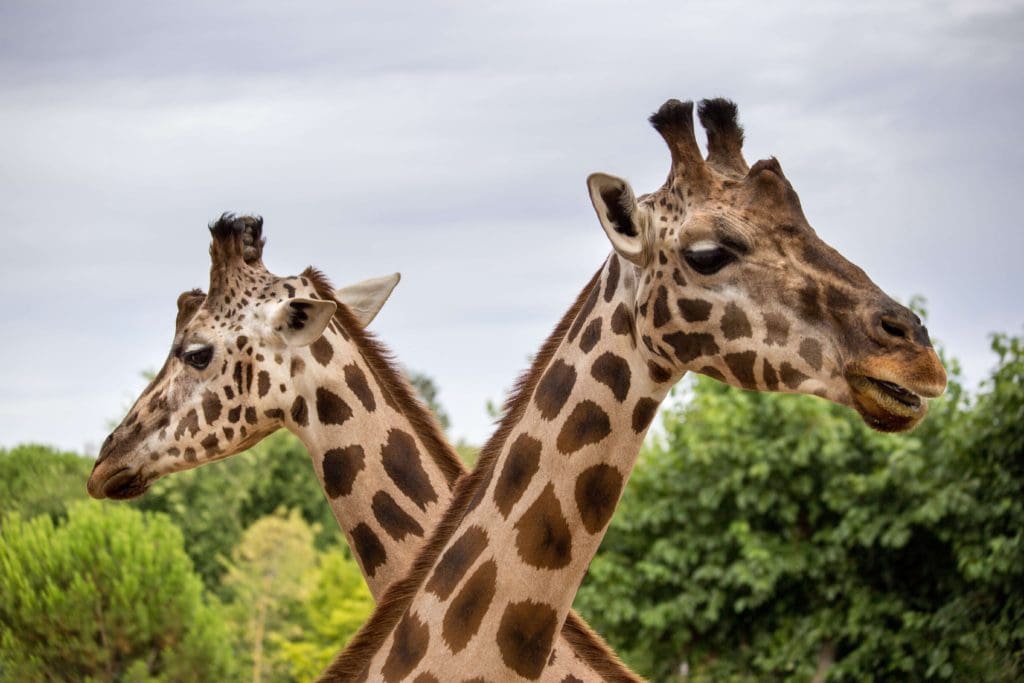 8. Kilmainham Gaol
Kilmainham Gaol plays an important part in recent Irish history. During Ireland's civil war and the 1916 Easter Uprising, the gaol imprisoned many of Ireland's quintessential revolutionaries who were successful in securing Ireland's freedom from British rule.
Many leaders of Irish rebellions were executed in the Gaol, most famously those of the 1916 uprising, but also ordinary men, women, and children who were sent to Australia as punishment.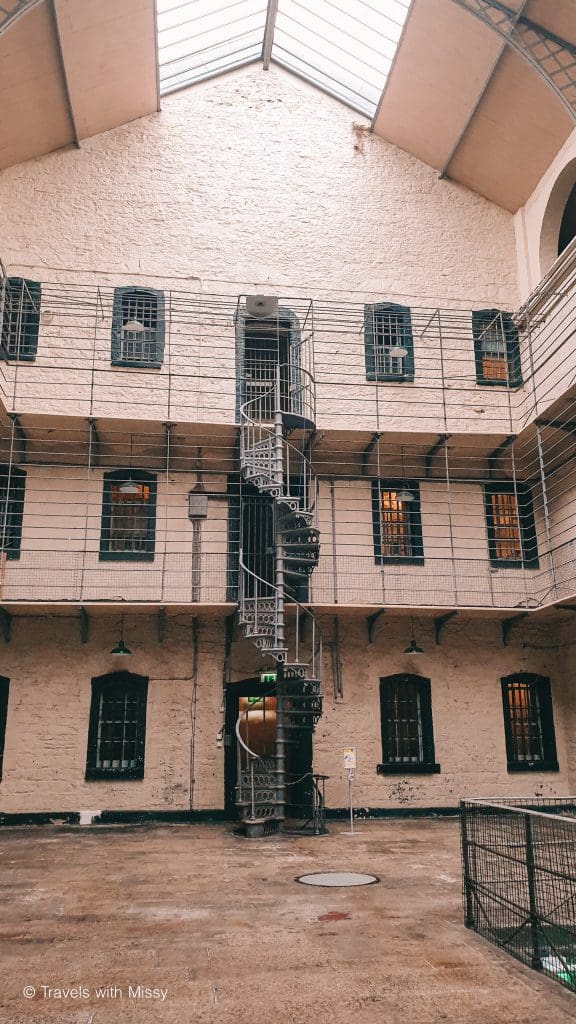 The Gaol (pronounced 'jail') costs €8 per adult ticket and includes a guided tour, but you must book ahead of time in order to avoid disappointment. Tickets are available 1 month ahead of time. For visitors interested in Irish history, this is an absolute must of things to do in Dublin city center.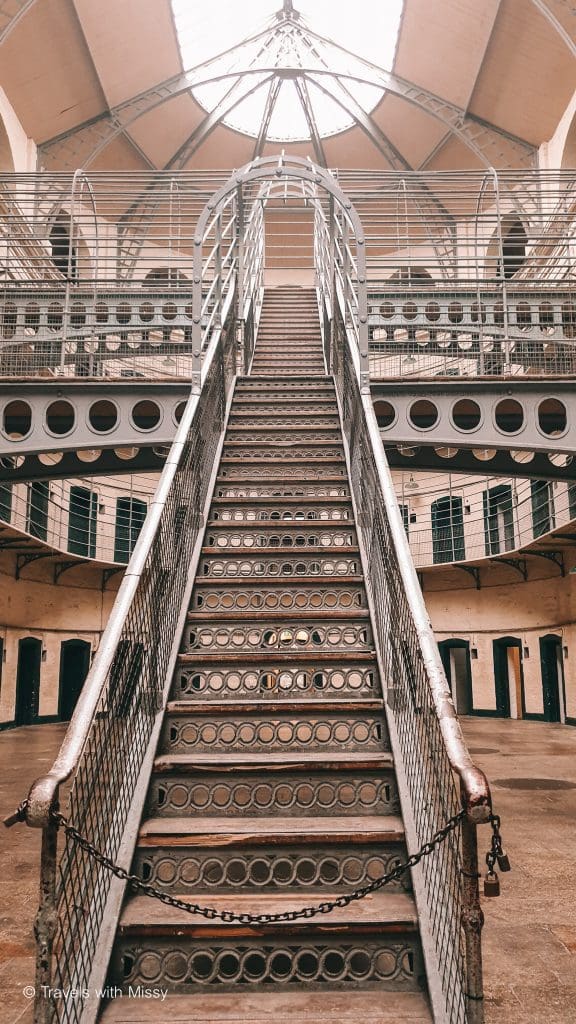 9. Temple Bar
Let's get one thing straight, right off the bat. You will not find people from Dublin drinking in the pubs in Temple Bar. There are lots of fantastic things about Temple Bar, but it is a very touristy part of Dublin City and completely overpriced. It's the Irish equivalent of New York's Times Square.
So when a guidebook or person tells you to go to a pub in Temple Bar, avoid, avoid, avoid. It's the equivalent of thinking that New Yorkers go to Times Square to party. Aside from being littered with terrible Irish pubs, Temple Bar is a cultural hub with fantastic centers for Photography, Film & Acting.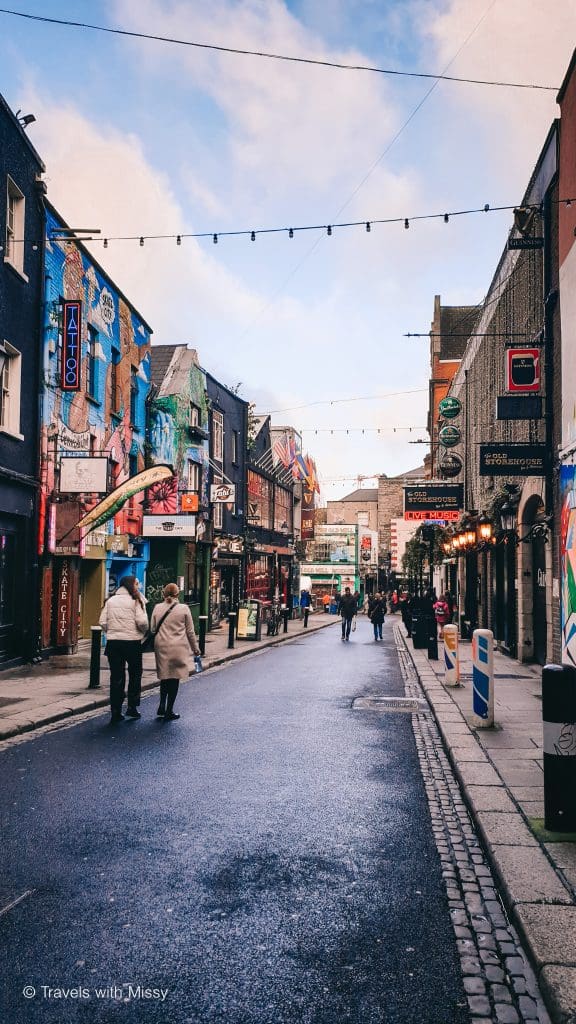 Temple Bar Highlights:
10. Viking Dublin
The city of Dublin owes a lot of its growth and history to that of the Vikings. Viking settlers arrived during the 9th century and for 300 years played an important part in growing the city of Dublin. The city was used as a place to barter spices and money during the period of the Vikings. This helped establish the importance of Dublin during early Medieval times.
11. Teeling Distillery
Another favorite tipple from Ireland is whiskey. There are so many Irish whiskey brands that are exported from this small island. Jameson distillery is one of the most famous distilleries in Dublin and their tours are excellent. But there's a newer distillery, Teeling, that deserves recognition.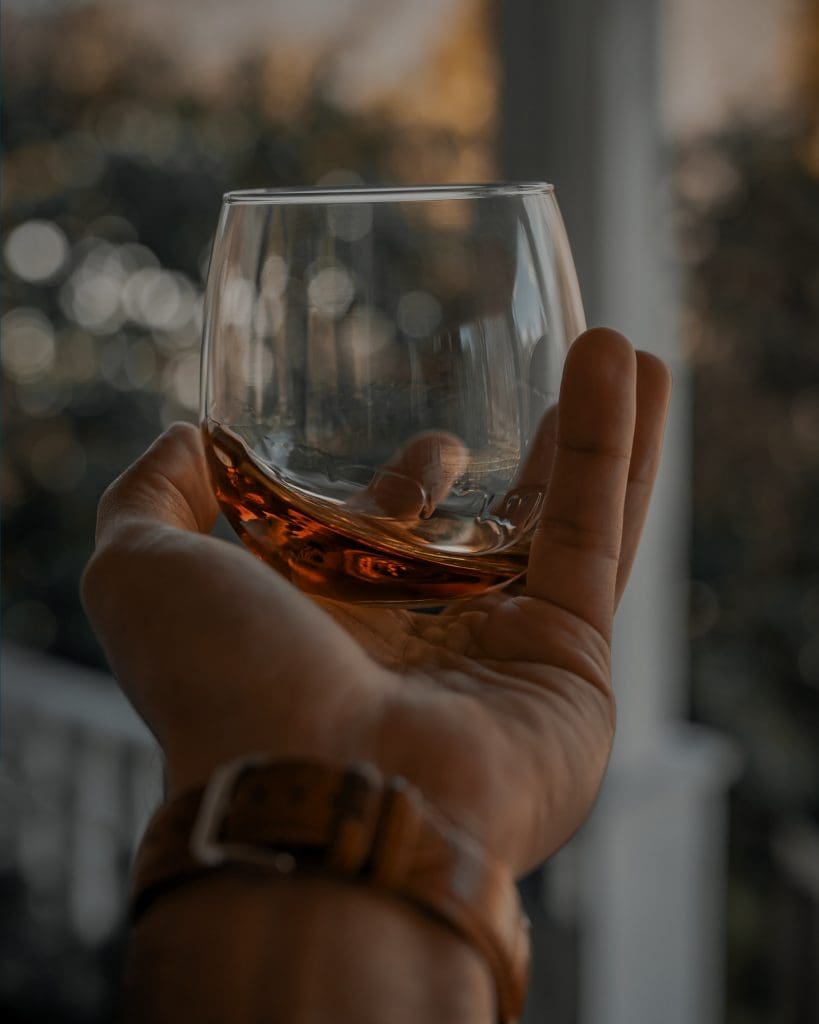 Teeling Distilleries were established in 2015 and is the first whiskey distillery to open in the capital in over 125 years. They offer an excellent tour that shows how they make their delicious whiskies and tours include a taste test and whiskey-based cocktail.
If you only have time for one Irish whiskey museum tour in Dublin, make sure you visit the Teeling distillery in one of Dublin's last authentic neighborhoods, the Liberties. Whiskey lovers will rejoice and relish that Dublin is worth visiting for its excellent whiskey culture.
Fun fact: The difference between Irish whiskey and Scottish whisky is all in the 'e'. The Scots lost the 'e' from their spelling of 'whisky'.
12. Dublin Castle
Dublin Castle is a medieval castle from the 14th century and was the seat of British governments for hundreds of years until Irish independence in 1922. The river Poddle flows underneath the castle and a Viking settlement was discovered during excavations.
The history of the castle is rich and helps explain Dublin's medieval past. In fact, the Medieval Tower is one of the oldest structures still standing in Dublin from that period of time. Tickets are available to book online.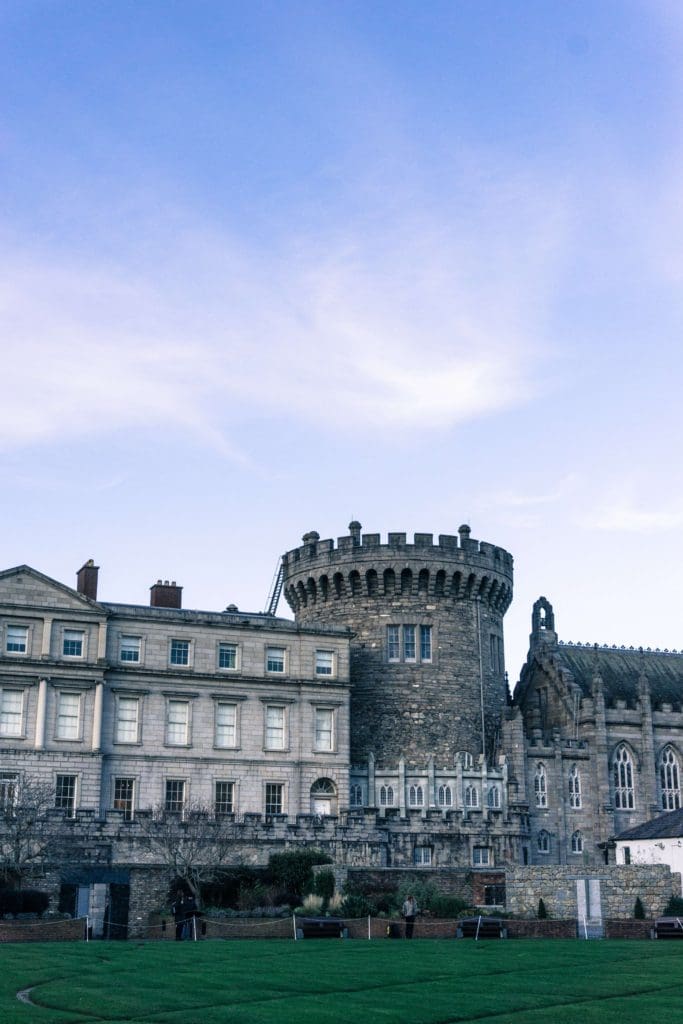 13. Shop 'til you drop
Dublin offers an incredible shopping experience that is second to none. If you're wondering, "Is Dublin worth visiting?" the answer is a resounding yes, especially for shopping enthusiasts. Exploring the city center's vibrant shopping scene is an absolute must.
Your visit will be filled with an abundance of artisanal chocolates, exquisite artwork, and beautifully crafted Irish products that will leave your suitcases bursting at the seams. With a multitude of talented Irish artists and designers showcasing their stunning creations, you'll find yourself captivated and eager to make delightful purchases.
The best shopping areas are found around Grafton Street. Grafton Street has high-street fashion chains and can be skipped in favor of local stores on Dawson Street, South William Street, Drury Street, and Exchequer Street.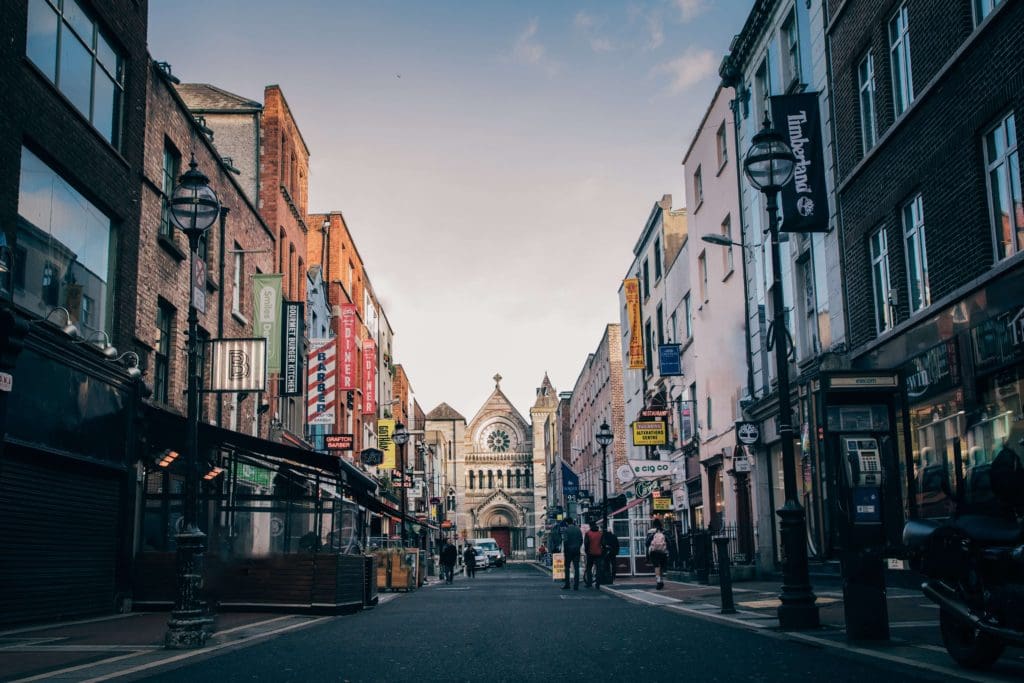 Avoca Handweavers
Initially established in County Wicklow, it is Ireland's oldest woolen mill and has been in operation since the 18th century. It rose to popularity during the 1970s and 80s when handcrafted rugs and blankets were exported all over the world. Nowadays Avoca is one of the greatest exporters of Irish products produced in Ireland.
Browsing the store you will find handcrafted Irish woollen blankets, scarves and jumpers from their mill in Wicklow. Their food produce section is out of this world and you simply have to grab lunch from the store before you leave Dublin. If you are looking for a uniquely Irish gift to bring home, look no further than Avoca.
Industry & Co
Whilst you probably won't be able to fit anything into your suitcase to bring home from Industry, you can certainly admire the sleek well-designed furniture and grab a coffee from their small cafe.
Powerscourt Townhouse
Powerscourt Townhouse Centre is a little shopping center in the heart of Dublin city that has a plethora of small boutiques. If you are searching for antique jewellery, the top floor has many antique dealers with exquisite and preloved pieces. Make sure to explore stores like Article, MoMuse, Chupi, This is Knit and many other stores that have beautiful things.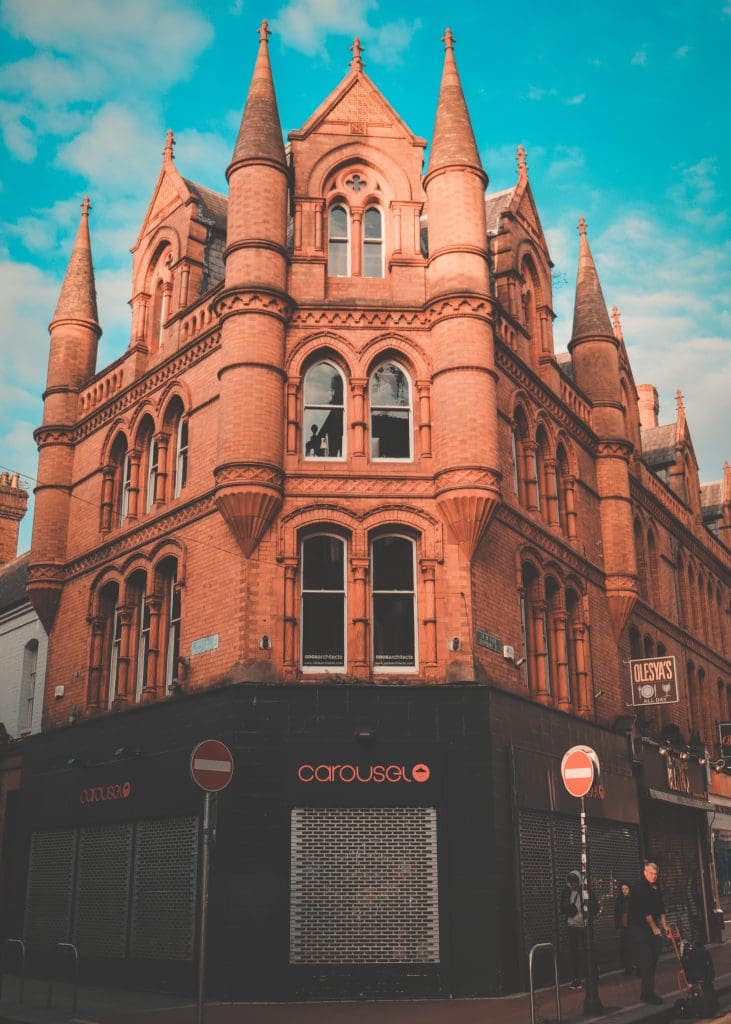 St. George's Arcade
St. George's Arcade is a semi-open Victorian market stall shopping center. Over the years it has changed in appearance but still maintains its charms. It's worth walking through and browsing in the mixture of market stalls and stores.
14. Eat your way up Wexford & Camden Street
The two streets of Wexford Street and Camden Street merge into one long street that has an enormous amount of fantastic buzzing bars and incredible restaurants.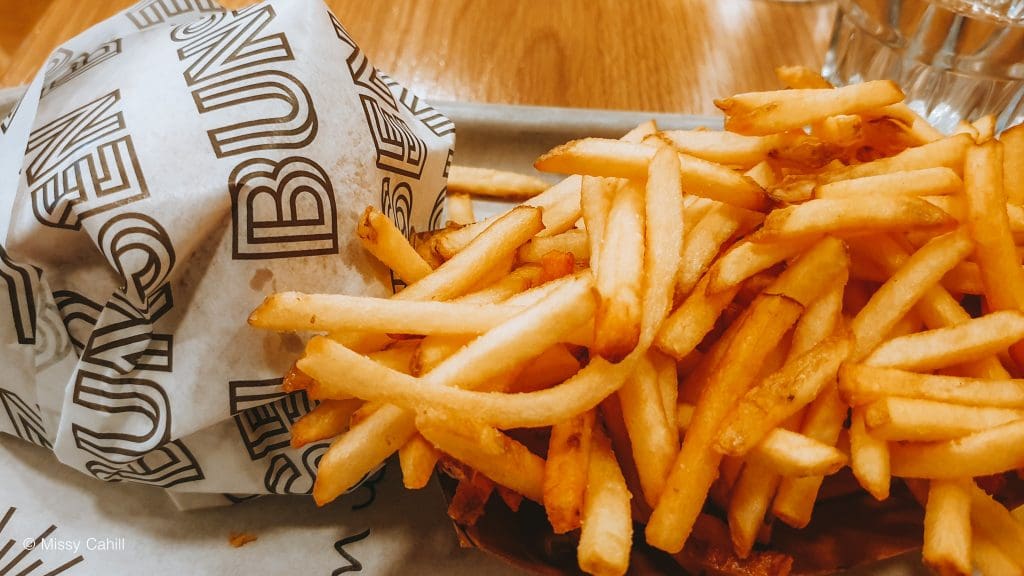 Wexford Street has excellent pubs, clubs, concert venues and a superb restaurant scene. Whelan's is a fantastic venue for seeing up-and-coming artists and comedians, make sure to check their listings before planning your visit to Dublin, you'll be surprised at who might be playing.
This has always been one of the most ambient streets in Dublin. Most people tend to be surprised by the city's excellent food scene, making Dublin worth visiting for it's versatile and delicious culinary scene.
Ireland's culinary scene is booming and the explosion of affordable and excellent restaurants grows with each passing year. One of the best things to do in Dublin city center is to eat your way around the city.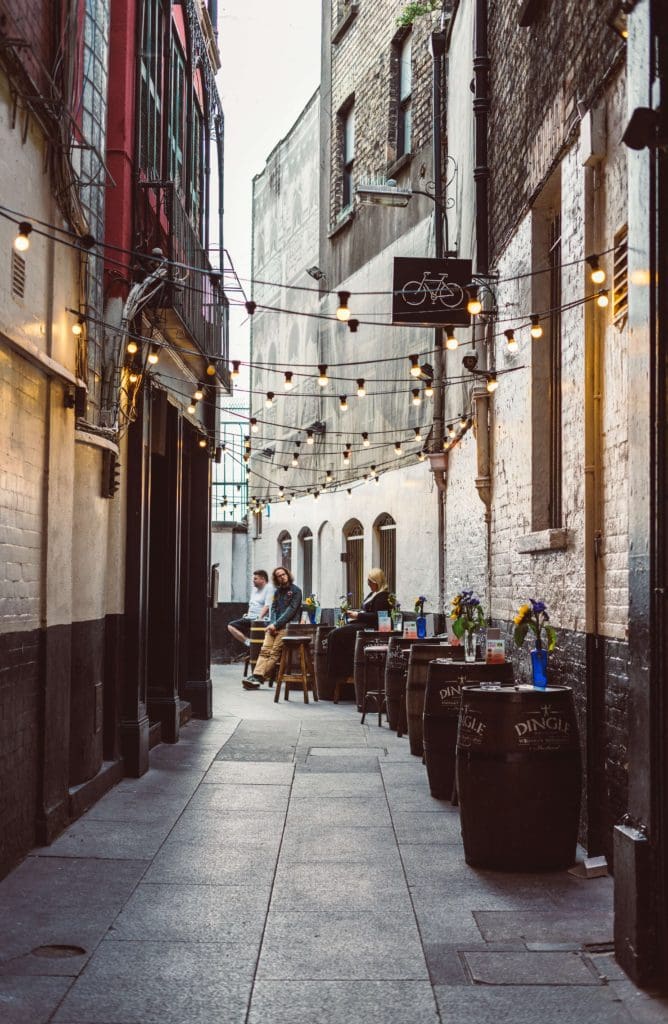 Tapas de Lola is an excellent Spanish tapas restaurant that keeps on getting better with each visit. The couple that owns the restaurant are incredibly passionate about food and have created a delicious menu. Bookings are required in advance due to their popularity.
€€€ Tapas de Lola | 12 Wexford St, Dublin 2, D02 FK71, Ireland
Pickle specializes in North Indian cuisine, so bring your taste buds and tolerance for heat when visiting. Pickle is a cozy restaurant, and their early bird is fantastic value.
€€€€ Pickle | 43 Camden Street Lower, Saint Kevin's, Dublin 2, D02 N998, Ireland
Bunsen – The original Bunsen Burger and what started the craze almost ten years ago. It's a simple concept that works well. It offers a hamburger on a brioche bun with limited toppings.
There are 4 burger options to choose from, 3 choices of fries and that's it. It's perfect and works every time. This is not a vegan or vegetarian-friendly restaurant.
€ Bunsen | 36 Wexford St, Portobello, Dublin 2, D02 DY20, Ireland
Sophies – Ok so Sophies is technically not on Wexford street, it's one street parallel to Harcourt street and it would be remiss not to include it on the list. It has one of the best views of Dublin city that visitors rarely get to see unless they're staying in the Dean hotel.
Sophies is an Italian restaurant with some quite nice food, but really it's the views that are absolutely stellar. Make sure to check out this spot for brunch.
€€€ Sophies | 33 Harcourt St, Saint Kevin's, Dublin 2, Ireland
Getting around Dublin
Dublin is a very small city to travel around. The easiest way is to walk around the city, with nowhere in the center being more than a 20-minute walk. If you do get the Dublin city buses around the city, you will spend more time sitting in traffic waiting to move.
Planning on getting from Dublin Airport to the city center? Check out my detailed post on how to get from A to B.
Leap Card – This is a necessity if you plan on getting public transportation in and around the city. Make sure to purchase a Leap Card. The fares are reduced and can be topped up via mobile apps or in stores like Centra.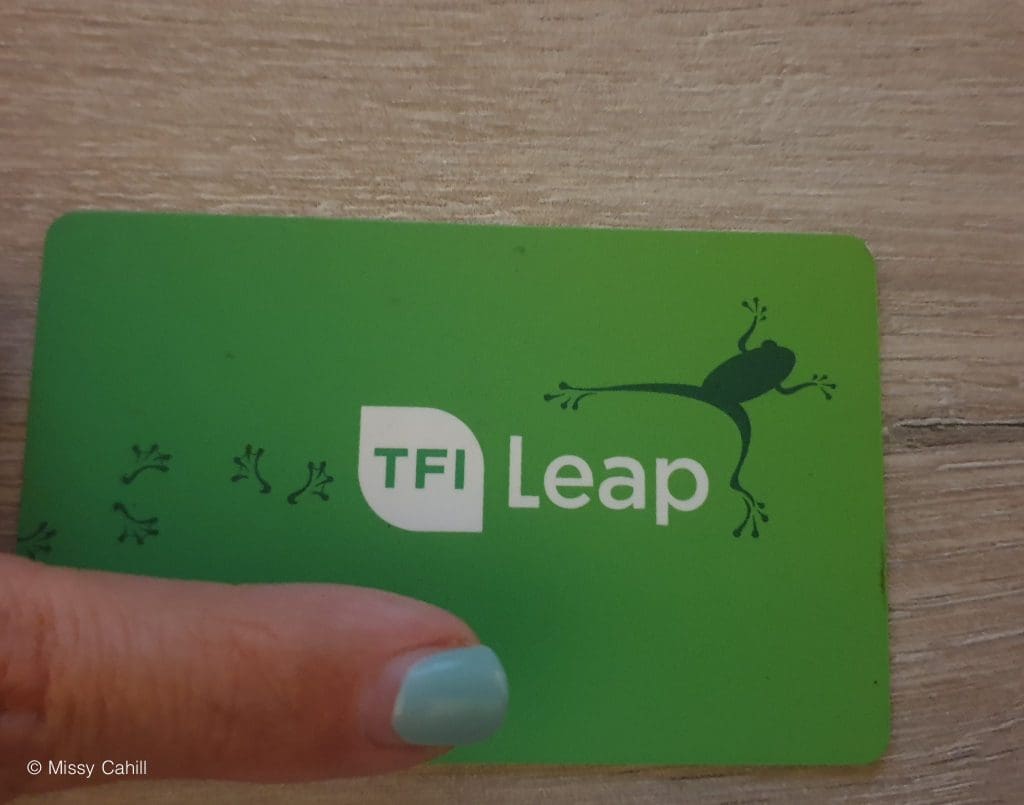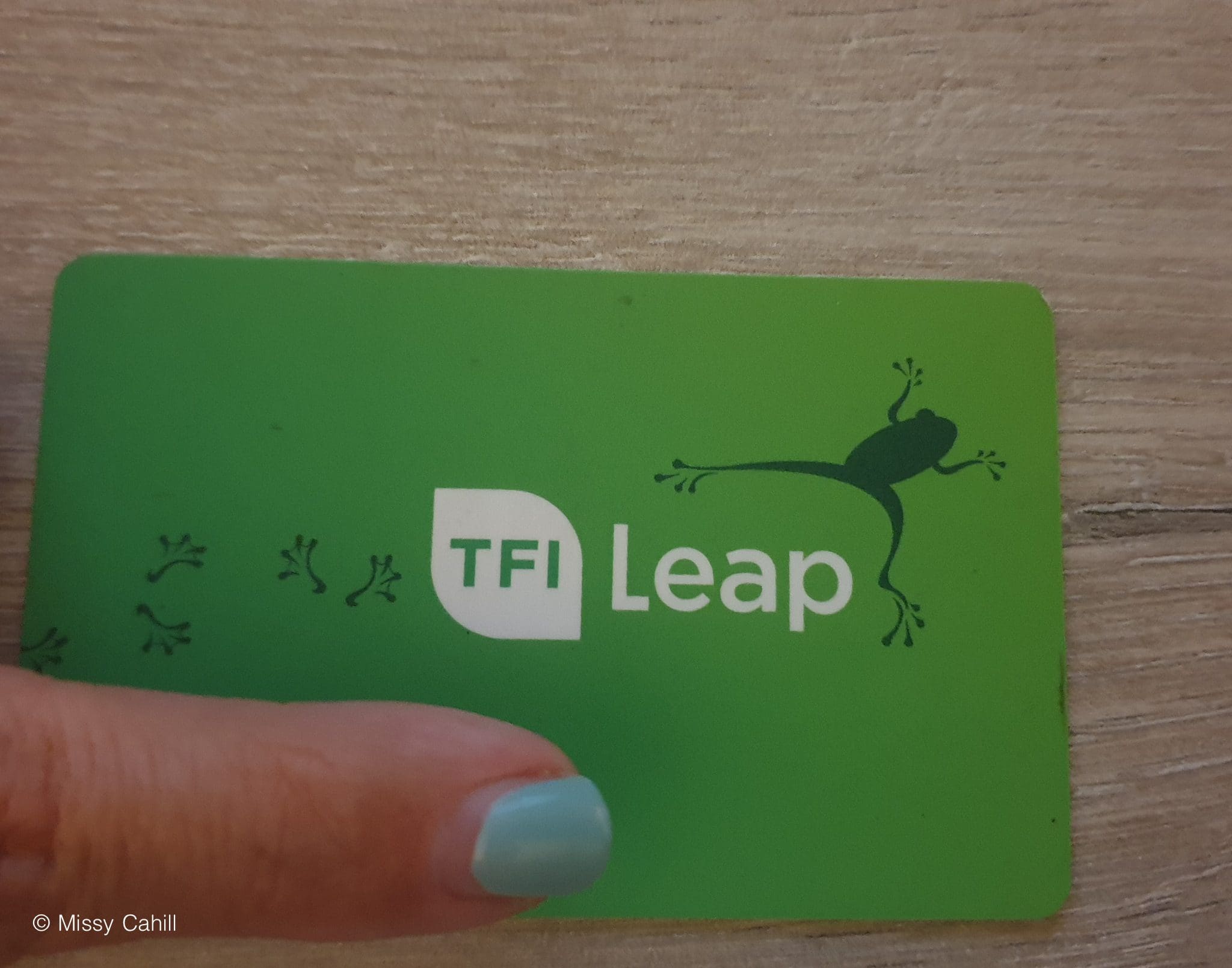 You can travel with one tap across the city within a 90-minute period on buses, trams and trains and costs €2. You can travel with two people on 1 leap card, you need to tell the Dublin bus driver that you need an additional fare and wait for the ticket to come out of the machine.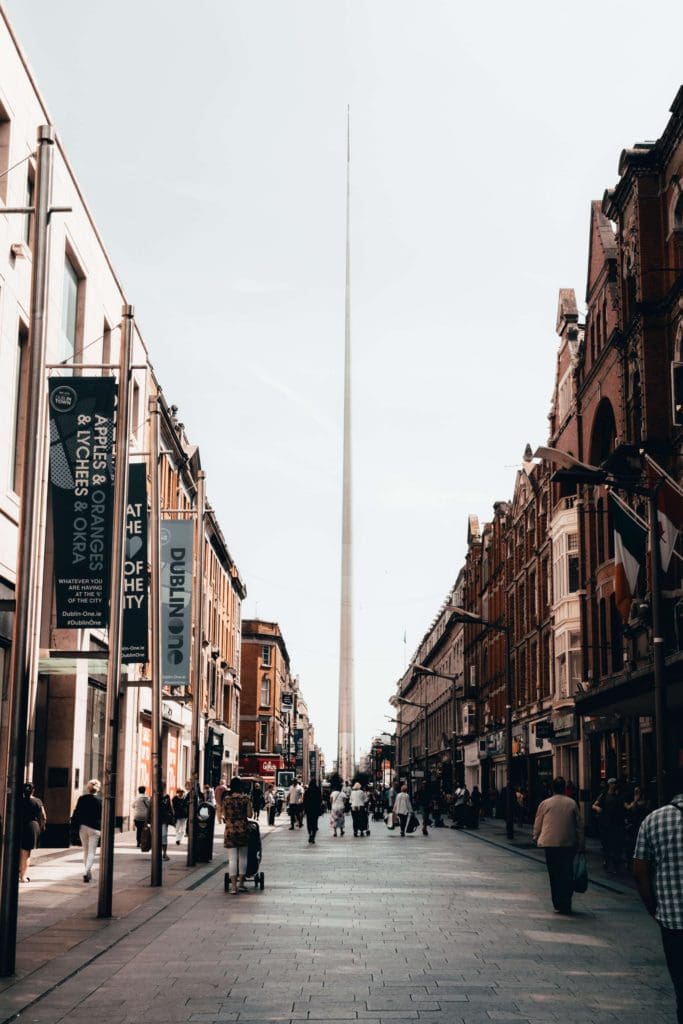 Dublin Bus – Make sure to download the Dublin Bus app to your phone, this will make your journey planning a lot easier. Dublin buses only accept exact coin change when purchasing tickets on the bus with the driver.
The driver will only accept coins and does not give back change. Make sure you hold onto your bus ticket for a refund at the Dublin Bus Office on O'Connell Street. You can avoid this confusion by purchasing a Leap Card before getting on the bus.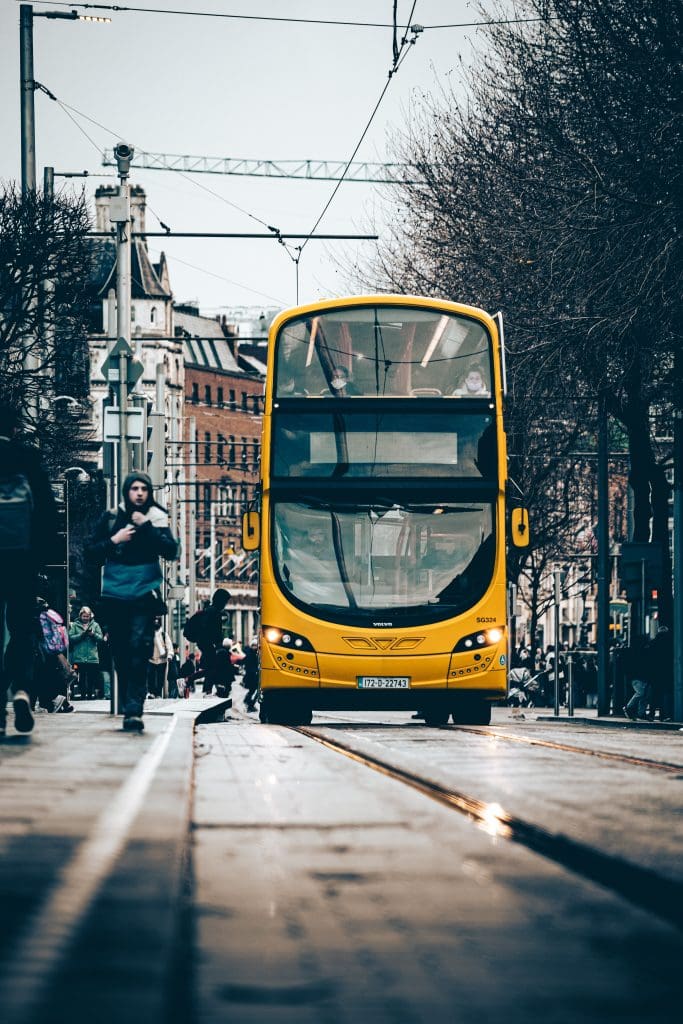 Luas – The tram in Dublin city center is called the Luas and there are two lines. The Red line covers North Dublin and the Green line South Dublin.
Dart – The Dart is a train service that runs the coastline of Dublin. There is only a single line and there are a few stops that serve Dublin city center. This is a great service to use for day trips out to the seaside towns of Howth and Dalkey.
Is Dublin Worth Visiting?
There are so many things to do in Dublin. Depending on the length of time of your visit there are plenty of things such as the National Botanic Gardens, Glasnevin Cemetery (I've personally never been but have heard it's a brilliant tour and an absolute highlight), Irish Emigration Museum & Christ Church Cathedral. The list goes on and on.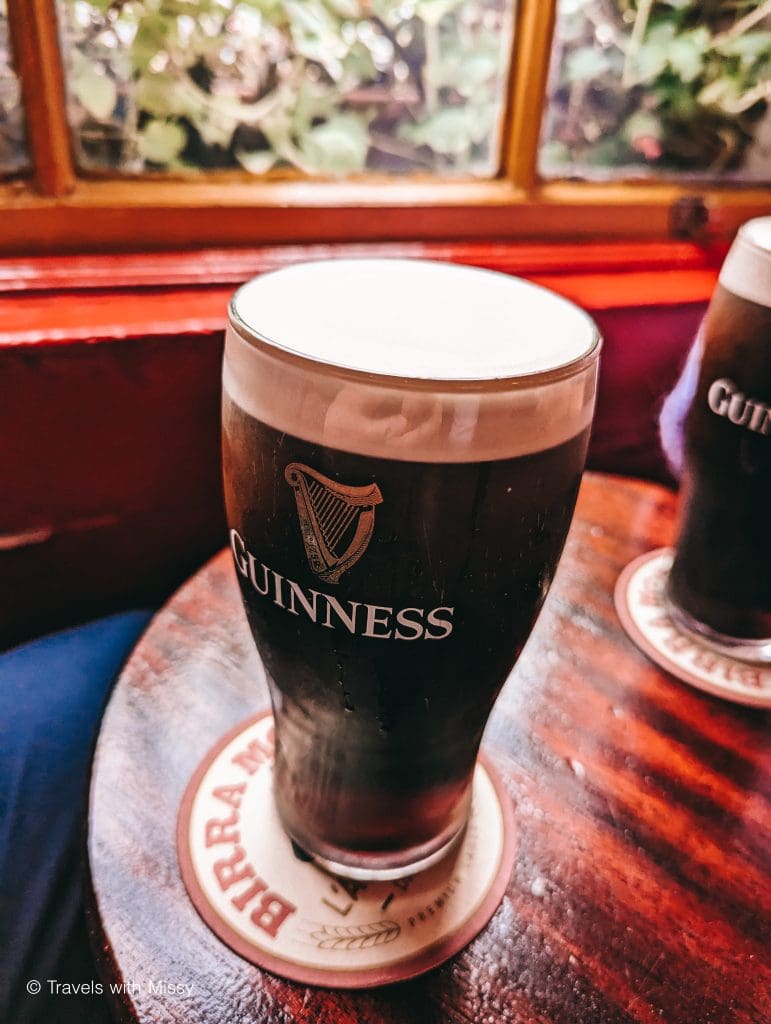 Dublin has so much culture that it's hard to cram it all into one visit. There is always a concert, or a comedian visiting the city.
One thing you will be guaranteed is that the weather will at some stage be raining, especially in Dublin during the Autumn, so make sure you find yourself a nice pub and prepare to plan your Dublin adventure over a pint of Guinness. Is Dublin worth visiting? For the Guinness alone – a resounding yes.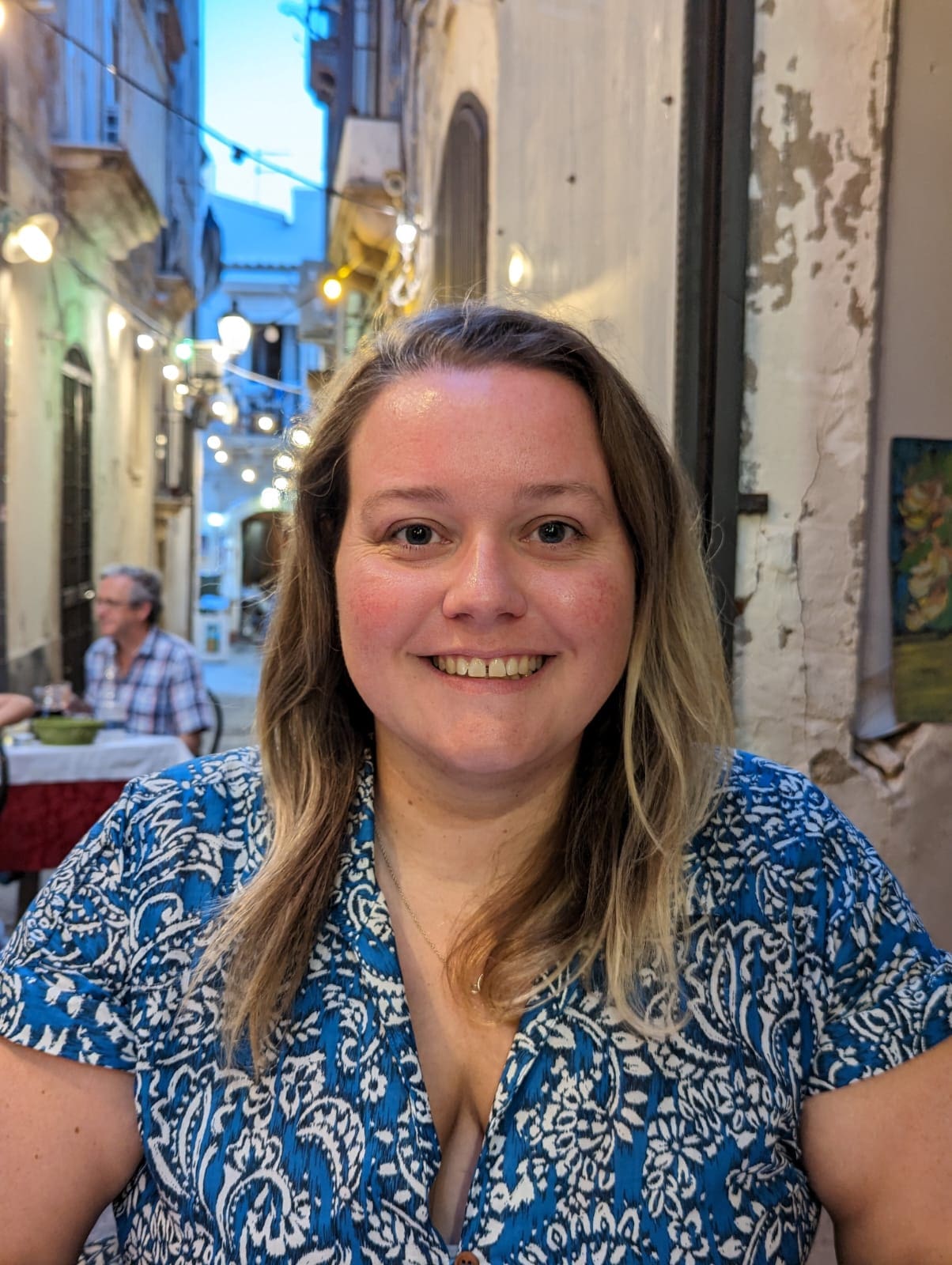 Meet Missy…
Missy spent the first 2 decades of her life living in her native Dublin, Ireland. Before a life living overseas called to her, and she spent the next decade living in China, Laos & Belgium. She now splits her time in Antwerp, Belgium, and wherever the sun is currently shining. You can follow Missy's real-time travels on her Instagram.