Whether you're spending the day strolling around Battersea Park or Battersea Power Station, you'll be in search of an excellent brunch in Battersea. And with so many excellent choices in the area, from an oyster platter, or fluffy pancakes to the unbeatable bacon roll, we've got you covered. Oh, and of course, we couldn't possibly forget an aul' boozy bottomless brunch in Battersea either.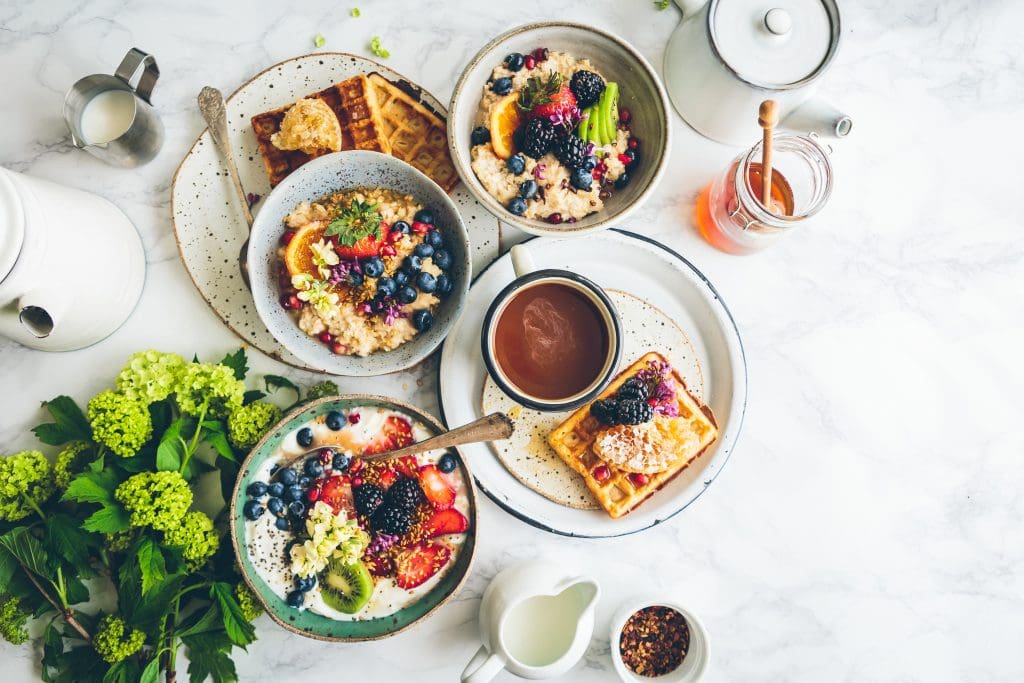 The 9 Best Spots for Brunch in Battersea
1. The Breakfast Club Battersea
Anyone craving an American breakfast with a dash of Tex-Mex will love the Breakfast Club in Battersea. With enormous slices of French Toast, soft pillow-like pancakes, and the crispiest of bacon, the Breakfast Club is one of the most popular spots on the weekends. Be prepared to arrive early to claim a seat, or join a lengthy line as hungry hordes descend on one of these delicious brunch in Battersea.
The Breakfast Club will satisfy all greasy food cravings, especially on those mornings, okay afternoons, when all you crave is a big dirty greasy spoon breakfast with all the trimmings. Bacon, eggs, mushrooms, tomatoes, beans, hash browns, and of course a banging sausage. Treat yourself to the Cure.
Shout out to Breakfast Club and their acknowledgment of the humble Bacon Roll. An absolute treat and simplicity in its finest form.
With locations all across London, you'll stumble across a Breakfast Club at some point.
Suitable for Vegetarians & Vegans.
Address: 5-9 Battersea Rise, London SW11 1HG
Website: The Breakfast Club
2. The Farmers Mistress
There are many things to love about the Farmers Mistress, a classy brunch in Battersea that serves some of the tastiest baked beans this side of the Thames. Bloody Mary Beans are a complete revelation. The decor in the Farmers Mistress is oh-so-pretty, with cute signage and walls of flowers, you'll love the classy decor as well as the delicious food.
Vegans will be drawn to their 'Full Vegan' breakfast, and for anyone with dietary concerns, The Farmers Mistress has gluten-free options.
Prepare to queue after 11 am for a table at the weekends, and large groups can book in advance to secure seating. It's worth the wait, even in the rain.
Suitable for: Vegetarians & Vegans/Gluten-Free Options are available upon request.
Address: 300 Battersea Park Rd, London SW11 3BU, United Kingdom
Website: The Farmers Mistress
3. Pear Tree Cafe
A brunch in Battersea spot located in the heart of Battersea Park. What better way than to enjoy a yummy delicious brunch and then a stroll around the park to work off those sausages?
The Pear Tree Cafe is the perfect place not only during the summer months, when trying to get an outdoor seat is almost impossible but also on a lovely Autumnal day in London. The views across Boating Lake in Battersea Park are gorgeous and the Pear Tree Cafe is one of the prettiest locations for brunch in Battersea.
Do not skip out on the sourdough and smashed avo, or for pure comfort food, a thick slice of sourdough with a range of delicious jams. Divine.
4. Gazette
Fancy a bit of a French brunch in Battersea? Head to Gazette for some French-inspired food and breakfast deliciousness. With an added French twist to their brunch dishes, you'll find rabbit sausages (a first for me!), croque monsieur and the Full French which includes a toasted baguette smothered in Brie. Unreal.
For a little bit of France just off the Thames, the prices in Gazette are very reasonable, even down to their own Bloody Mary. The location is a bit random, but who cares when the food is this yummy.
5. The Candlemaker
New owners have recently purchased the Candlemaker and have begun to give it a much-needed face-lift. While still keeping the interiors the same, you'll find a small enclosed patio area that is perfect for those seemingly endless summer days.
But one of the best things that the Candlemaker does really well is the hilarious and fun bottomless brunch in Battersea that has been lacking in the area for quite some time.
Join Tizzy Von Tassle on a 3-hour bottomless bingo brunch extravaganza. £30 gets you an endless supply of Mimosa's and Bloody Marys over a 3-hour period every Saturday, whilst enjoying the manic hilarity of Tizzy and her bingo machine. What's not to love about that sentence?
6. Megan's Battersea Power Station
Yes, Megan's may have branches all across the city, but have you been to the Megan's in Battersea Power Station? The location is absolutely perfect, right on the edge of the Thames and with views for days. Asides from the Pear Tree Cafe, this brunch in Battersea spot has one of the best views in the area.
The interiors are decorated with Portuguese traditional tiles, almost making you think you were back in Porto for a brief second. Delicious Halloumi Fries drenched in a spicy honey sauce are amongst some of the best dishes to order off the brunch menu.
The delicious Mediterranean/middle eastern menu offers so many varieties that everyone in your party will be able to enjoy something off the menu at Megan's.
7. No 29 Power Station West
A large and spacey bar and restaurant located in the Circus West Village, No 29 Power Station West is one of the best places to head for after-work drinks on a Friday night in Battersea.
During the weekends you can expect the two levels of No 29 Power Station West to be hopping with hungry Londoners eager to sample menu items such as Eggs Benedict, Shakshouka, and the mouth-wateringly delectable sweet caramelised banana and ricotta pancakes.
We're also a big fan of No 32 The Old Town Clapham, sister of No 29 Power Station West. Well worth a visit.
8. The Wright Brothers Battersea Power Station
A stone's throw from Megan's, and one of the most popular spots for brunch in Battersea thanks largely to its extensive oyster menu. The Wright Brothers is a fish and seafood restaurant that serves oysters from France, Ireland, the US, and the Channel Islands depending on the season and availability.
Fish lovers will love the fishy brunch menu with items such as smoked salmon, lobster benedict, and Devon crab on toast making an appearance. Vegans and vegetarians may find it difficult to find something on the menu that they can eat.
The lovely wooden interiors make you feel as if you've stepped into the cabin of a fishing boat (an expensive one, mind you). The Wright Brothers is an absolute must for anyone looking for a different weekend brunch in Battersea, with a fishy focus.
9. Lost Society Battersea
Lost Society Battersea is another classic spot to be seen on a Friday or Saturday afternoon indulging in a bottomless brunch in Battersea. Lost Society is definitely more of a cocktail bar, but throughout the weekend you'll find it has a rather good brunch. And an even better bottomless brunch in Battersea.
Skive off work on a Friday afternoon and enjoy a £20 bottomless brunch that includes endless bubbles or mimosas for 90 minutes. Don't forget to soak up some of the booze with a Fish Finger Sandwich, Vegan Jackfruit Tacos, or the unbeatable Buttermilk Chicken Burger.
If you didn't make the Friday bottomless brunch, you can still check it out on Saturday until 4.30 pm and costs £25 for 90 minutes of unlimited bubbles.
Which Brunch in Battersea Spot will you Choose?
With ample choice and places to spend your weekend nibbling your way across Battersea, what better way to spend an autumn morning or afternoon in London? Did I miss any brunch spots in Battersea? What should I have included? Leave a comment below and let me know.